Some posts on this site contain affiliate links, meaning if you book or buy something through one of these links, we may earn a small commission (at no extra cost to you).
South Philly's Stina Pizzeria dishes up fantastic pizza pies, but the real gems here are all of the incredible pan-Mediterranean dishes, from Spanish to Turkish and everywhere in between.
Overview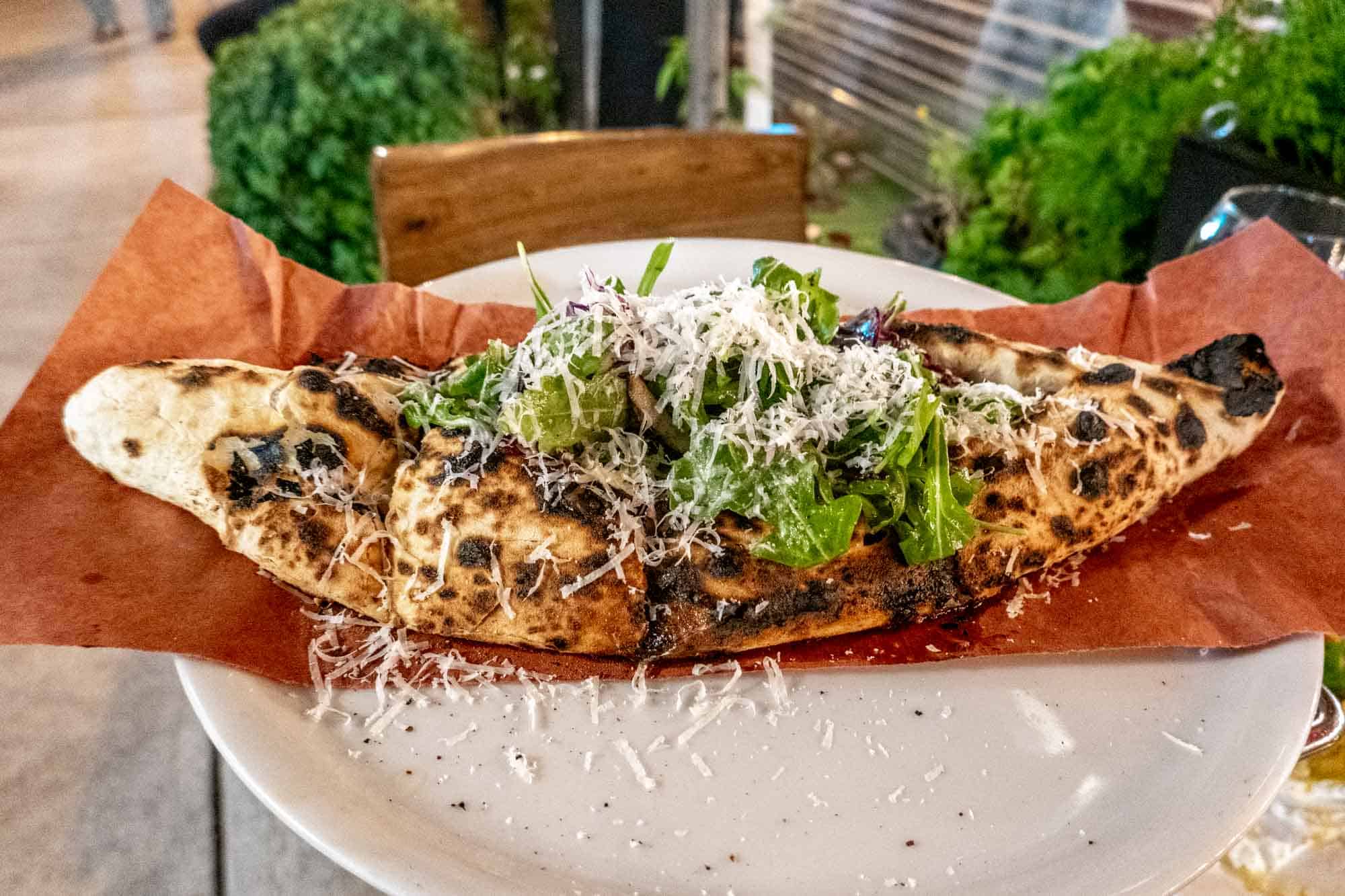 This is not your uncle's pizzeria. There's no drunks or loud music or sticky substances of unknown origin on the floor. It's not dark and you can't feel the air with last year's grease still floating in a mist. Stina is modern, fresh and barely recognizable as a pizzeria. In fact, forget it's called a pizzeria at all.
Tucked away on Snyder and a block off Passyunk, Stina occupies a prime spot on an eclectic block. Located between an African hair braiding salon and an Asian nail parlor, Stina blends into the neighborhood. In a way, it occupies the same crossroads of cultures in the neighborhood that you'll find on the menu – there's a place for everyone.
Chef Bobby Saritsoglou isn't building an empire and he doesn't phone it in one night a week. Night after night, you'll find him and his crew actually in the restaurant.
I maintain that Stina is one of the 10 best restaurants in the city right now and they make one of Philly's best pizzas. I crave each visit more than the last. And you will too.
The Menu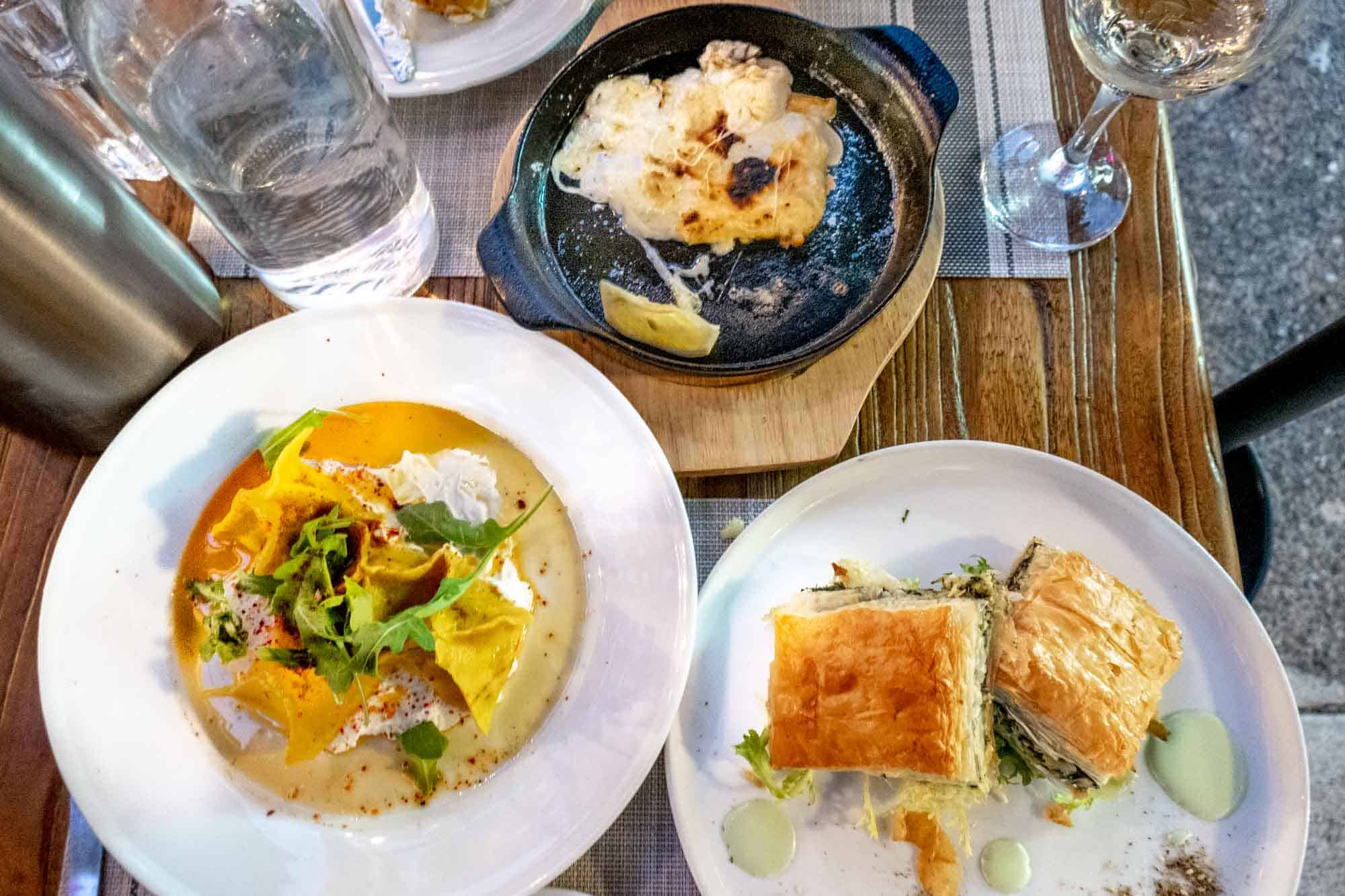 Stina Pizzeria is called a pizzeria, maybe because they serve pizza, but that's as far as the comparisons go. Yes, they serve pizza. But if you don't try the other Mediterranean dishes on the menu, you'll be missing out on the best they offer.
The menu represents all the cultures that call the Mediterranean home. You've got Greek spanakopita, Spanish octopus, Moroccan chicken kebabs, Turkish pide and even Italian pizza. And all of it is excellent.
While getting a pizza is practically obligatory, the best menu items are really everything else. The spanakopita is better than anything we've ever had in Greece. The octopus is so tender and delicate. The Manti dumplings almost defy description but are extremely delicious and quite filling.
The Vibe
The restaurant plays a mix of Persian, Turkish, and Greek tunes on low volume to serenade the guests. There's a handful of tables inside and a few tables outside along the sidewalk. In pleasant weather, the outdoor tables are in high demand. Sitting at the outdoor table, you start to notice that Stina plays an important role in this community and on this street.
Nearly everyone that walks by stops to talk to the owner or one of the servers. There's a handful of people standing around waiting for their takeout, all talking to each other. You quickly get the impression that this is a local restaurant and you are privileged to dine here.
Inside the eclectic vibe is continued with walls that are completely covered in antique prints, art, and kitsch of all manner. I feel like that there has to be a story behind each other. Also, one of the owner's was co-founder of one of the city's thrift shops, so easy access to material may have also played a role.
Stina Pizzeria just feels welcoming and comfortable. And you realize, the focus is on the food, which is the way it should be.
Price Range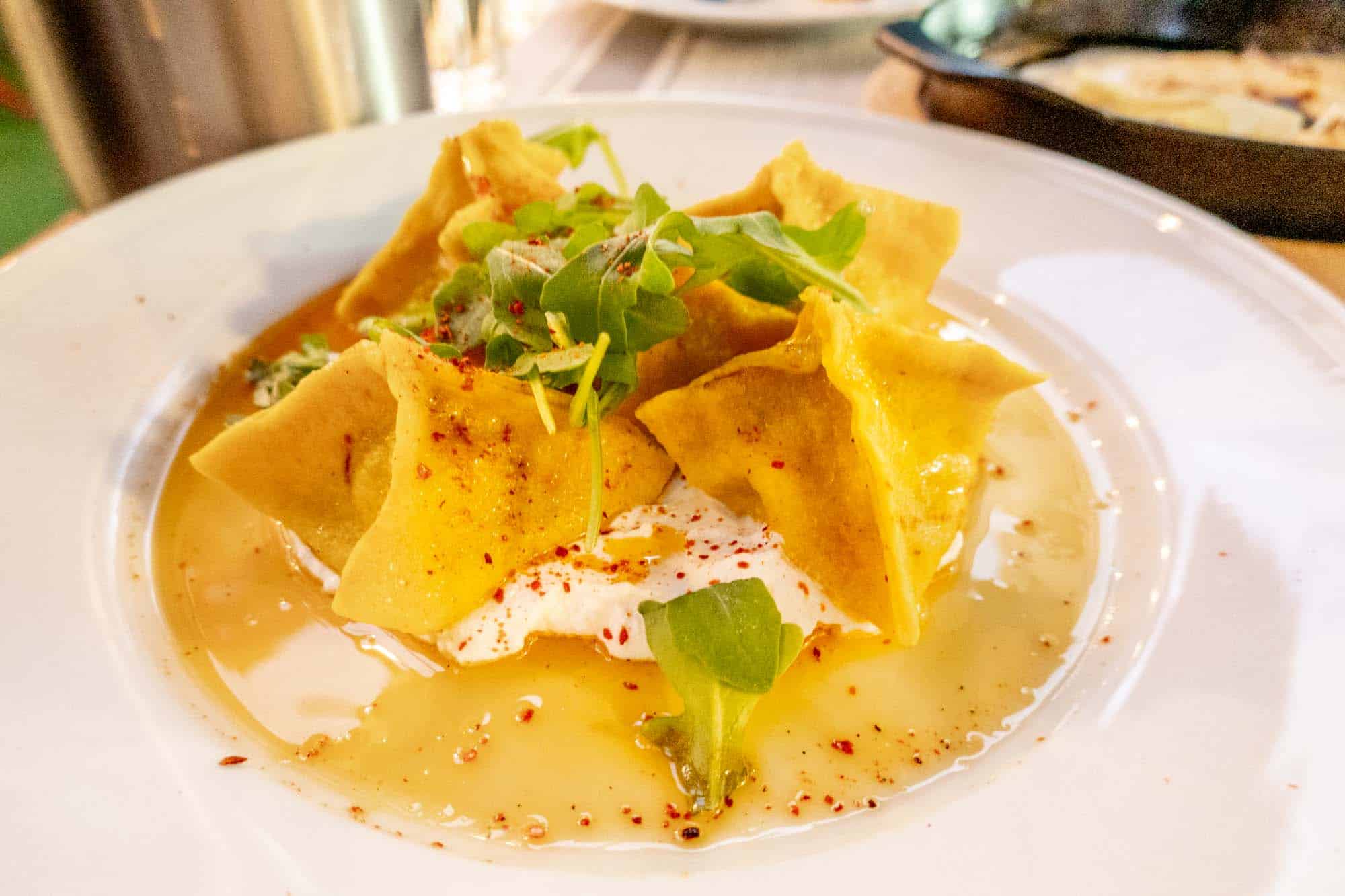 Mezze starters range from $10-$20 each, plan on at least two. Salads are all about $15. Pizzas and pides range from $16 to $23. The manti dumplings, which can be enjoyed as a starter or a accompaniment to the main meal, are $23. And absolutely save room for the Baklava dessert!
Plan on about $40-$70 per person. Stina is BYOB. There's a tendency to over order and take food home. The leftovers make for great lunches!
Reservations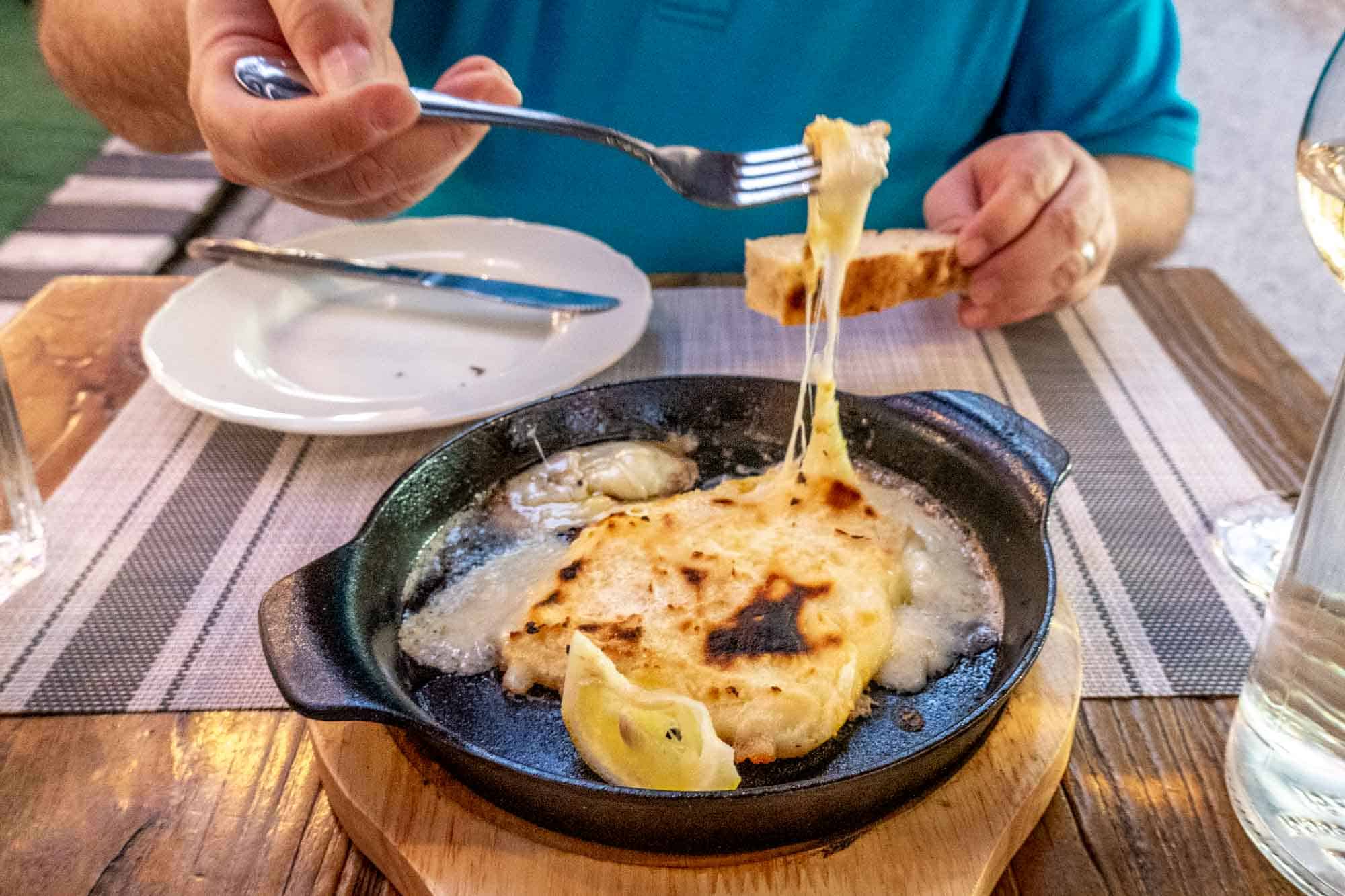 It is smart to have a reservation. However, on each of our three visits to Stina, we've seen people show up without one and be seated. It is a small place, so be prepared to wait without one.
Location
Pizzeria Stina is at 1705 Snyder Avenue in South Philly. Street parking can be hit or miss in this section of the city. The nearest parking lot is the Parkway Constitution Health garage at the corner of Broad Street and McKean (entrance on McKean). The nearest SEPTA station is Snyder Station on the Broad Street Line.
Visit the Stina website for more information.