Some posts on this site contain affiliate links, meaning if you book or buy something through one of these links, we may earn a small commission (at no extra cost to you).
Philadelphians are fiercely loyal and have strong opinions on just about everything. Food is no different. So the Pat's vs. Geno's cheesesteak rivalry brings out a lot of strong feelings.
Most true Philadelphians are likely to name someplace else when you ask them about the best cheesesteak in the city. Everyone has their favorite and it is rarely one of the places at 9th and Passyunk. Yet the mystique of a cheesesteak war in the heart of Italian Philly captures the imagination. And the tourists flock here in droves.
Prevailing sentiment is that locals don't eat at Pat's or Geno's. That's probably overstating it a bit, but there is some truth to the statement. This stop is often at the top of the list for most people visiting the city.
We break down this much-hyped rivalry in the cheesesteak wars:
Pat's King of Steaks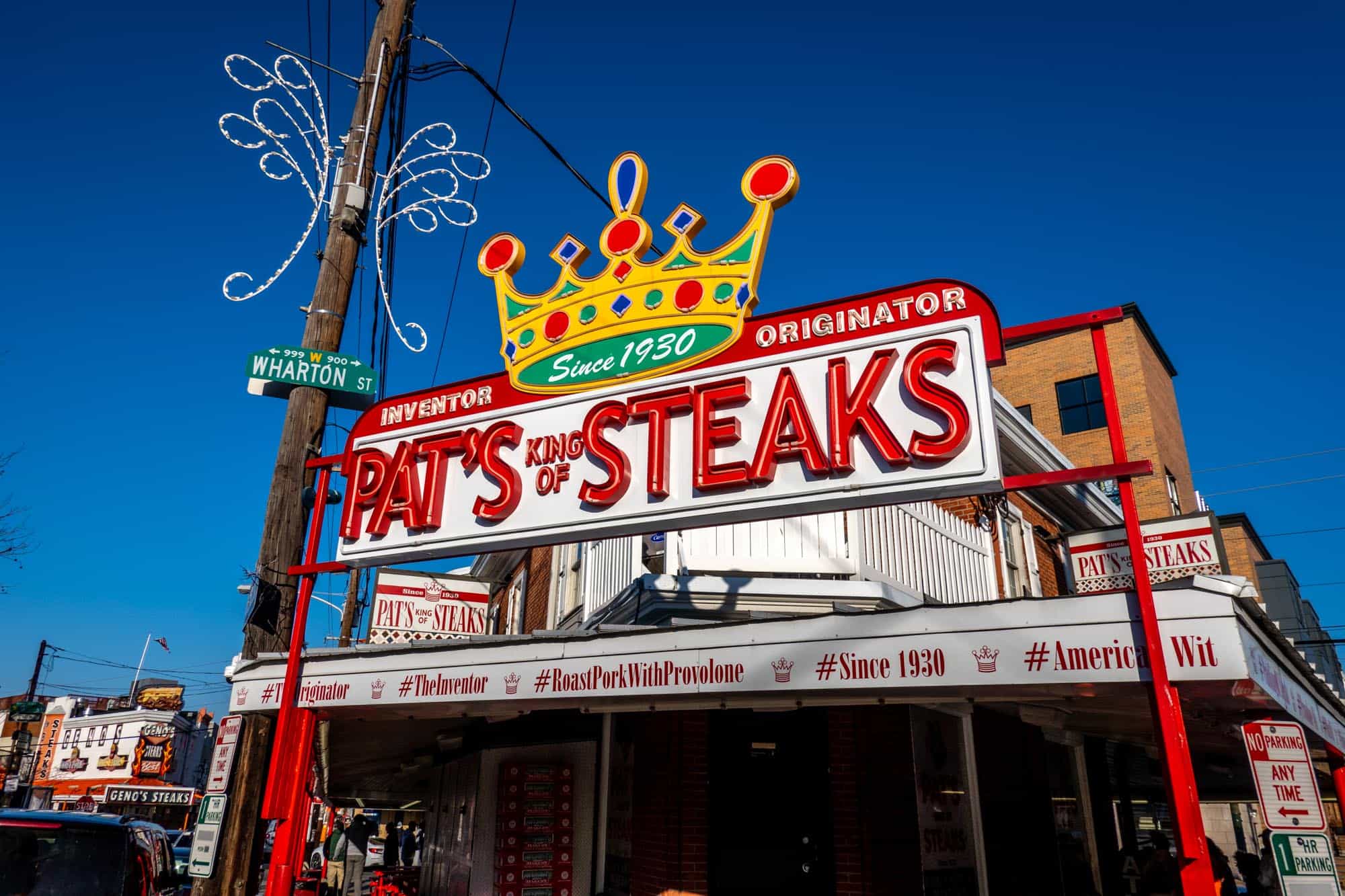 Like everything, there's an origin story. In 1930, Pat Olivieri ran a hotdog stand at 9th and Passyunk, the entrance to the famed Italian Market. Legend has it, he got tired of eating his own hot dogs.
One day, he made himself lunch by throwing a ribeye steak on the grill, chopped it up, threw it into a roll along with grilled onions. A regular customer saw it (rumor has it he was a taxi driver), inquired about it, and Pat shared half the sandwich. And the steak was born. The cheesy goodness actually came a few years later.
There's no disputing that Pat's longevity and focus on this delicious sandwich has made it one of the most iconic foods in the city.
Geno's Steaks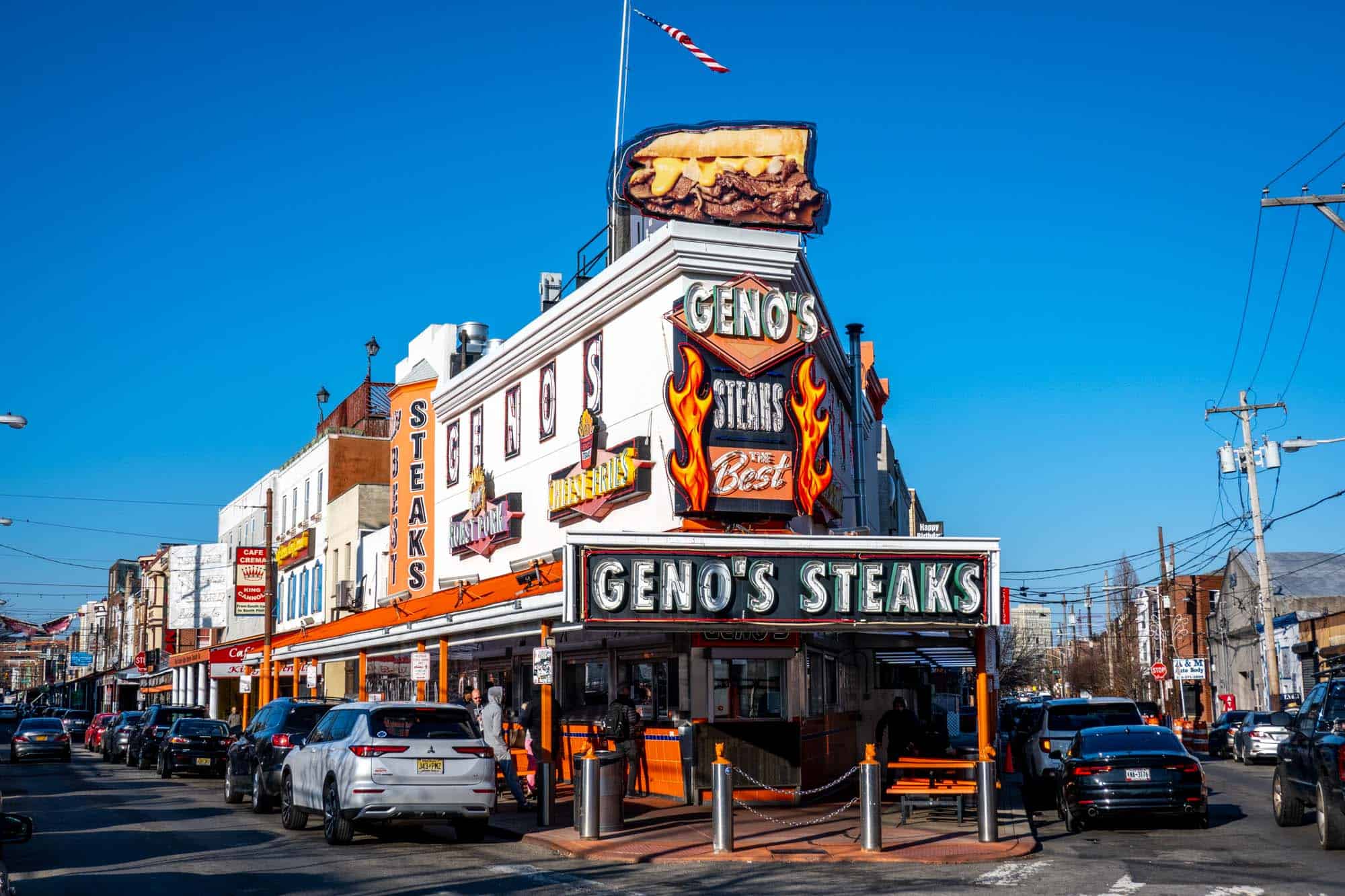 Joey Vento was a scrappy kid who saw the popularity of the cheesesteak place in South Philly and decided he wanted in on that action. In 1966, he founded a shop across the street. Legend has it that all he had was a box of steaks and $6 to his name when he opened the shop.
Joey had a son born in 1971 named Geno and the name changed. Geno still runs the shop today. Don't worry, you can't miss it. There are so many bright lights that it is reported you can see it from space.
The Rivalry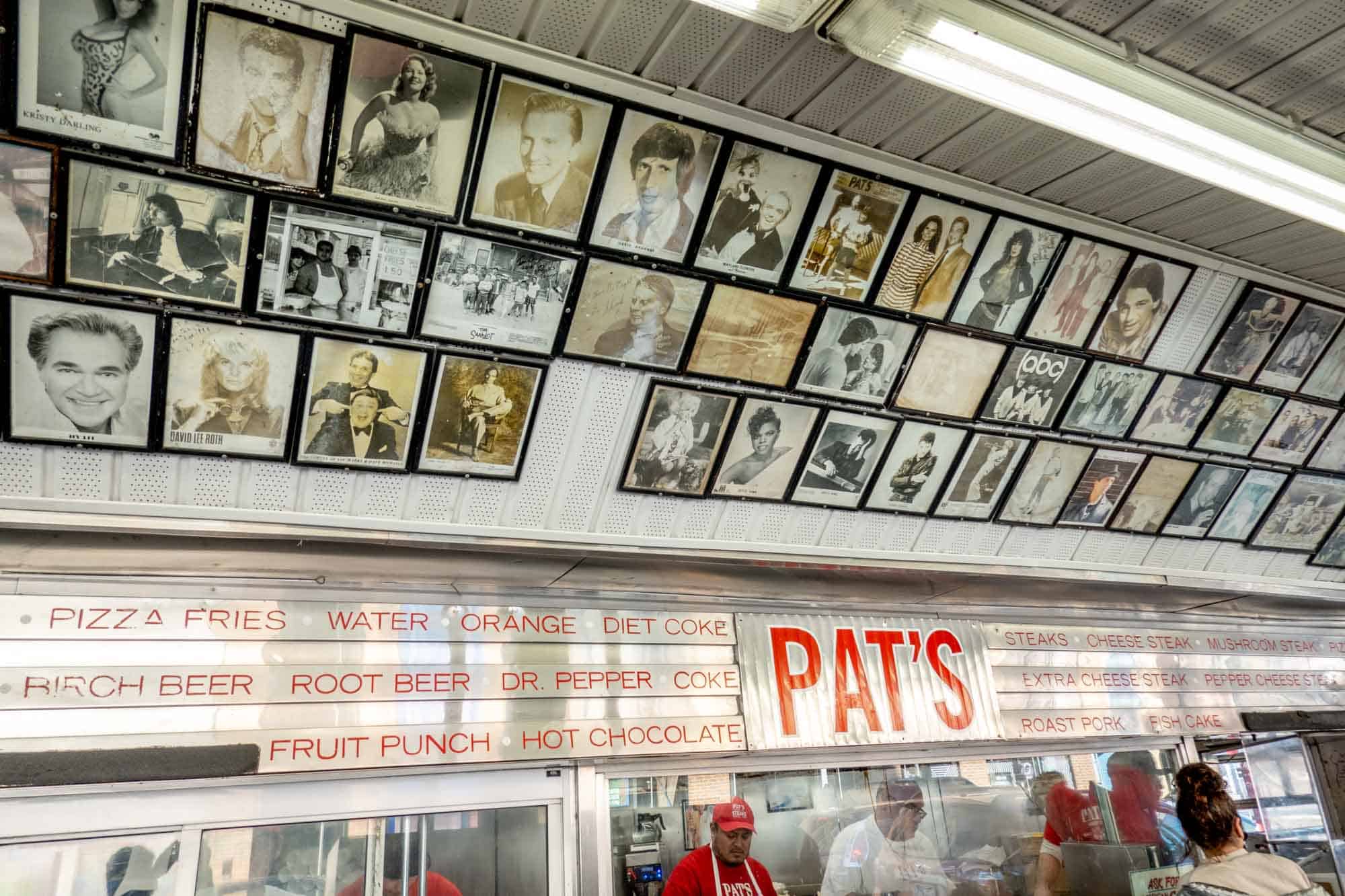 Where did the rivalry come from? Nobody knows for sure, but things heated up in 1976. In the film Rocky, the character Tony Gazzo took Rocky (Stallone) for a cheesesteak at Pat's. But in the real world, rumor has it that Joey Vento took this as a slight to his shop and the friendly animosity (jealousy?) started from there.
But at its core, this rivalry is essentially a marketing campaign. If you're going to try one, you need to try both, right? In this way, both shops have seen increased sales as consumers need to do the taste test themselves.
The dirty secret here is that the two shops are far more similar than they are different. You'll see reviews online from people from Texas or New York City talking about how much better the onions are at one shop or the other. Or how much better the cheese is at one or the other. THEY ARE THE SAME. Both shops use the the same cheese and the same onions. In the past, they've both also used same bread (although Pat's currently uses Aversa and Geno's uses Liscio's). In the early morning hours, you can sit on the corner and watch the delivery drivers make stops at both shops.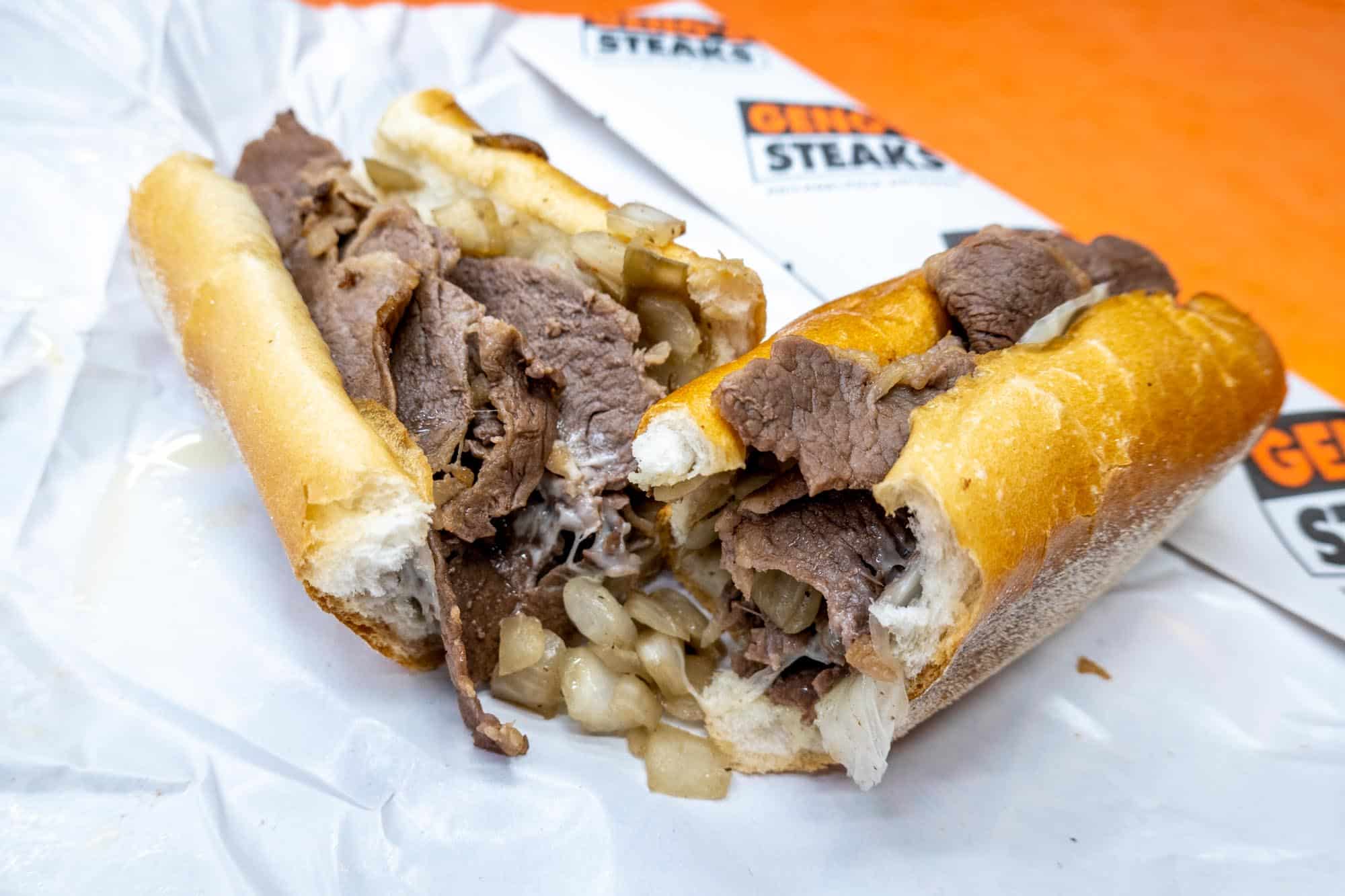 The only real difference between Pat's and Geno's: the preparation of the meat. Pat's, like most authentic steaks in the city, is sliced thin and then worked on the grill. Geno's, in a move to differentiate, cooks their steak in thicker cubes/strips and then chop them on the grill. That's your choice: chopped or sliced. There's nothing else to the rivalry other than marketing.
And that marketing is considerable. There's lots of word-of-mouth buzz. But you'll also see the t-shirts and, in the past, billboards. This battle even went on The Dr. Phil Show in 2009 for a cheesy "therapy" session to resolve the rivalry (again, good marketing). The episode is best remembered because a disheveled Dr. Phil hammed it up for the cameras while the two owners tried each other's steaks – and spit them out. This obviously orchestrated gimmick made for some catchy TV and introduced a lot of America to the his iconic food from Pennsylvania.
So how real is the rivalry? Not very. Both owners have been seen socially together in the city. It's also been reported by other media outlets that both owners actually lived in the same building for a time. Both have collaborated on charity and humanitarian projects. And they both work together to keep the mystique of the Pat's and Geno's rivalry alive: keeping prices the same, keeping the steak offerings the same, and keeping the corner battle in people's minds.
The Winner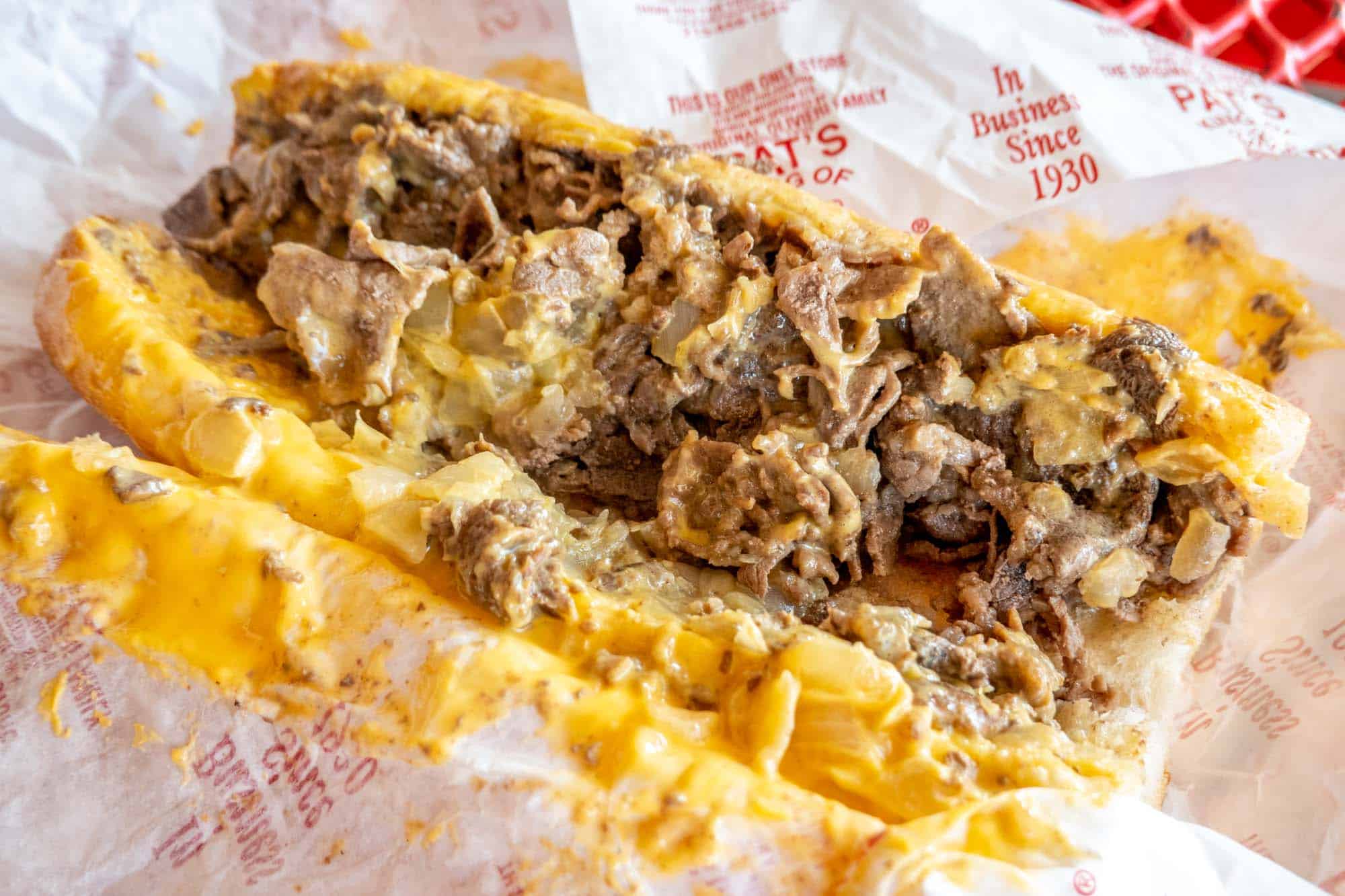 For us, we definitely prefer other shops in the city. However, if we bring out of town guests down to 9th and Passyunk, our preference is Pat's. Nothing beats a classic, and the thinly stripped steak stays moist and tender. There's also a reason why the rivalry is always Pat's vs. Geno's and NEVER Geno's vs. Pat's – the winner comes first.
There's an actual reason for this. Thinly, sliced steak cooked and served fast tends to stay moist and tender. Chopped steaks can get over-worked and dry, especially if it then spends a lot of time on the warmer. More often than not, you get drier, harder steak when it is overworked on the hot surface.
But to truly pick a winner, you need to order exact same steak at both shops and then do your own blind taste test. No identifiable names should be visible. When we've done this test, more often than not, the winner is Pat's.
Of course, many people have a preference in the great cheesesteak debate based on the appearance of the restaurants, but that's a different topic altogether…
Visiting
Visiting is easy. Both Pat's and Geno's are open 24 hours a day, nearly every day of the year. Parking, on the other hand, is a nightmare in that neighborhood.
Pat's King of Steaks. Location: 1237 E Passyunk Ave. Website.
Geno's Steak. Location: 1219 S 9th St. Website.
Cheesesteak tours: There are some cheesesteak tours which will get you to both Pats's and Geno's, as well as some other shops in the city, all while riding a Segway. If you are interested, you can check out the Segway Cheesesteak Tour here.
Remember: cheesesteak shops are cash only. Pat's conveniently provides an ATM if you forgot. And have your order ready when you get to the window or face the wrath of South Philly customer service.