Some posts on this site contain affiliate links, meaning if you book or buy something through one of these links, we may earn a small commission (at no extra cost to you).
Ground Provisions brings refined vegan dining to the West Chester suburbs. It's like traveling back in time and eating in a Revolutionary-era environment.
Overview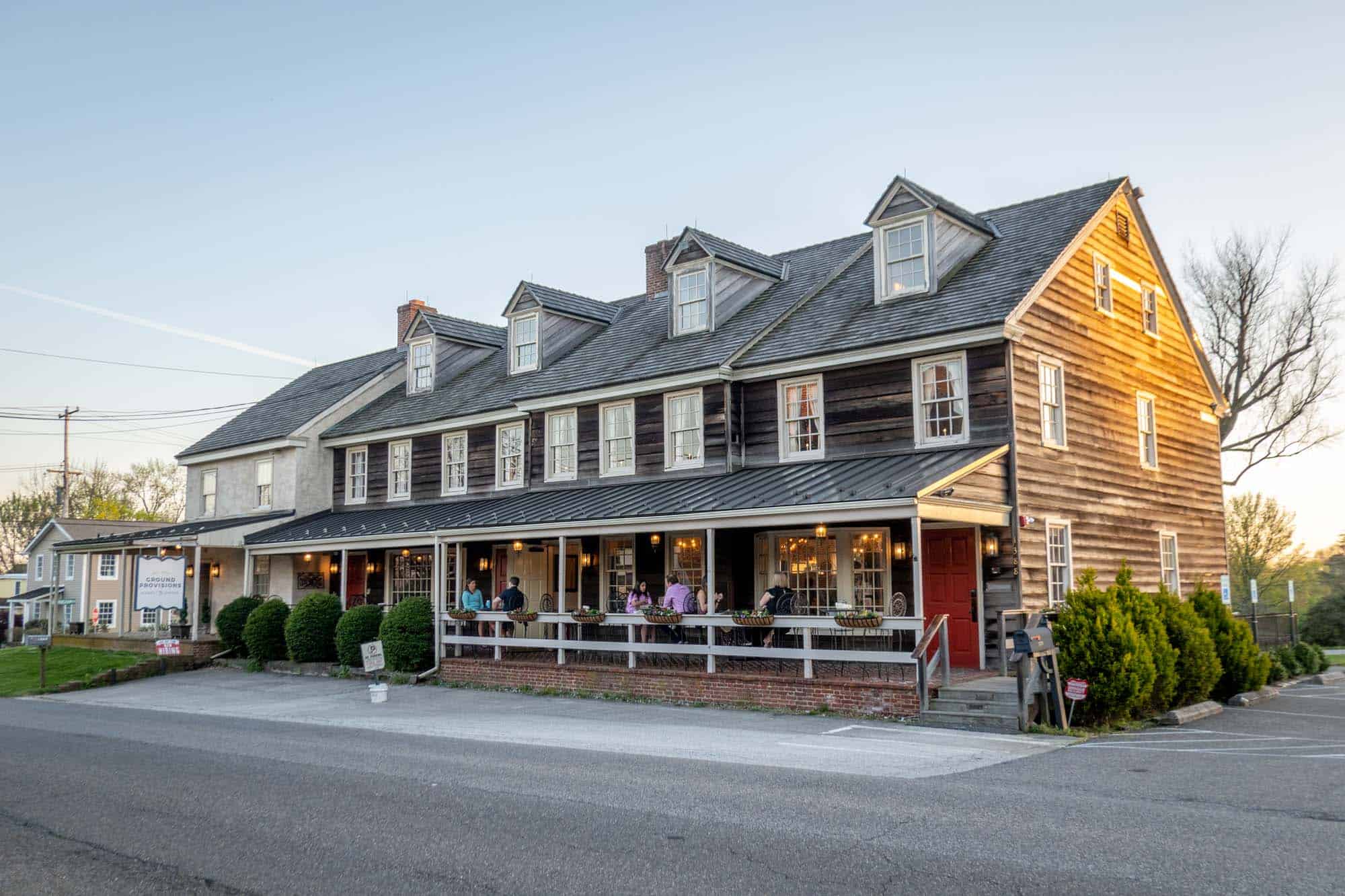 It's no secret that Philadelphia's Vedge restaurant has been one of the best vegan restaurants in America for decades. Vedge has racked up accolades for years. And, as a staunch ex-vegetarian and committed carnivore, I can also safely say it is one of my favorite restaurants in the city.
Kate Jacoby and Rich Landau, the owners of Vedge, have brought their magic to the suburbs. Behold: Ground Provisions Market & Dining.
The concept is simple. Take their proven approach to veggie-based cuisine, transport it to the Dilworthtown Historic District (established 1758), and create instant greatness.
Trust me when I say, the Ground Provisions restaurant is a place you'll want to come back to every month.
The Menu
The Ground Provisions menu changes monthly based on the ingredients of the season. Ingredients are sourced from the owners farm a few miles away, as well as local artisanal producers.
Guests are served a set, five-course tasting menu each night with an optional wine pairing.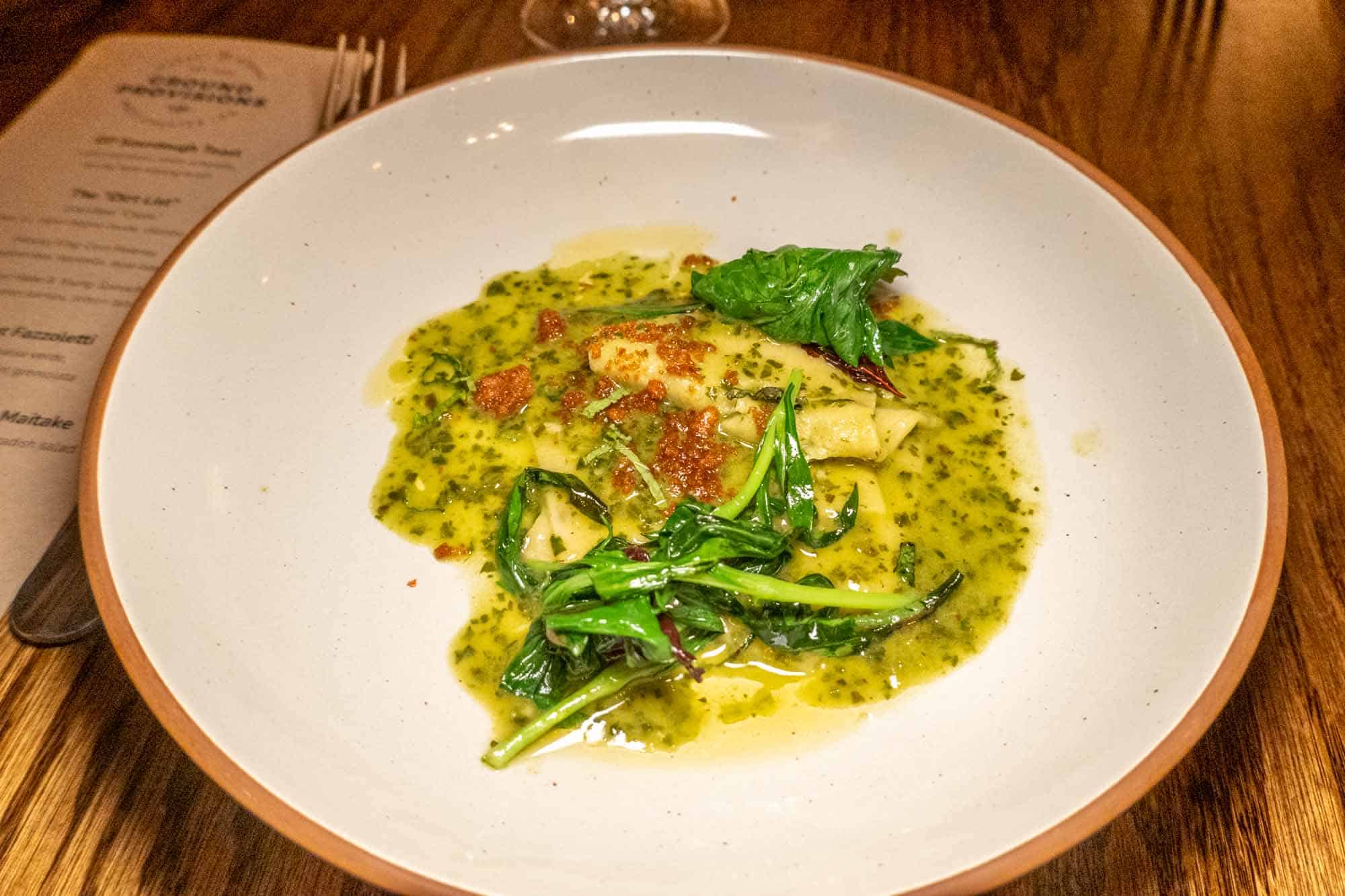 The tasting menu largely follows a set formula. There is a bread-based first course. Followed a trio of selections from "The Dirt List" – a popular concept from Vedge downtown that has been imported to the suburbs. These are usually three seasonal vegetables showcased in different ways.
The main event is split into two courses, so the 3rd course of the evening is a pasta with seasonal vegetables. This is followed by their signature Maitake mushrooms (with the preparation varying seasonally). And finally, a dessert course.
Just like their other restaurant, at Ground Provisions the goal is to use veggies and plant-based materials in new and usual ways to delight patrons and challenge conceptions of what vegan dining can be.
The Vibe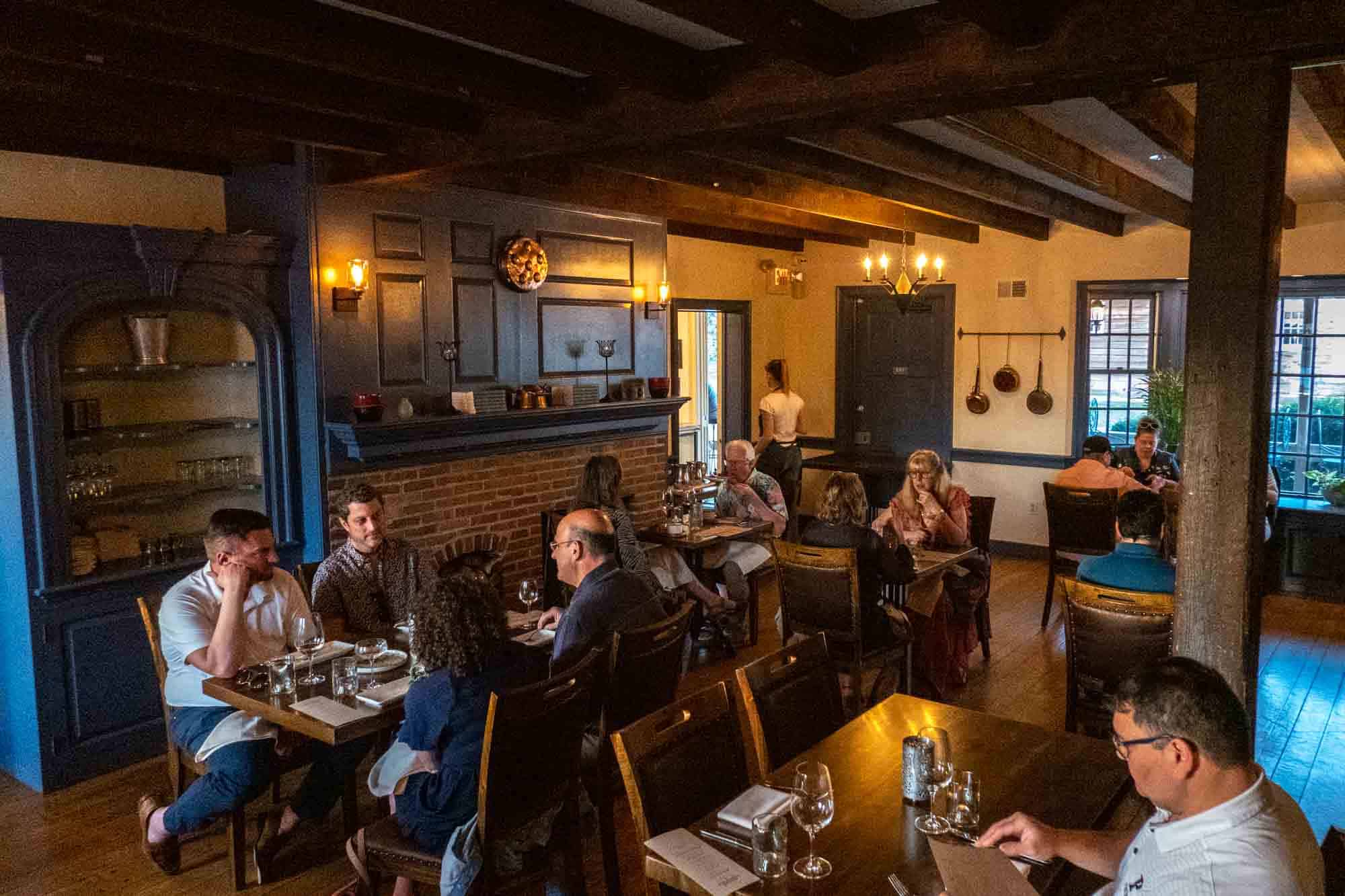 Entering through the brightly lit and splendidly stocked market, guests are whisked into the adjoining dining room. The dimly lit, dark wood space has room for about two dozen guests. You are invited to sit on wooden chairs at wooden tables, and you look around the exposed wooden beams of the historic building. Copper pans hang from a rack on the wall next to the fireplace.
In many ways, it feels like you are eating at a Revolutionary War-era tavern or some wealthy person of that era. The veggie-based meal feels like a natural extension of this historic place. It's worth noting that the Battle of the Brandywine centered on Dilworthtown, so those feelings aren't misplaced.
But Ground Provisions doesn't feel like some kind of living wax museum of the past. Service is friendly and efficient. The food brings a warmth to the room. Conversations can be had a reasonable volume. And everyone goes home happy.
Price Range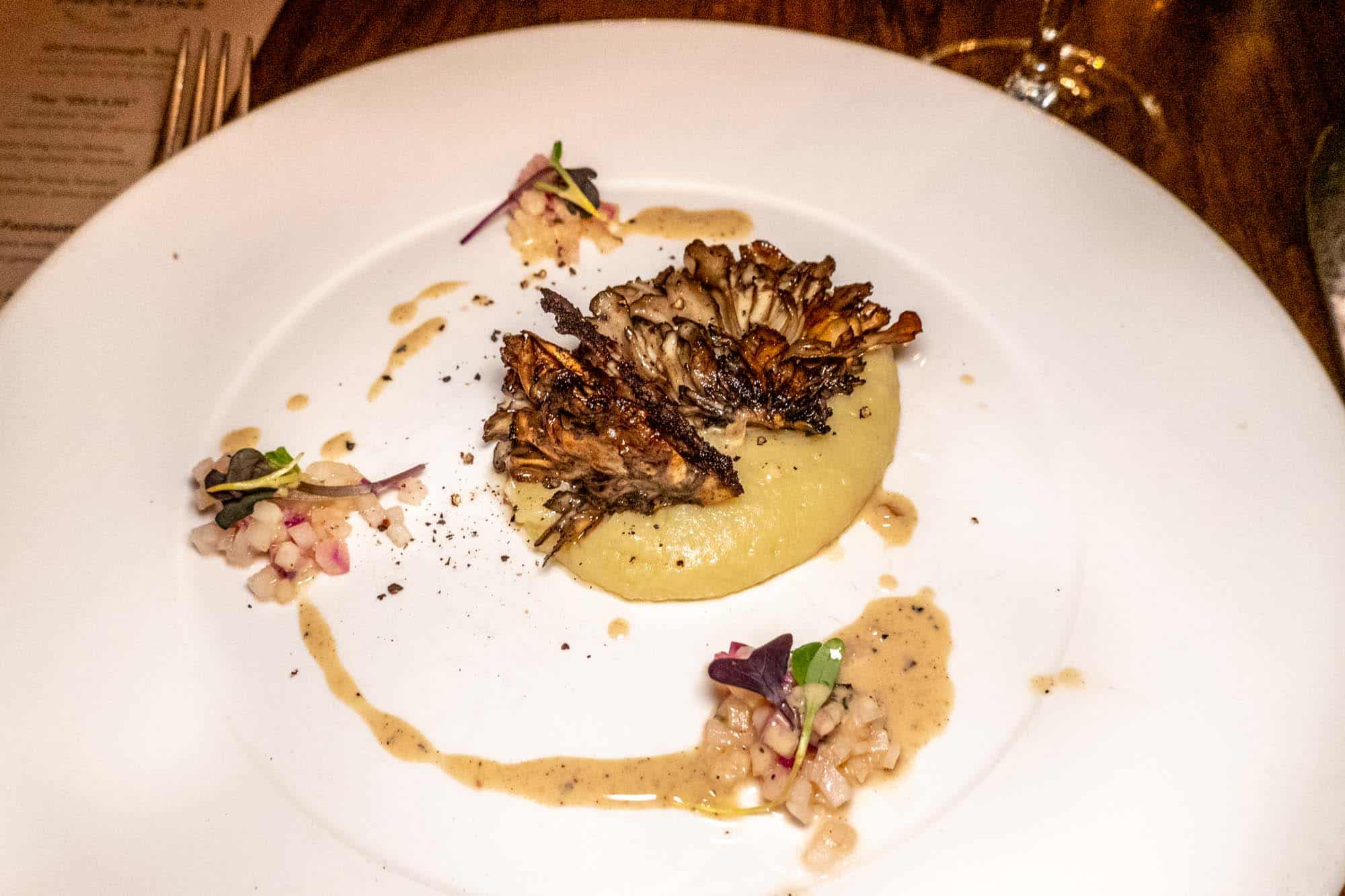 The tasting menu is priced at $75 per person, with an optional $40 wine pairing.
The lite bites on the front porch from the market are priced at $6-17, depending on the item.
Reservations
It's a small restaurant, so reservations are required. They open reservations 30 days in advance.
They can accommodate some walk-in patrons on the front porch (weather depending), but that is for "lite bites" from the market (not the full tasting menu).
Location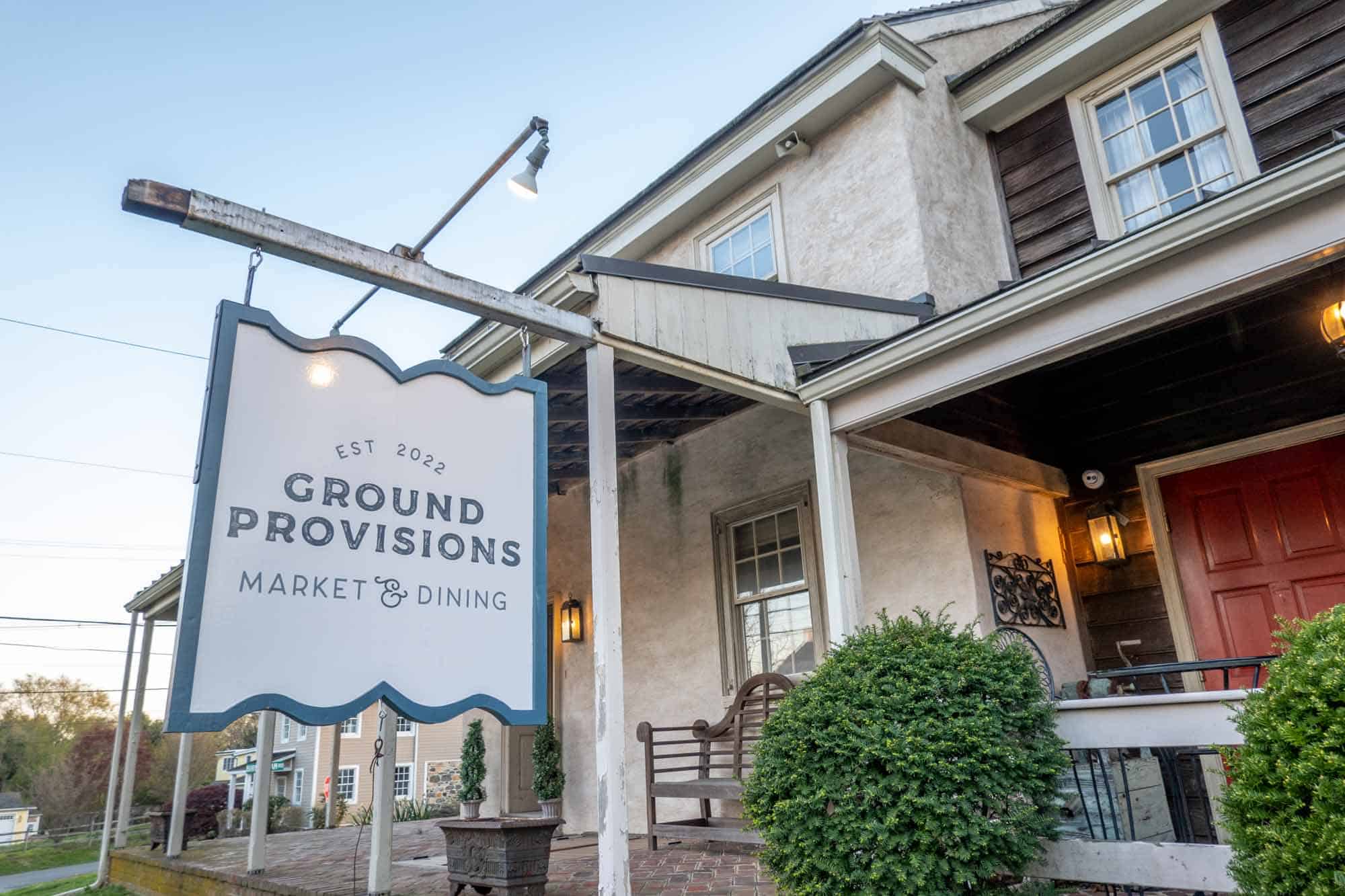 Ground Provisions is located at 1388 Old Wilmington Pike in West Chester, PA, on the grounds of the historic Dilworthtown property. There is ample parking in the private lot. Not accessible via public transportation.
Visit the Ground Provisions website for more information.