Some posts on this site contain affiliate links, meaning if you book or buy something through one of these links, we may earn a small commission (at no extra cost to you).
The coastal town of Rehoboth Beach in southern Delaware is a retreat for people looking to enjoy the outdoors, indulge in great food, and have fun at the local parks. This popular resort town bursts at the seams in the summer as visitors from across the East Coast return year after year to experience the nostalgia of the boardwalk and the other fun things to do in Rehoboth Beach.
From midway games and go karts to excellent seafood and shopping, the "Nation's Summer Capital" keeps visitors entertained. Whether you're spending the day on the beach or checking out an art gallery, there is plenty to see here.
Here are some of our favorite attractions and things to do in the area.
Hang out at the beach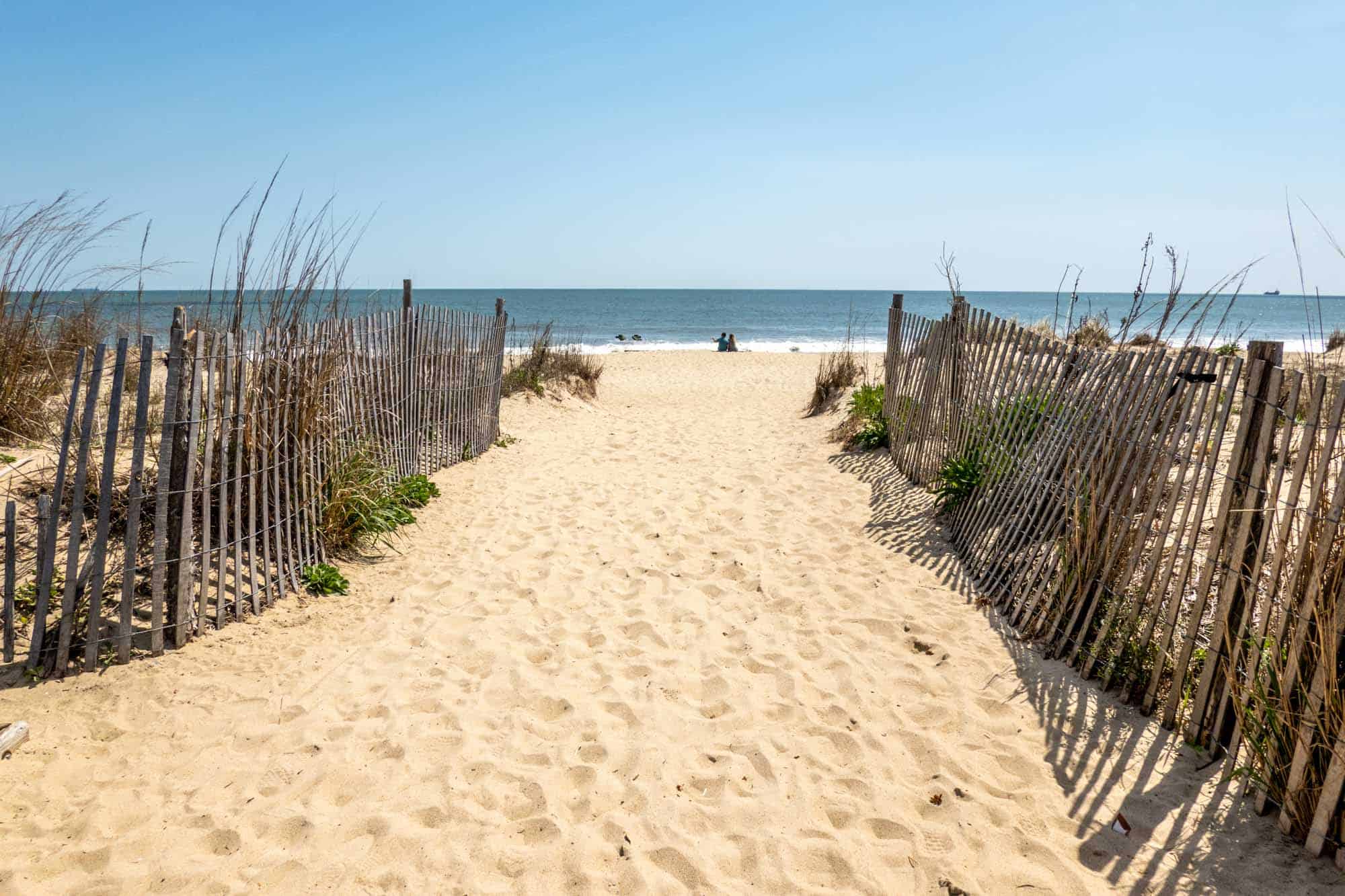 It goes without saying that the most popular thing to do in Rehoboth Beach is to visit the beach and its lively boardwalk. Free to visit and family-friendly, it is the place to be on a nice day.
The boardwalk runs right along the sand and stretches for over a mile. It is lined with stores, kiosks, and food stands selling all kinds of merchandise and some delicious food. You can grab a bucket of fries at Thrasher's and a burger at the iconic Gus & Gus' Place before playing a few games at one of the three Zelky's Beach Arcades–staples of the boardwalk for over 30 years.
During the summer season, there are regular free concerts at the bandstand. From local up-and-comers to fun cover bands, every weekend features talented artists.
See the Rehoboth Beach Museum
Dive into the town's past at the Rehoboth Beach Museum. This charming museum at the historical society features exhibits on local landmarks, the town's history and development, and residents and visitors over the years. All kinds of memorabilia are on display, ranging from 19th-century bathing suits to mementos from historic hotels and even a uniform from the days when the beach had a mounted patrol on horseback.
The museum has donation-based admission and offers special programs and activities for children.
Take a walk at Gordons Pond
The area around Gordons Pond is ideal for nature lovers. With just over 5 miles of hiking trails, the terrain is easy, but there is a lot to see along the way.
The wildlife area around the pond spans 5200 acres and is considered a migration "super highway" for waterfowl (it's only one of four such places in North America). There are lots of opportunities for bird watchers and photographers to spot cormorants, herons, egrets, kingfishers, and dozens more species, especially around the massive saltwater lagoon. There is ample parking, and the state park fee is required to enter.
Visit a local brewery
Rehoboth has an excellent group of craft breweries to choose from. The most well-known is Dogfish Head, which was founded here in 1995. One of the best places to eat in Rehoboth, their brewpub and restaurant serves a variety of beers, including some that are exclusive to the location. Their pizzas, pretzels, and seafood dishes are also popular, and there is regular live music, so there are plenty of reasons to stop in.
Just a few miles away in Lewes, Big Oyster Brewing Company is another popular option making IPAs, Belgian wheat beers, lagers, and more. They have a full-service restaurant, and Big Oyster beers are also served in the Fins Ale House restaurants. Nearby, Crooked Hammock Brewery is a fun stop known for hazy IPAs and sours. Their brewery and beer garden are family- and dog-friendly. We loved hanging out in the hammocks and enjoying the lawn games. Plus, there is a playground for kids.
Browse the galleries at Rehoboth Art League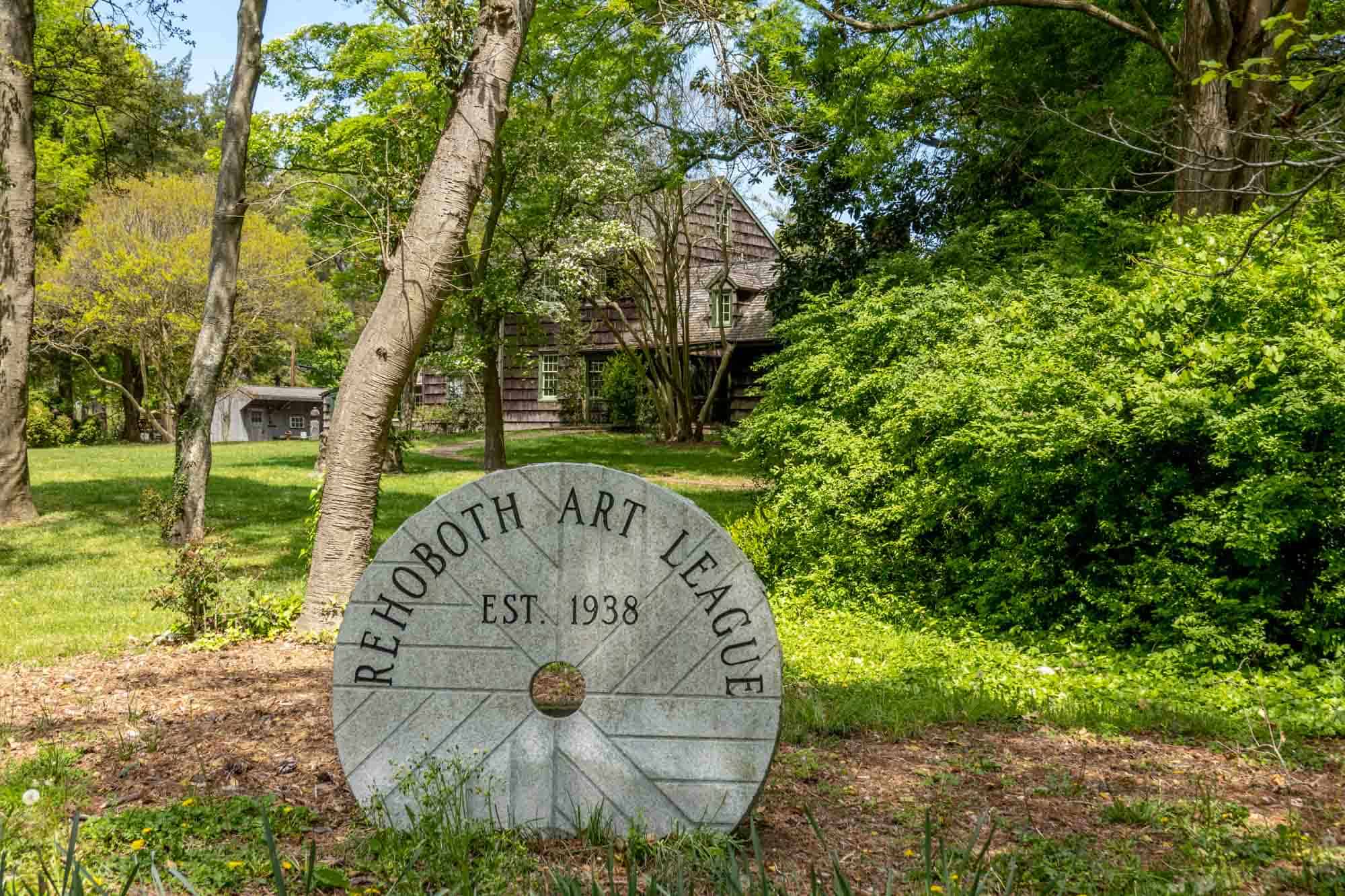 Secluded and serene, a visit to the Rehoboth Art League couldn't feel further away from the activity of the beach and boardwalk. One of the more unexpected Rehoboth Beach attractions, the art league is set among the trees on a wooded campus that spans more than three acres.
Every year, the art league hosts dozens of special exhibitions in the six galleries around the property, so there is always something interesting to see. There are also classes for artists of all skill levels, including photography, ceramics, watercolors, and other specialties. Several of the galleries are open year-round and all are free to visit.
See a show at Bottle & Cork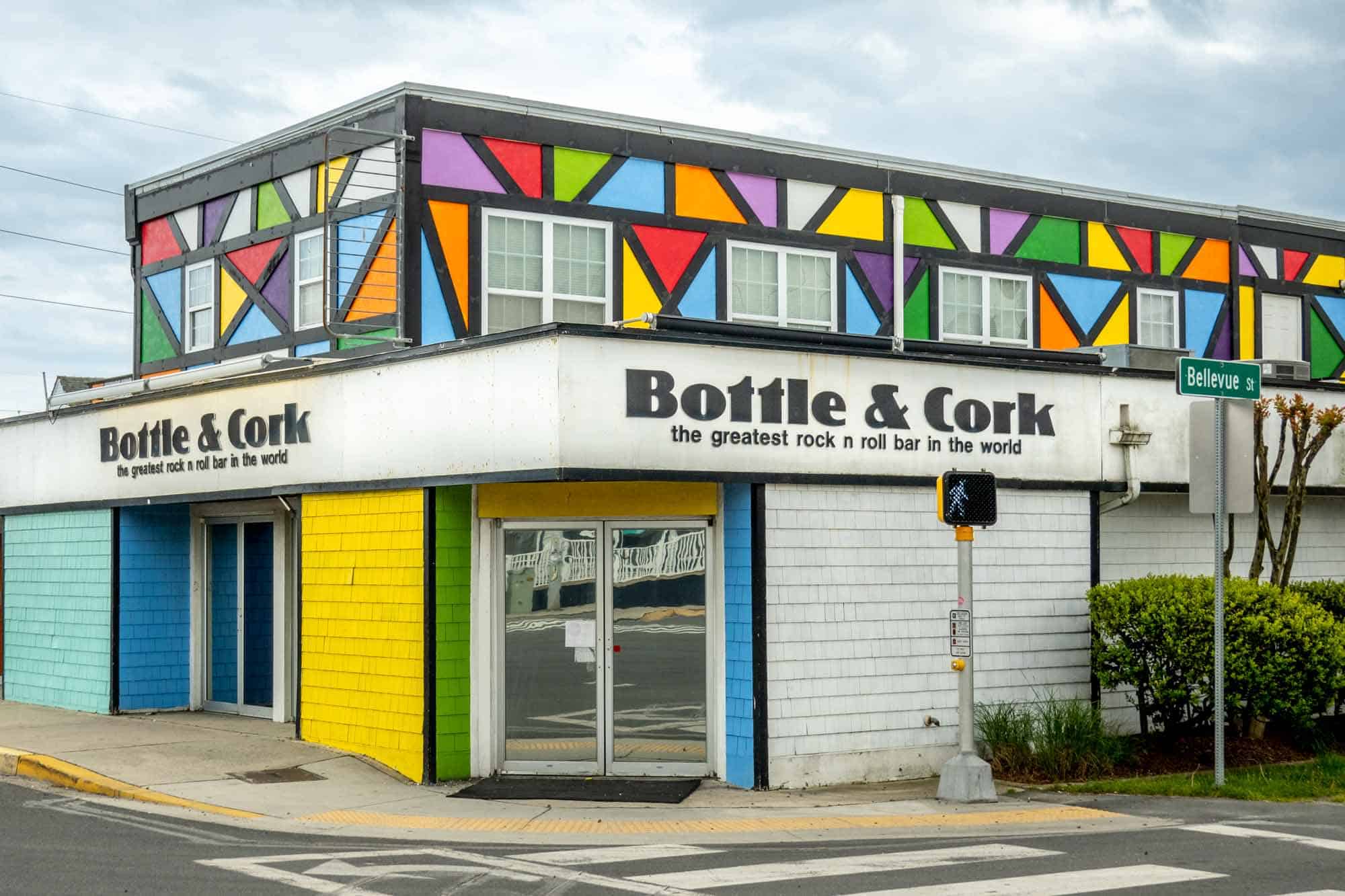 The tiny town of Dewey Beach is home to one of the best places to see live music in Delaware. For nearly 90 years, Bottle & Cork has welcomed local favorites and nationally known performers to its colorful building, which it calls the "greatest rock 'n roll bar in the world."
Everyone from Philly-natives The Bacon Brothers to Dave Matthews Band, Cyndi Lauper, and Eric Church has played in the intimate, indoor/outdoor venue. In addition to headlining acts, one of the biggest draws at Bottle & Cork is their Jam Sessions. During the summer season, several bands from across the area take the stage on Saturdays at 5pm for a mini music festival, which is always a good time.
If you're headed to Bottle & Cork, be aware that there is no seating and bring cash. There are ATMs available, if needed.
Play around at Funland
Generations of families count going to Funland as one of the best parts of summer in Rehoboth Beach. Right on the boardwalk, this charming amusement park offers affordable fun for kids and adults.
Whether the Sea Dragon swinging ship is calling your name or the helicopter ride is more your speed, there are lots of options here. Check out the Haunted Mansion, take a spin on the bumper cars, or try to win a prize at one of the fun midway games.
The entertainment starts at Funland on Mother's Day weekend and continues through mid-September. Pro tips: ride tickets never expire, so you can use them whenever you come back, and, if you visit 1:00-4:30pm, you can get a wristband to ride unlimited rides for just $23.
Relax at Delaware Seashore State Park
Just south of the city center, Delaware Seashore State Park has about six miles of oceanfront and 20 miles of bay shoreline. Because of the state park fees, it is often a quieter alternative to the beach downtown, which we appreciate, and the golden sandy beach is unmatched in the area.
Visitors can swim, kayak, and fish on the peaceful, undeveloped coastline. There are opportunities for windsurfing and water skiing, and clamming and crabbing are also allowed in some sections of the bays.
For food, don't miss the Big Chill Beach Club—the oceanfront restaurant—or the Dockside Marina Bar & Grill, a full-service outdoor restaurant with the best view of the marina.
Visit Indian River Life-Saving Station Museum
Driving south on Coastal Highway, you can't help but notice the distinctive orange and red building that is the Indian River Life-Saving Station Museum. Built in 1876, the museum is set in the former life-saving station—a facility staffed by men who patrolled the beach and saved sailors whose boats ran into trouble on the shoals of the Delaware coastline.
One of the historical places in Rehoboth Beach, the museum houses items and equipment that were used by the surfmen who manned the station for its 90 years in use. You'll see the boats and carts that had to be dragged by hand in the middle of storms as well as one of the first telephone lines in Delaware, which the men used for communication. You can also see where they ate and slept during the months they lived at the station.
Now a National Historic Landmark, the museum is a fascinating place to learn more about coastal history and the people who saved others from harrowing shipwrecks.
Go to a culinary event
If you like music, food, and unique experiences, check out the pop-ups and special events from Paul Cullen. A local chef and sommelier, Cullen was also a guitarist for the group Bad Company. He combines all his interests by hosting special dinners with a concert component at his venues in Lewes.
Whether it's a four-course wine dinner with a special performance by a rock singer or pizza on the patio followed by music and dancing, the events offer a range of price points and experiences. There are also occasional cooking and wine classes for people who want to learn more. See the event calendar if you're looking for a unique thing to do near Rehoboth Beach.
Try taffy at Dolle's
It's not summer at the beach without a visit to Dolle's. Delaware's oldest candy maker, the iconic shop has been a boardwalk staple for nearly 100 years. Visit to stock up on handmade chocolates, caramel corn, nut brittle, and over 20 flavors of salt water taffy—peppermint and orange are our favorites.
Take a ride on the Junction and Breakwater Trail
In an area full of biking and walking trails, the Junction and Breakwater Trail is one of the most popular. The 6-mile trail from Rehoboth to Lewes mainly follows in the tracks of the former Penn Central Railroad. Along the way, it passes forests, wetlands, fields, and a 100-year-old bridge, taking visitors to some of the prettiest parts of the local landscape.
Cool off at Jungle Jim's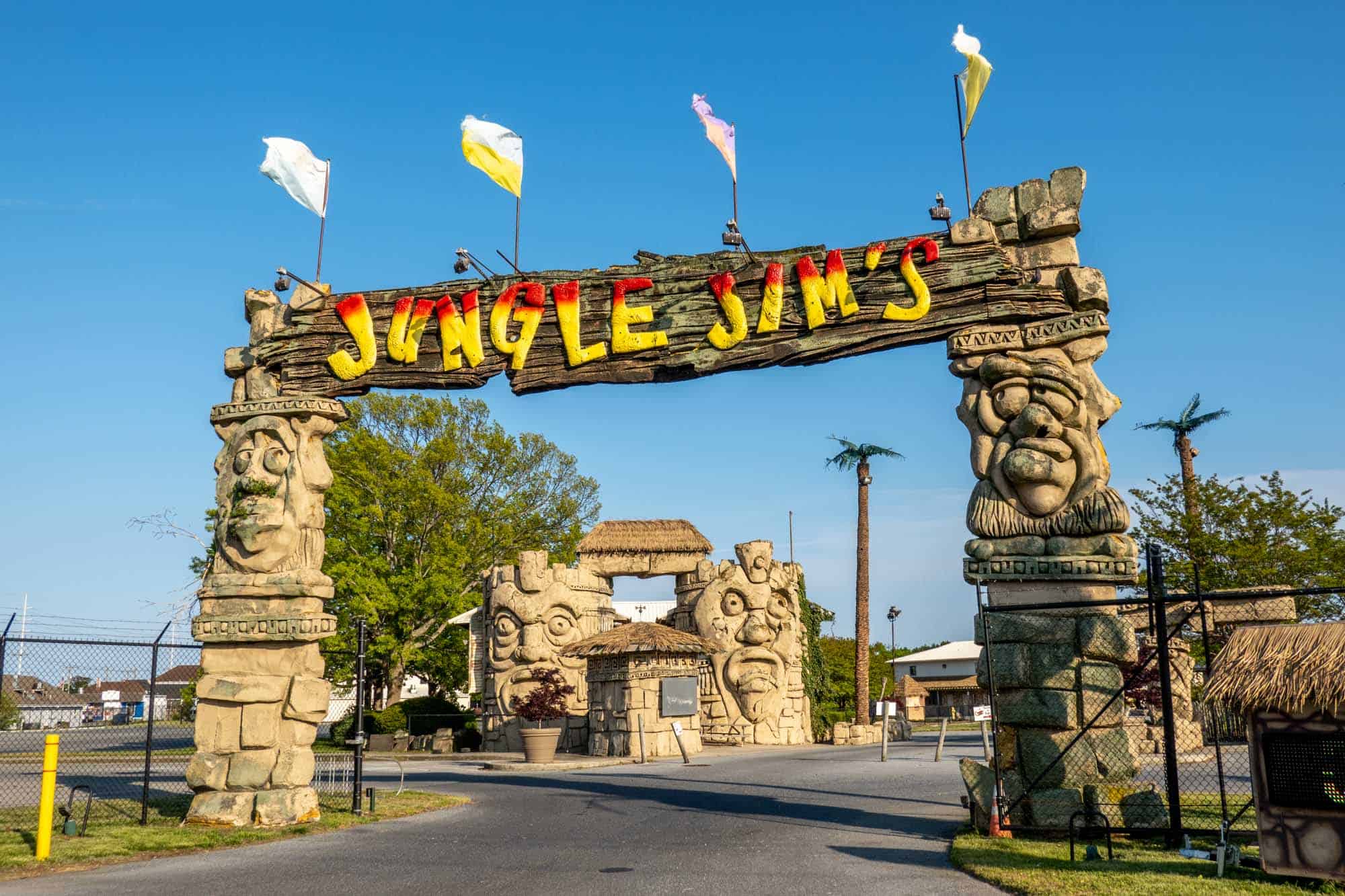 Jungle Jim's River Safari Water Park is the place for lovers of water slides and wave pools. The largest water park in Delaware, it is full of wildlife-themed water attractions from a lazy river to a kiddie pool. When you're done in the water, you'll find batting cages, mini-golf, and a go-cart track. Plus, the River Café has a broad selection to keep you fueled for the day's adventures.
Shop at Tanger Outlets
With no state sales tax, Delaware is always a popular place for shopping, which makes a stop at Tanger Outlets a must-do for many visitors. There are three separate sections of the outlet mall—Seaside, Bayside, and Surfside—with over 100 shops and restaurants to visit among them. From North Face to Cole Haan to Loft, there are plenty of great stores here to find a good deal.
Try out the water sports
The beaches in Delaware offer lots of opportunities for water sports. Check out Delmarva Board Sport Adventures for renting paddle boards, renting kayaks and guided kayak tours, including their full moon kayak tour that happens several times during the summer. You can also learn to surf at RB Surf Boarding School and rent jet skis at Dewey Beach Water Sports.
Browse Penny Lane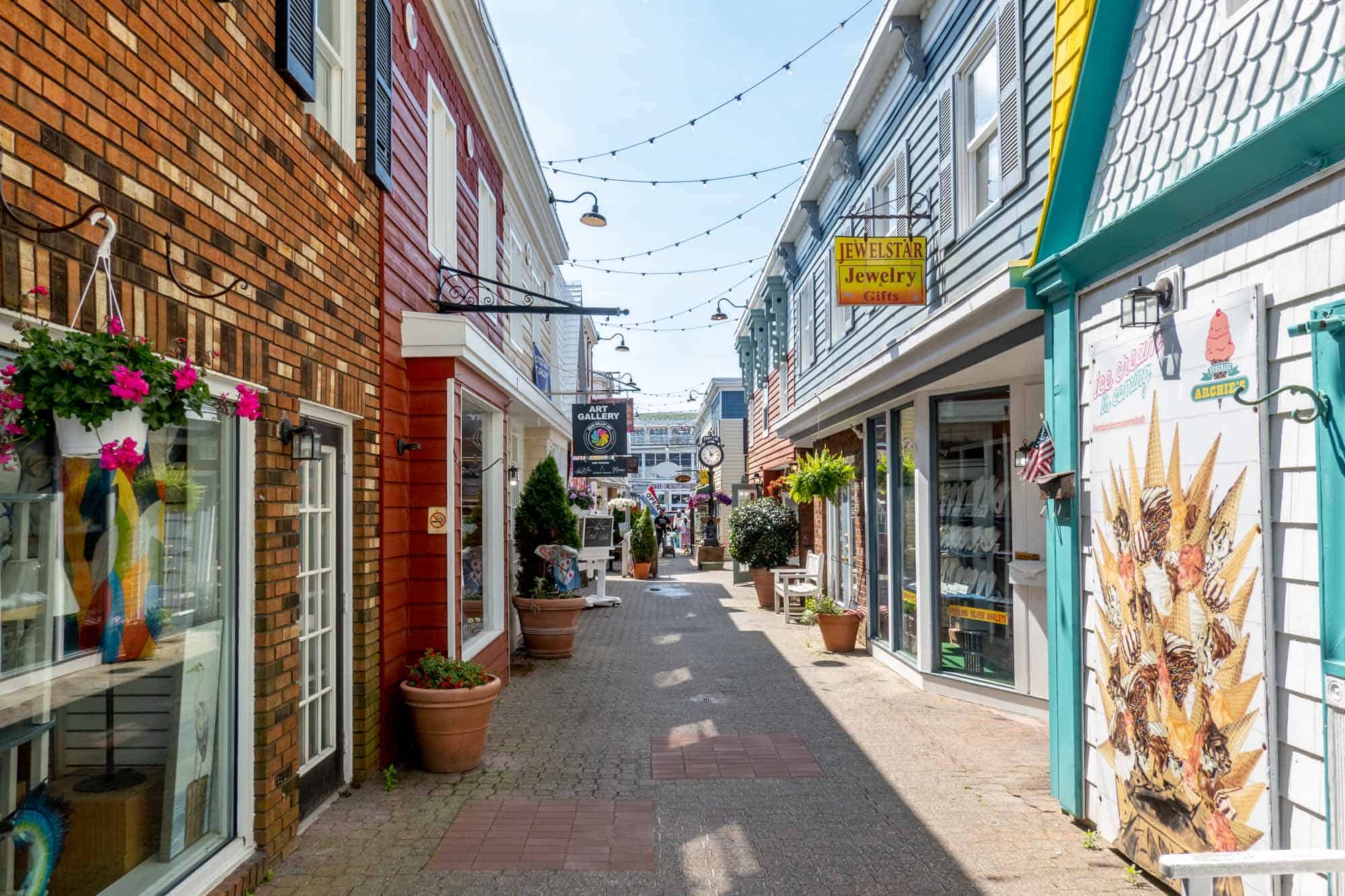 Down a little lane not far from the Rehoboth Beach boardwalk, Penny Lane Mall is a stretch of stores that seems like something from small-town Europe. The alleyway is lined with charming boutiques, an art gallery, one of Rehoboth's best bakeries, and more. Whether you're looking for fine art, local spirits, or spa gifts, you'll find it here.
Putt putt at Shell We Golf
The challenging mini-golf course at Shell We Golf invites families and friends to negotiate water features and navigate around dolphins, tiki idols, treasure chests, and other obstacles under the trees at this top Rehoboth Beach attraction. Keep an eye out for the invisible fish while you play, and stop in for beach-themed gifts or a sample of fudge at the Sea Shell Shop next door.
Explore Cape Henlopen State Park
At the mouth of Delaware Bay, Cape Henlopen State Park has six miles of coastline and lots of interesting things to see. In addition to lighthouses, viewpoints, and lovely trails, some of its main attractions are the beaches. We enjoyed Gordons Pond Beach, which has two World War II lookout towers right on the sand, and Herring Point, a dog-friendly beach, is popular with visitors who have a pup in tow.
Within the park, history lovers can visit the sites of the Fort Miles Historical Area, a place where 2500 soldiers were tasked with the important job of defending the coastline from the German navy during World War II. You can tour the underground museum in Battery 519 and see lots of heavy artillery and original buildings around the grounds.
On the north side of the park, the Seaside Nature Center is also a popular stop. Its exhibits explain the various animal and habitats within Cape Henlopen State Park, but its two-level touch tank is the main attraction. Visitors can see stingrays, horseshoe crabs, and other wildlife up close.
Go wine tasting at Nassau Valley Vineyard
In an unexpected spot off Coastal Highway, Nassau Valley Vineyard grows 7.5 acres of grapes that turn into their award-winning wines.
A tasting gets you samples of four of their wines, or you can enjoy a bottle with friends at one of the picnic tables. Our favorites are Meadow's Edge White, a semi-dry combination of Seyval Blanc and Vidal Blanc, and Laurel's Red, a semi-dry wine made from Chambourcin.
The vineyard is particularly popular for the farmer's market it hosts every Sunday from mid-May to mid-October. In addition to the vendors, there is live music and even a sangria bar.
Race go-karts Midway Speedway Park
If you're wondering what to do in Rehoboth Beach beyond the beach itself, Midway Speedway Park is always a top choice for families. It offers water activities and plenty of adventures.
Tucked behind a strip mall along Route 1, Midway Speedway Park has everything from an 18-hole volcanic themed mini-golf course to a climbing wall and lazy river. The real attraction is the go-karts you can race on 4 different tracks, including one just for kids.