Some posts on this site contain affiliate links, meaning if you book or buy something through one of these links, we may earn a small commission (at no extra cost to you).
For decades, Atlantic City, New Jersey, has been one of the most popular tourist destinations on the East Coast. The reason for this is not hard to see–it's packed with entertainment, live shows, fine dining, and more. Here are some of our favorite fun things to do in Atlantic City.
Explore the Boardwalk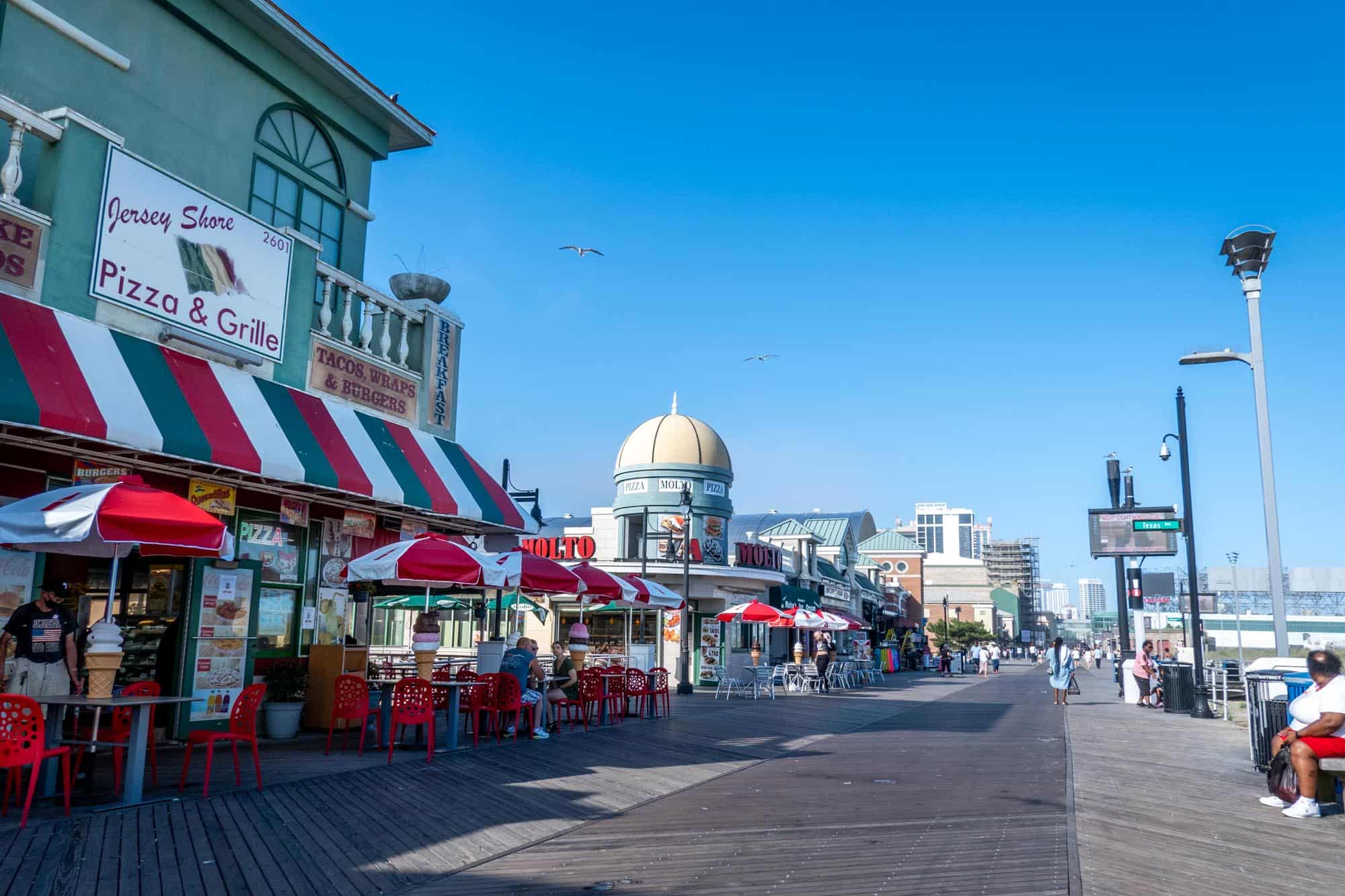 If there is any place that enjoys a near-iconic status in this city, it is the Broadwalk. It's the most popular tourist attraction in Atlantic City and has made its way to the bucket list of nearly everyone visiting this Shore town.
The four-mile-long stretch of wood that is the Atlantic City Boardwalk was initially constructed in 1870. It offers some of the best people watching you could imagine plus open-air shows, shopping, and good restaurants. Visitors can go for a stroll or explore it from the comfort of its popular rolling chair–which consists of large wicker chairs drawn along like a rickshaw–or its equally popular electric tram.
Another reason why this NJ Boardwalk is at the top of the list of Atlantic City attractions is that it is family-friendly. Families can spend time here as there is often something for every family member, including the Entrance to the Stars, the city's version of Hollywood's Walk of Fame. It features the handprints of such distinguished celebrities like Stevie Wonder, Cher, and Frank Sinatra.
Enjoy the beach
Most people find going to beaches fun and relaxing. This is because beaches are often inclusive and family friendly. The Atlantic City beach is not left out when it comes to family-friendly activities and is one of the better beaches in the area.
This 5-mile stretch of public beach, with free changing rooms, outdoor showers, and restrooms is a great place to spend a fun-filled day. Visitors can rent beach umbrellas together with some reclining chairs to relax and sunbathe. There are also opportunities for kayaking, bodyboarding, surfing, and other water sports.
Try the rides at Steel Pier
The Steel Pier is New Jersey's version of New York's famous Coney Island. Originally built in 1898 and rebuilt in 1993, the Steel Pier developed a prestigious reputation as one of the most visited tourist attractions in the United States and a must do in Atlantic City.
This awesome amusement pier extends out over 1,000 feet into the sea. Atop the structure, there's a world of exciting activities for people of all ages. It features teacup and tiny train rides for little kids. There are also more daring rides such as roller coasters and the swing carousel for older children, teenagers, and adults. The pier also has thrilling, adventurous rides such as the MIX, the Flyer, and the Slingshot.
The Steel Pier also provides incredible views of the Boardwalk and the city when you ride its most recent addition, The Wheel. The Wheel is a massive 227-foot-high Ferris Wheel that can accommodate 240 passengers in its temperature-controlled gondolas. It is unique because it can operate year-round since the temperature of its gondolas can adjust to fit different weather conditions.
See the oddities at Ripley's Believe It or Not!
One of the year-round Atlantic City attractions, Ripley's Believe It or Not! is packed with hundreds of curious and odd exhibits to keep visitors entertained.
The unusual museum's "Odditorium" has everything from a roulette table made of jellybeans to a shrunken head. There are lots of historical artifacts, too, including a lock of George Washington's hair, a flag flown on a NASA space mission, and a piece of the Berlin wall. Locals will also love seeing the Jersey Devil exhibit.
It feels like every inch of the 12,000 square feet of space and 14 galleries is full of the unexpected.
In addition to the displays, visitors can play in the Laser Maze Challenge. In the game, you climb, dodge, and duck in a room filled with laser beams to see how quickly you can reach the end. It's a fun, active addition to the Ripley's exhibits.
Climb the Absecon Lighthouse
If you love great views, include visiting Absecon Lighthouse to your list of things to do in Atlantic City. The lighthouse, which is located at the north end of town, offers a nice break from the activity of the casinos.
With 228 steps and at 171 feet, Absecon Lighthouse is the tallest lighthouse in the Garden State and the third tallest lighthouse in the United States. This lighthouse holds much history. It is notable for still possessing the First-Order Fresnel lens installed when it was originally built in 1857. This elegant lighthouse provided light to guide boats to shore for nearly 80 years until it was retired in 1933.
Recently renovated to commemorate New Jersey's 300th anniversary, this lighthouse made of bricks, granite blocks, and iron lights up every night to guide visitors up to its steps. While the climb may seem lengthy and tedious, the stunning view of the Atlantic Ocean makes it worthwhile.
Apart from the climb up the stairs, you can take a tour through the lighthouse. Visitors will see the original lighthouse keeper's quarters. There is also a museum where you can find out more about the history of lighthouses and their keepers, shipwrecks, and the maritime history of the city and the state.
Eat at a classic restaurant
Thanks to the casinos and resorts, there are lots of great restaurants in Atlantic City. It can be easy to overlook the city's classics outside the resorts, many of which have been fine dining establishments for over 100 years.
Chef Vola's, which is both hard to find and super popular, serves Italian-American classics and has welcomed guests since 1921. The Knife and Fork Inn, which opened as a private club in 1912, offers great steaks and seafood and is famous for their lobster thermidor. We particularly enjoy Dock's Oyster House, the city's oldest restaurant that dates from 1897. They have an excellent happy hour and live piano all evening.
Take a dip in a hotel pool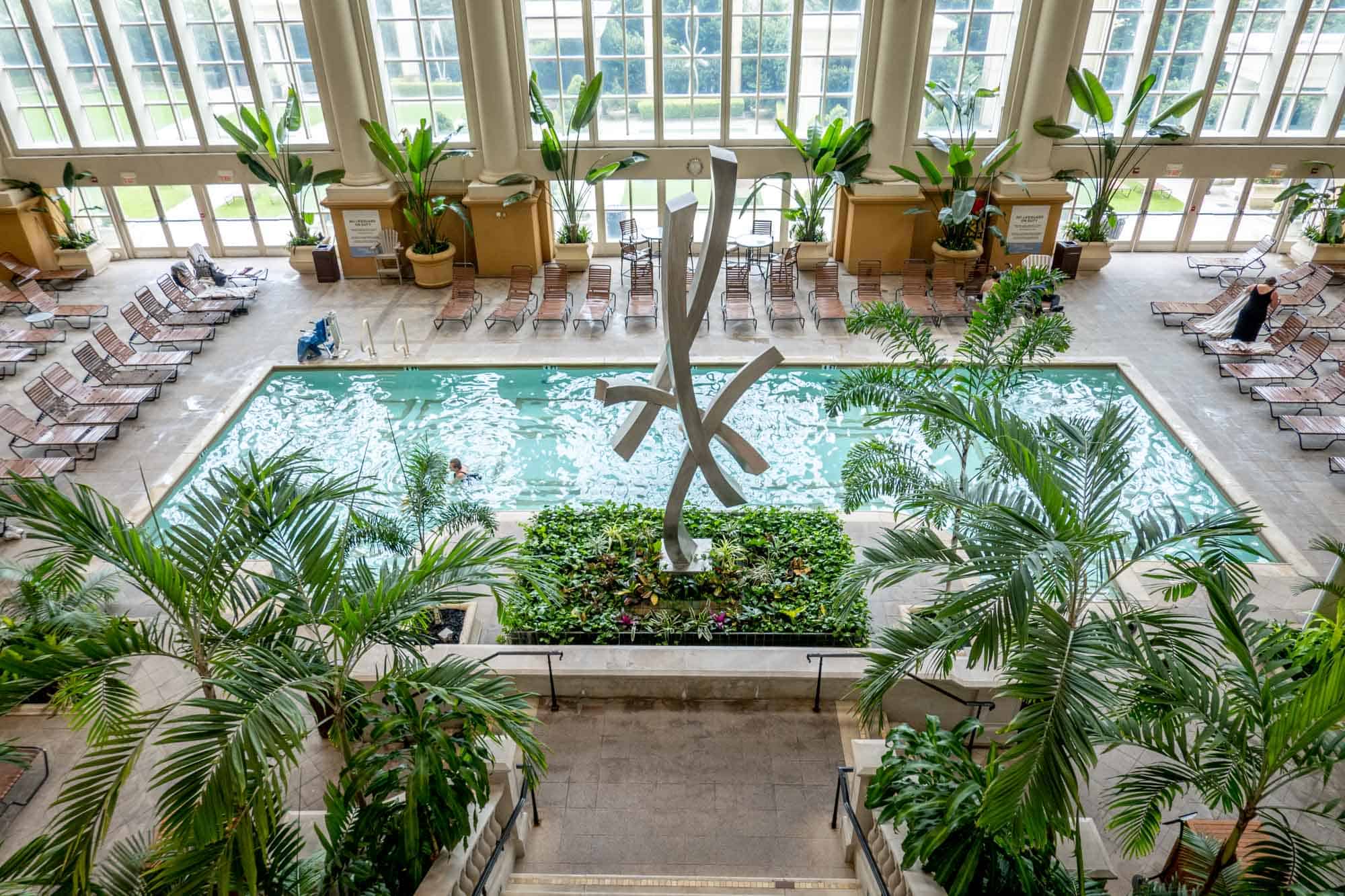 Take a break from the casino at one of the resort swimming pools. Many hotels offer outdoor pools in the summer months and heated indoor pools that are open year-round. The Borgata, the Hard Rock, and the Ocean have spa-like experiences while Harrah's offers more of a party atmosphere.
See a show at Jim Whelan Boardwalk Hall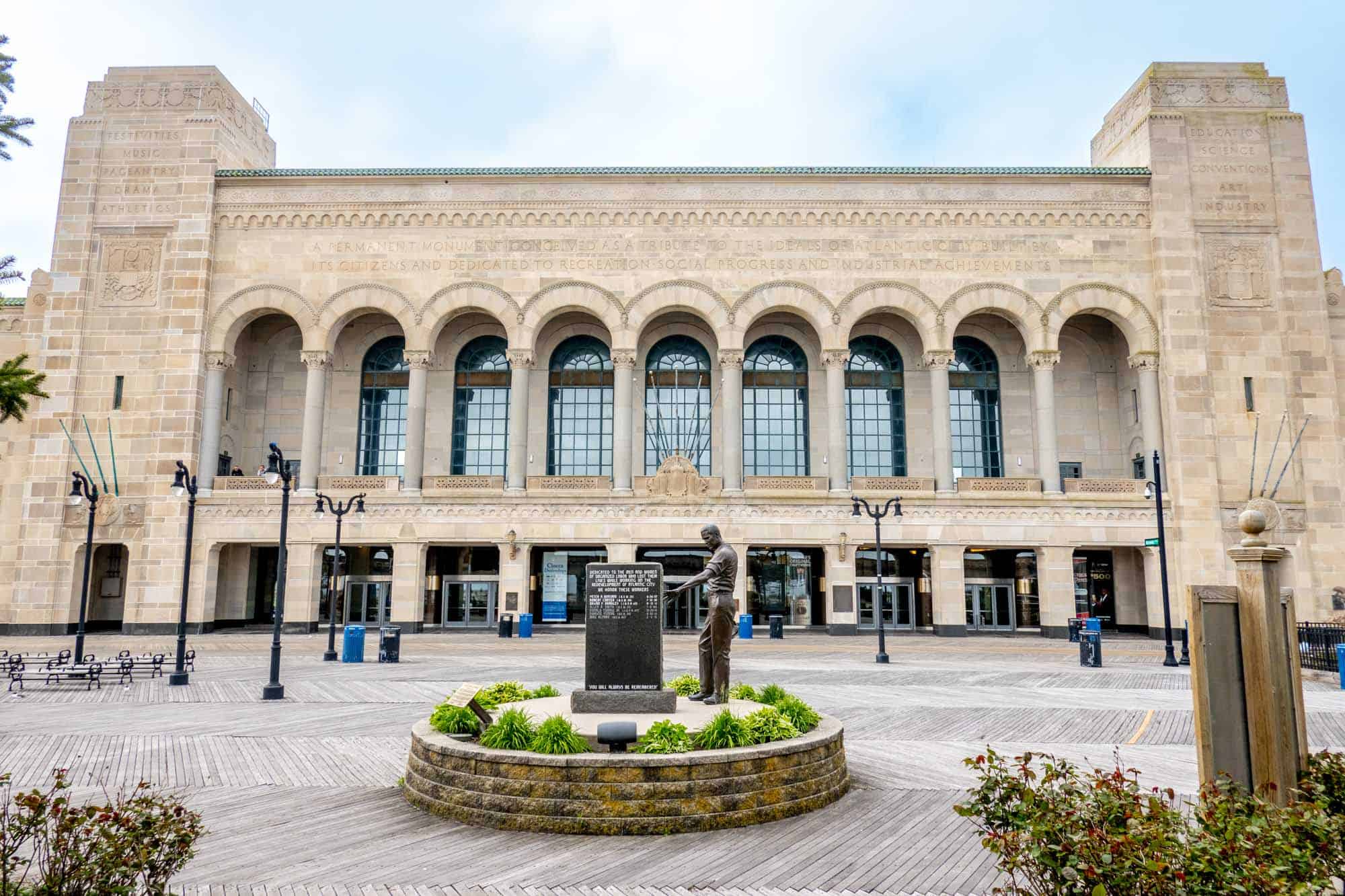 Jim Whelan Boardwalk Hall is a famous venue located smack in the middle of the Boardwalk. Since its opening day in 1929, it has risen to prominence as the most renowned concert and event venue in town. This seaside concert hall has been home to the Miss America pageant since 1940, drawing tens of thousands of spectators to the city.
The famous Jim Whelan Boardwalk Hall often has an impressive concert line-up, and you are sure to find something that will catch your fancy. Many celebrity musicians, including Grammy Award winners like The Rolling Stones and Beyoncé have performed musical at this venue.
Beyond the concerts, Boardwalk Hall is popular for having the largest musical instrument in the world–a pipe organ that has eight chambers, 33,000 pipes, and 1,000 stop keys. There are free half-hour concerts and tours of the pipe organ every Monday.
Shop at the Tanger Outlets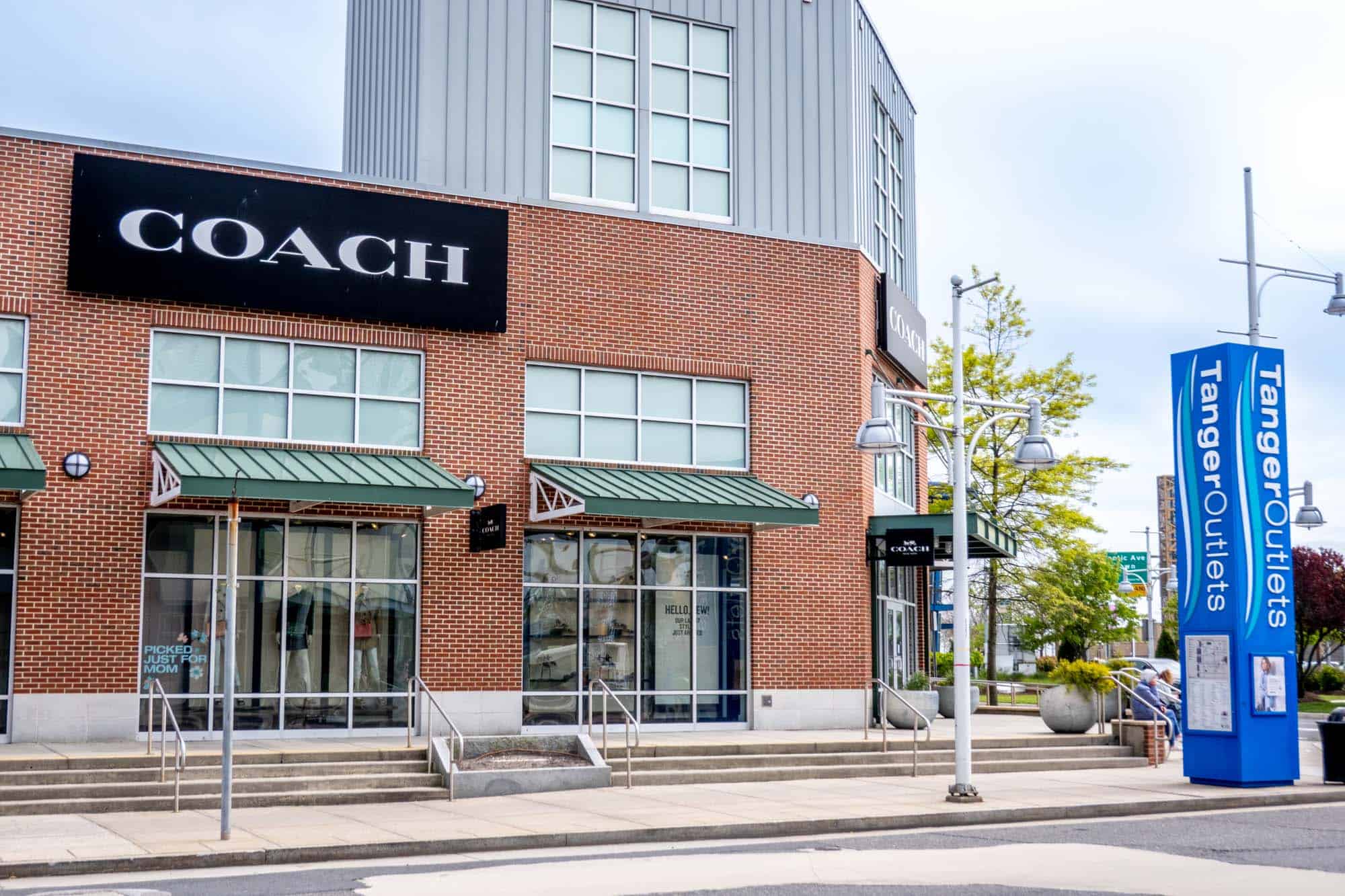 Where is the fun in going on a vacation without doing some shopping? If you are visiting the Shore and would love to engage in the obligatory travel shopping, check out the Tanger Outlets, one of the best places to shop in Atlantic City.
The Tanger Outlets is an open-air mall with over 100 stores offering a wide range of products to choose from. Most big-name brands such as Hilfiger, H&M, Coach, and Adidas have stores here. Beyond designer outfits and major brands, there are also lots of food options from chocolate and ice cream to delicious pastries and crepes to fuel your shopping spree.
Play a few rounds at Topgolf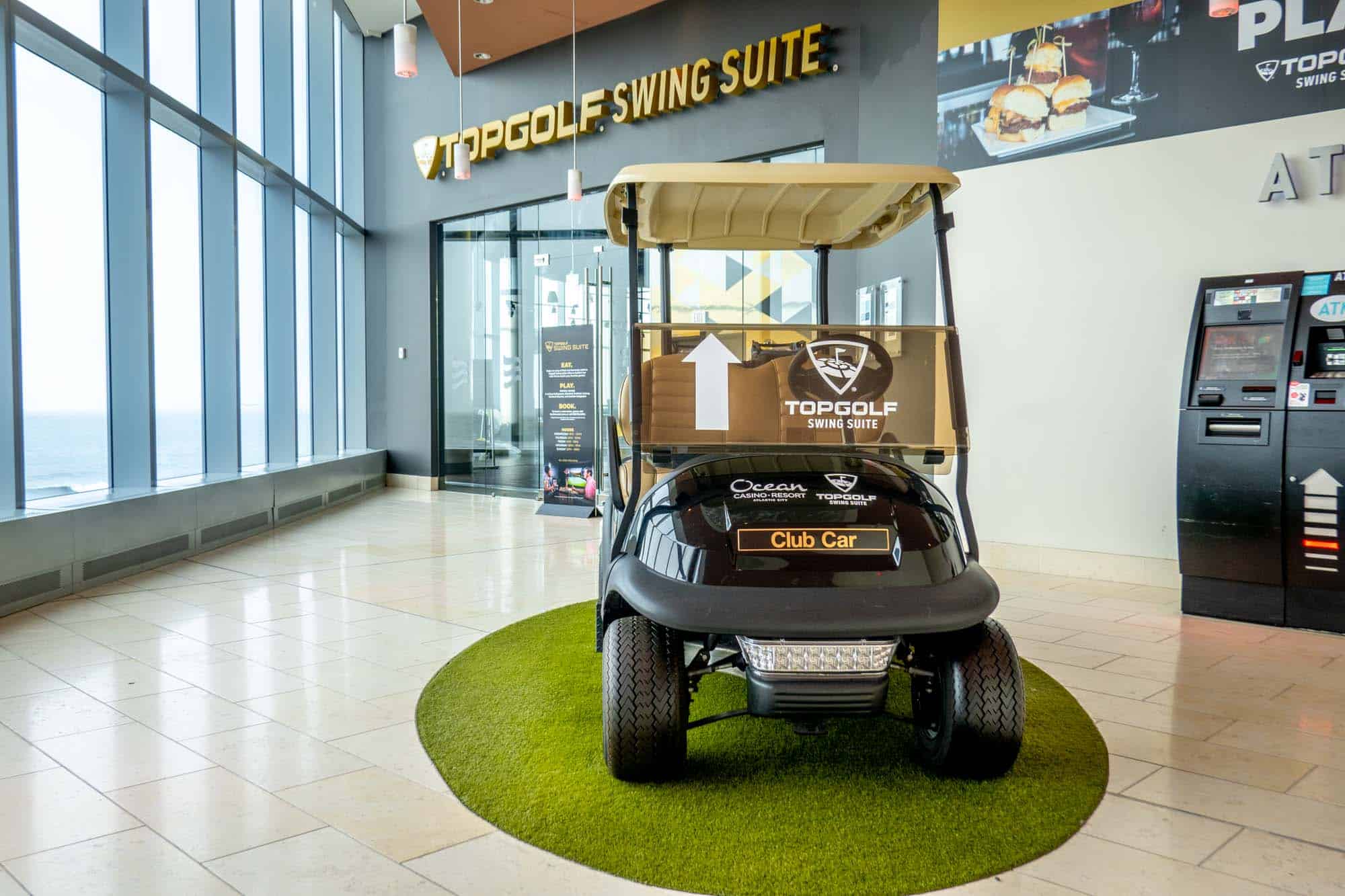 If the weather isn't great or you're just looking to do something a little different, head to the Topgolf Swing Suite at the Ocean Casino Resort. In addition to virtual golf, Topgolf's screens can be used to play other fun virtual games, including baseball, football, and even zombie dodgeball, so it's a fun place to go even for non-golfers.
With seven private bays, a large bar, and additional table games, there is lots to enjoy at Topgolf. Plus, it has fantastic boardwalk and ocean views.
Hit the jackpot at the Borgata Hotel Casino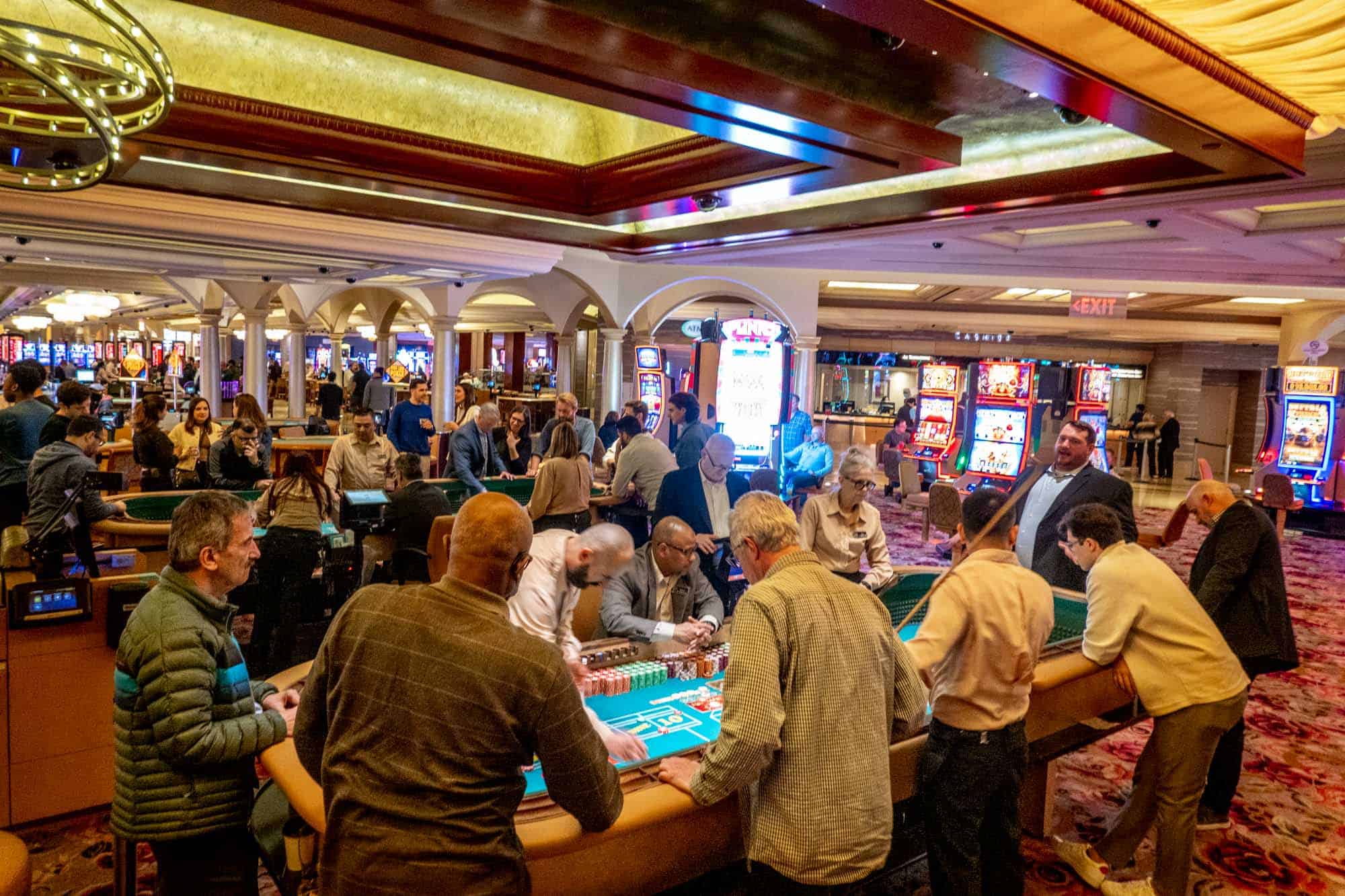 Even if you are not staying at one of the 2002 rooms of the Borgata, New Jersey's largest hotel, you can still have fun here.
Located in the heart of the city, the Borgata Hotel Casino provides a range of attractions and activities that help make it the best casino in Atlantic City. The 161,000 square-foot hotel casino has over 200 table games and 4,100 slot machines. This makes it a great place to try out gambling or test your luck at the slot machines.
If gambling is not your thing, you can try out the 11 high-end restaurants at the Borgata, including Old Homestead Steak House, Japanese destination restaurant Izakaya, and Angeline, and Italian restaurant from James Beard Award winner Michael Symon. Plus, there's a spa, salon, and event center with live entertainment.
Seek out local street art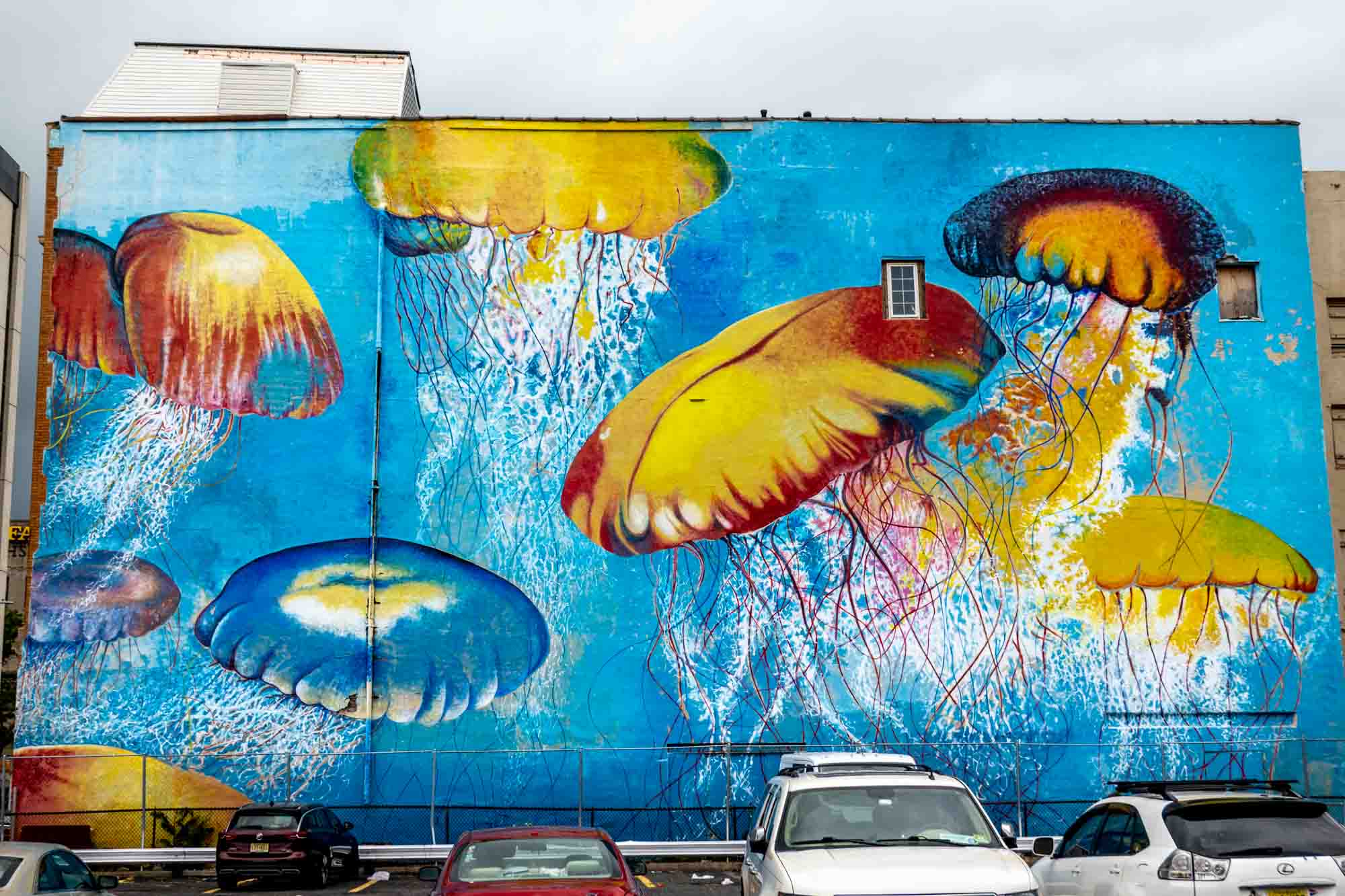 Atlantic City alone has over 60 street murals. These murals begin from the entrance of the city through Absecon Boulevard/Route 30 to the AC exit of Route 40/Route 322/Black Horse Pike. This means that the murals of Atlantic City provide you with an excellent opportunity to explore the city from end to end. This makes checking out the street murals one of the fantastic activities in Atlantic City.
Some of the murals feature the graffiti-style lettering popular amongst avant-garde artists looking to make political yet artistic statements with their art. Some include compositions that are stuck to the wall as part of their unique design. There are a few mostly made from glass tiles. The city's murals can be seen on a roughly two-hour car or bike route through the city.
See Lucy the Elephant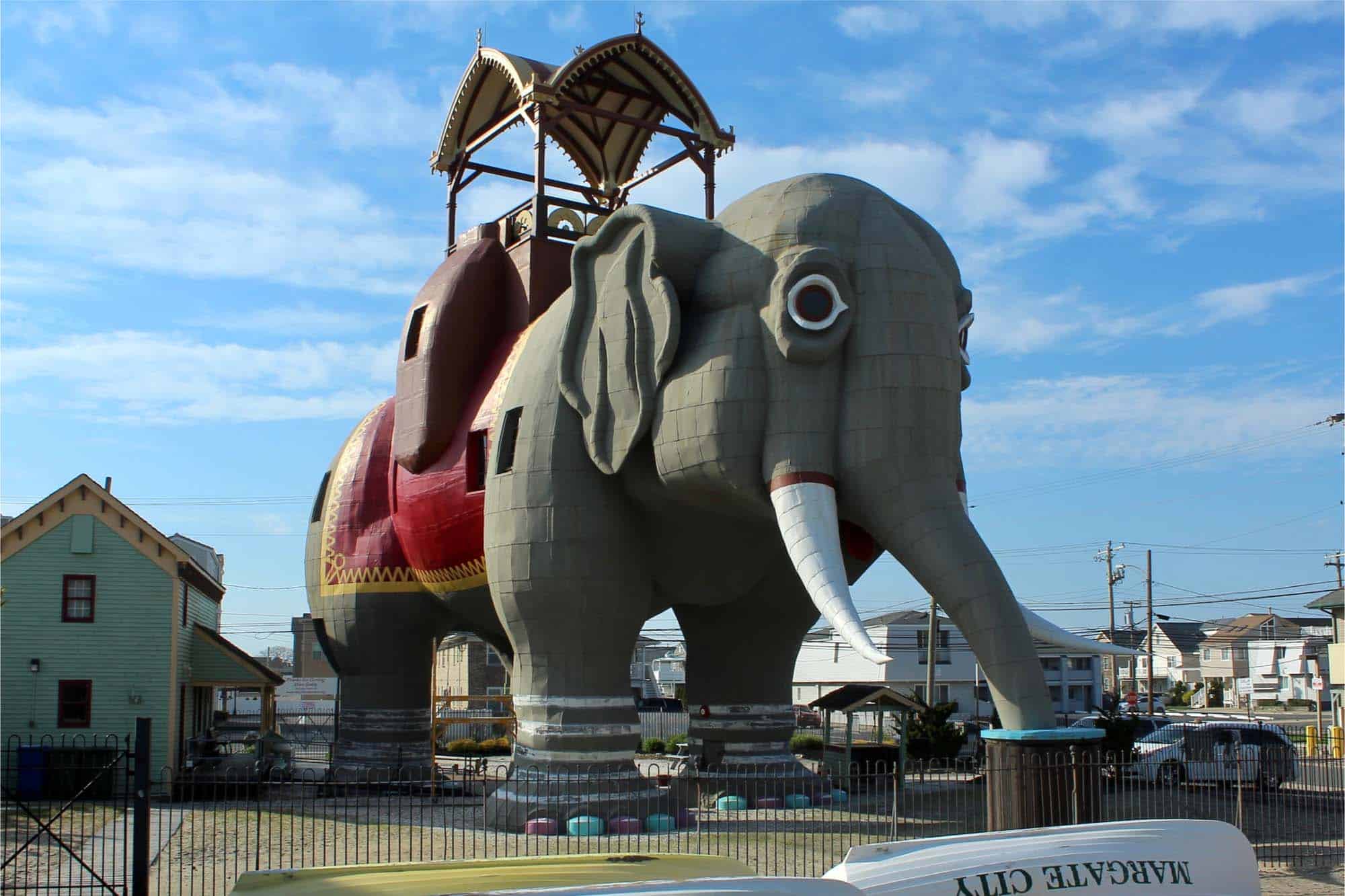 Just five miles away is one of the most popular places to go near Atlantic City—the home of Lucy, the world's largest elephant. Located in Margate, Lucy was built in 1881 and is considered the oldest surviving tourist attraction in the country. Thousands of visitors come every summer to see inside the 65-foot high structure and take a photo with Lucy.
Heading to Atlantic City in the winter? Check out our guide to wintertime fun.
What is your favorite activity in Atlantic City? Drop a comment below and let us know your thoughts.