Some posts on this site contain affiliate links, meaning if you book or buy something through one of these links, we may earn a small commission (at no extra cost to you).
For decades, Atlantic City has been one of the most popular tourist destinations on the East Coast. The reason for this is not hard to see: there's a lot to do. Here's a complete guide to all of the fun things to do in Atlantic City, NJ
Yes, Atlantic City, New Jersey sprung up around the idea of gaming. However, now that you can find the activity legalized across much of the U.S., the city has evolved into more of an entertainment destination. From live shows to fine dining and everything in between, you can fill your days in AC.
The Boardwalk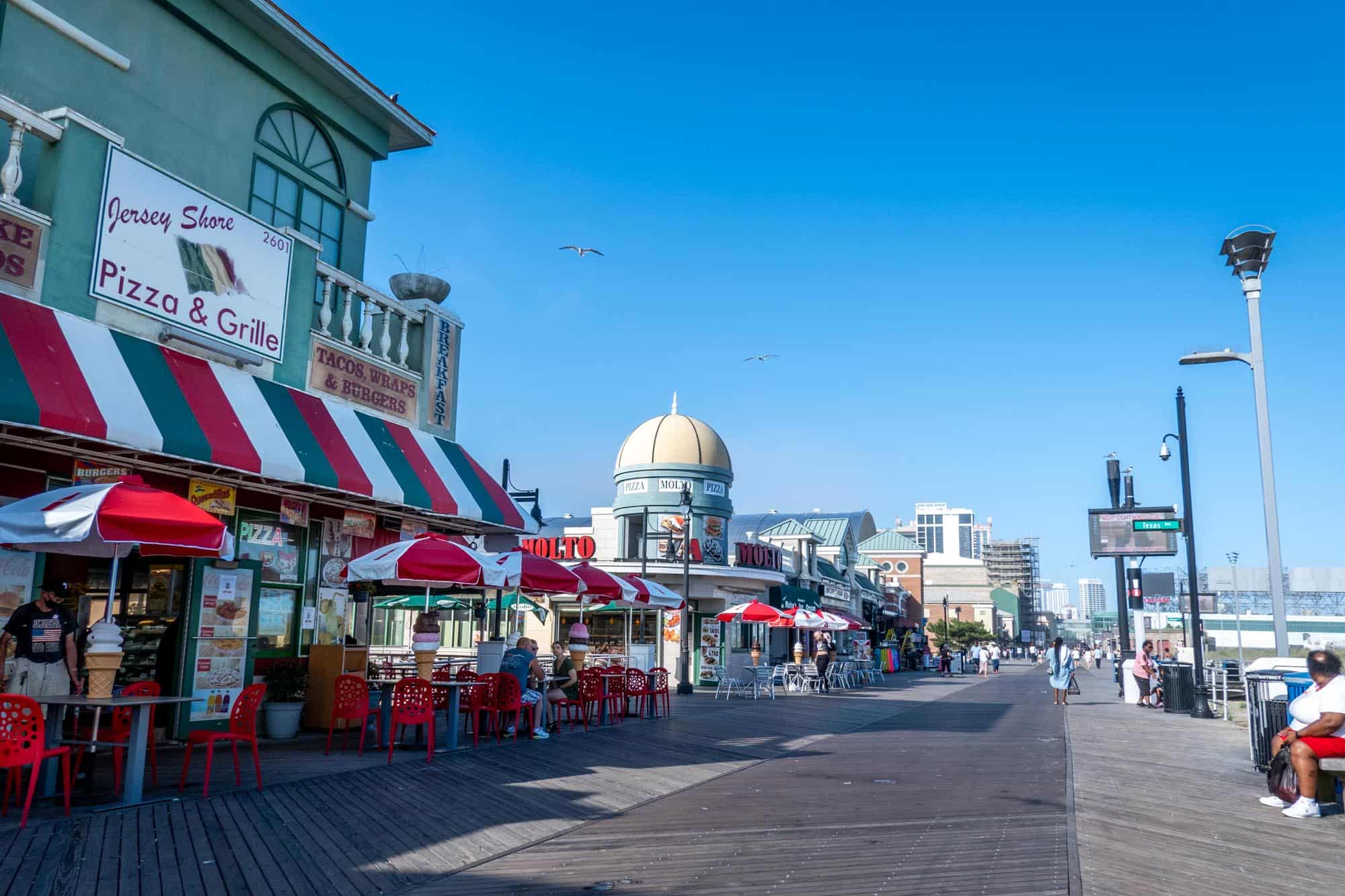 If there is any place that enjoys a near-iconic status in this city, it is the Broadwalk. This is the most popular tourist attraction in Atlantic City and has made its way to the bucket list of nearly everyone visiting this Shore town. The Atlantic City Boardwalk offers you a bunch of fun activities to do.
This four-mile-long stretch of wood that was initially constructed in 1870 and parts of it were updated after Hurricane Sandy in 2012. The Boardwalk offers you a place to see everything worth seeing in the city, and some of the best people watching you could ever imagine.
On the Boardwalk, you can take long strolls while exploring things at your pace. If you opt for a different mode of transportation, you can explore it from the comfort of its popular rolling chair, which consists of large wicker chairs drawn along like a rickshaw or its equally popular electric tram. You can watch the sea breeze on the boardwalk, attend one of the regular open-air shows, go shopping, or enjoy a lovely meal.
Another reason why the Boardwalk is at the top of the list of Atlantic City attractions is that it is family-friendly. Families can spend time here as there is often something for every family member, including the Entrance to the Stars, the city's version of Hollywood's Walk of Fame. It features the handprints of such distinguished celebrities like Stevie Wonder, Cher, and Frank Sinatra.
Atlantic City Beach
Most people find going to beaches fun and relaxing. This is because beaches are often inclusive and family friendly. The Atlantic City beach is not left out when it comes to family-friendly activities and is one of the better beaches in the area.
This 5-mile stretch of public beach, with free changing rooms, outdoor showers and restrooms, is a great place to send a fun-filled day at the beach.
If you're just a couple vacationing together without the kids, you will find that taking strolls on this stretch of white sand beach can be pretty romantic. There is also the option for single people on the beach to mingle and make new acquaintances of different ages.
For families with kids, you can do a range of things depending on your kids' ages and interests. You can rent some beach umbrellas together with some reclining chairs to relax and sunbathe close to the lifeguard towers. You can swim together with your kids or form teams for sandcastle wars where you build sandcastles as a family. If you have older kids interested in kayaking and bodyboarding, you can relax and watch while they have fun and tire themselves out. Finally, there are also surfing classes on the beach.
When hunger eventually strikes, you and your family can fuel up and replenish your energy by grabbing something to eat from one of the numerous restaurants located close to the beach or along the boardwalk.
Steel Pier
The Steel Pier is New Jersey's version of New York's famous Coney Island. Originally built in 1898 and rebuilt in 1993, the Steel Pier developed a prestigious reputation as one of the most visited tourist attractions in the United States.
This awesome amusement pier extends out over 1,000 feet into the sea. Atop the structure, there's a world of exciting activities for people of all ages.
The pier offers a wide range of rides for people of different ages and sizes. It features teacup and tiny train rides for little children. There are also more daring rides such as roller coasters and the swing carousel for older children, teenagers and adults. If you or your teenagers are interested in a walk on the wild side, the pier also has thrilling, extremely adventurous rides such as the MIX, the Flyer, and the Slingshot.
The Steel Pier also allows you to catch incredible views of the Boardwalk and the city when you ride its most recent addition, The Wheel. The Wheel is a massive 227 feet high Ferris Wheel that can accommodate 240 passengers in its temperature-controlled gondolas. It is unique because it can operate all year round irrespective of the weather since the temperature of its gondolas can adjust to fit different weather conditions. All you need to get on any of the rides at The Steel Pier is a ticket.
Beyond the rides, many family-friendly, carnival-style games can be enjoyed by the whole family. This makes The Steel Pier one of the best places to visit in Atlantic City.
Absecon Lighthouse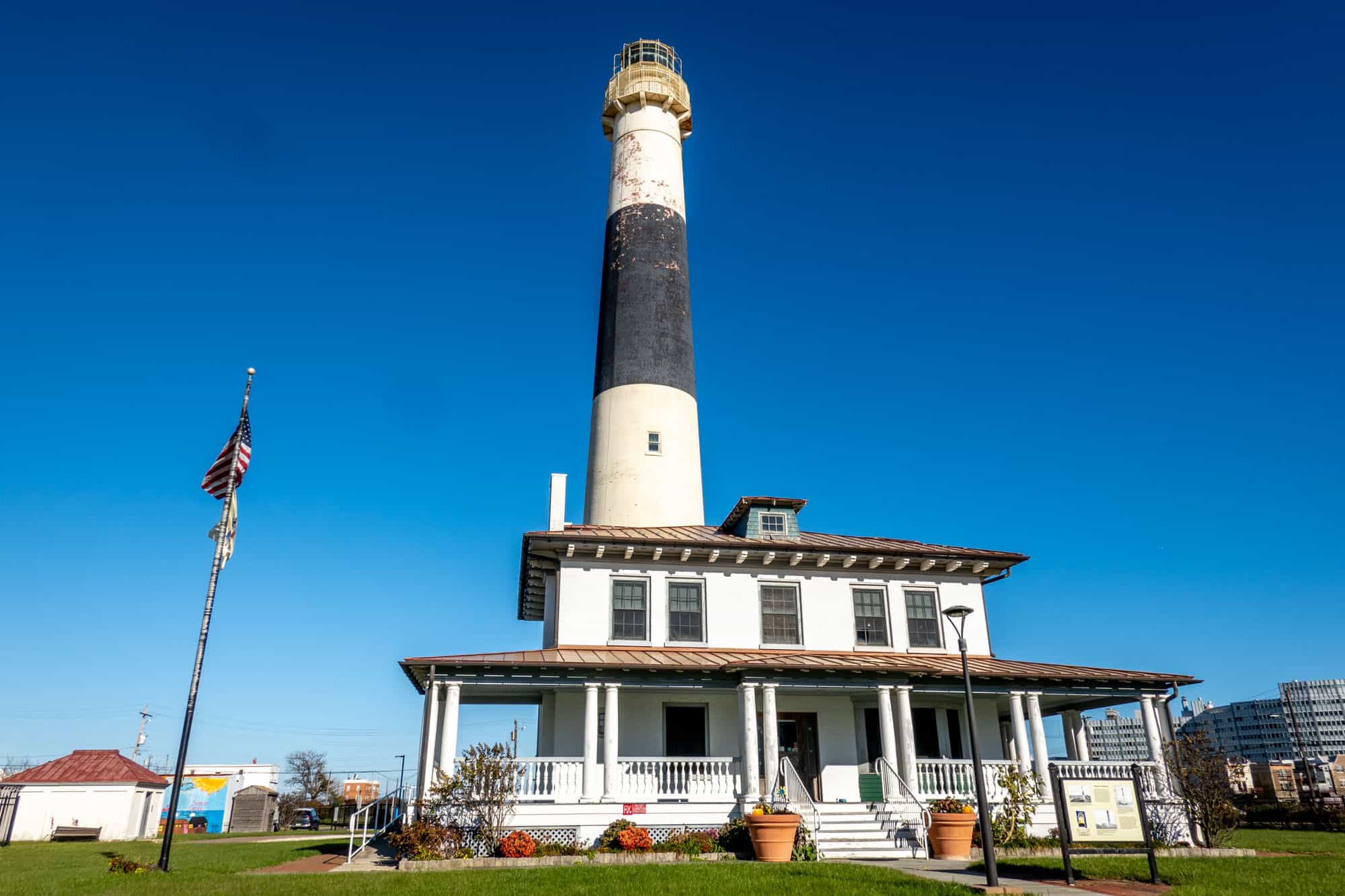 Do you love great views? Would you be interested in catching an amazing view of Atlantic City? Then you should include visiting Absecon Lighthouse in your list of things to do in Atlantic City.
The Absecon Lighthouse, which is located at the north end of town, close to the Boardwalk, offers you a nice getaway from the hustle and bustle of the casinos and the action. You can go on a quiet adventure with your significant other or alone.
With 228 steps and at 171 feet, Absecon Lighthouse is the tallest lighthouse in the Garden State and the third tallest lighthouse in the United States. This lighthouse holds much history. It is notable for still possessing the First-Order Fresnel lens installed when it was originally built in 1857. This elegant lighthouse provided light to guide boats to shore for nearly a century until it was retired in 1933.
Recently renovated to commemorate New Jersey's 300th anniversary, this lighthouse made of bricks, granite blocks and iron has regained its original black and yellow exterior paint and lights up every night to guide visitors up to its steps. While the climb may seem lengthy and tedious, the stunning view of the Atlantic Ocean makes it worthwhile.
Apart from the climb up the stairs, you can take a tour through the lighthouse. Visitors will see the original lighthouse keeper's quarters. There is also a museum where you can find out more about the history of lighthouses and their keepers, shipwrecks and the maritime history of the city and the state.
Jim Whelan Boardwalk Hall
If you are looking for one of the most exciting activities to do in Atlantic City, look no further than the Jim Whelan Boardwalk Hall.
Jim Whelan Boardwalk Hall is a famous historic venue located smack in the middle of the Boardwalk. Since its opening day in 1929, it has risen to prominence as the most renowned concert and event venues in town. This seaside concert hall has become home to the Miss America pageant since 1940, drawing tens of thousands of spectators to this seaside town.
The famous Jim Whelan Boardwalk Hall often has an impressive concert line-up, and you are sure to find something that will catch your fancy. Many celebrity musicians, including Grammy Award winners like The Rolling Stones and Beyoncé have performed musical sets at this venue.
Beyond the concerts, the venue is popular for having the largest musical instrument in the world. This instrument is a pipe organ that has eight chambers, 33,000 pipes, and 1,000 stop keys. The Jim Whelan Boardwalk hall offers free half-hour concerts and tours of the pipe organ every Monday.
If you are a musician, enjoy good music, or are simply curious about how music is made, you should visit this venue whenever you find yourself in town.
Tanger Outlets
Where is the fun in going on a vacation without doing some shopping? If you are visiting the Shore and would love to engage in the obligatory travel shopping, you should check out the Tanger Outlets.
One of the best places to shop in Atlantic City is the Tanger Outlets. The Tanger Outlets is an open-air mall with over 100 stores offering a wide range of products to choose from. Most big-name brands such as Hilfiger, H&M, Nike and Adidas have stores at the Tanger Outlets. You can also find luxury brands like Lacoste and Michael Kors, to mention a few.
Beyond designer outfits and big-name brands, you can also get great chocolate and ice cream. Some stalls offer delicious pastries and crepes. The wide range of stores at Tanger Outlets makes it a haven for shopaholics as it would keep them busy for the whole day. You can also choose not to buy anything. Window shopping is still a fun activity to do while vacationing.
The Borgata Hotel Casino
Even if you are not staying at one of the 2002 rooms of the Borgata, New Jersey's largest hotel, you can still have fun here.
Located in the heart of the city, the Borgata Hotel Casino provides a range of attractions and activities. The 161,000 square-foot hotel casino hotel has over 200 table games and 4,100 slot machines. This makes it a great place to try out gambling or test your luck at the slot machines.
If gambling is not your thing, you can try out the 11 high-end restaurants at the Borgata. These restaurants offer various dining and culinary events sure to stimulate your appetite and give your taste buds a pleasant treat.
The Borgata also allows you to unwind and relax. It features a 54,000 square foot spa complete with a full-service unisex hair salon. There is also an event center with many shows that are guaranteed to offer you great live entertainment.
Street Art Murals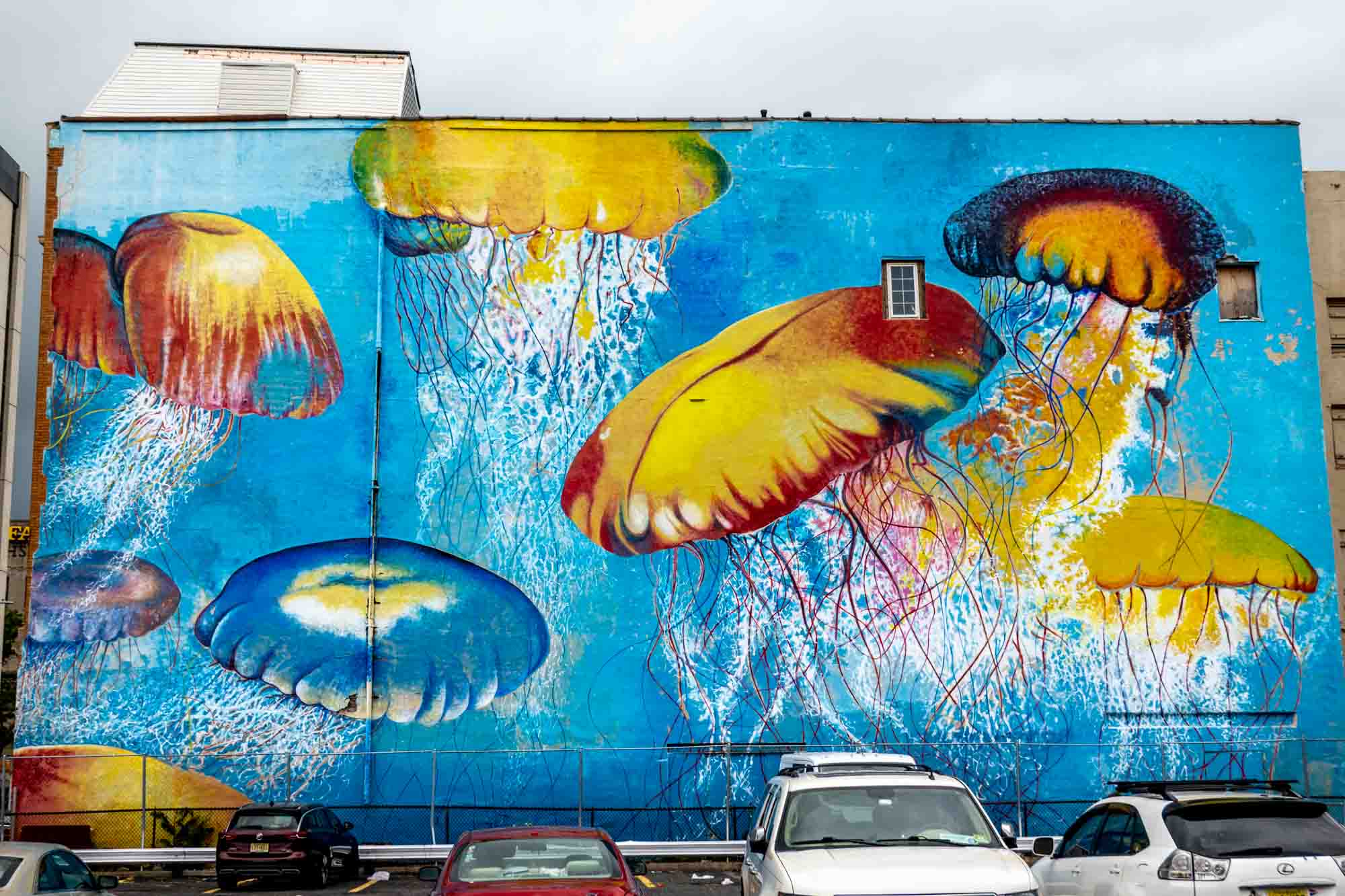 Atlantic City alone has over 60 street murals. These murals begin from the entrance of the city through Absecon Boulevard/Route 30 to the AC exit of Route 40/Route 322/Black Horse Pike. This means that the murals of Atlantic City provide you with an excellent opportunity to explore the city from end to end. This makes checking out the street murals one of the fantastic activities in Atlantic City.
Atlantic City's street murals are some of the most intriguing and beautiful pieces of public art you will find both in New Jersey and the United States. These beautiful works of art cover a vast range of diverse topics, artists and styles. They tell unique stories. They also provide greater context to the city and its history.
Some of these murals feature the graffiti-style lettering popular amongst Avant-guard artists looking to make political yet artistic statements with their art. Some of the murals include compositions that are stuck to the wall as part of their unique design. There are a few of them that are mostly made from glass tiles. While a large variety of these street murals hold deep meaning, some of them are simply made for the sake of art. This is one of the things that make the over 60 murals unique.
You can view most of the city's murals by taking a car or bike through the city. Some of these murals are situated on the side buildings with parking lots or in places that have street parking, making them easily accessible.
A tour of the street murals should take up to two hours of your time. It could be more if you go with your kids or intend to take pictures.
This city offers many fun things to do for solo travelers, vacationing couples and large families. Use this article as a guide to help you make the most of your trip to Atlantic City.
Heading to Atlantic City in the winter? Check out our guide to wintertime fun.
What is your favorite activity in Atlantic City? Drop a comment below and let us know your thoughts.