Some posts on this site contain affiliate links, meaning if you book or buy something through one of these links, we may earn a small commission (at no extra cost to you).
Amid all the entertainment options, bustling casinos, and beaches, Atlantic City offers a substantial selection of dining establishments. From casual breakfast to upscale fine dining, there are lots of places worth checking out when you head to the shore. Here's a look at some of the best restaurants in Atlantic City to enjoy on your trip.
Angeline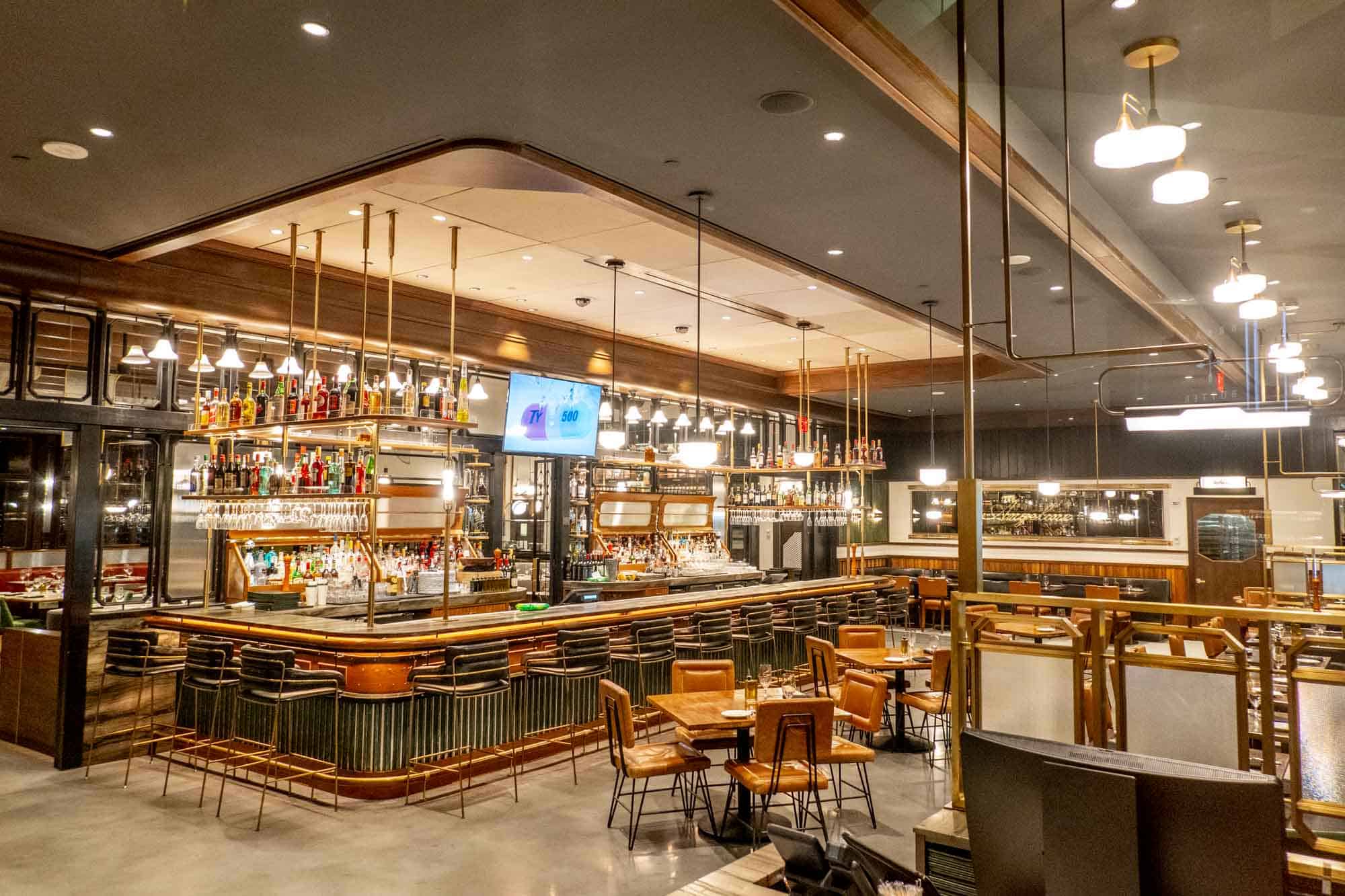 James Beard award-winning chef Michael Symon is the force behind Angeline at the Borgata. Everything here is drawn from the chef's past. The restaurant is named after his mother and its signature dish—Mom's lasagna, appropriately enough—uses her recipe.
From salumi and antipasti to handmade pastas, the menu is full of classic Italian dishes that hit the right notes. There are approachable meals like spaghetti and meatballs alongside regional dishes like ziti Norma, plus a selection of grilled meats and fish. There are also ample gluten-free, vegetarian, and vegan options.
Cafe 2825
One of the smaller nice restaurants in Atlantic City, Café 2825 has pleased diners with Italian specialties for nearly 40 years. Family-owned and operated, it is designed to bring the dishes of New York's Little Italy to the shore.
If you know what to order, dinner at this cozy spot can include a bit of well-orchestrated theater that will keep you full and mesmerized by the servers' skill. A whole section of the menu is devoted to tableside experiences that are not to be missed from cacio e pepe made in a cheese wheel to exquisite burrata made right in front of you and served family-style. Baked clams, spaghetti carbonara, and the Sunday gravy are other winners.
Dock's Oyster House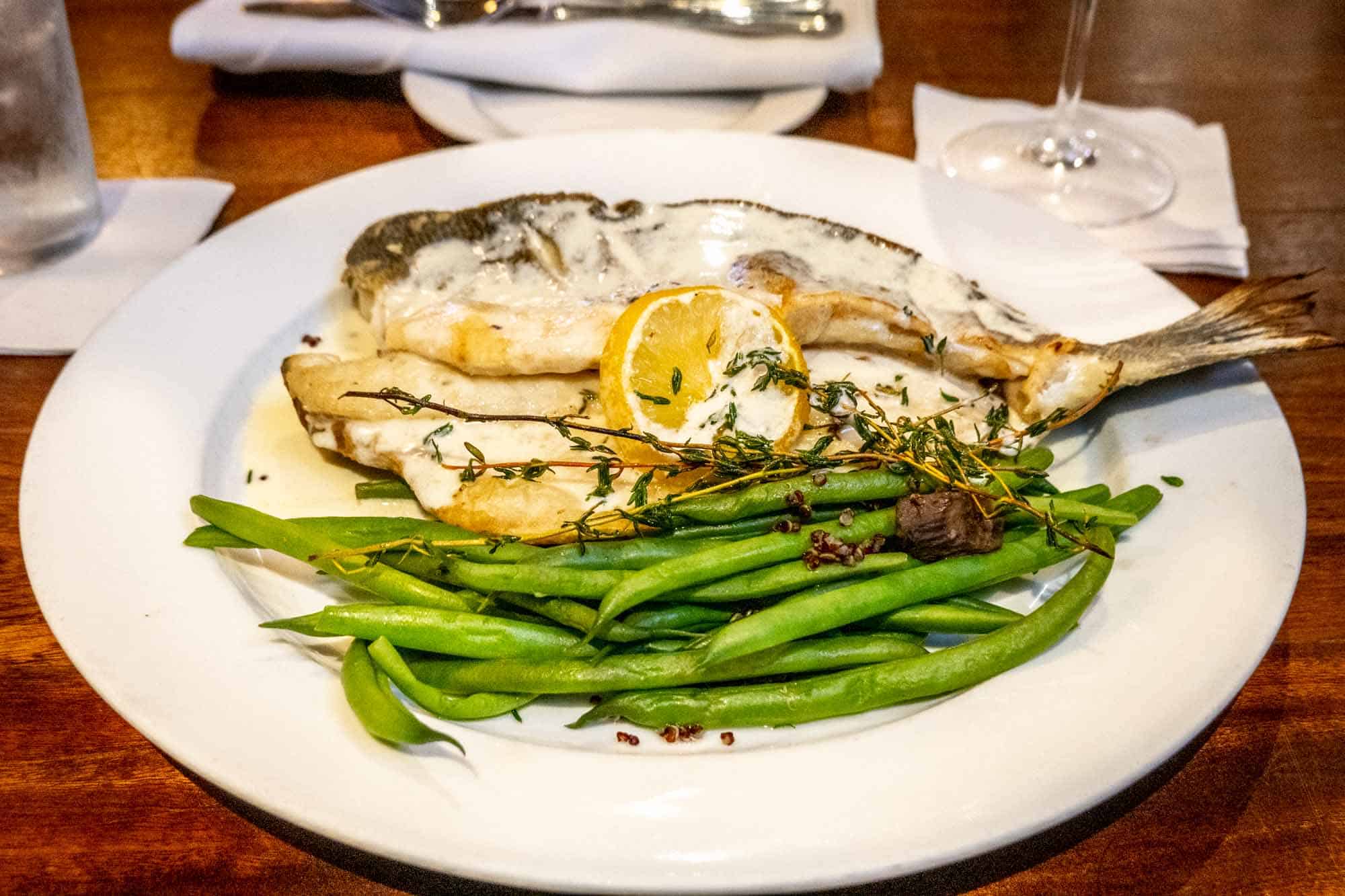 Dock's Oyster House has been a mainstay of the city for nearly 130 years and is one of the nicest places for dinner in Atlantic City. Every night, they serve up seafood towers brimming with shrimp and clams, a dozen kinds of oysters, fish, steaks, and more. 
This upscale spot features live piano music and one of the most popular happy hours in the area. Diners can opt for the white table cloth main dining room or grab a seat at the bar. Always busy with tourists and locals, Dock's is known for its seafood fry and crab au gratin, and the broiled lobster and filet mignon are always solid choices.
Old Homestead
A classic New York steakhouse, Old Homestead is known for being the best of the best. At its Atlantic City location in the Borgata, Old Homestead continues its 150-year history of serving the finest steaks around.
Diners will find jumbo lump crab cakes and tempura battered shrimp among the starters as well as a long list of entrées and steaks, including the signature 34-ounce Gotham rib steak. There are hundreds of wines available so you can create your perfect pairing.
Gordon Ramsay Pub & Grill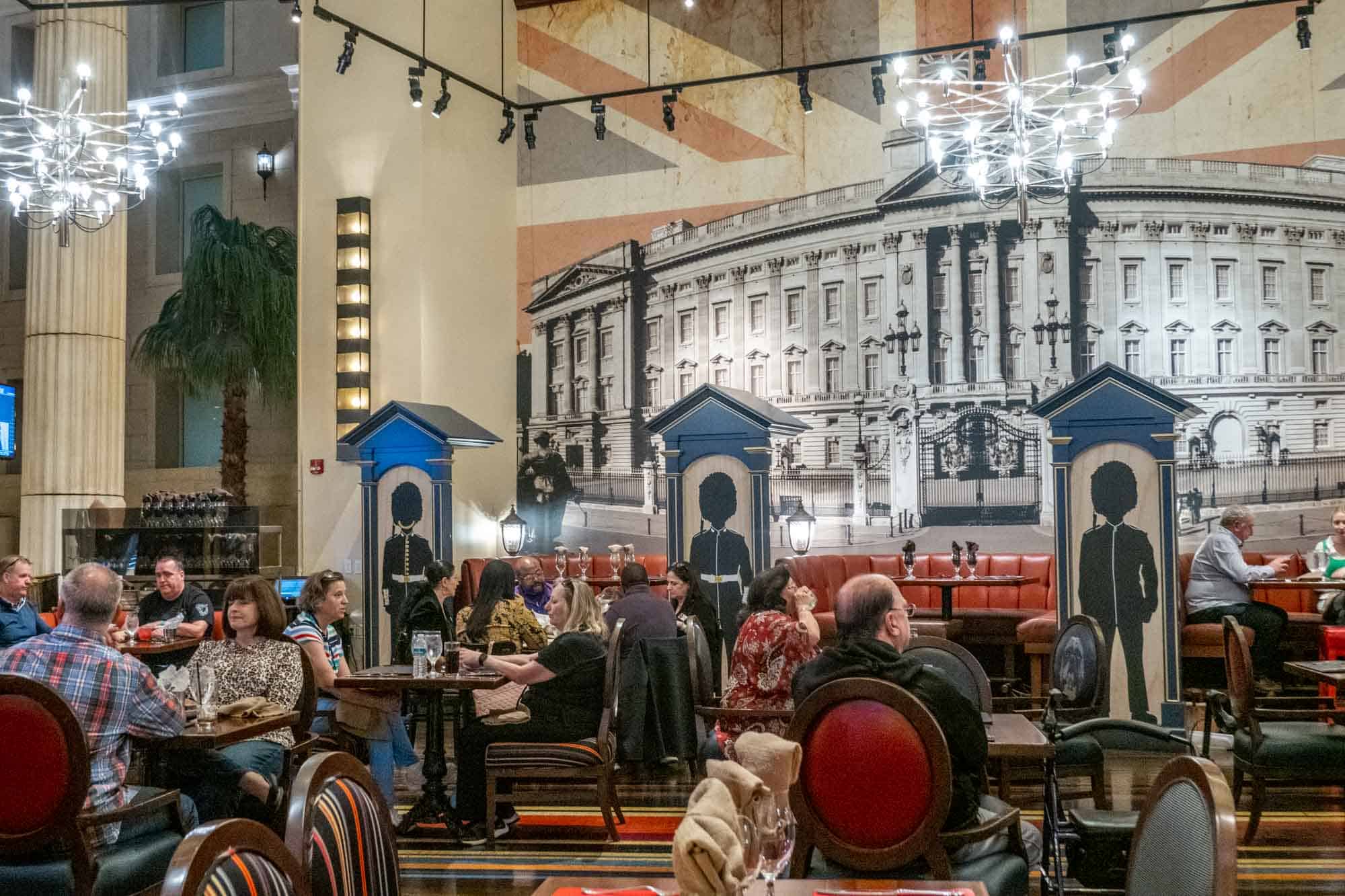 Very few of the top places to eat in AC offer all-day dining, so Gordon Ramsay Pub & Grill at Caesars is unique. That means that visitors can have shepherd's pie, fish and chips, and other British-inspired dishes from morning till night. Plus, there are more than two dozen beers on tap.
Girasole
Hand-crafted, cooked-to-order food is the name of the game at Girasole. Just off the boardwalk, this family-run restaurant offers fresh seafood, house made pasta, and more than 10 choices for pizza cooked in their stone oven.
The atmosphere here is light and the color scheme is bright, echoing the name—"girasole" means sunflower in Italian. Start with the bread made in-house and some hot and sweet Italian sausage with broccoli rabe and cannellini beans or go for the slow baked octopus with tomato and Gaeta olives. You can't miss with a pizza, the seafood chitarra, or any of the satisfying meat dishes. Just make sure to leave room for the tiramisu.
Knife & Fork Inn
Steaks and seafood are the stars at Knife & Fork Inn, one of the oldest Atlantic City restaurants. Opened in 1912, this venerable spot has welcomed guests for over a century to sample its strong cocktails and upscale food offerings.
The extensive menu has a lot to choose from. Start with the French onion soup topped with lots of melted cheese or go for something on the raw bar. The steaks and chops are excellent choices and can be served Oscar style with crab, Bearnaise, and asparagus. The lobster thermidor is a go-to here and is a head turner when you see it served, and there is even a sustainable seafood selection. It's one of the best places to go in Atlantic City.
Chef Vola's
Set in a residential home not far from the boardwalk, Chef Vola's isn't an easy place to get a reservation, but the effort is worth it. Once you find the unmarked restaurant and its secret door, you have access to a world of deliciousness at this sought-after BYOB.
Meals are served family-style in this intimate, 65-seat restaurant that has been city staple since 1921. The menu features Italian classics like linguine with clams, veal Milanese, and chicken parmesan. Desserts are to die for.
Izakaya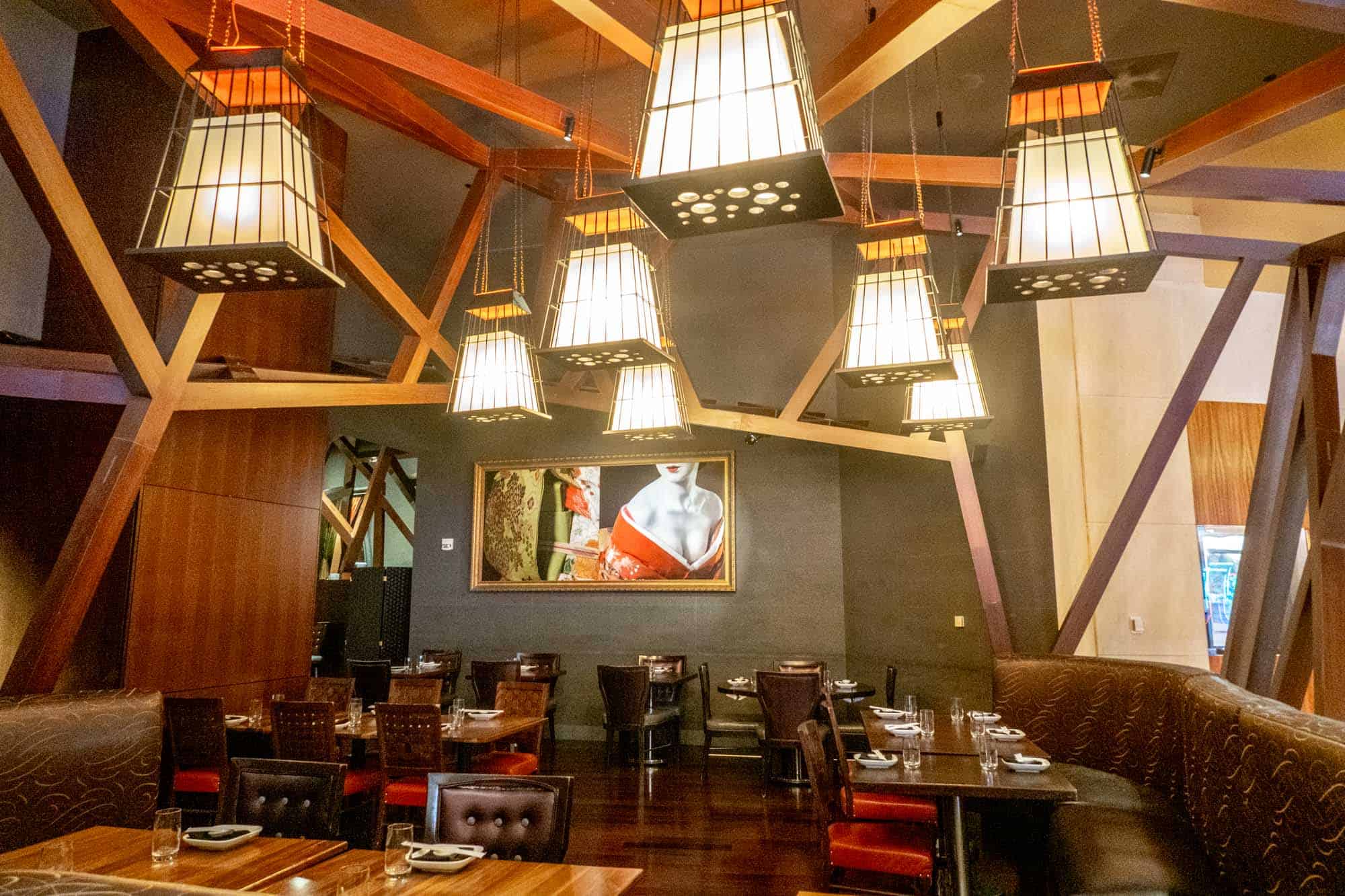 Well-known for his Asian and Italian restaurants nearby in Philadelphia, chef Michael Schulson brings the flavors of Japan to Atlantic City at Izakaya. The concept is based on Japan's traditional casual pubs and offers an extensive selection of small plates, mains, and sake.
Lovers of Japanese food will find a little bit of everything at this upscale spot adjacent to the casino. There is sushi and sashimi, mains like soy-glazed salmon and karaage hot fried chicken, and a large list of hot and cold small plates. Izakaya also has a robatayaki (Japanese-style barbecue) offering of meat, seafood, and vegetables.
Back Bay Ale House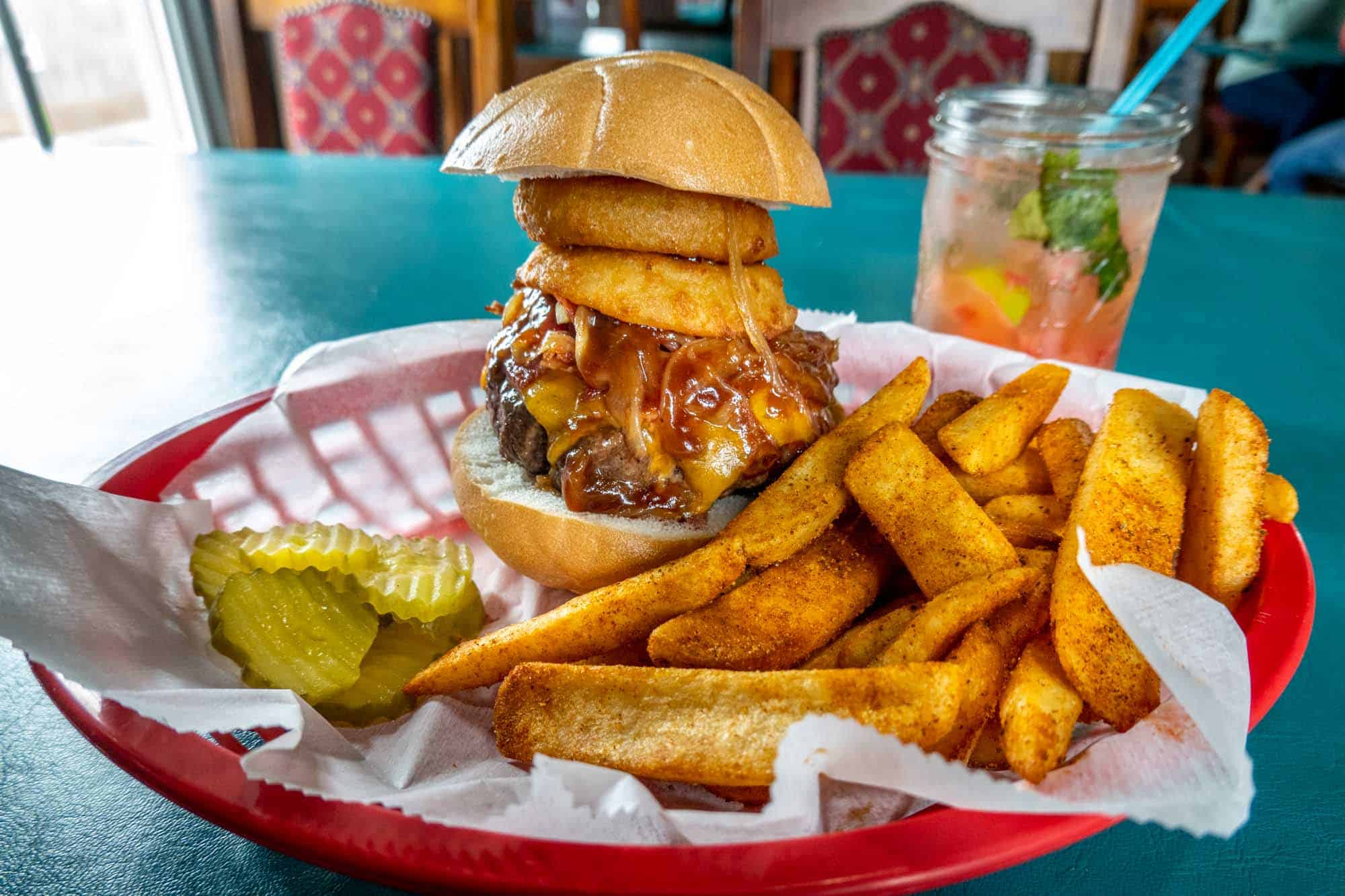 For great cocktails and burgers with a waterside view, head to Back Bay Ale House. Located in Gardner's Basin, this casual spot has served solid pub food for nearly 20 years.
A great place for outdoor dining when the weather is good, the Ale House is known for its burgers, seafood, and Basin Mason drinks—served in a mason jar, of course. With friendly service and a lively atmosphere, it feels like everyone here is a regular. Indoor dining is open year-round.
Tony's Baltimore Grill
Another of the AC mainstays, Tony's Baltimore Grill opened in 1927. It still serves some of the best Italian comfort food around to locals and visitors who feel like family.
The whole place is infused with nostalgia but features plenty of modern updates to the interior. The fried shrimp platter and spaghetti and meatballs put Tony's on the map, but today the top draw is the pizza, which ranges from traditional margarita to specialties like Buffalo chicken. Tony's prides itself on moderate prices all the time, which makes its daily happy hour a truly stellar deal.
Makai
With tropical specialties all day long, Makai at Ocean Resort offers breakfast and lunch daily. The large restaurant just steps from the floor of one of the city's best casinos offers American dishes with an island twist.
Makai, which means "by the sea," offers a broad range of dishes. Favorites include a shrimp poke bowl, chopped chicken salad, and fish and chips. Breakfast features lots of egg dishes, perfect popovers made fresh with passion fruit butter, and specialties like Kalua pork and eggs.
Pancho's Mexican Taqueria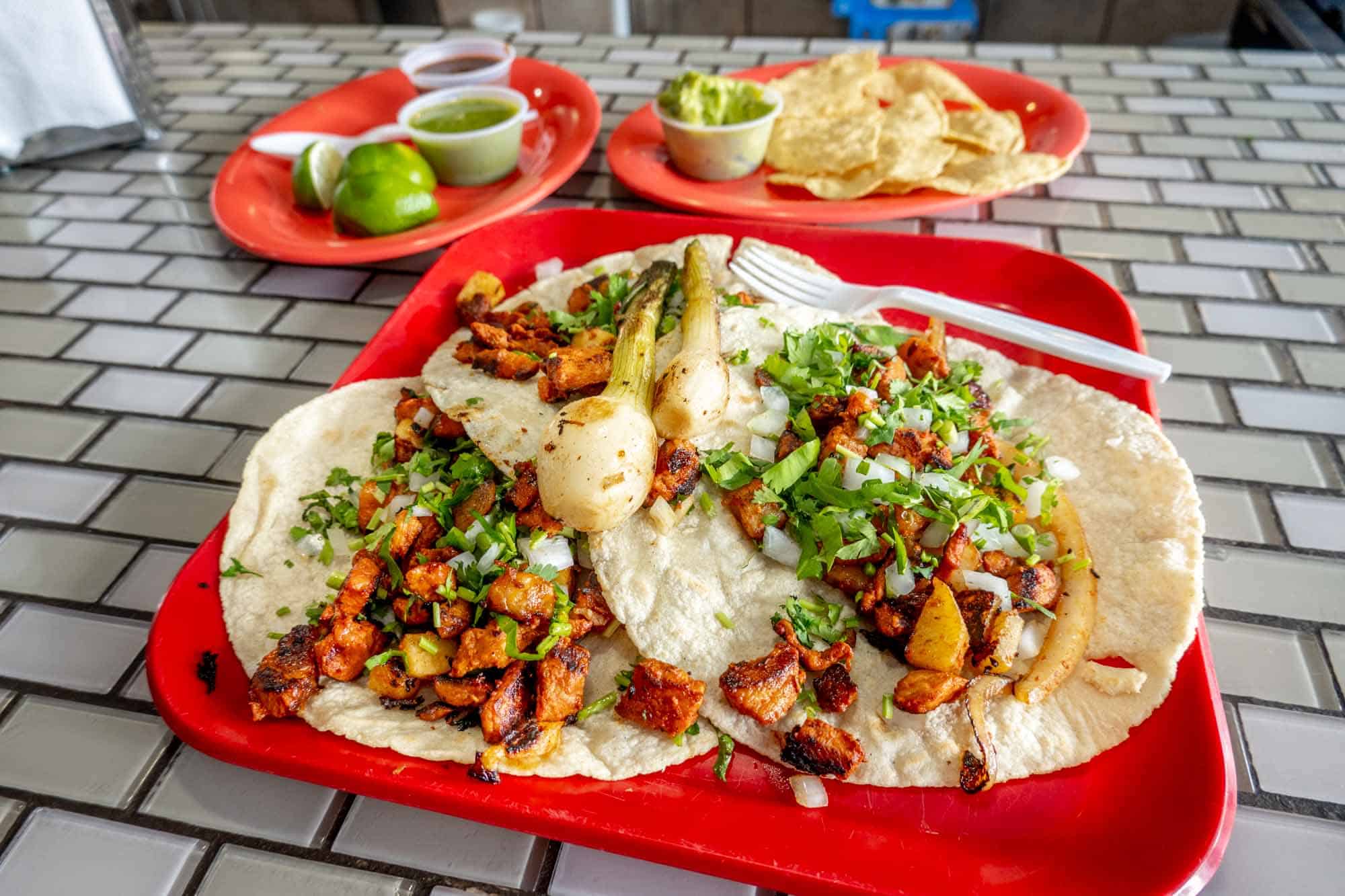 The super casual Pancho's Mexican Taqueria is a delightful unpretentious stop for a selection of quesadillas, enchiladas, burritos, and more. The tortillas are made to order and filled with a choice of carnitas, goat, steak, or other proteins. We still have dreams about the al pastor tacos here.
White House Sub Shop
The two-foot-long sub sandwiches from White House Sub Shop have been enjoyed by celebrities ranging from The Beatles to Frank Sinatra and Oprah. Founded in 1946, this iconic spot is Jersey Shore landmark.
White House is known for subs piled high with cold cuts and their signature hot pepper relish. There is almost always a line of people waiting for the best sandwiches Atlantic City has to offer, particularly on weekends. The main location is on Arctic Avenue, but a satellite location in the Hard Rock makes the sandwiches available right along the boardwalk.  
Gilchrist
Gilchrist Restaurant is one of the best places for breakfast and lunch in the city. Try the hotcakes or one of the Hungry Man combos for a little bit of everything at breakfast. At lunch, the hot roast beef sandwich and the turkey BLT wrap are winners, though it's hard to go wrong here.
Amada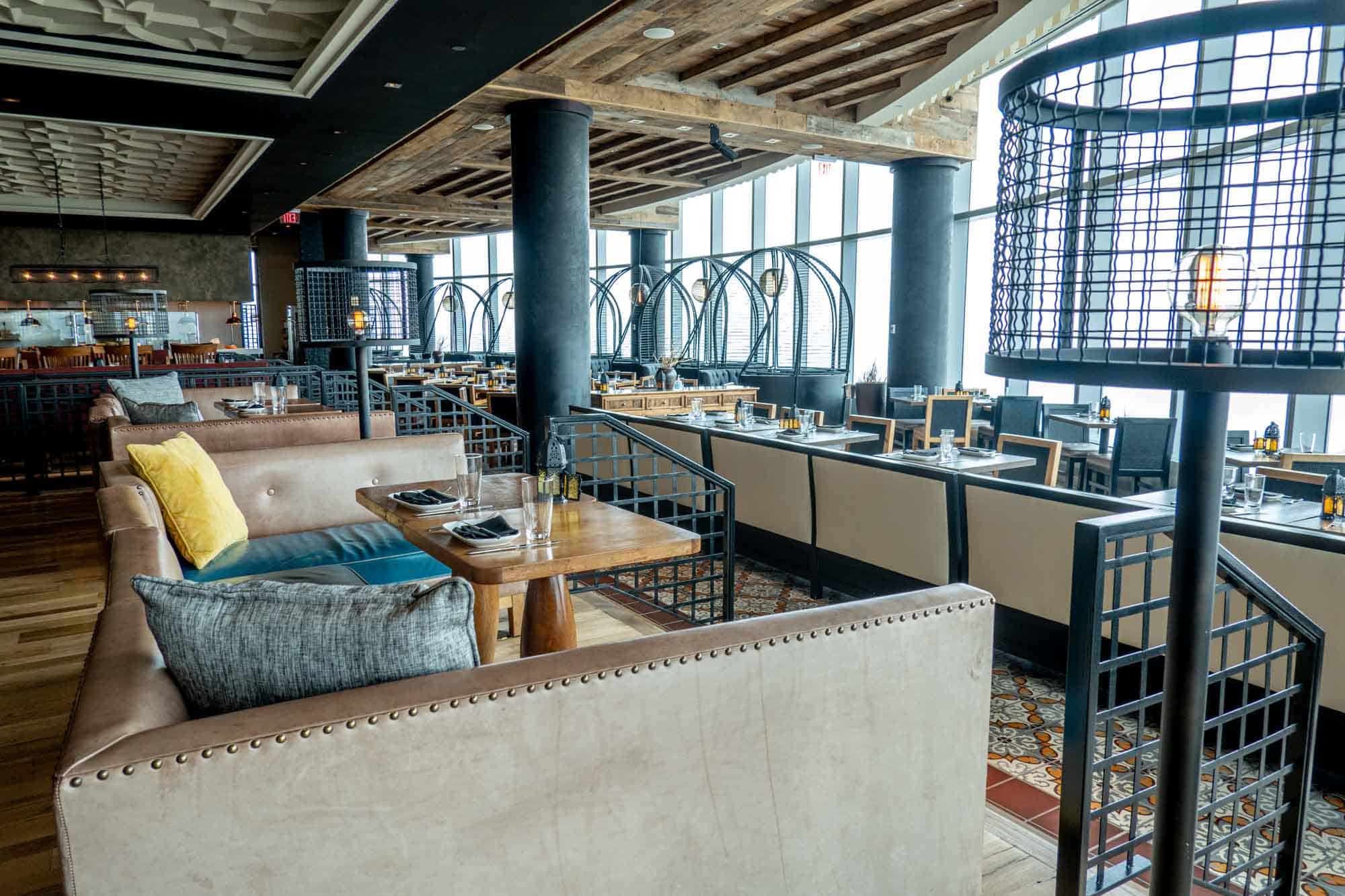 A cornerstone of the Ocean Resort, Amada restaurant from chef Jose Garces features all the tapas you could want to replenish your energy from a hard day of playing the slots or relaxing on the beach. With wrap-around windows, it has an airy feel that's often missing from casino-based restaurants.
Long a staple in Old City Philly, Amada is Spanish restaurant with classics like tortilla Espanola (Spanish omelette), ceviche, and gambas al ajillo (garlic shrimp). Meats from the grill, paella, and lots of cheeses and charcuterie complete the wide variety of offerings. For drinks, the sangria is great, and the list of Spanish wines is long.
Tony Boloney's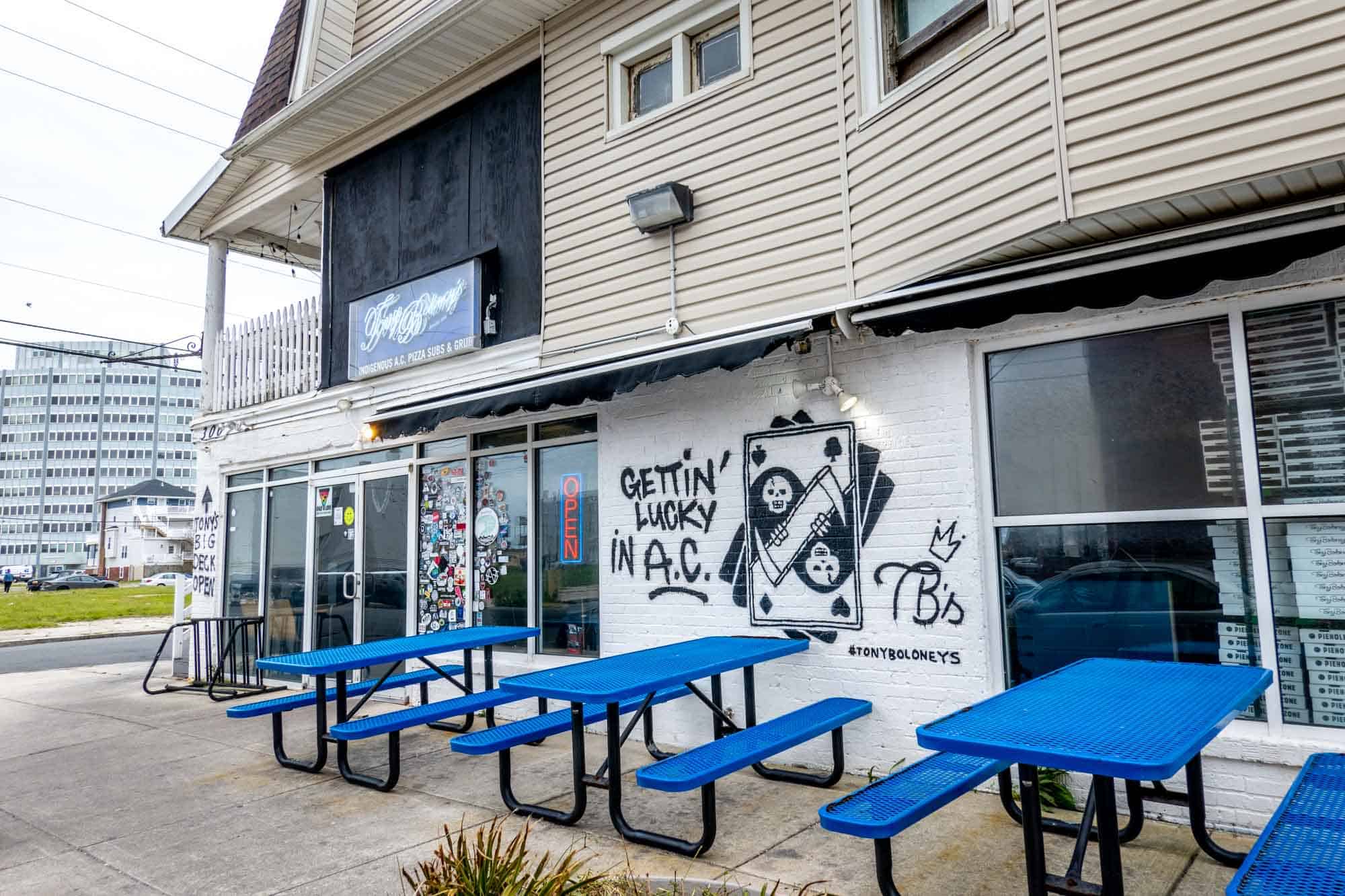 For a whole pie, a quick slice, or a sub, Tony Boloney's is an ideal quick-service restaurant outside of the busiest area of the city. They've been serving up unique creations for over a decade.
Experimental pizza choices range from the "lobsta" roll to burrata, which has a whole, decadent burrata on every slice. Other creations include the Mex-corn husker, which combines roasted corn, chilis, cheese, and cilantro, and the Instagram-famous Taco Taco Taco Pizza. As the name implies, it is literally loaded with tacos. There are also 20 varieties of subs with creative toppings.