Some posts on this site contain affiliate links, meaning if you book or buy something through one of these links, we may earn a small commission (at no extra cost to you).
Atlantic City, located on the Jersey Shore, is known for its lively casinos, iconic boardwalk, fine dining, high-end shopping, world-class entertainment, and exciting nightlife. Whilst the city's expansive beaches make it a great summertime destination, but there are so many things to do in Atlantic City in the winter that make it a great vacation spot all year round.
The ocean breezes make Atlantic City cool in the winter. So you'll want to spend the majority of your time inside. Yes, a walk on the boardwalk or beach can be nice if the sun is out, but you'll spend most of your time inside. Thankfully, there's still plenty to do.
Here are 20 of the top things to do in Atlantic City in the winter!
Absecon Lighthouse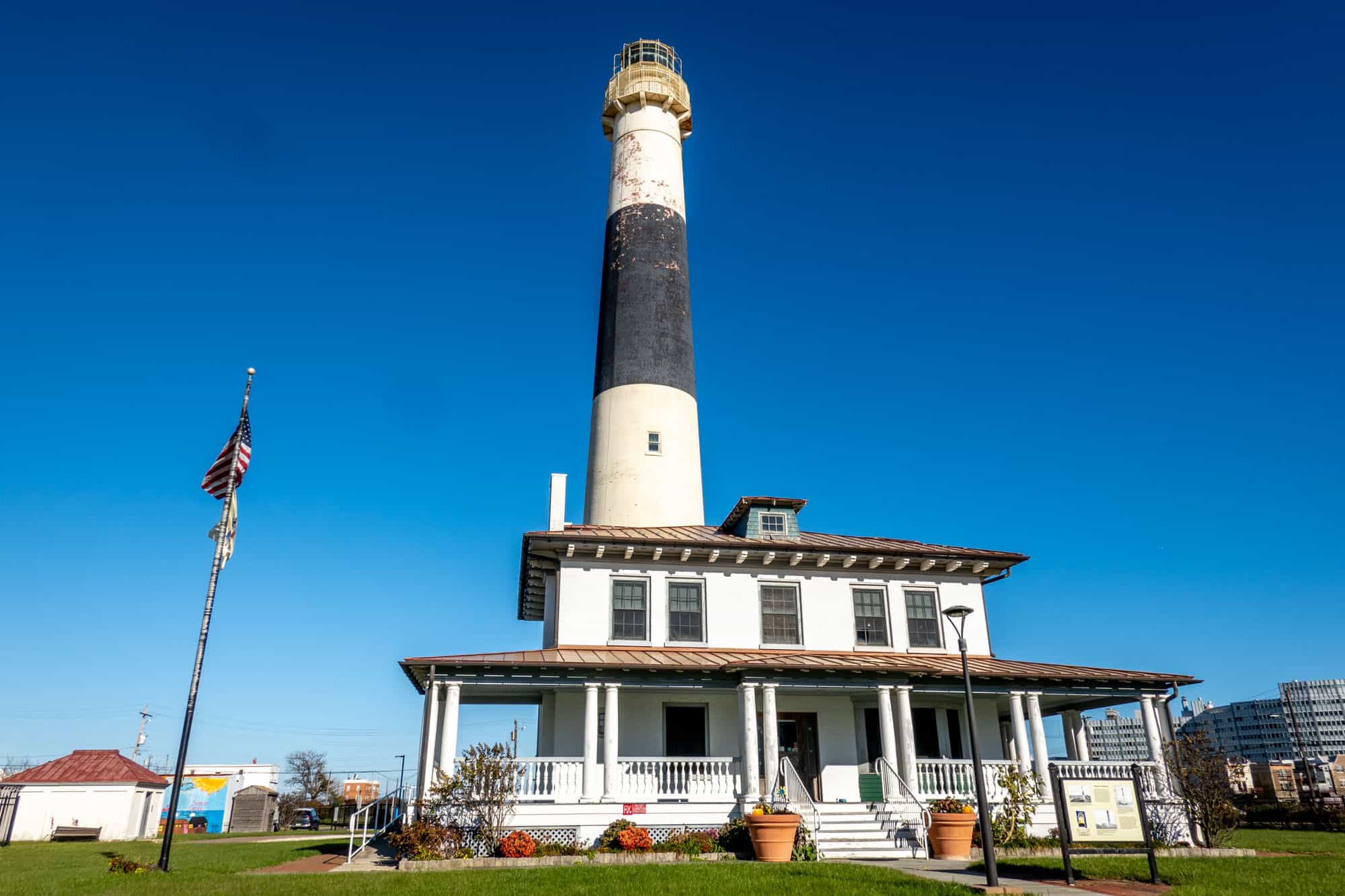 Built in 1857, this impressive structure is one of the oldest lighthouses in NJ (and the country) and New Jersey's tallest, standing at 171 feet high. For a small fee, visitors can climb the 228 steps to the top of the lighthouse for some breathtaking views of the city skyline. You will also be able to see the lighthouse's original first-order fixed Fresnel lens that was first lit in 1857. The lighthouse was deactivated in 1933 and, although the light still shines every night, it is no longer an active navigational aid.
There is free parking and admission to the surrounding grounds, a replica of the Lightkeeper's dwellings, a gift shop, and the original Oil House. Don't forget to check out the educational museum with exhibits on ocean life, shipwrecks, keepers and lighthouse history, local memorabilia, and restoration photos. A fascinating outing for all with some spectacular views of the city!
Indoor Pools
Even during the cooler winter months, you can always go for a swim in Atlantic City! The ocean might be a little too cold for comfort, but many of the hotels and casinos offer indoor pools with fantastic views. Depending on your mood and company, the indoor pools can either be a relaxing way to spend a winter's afternoon or a fun and lively place to have a few drinks before a night out.
For those looking for a more spa-like experience and to swim a few laps should check out Borgata Water Club, Hard Rock, and Ocean. For a more party atmosphere, we suggest a trip to Harrah's resort; a beautiful pool and bar with cabana service, palm trees, tropical flora, and hot tubs, perfect for those looking to party in a glass-domed oasis. The famous Pool After Dark party located at Harrah's is a one-of-a-kind nightlife experience that often hosts famous DJs and performers.
Atlantic City Aquarium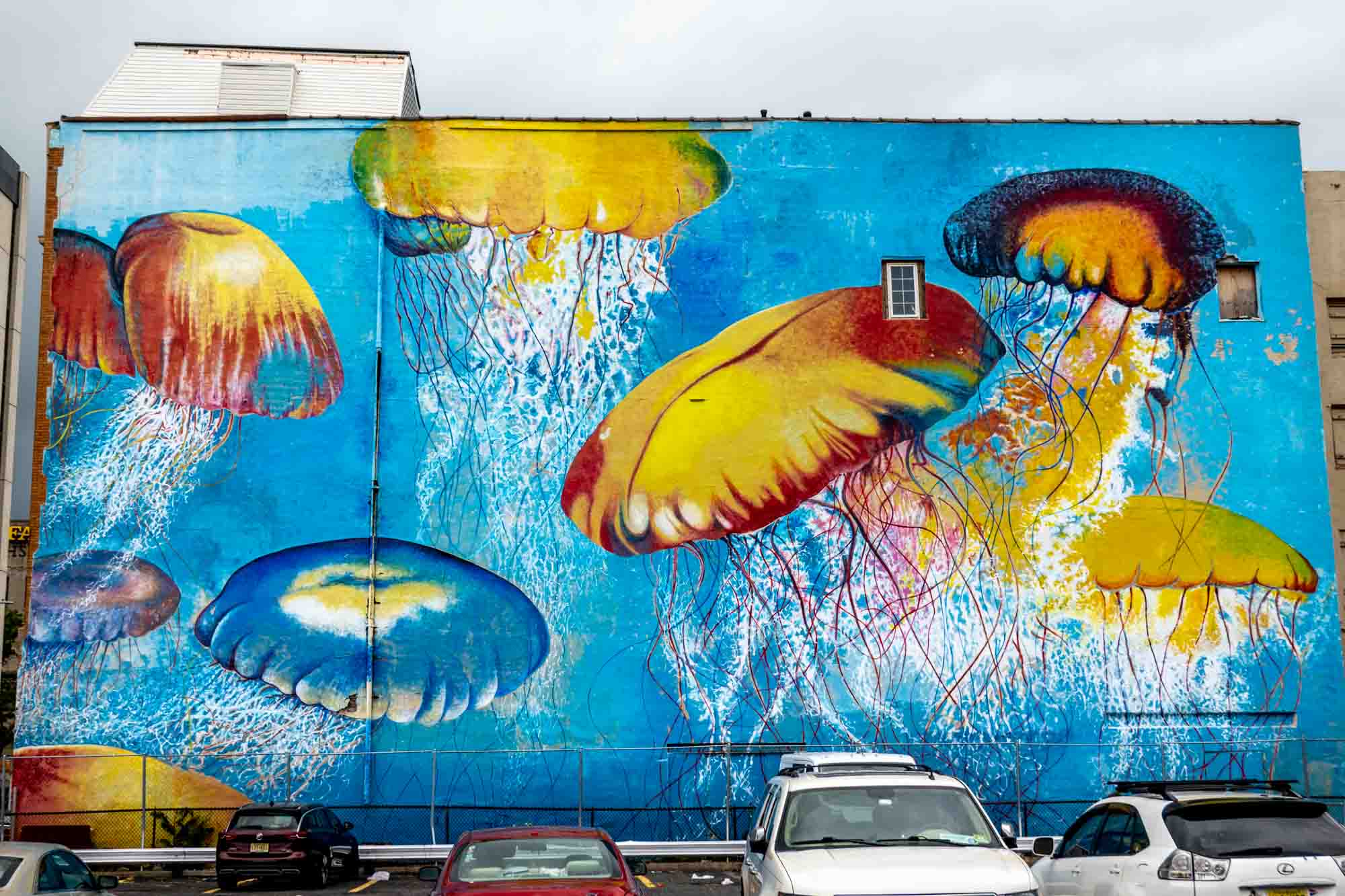 The Atlantic City Aquarium, located in the northern end of the city along the Absecon Inlet, is open all year round and a great way to spend a winter's day. This fantastic aquarium is home to an array of marine life with residents including sharks, stingrays, coral, piranhas, terrapins, iguanas, moon jellies, and more. You and your family are sure to love the Ocean Oddities and Tropical Rainforest exhibits.
For those that like to get a little more hands-on, there is also a "touch tank" where you can get up close and personal with the marine life, including stingrays and sharks. It's an educational and entertaining day out for everyone but particularly recommended if you have younger children. Just outside the aquarium, you'll also find plenty of shops and restaurants, as well as stalls for boat rides and cruises around the harbor (which are only recommended on good weather days).
Shopping at The Walk
Atlantic City is known for being an excellent shopping destination with some of the best shopping options in New Jersey. One of the most popular places to shop is at Tanger Outlets The Walk, an open-air outlet mall that spans nine city blocks.
You will be sure to find some great bargains with many high-end brands offering an incredible selection of products at a discounted price. Shoppers come from all over for many of the internationally recognized fashion brands which include Ralph Lauren, Nike, Michael Kors, DKNY, Banana Republic, Kate Space, Coach, and more. Its convenient location is within walking distance of the Boardwalk, beaches, and many of the casino resorts. A great place to find a fashionable winter jacket at a bargain price!
Visit a Spa
Looking for a way to spoil yourself or perhaps a loved one? Atlantic City is home to several world-class spas and spa resorts that offer a wide range of treatments and leisure facilities. It goes without saying that visiting a spa is a fantastic way to relax, de-stress and disconnect from everyday life. Just a few of the pampering spa treatments offered at many of the luxury hotels and spa resorts include invigorating massages, therapeutic bath, and body treatments, rejuvenating facials, romantic couples' packages, and more.
Some of our top recommendations for spas to wind down in include Qua Spa at Caesars; Rock Spa & Salon at Hard Rock Hotel & Casino; Sea Spa at Tropicana; Mynd Spa & Salon at Harrah's Resort; Spa Toccare at Borgata Hotel Casino & Spa; and Immersion Spa at The Water Club. The perfect way to hit the reset button over the winter break!
Viking Cooking School
Whether you're an aspiring chef, love to host dinner parties, or are just looking for something fun and different to do with your family and friends, the hands-on cooking classes at the Viking Cooking School at Harrah's resort are a fantastic experience you won't want to miss.
After learning some new skills in the kitchen, you'll get to eat the delicious meal that you prepared that can be also be paired with wine or other drinks. You'll be able to select from a wide array of exciting classes that cover basic cooking techniques including, From Farm to Table, Chocolate Workshop, Italian Dinner Party, Date Night, and many more.
Prices for classes start at around $89.00, depending on the specific class and the night of the week. The Viking Cooking School also offers private events, perfect for celebrating special occasions. So, whether alone or with family and friends, you'll be sure to have a blast cooking and eating some delicious food.
We've done the Viking Cooking School 6 or 7 times at other locations and always had a fantastic time!
IMAX Experience
What better way to spend a cold winter's day than watching a movie in the warmth of a theatre? Well watching one on a huge IMAX screen instead, of course!
IMAX screens are up to 40% larger than regular theaters and that combined with the exceptional clarity and detail makes the IMAX theatre at the Tropicana a movie experience you and your family won't want to miss.
The theatre, located on the third floor of the casino & resort, can seat up to 290 guests and projects the latest movies onto a five and a half story screen. The digital surround sound and crystal-clear images awaken the senses for a fully immersive movie theatre experience like no other. You'll feel like you're a part of the action – not just watching it!
Walk the Boardwalk
A trip to Atlantic City wouldn't be complete without visiting the most famous boardwalk in New Jersey! Although taking a trip to the boardwalk has been a top summertime plan for many years now, since 1870 to be exact, don't forget to visit in the winter too.
Stroll along the oceanfront for some spectacular sea views on one side and shopping, restaurants, and entertainment on the other. There is something for everyone, with plenty of high-end shopping (think Gucci and Luis Vuitton), gourmet restaurants, luxury hotels, casinos, arcades, and even some more local finds where you can buy souvenirs or delicious saltwater taffy and fudge.
Whilst the boardwalk opens year-round, the ocean is not, but don't let that stop you from enjoying a leisurely walk along Garden Pier and enjoying the picturesque sunsets.
Howie Mandel's Comedy Club at the Hard Rock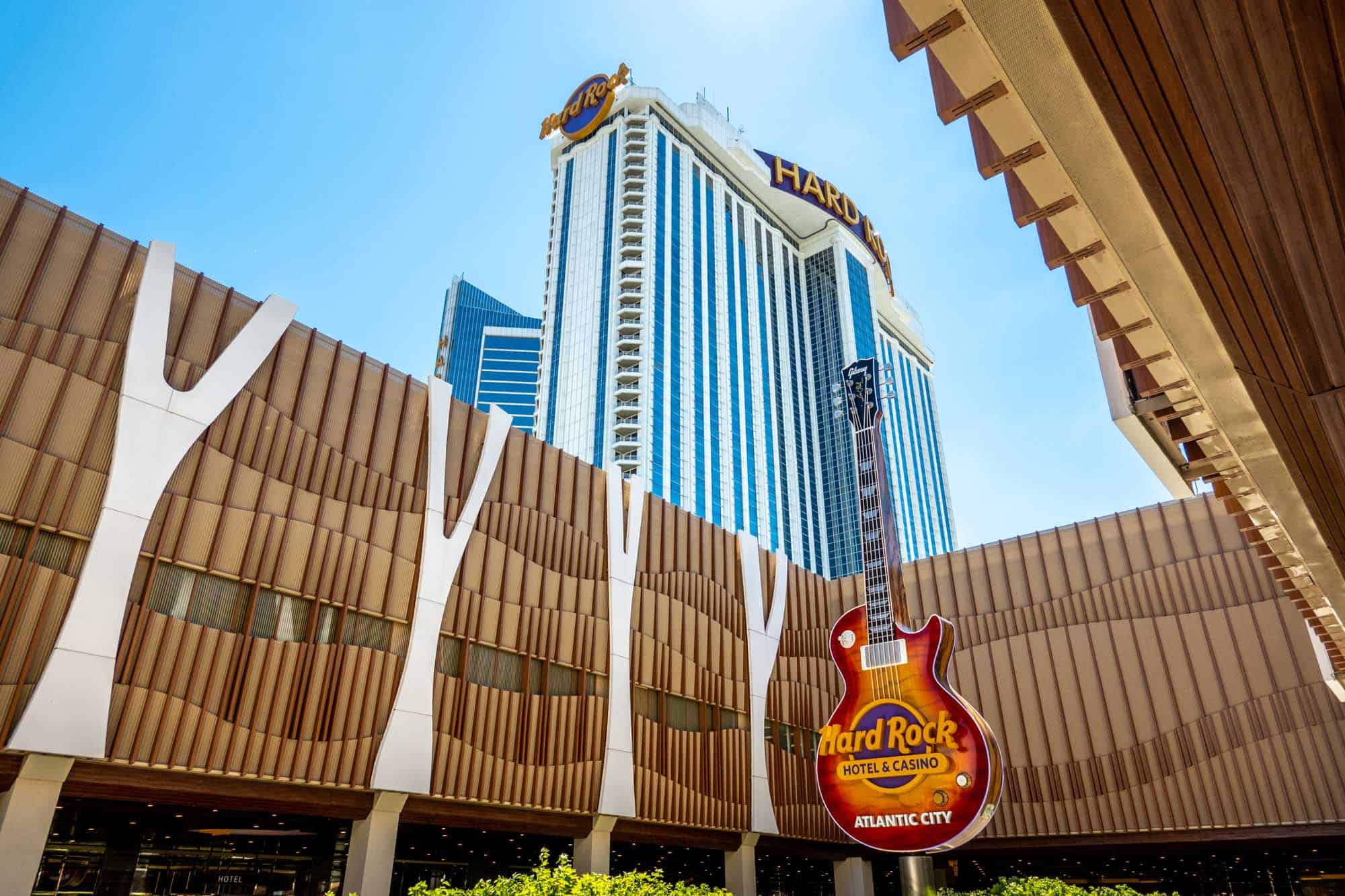 For those wanting a fun night out without the dancing, we recommend checking out Howie Mandel's Comedy Club at the Hard Rock Hotel and Casino. Enjoy an evening of hilarious stand-up with the club hosting both feature veteran comedians and newcomers on the standup circuit. Past performers include Greg Morton, Jamie Lissow, Jim Florentine, Rocky Laporte, and of course the Canadian comedian and entertainer himself, Howie Mandel.
Shows generally start at 8pm with tickets vary depending on the performer but are quite reasonable. It is best to buy the tickets in advance online to confirm availability and check who is performing. A great place to spend the evening with friends and loved ones that will leave you all in stitches!
Boardwalk Hall
Jim Whelan Boardwalk Hall, first built in 1929 as a convention center, is now a massive entertainment arena with a main hall capable of holding nearly 15,000 people. Located along the iconic boardwalk, the building was declared a U.S. National Historic Landmark in 1987, being one of only a few surviving structures from the city's early days as a popular seaside destination.
Throughout the year, Atlantic City's largest entertainment venue plays host to many famous musicians, championship sporting events, family shows, and community functions. It is also home to the world's largest musical instrument, a pipe organ of over 33,000 pipes and eight chambers that is claimed to produce trumpet notes six times louder than the loudest train whistle.
Some of the legendary musical groups that have previously performed at the Hall include The Beatles, The Rolling Stones, Bruce Springsteen, and Beyonce. So don't forget to check out who may be performing at Boardwalk Hall when you are in town!
Stroll on the deserted beach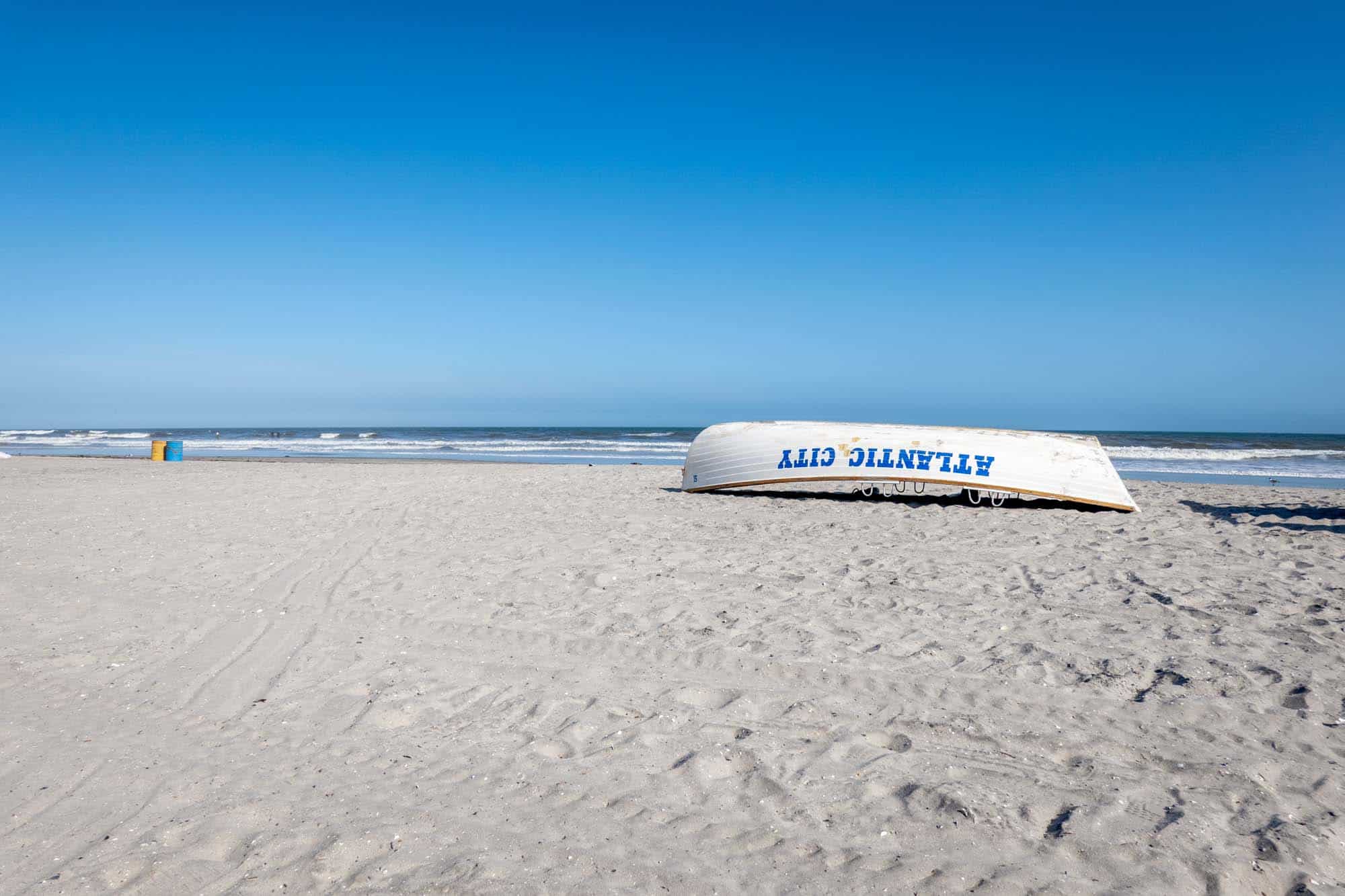 What better way to enjoy the ocean views than by taking a stroll along the peaceful and deserted beaches of Atlantic City in winter. Although the ocean may not be open and the weather a little chilly, the fact that you and your family will likely have the beach all to yourselves in wintertime makes that oceanfront walk all the more special.
Take a stroll along the soft white sands and breathe in that crisp salty air. With no one in the background to ruin your photos, you'll be sure to leave with some beautiful and Instagram-worthy ocean snaps! The beach at Atlantic City Boardwalk is pretty and convenient, but for some more secluded nearby beach destinations, check out Brigantine Beach, Margate Beach, Longport Dog Beach, or Chicken Bone Beach (where you can also learn a bit of local history). Just don't forget to bring your jacket!
Play a few rounds at Topgolf
For a fun and unique indoor activity to escape the winter cold, head on over to the largest Topgolf Swing Suite in all of the USA at the Ocean Casino Resort. Topgolf is an immersive and interactive social experience suitable for both golfers and non-golfers alike. In addition to virtual golf, Topgolf's massive screens can also be used to play other fun virtual games, including, baseball, football, hockey, carnival classics, and even zombie dodgeball.
Both kids and adults will love all the fun and games, but adults will especially love the variety of unique cocktails and a break from the casino floor and nightclubs. With seven private bays, a large bar, and additional table games, you'll be sure to have an excellent day playing, eating, drinking, and taking in the fantastic views of the Atlantic Ocean and the AC Boardwalk. A perfect way to spend the day with both family and friends.
Catch a Show at a Casino
Be a part of the glitz and glamour and enjoy a host of Atlantic City shows, events, and concerts to rival those of Vegas. Many of the casino resorts offer musical concerts, comedy shows, championship boxing events, contemporary circus acts, and other live entertainment.
A live show is a perfect excuse for an escape and an exciting way to create unforgettable memories with your family and friends. Some upcoming winter highlights include the Mannheim Steamroller concert at Caesers; a performance from the legendary band Earth, Wind & Fire at the Hard Rock Hotel and Casino; comedian and actress Chelsea Handler at the Borgata Events Center; English pop duo Erasure at Caesers; and comedy duo Penn & Teller at Sound Waves at Hard Rock Hotel & Casino. There is always a concert or show going on, so be sure to check the events calendars before you head off on your winter break!
Escape the Room at the Tropicana
For a fun but challenging group activity, check out the Escape Room at Tropicana Casino & Resort. The exciting and innovative experience will test those family bonds as you work together to Beat-the-Clock in this interactive and team-based game. Groups of 2 to 10 people must use attention to detail and think outside the box to 'escape' a designated room in under 60 minutes.
The Escape Room at Tropicana offers four Atlantic City related themed rooms to choose from, including The Poker Room, The Boardwalk, Casino Cage, and Backstage. Each game room provides a unique and thrilling experience you won't forget anytime soon. Although many may fail at solving the puzzles and uncovering all the clues in the allocated time, you'll be sure to have fun trying. There's no doubt that it's fun for all ages!
The Playground at Caesars
Playground Pier is a 4-story pier located on the Atlantic City Boardwalk that is home to many excellent restaurants, lively bars and clubs, and plenty of luxury shopping. The place is a must-visit, if not just for the fantastic views of the ocean that can be seen from the Promenade.
For guests staying at Caesars Casino & Resort, the playground is connected to the casino floor, so you won't have to venture far some great food and shopping! In terms of shopping, you'll find many upscale stores including, Gucci, Louis Vuitton, Burberry, Michael Kors & Tommy Bahama, and more. If you're looking for a bite to eat, you'll be spoilt for choice, but some highlights include Phillips Seafood, Buddakan, The Continental, and Souzai Sushi.
Be sure to have a look at what events are going on over your winter break, you'll often find live music, DJs, and other entertainment at The Playground.
Fine Dining
Atlantic City is home to some of the best fine dining restaurants on the Jersey Shore. You'll be able to find all types of cuisine, including Italian, Seafood, French, Chinese, American, and much more. Here are a few of the top-rated restaurants in the city: Dock's Oyster House is the oldest restaurant in AC and has been serving the best steaks and freshest seafood since 1897 or Carmine's, famous for offering some of the best Southern Italian cuisines served in large portions in a family establishment.
If you want to travel back in time, try Kelsey's, Atlantic City's first supper club, serving great food and drink with live music on the weekends or the Knife and Fork Inn, an upscale steak and seafood restaurant that has been restored to its Prohibition Era glamour and offers a very popular happy hour. If the ocean views have you thinking of seafood, make your way to Harry's Oyster Bar & Seafood, located on the boardwalk, because it is a great seafood house and sports bar in one, with over nine flatscreen televisions so you will never miss a game!
Many popular Philadelphia restaurants have outposts in Atlantic City. These include iconic destinations like Amada, Buddakan, The Continental, Cuba Libre, and others.
See the boats in the marina
Head on over to Farley State Marina and take a peaceful stroll around the docks and enjoy looking at some of the beautiful sailboats, houseboats, and other impressive boats docked at the marina. In the picturesque Absecon Bay, where prohibition-era rumrunners once transported rum to the shores, this serene marina has over 600 floating slips and dockage for boats up to 300 feet in length.
You'll be sure to spot the boats of some of the high rollers as just across the street from the marina you can run the slots, play cards, and enjoy award-winning restaurants and entertainment at the Golden Nugget casino. Perhaps after an extremely lucky night at the casino, you'll be able to buy your own boat to dock at the marina!
Atlantic City Experience
The Atlantic City Historical Museum, located along the boardwalk, first opened in 1985 and contains over 150 years of the city's history. As of 2019, both the Atlantic City Historical Museum and the Atlantic City Art Center moved to the Jim Whelan Boardwalk Hall and are now a part of the Atlantic City Experience.
The Atlantic City Experience is an excellent way to learn about the fascinating history of the city, with the exhibition showcasing the city's top historical and cultural resources. You can read all about the city's diving horses, dancing girls, the iconic Boardwalk, the many casinos, churches, and the city's intriguing prohibition history. Atlantic city is rich in American history and the museum is an interesting and educational way to spend a winter's afternoon.
Nightclubs
Atlantic City is famed for its vibrant and exciting nightlife. From sundown to sunrise, you can enjoy the dazzling lights, DJs, dancing, and drinks that the city has to offer on a nightly basis. There are so many different clubs with unique and distinct atmospheres, that you can have a different experience every night, or even in the same night if that's your thing!
The majority of hotels and casinos in the city are also home to some of the best nightclubs. For an old-school 70s style disco floor, be sure to check out Boogie Nights in Tropicana, where you can have a boogie under the giant disco ball. For the high rollers, head on over to the exclusive, glamorous, and slightly pricier HQ2 nightclub, known for its VIP booths, table service, and world-renowned DJs. The Pool After Dark nightclub at Harrah's is the best pool party in town, with tropical fauna, a heated swimming pool, and private hot tubs for a unique and wet night out! Other favorites include Daer at the Hard Rock, Premier at Borgata, and The Irish Pub.
The Casinos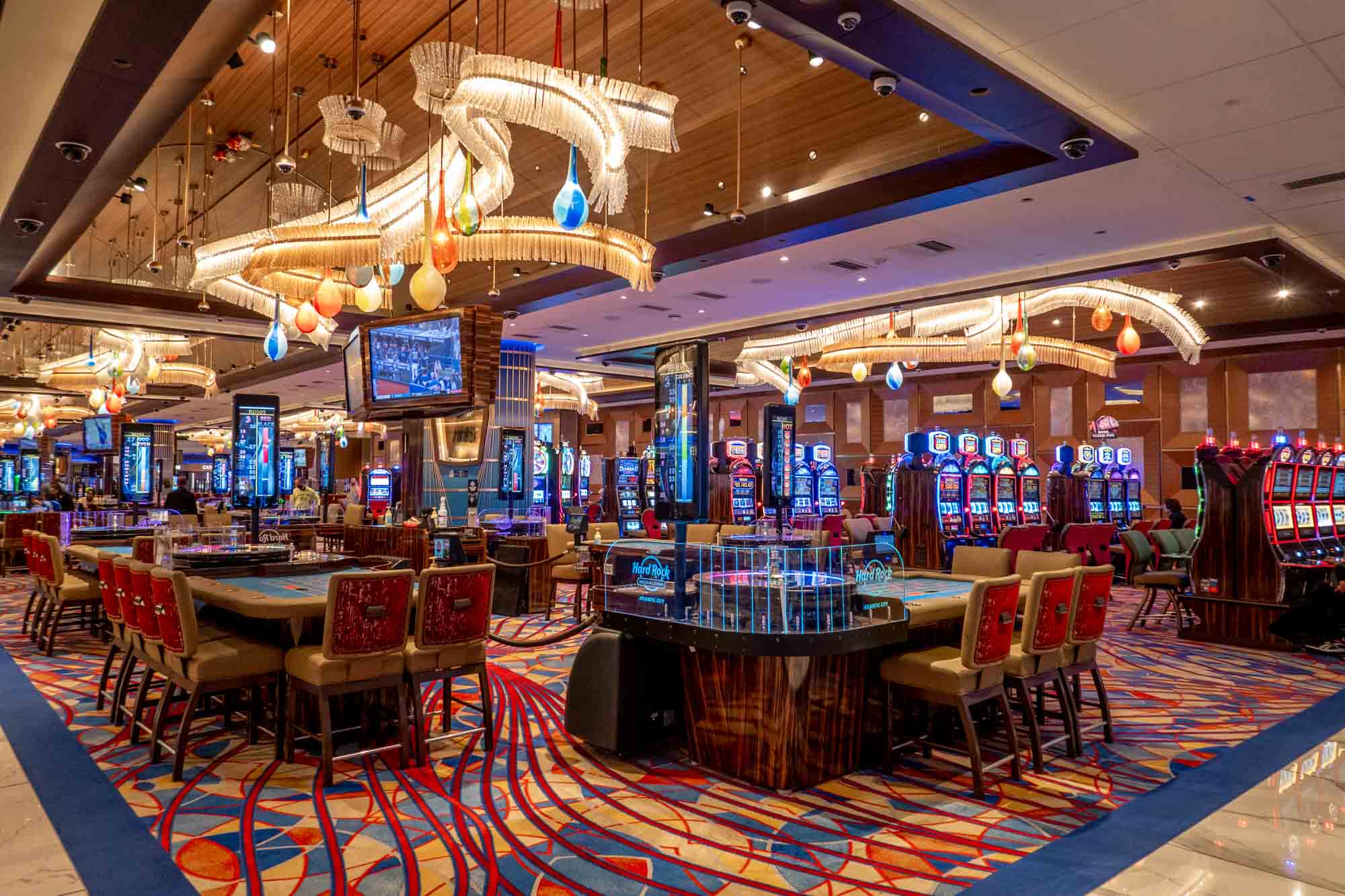 Atlantic City is perhaps best known as a gambling destination, and any winter break wouldn't be complete without trying your luck on one of the many casino floors. All of the casinos offer the expected slots, roulette, craps, and other classic table games such as poker and blackjack. Some of the newer casinos even have sports betting as well; the William Hill Sports Book in the Ocean Casino Resort is a 7,500 square foot room complete with a 24-hour bar, a state-of-the-art panoramic video wall technology, and enough televisions to broadcast almost every sports game.
The more modern and flashier casinos include Borgata and Ocean, whilst some of the classics are Caesar's, the Tropicana, Bally's, Golden Nugget, Hard Rock, and Harrah's. Even if you don't win the jackpot, you'll be sure to still have fun and get the adrenaline pumping trying! If you are visiting, also check our article Atlantic City activities, which focuses on the summer.