Some posts on this site contain affiliate links, meaning if you book or buy something through one of these links, we may earn a small commission (at no extra cost to you).
Chances are you've got a couple of songs about Philadelphiaon your music playlist right now. Philadelphia is a city with a deep soul, rich culture, and powerful history. With such features, it's not surprising that the city has inspired a lot of interesting songs.
While some songs just name-drop the city, some pay proper homage, and others were fully dedicated to Philadelphia. And with good reason, the city has been a powerful force in the music industry. From American Bandstand to the soulful R&B genre, Philly has led the way.
Here are some of our favorite songs about Philadelphia:
Philadelphia Freedom by Elton John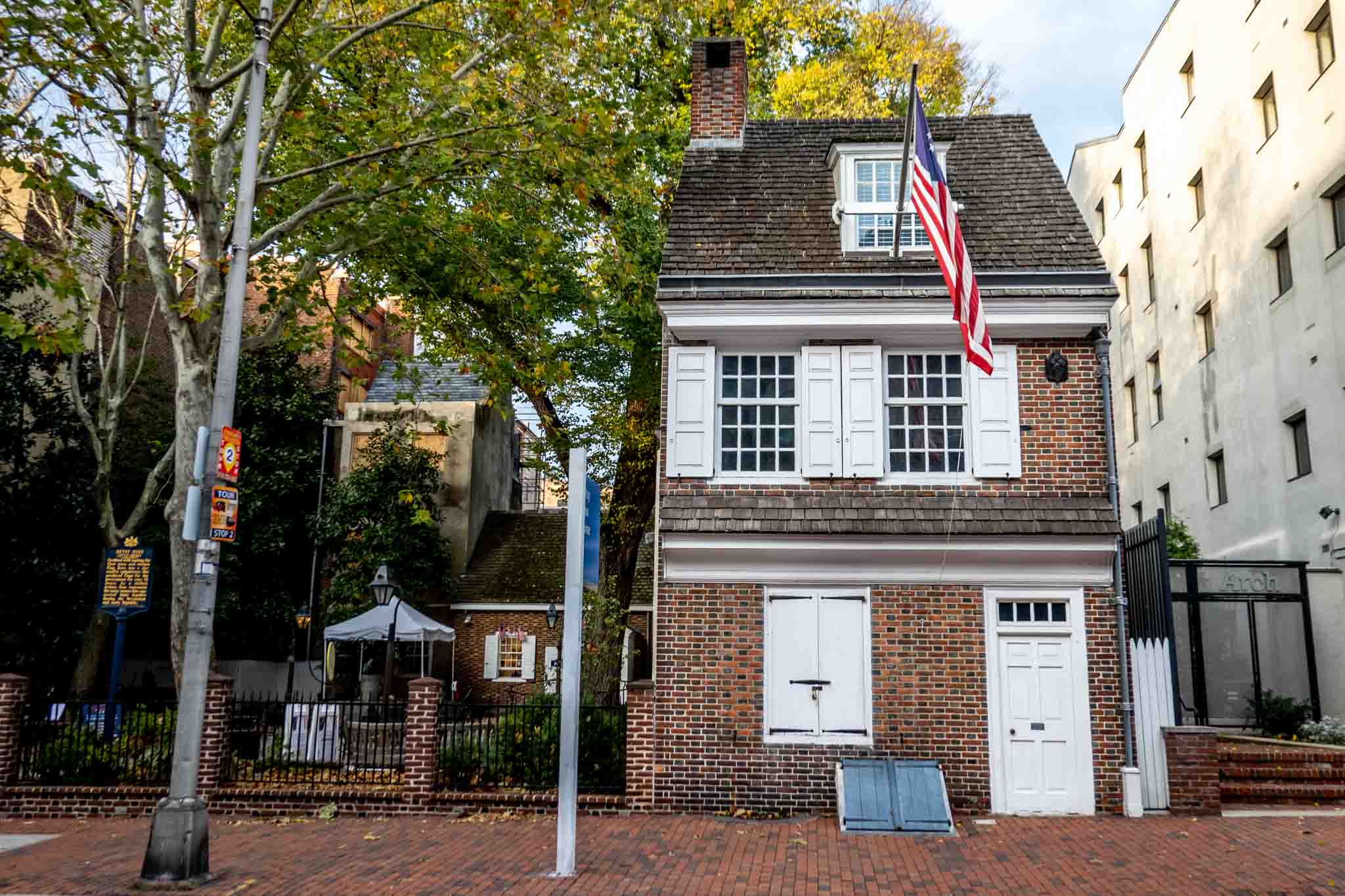 "…Cause I live and breathe this Philadelphia freedom
From the day that I was born, I've waved the flag
Philadelphia freedom took me knee-high to a man, yeah
Gave me a peace of mind my daddy never had…"
Elton John and his collaborator, Bernie Taupin made this song about popular tennis star, Billie Jean King and her tennis team, Philadelphia Freedom (which still exists). Released in 1975, Philadelphia Freedom also pays homage to Philly and celebrates its importance in history. Philadelphia Freedom is also one of Elton John's many Billboard number 1 hits.
The Sound of Philadelphia (TSOP) by MSFB
"Let's get it on
It's time to get down
Let's get it on
It's time to get down
Let's get it on
It's time to get down
Let's get it on."
When you turn on this song, just prepare to shake your head and move your body. Released in 1974, TSOP was a disco song by a group that went by Mother Sister Father Brother (MSFB). This disco hit also featured The Three Degrees, a female vocal group formed in Philadelphia in 1963.
The Sound of Philadelphia was originally made for the TV musical show, Soul Train, and soon found itself on the Billboard Hot 100.
Bandstand Boogie (Theme from American Bandstand) by Barry Manilow
"We're goin' swingin' (swing)
We're gonna swing in the crowd
And we'll be clingin' (cling)
And floatin' high as a cloud
The phones are ringin' (ring)
My mom and dad are so proud
I'm on Bandstand (Bandstand)"
Barry Manilow's popular hit Bandstand Boogie was a theme song in American Bandstand, a popular music television show. The TV show aired between 1952 and 1989 and had strong Philadelphia roots, being filmed here for most of its run.
Manilow is also popularly known for his records like "Could It Be Magic", "Mandy", "and Can't Smile Without You".
Dancing In The Streets by Martha & The Vandellas
This is one of the songs that name-dropped Philly and as such qualifies to be called a Philadelphia song. Released in 1964, Martha & The Vandellas shouted out Philadelphia while they sang about having a good time wherever you find yourself.
The original version of Dancing in the Streets was composed by William Stevenson, Ivy Jo Hunter, and Marvin Gaye. However, the song only became popular with the Martha & The Vandellas version, which peaked at number 2 on the Billboard Hot 100 chart and number 4 on the UK's Singles Chart.
Motown Philly by Boyz II Men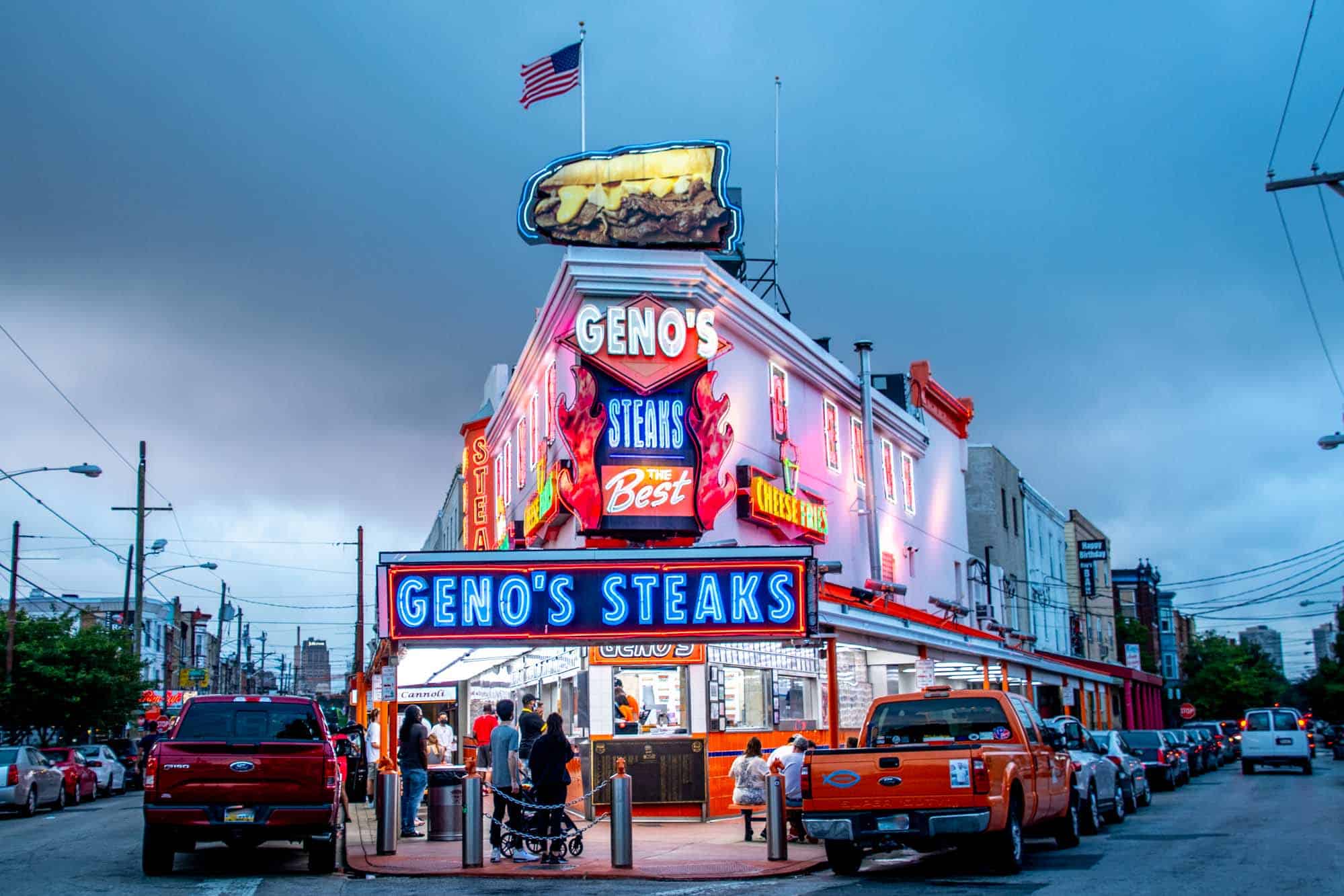 "Never skipped a beat, na
While cooling on South street
Jet black Benz, plenty of friends
And all the Philly steaks you could eat"
With such catchy lyrics, we are not surprised this hit song was once on No. 3 of the Billboard Hot 100 charts. Boyz II Men were an R&B group that originated from Philadelphia and had many hit songs to their name including 'So Hard to Say Goodbye' and 'End of the Road'.
Their debut single, Motownphilly, was released in 1991 and it is one of their top hits. Its video features many locations in Philly, like the Ben Franklin Bridge, Geno's cheesesteaks, and the Delaware Riverfront. If you want to see what the city was like in the 90s, you know what to do.
Punk Rock Girl by Dead Milkmen
"Give me a chance
(Punk rock girl), let's go slam dance
We'll dress like Minnie Pearl
Just you and me, punk rock girl
… We went to the Philly Pizza Company and ordered some hot tea
The waitress said "well no, we only have it iced""
Dead Milkmen was a group formed in Philadelphia in 1983. In 1988, the group released "Punk Rock Girl" which was about a man and a punk rock girl who explored Philadelphia together.
Dead Milkmen referenced some places in Philadelphia including Zipperhead, a popular South Street clothing store. The video was filmed in Eastern State Penitentiary and the song was like an anthem for punk culture after its release.
Summertime by Will Smith
Will Smith wowed everyone with his role in the sitcom, Fresh Prince of Bel-Air, which tells the story of a kid from West Philadelphia who moved in with his aunt in California.
While the show was mostly based in California, "Summertime" pays homage to Philadelphia. In this track, Will Smith teamed up with DJ Jazzy Jeff while they rapped about his memories back in Philly.
"Back in Philly, we be out in the park
A place called the Plateau is where everybody goes
Guys out hunting and girls doing likewise"
The song was released in 1991 and the video showcased different locations in Philly, including the Belmont Plateau, the Philadelphia Museum of Art, The Free Library, and Boathouse Row.
I'm In a Philly Mood by Daryl Hall
While one cannot call 'Philly Mood' a huge hit, it surely has a place as one of the best songs about Philadelphia. A Philly mood in the context of this song means grooving, holding your lover's hands while enjoying the views of the city.
This fun love song goes:
"…Oh, baby, it's been too long
I need to feel the same thing
That made that time our own
Oh, let's make it groove
Taking it nice and smooth
I'm in a Philly Mood
Oh, baby come down
I wanna hold you now
I'm in a Philly mood…"
A Philly Mood was the first single released from Daryl Hall's 3rd studio album, Soul Alone. The song peaked at no. 82 on the US Billboard Hot 100.
Fall In Philadelphia by Hall & Oates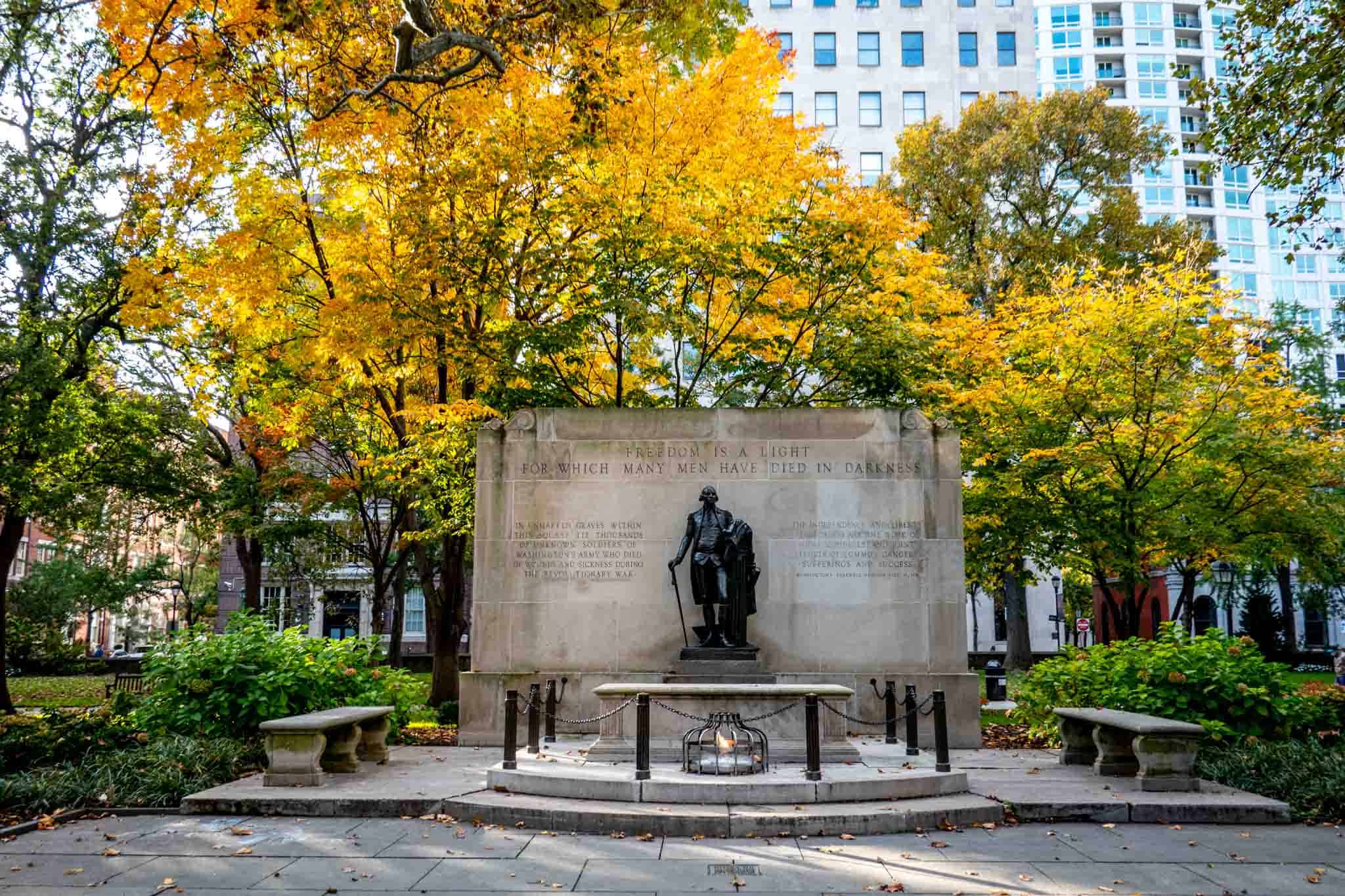 "I guess I have to face the fact as real
I think I feel my back up against the wall
I'm gonna spend another Fall In Philadelphia"
Philadelphia's favorite sons, Hall and Oates did something incredible on this song. "Fall in Philadelphia" was released in 1972 from their debut album, Whole Oats, a combination of rock, folk, and soul. While it's not exactly an optimistic song —as it describes Quaker City during the transition period — it's a good Philly song.
Sailing To Philadelphia by James Taylor
This is a perfect song to listen to while driving! In "Sailing to Philadelphia," Mark Knopfler features James Taylor as they sang from the perspective of Charles Mason and Jeremiah Dixon. The details of the song were inspired by the book, Mason & Dixon, by Thomas Pynchon.
"We are sailing to Philadelphia
A world away from the coaly Tyne
Sailing to Philadelphia
To draw the line
A Mason-Dixon Line"
Streets of Philadelphia by Bruce Springsteen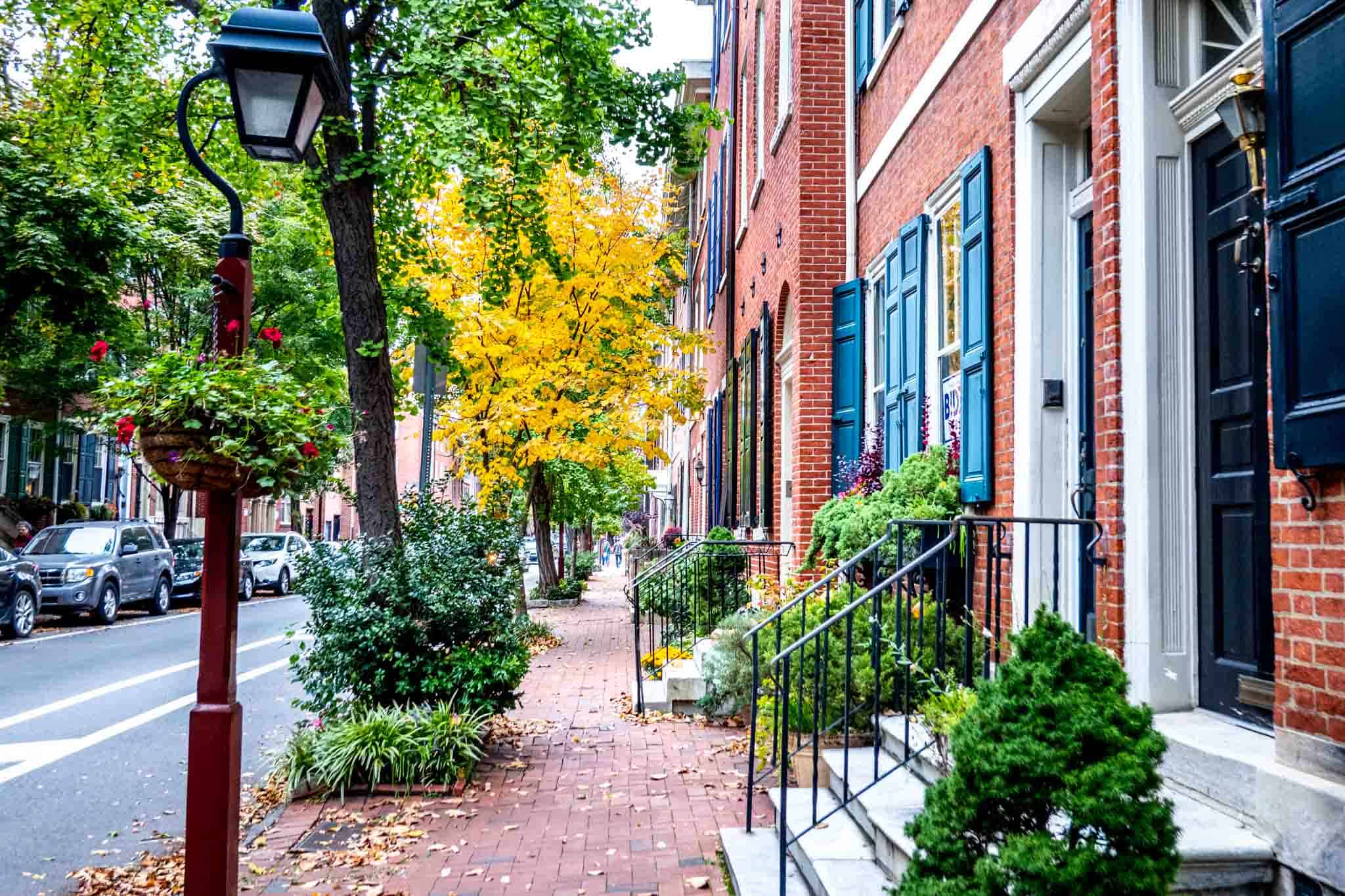 This Philly anthem won a Grammy and an Oscar for the Best Original Song the year it was released. It's the theme song from the movie, Philadelphia, starring popular actor, Tom Hanks. The movie tells the story of a lawyer dying of HIV and its soundtrack had a melancholy tune.
"I was bruised and battered, I couldn't tell what I felt
I was unrecognizable to myself
I saw my reflection in a window, I didn't know my own face
Oh brother are you gonna leave me wastin' away
On the Streets of Philadelphia"
Philadelphia by Neil Young
Philadelphia was another song from Philadelphia, the movie starring Tom Hanks. His role in this movie earned him his first Academy Award for Best Actor. Guitarist Neil Young's gripping voice came on towards the end of the movie as he begged his home (Philly) not to turn its back on him.
"City of brotherly love
Place I call home
Don't turn your back on me
I don't want to be alone
Love lasts forever"
This sad, emotional song was written to bring awareness to HIV and was also nominated for the Grammy.
Midnight In Philadelphia by Lifehouse
"I know what it's like to hide
Sit in your room and break down and cry
And all I could say was your name
I've had my share of pain"
Lifehouse in this haunting song sings about losing someone you loved over a mistake you could have avoided.
Meanwhile, in some interpretations, Lifehouse was in fact not singing about love or a person but about finding one's way back to God. Well, we guess you have to listen to the song to find out your interpretation.
The Heart of Rock and Roll by Huey Lewis & The News
"The Heart of Rock & Roll" is a song performed by Huey Lewis and the News, from their album, Sports. According to the artists, the song was inspired by a gig they played in Ohio. In the song, they concluded that "the real rock and roll is in other places besides New York and Los Angeles." The song gives a shout out to the City of Brotherly Love.
The single peaked at no. 6 on the Billboard Hot 100 charts, was nominated for the Best Group Video at the first MTV Video Music Awards, and Record of the Year at the 27th Grammy Awards.
Sweet Little Sixteen by Chuck Berry
"Sweet Little Sixteen
She's just got to have
About half a million
Framed autographs
Her wallet's filled with pictures
She gets 'em one by one
Become so excited
Watch her look at her run, boy"
Sweet Little Sixteen was recorded and released by Chuck Berry in 1958. The song references American Bandstand in Philadelphia, PA. This rock and roll hit peaked at no. 2 on Billboard Hot 100, no. 2 in the R&B Best Sellers chart, and no. 16 in the U.K. There are also other versions of the songs including one by John Lennon and another by The Beatles.
That Philly Thing by George Thorogood
That Philly thing was released in 1982 by George Thorogood from his fifth studio album, Bad to the Bone. The 2-minute song describes the fun and bustling nature of Philadelphia. George Thorogood is best known for his hit songs like 'Bad to the Bone' and 'Who Do You Love.'
Going Back To Philly by Jeru The Damaja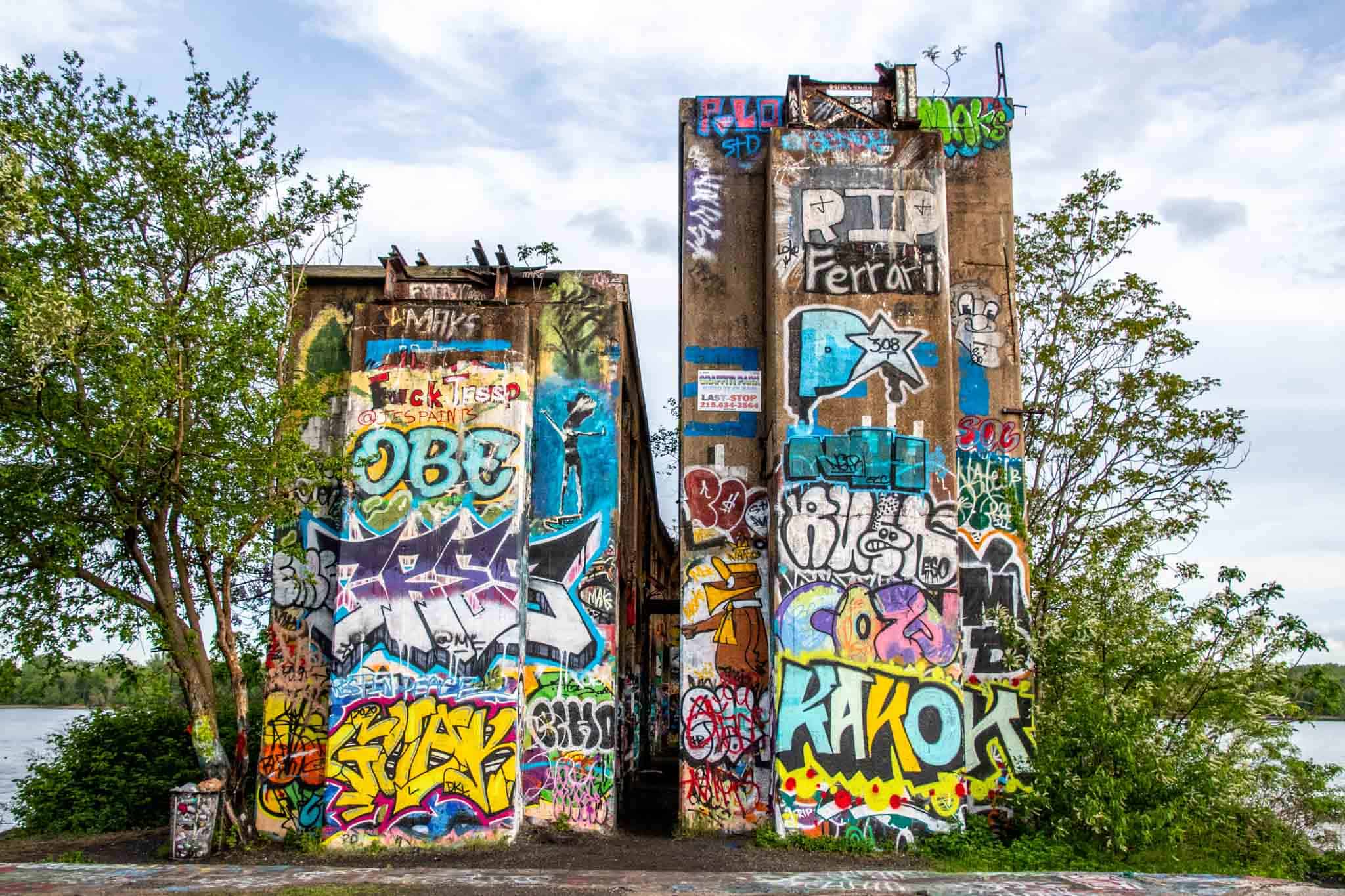 "Going back to Philly, wilin', defilin'
Drunk Dialing, So violent
Always in the sun
Going back to Philly
Flippin' um, lickin' um
Scoopin' over everything in sight"
"Going Back to Philly" was recorded by Jeru The Damaja, an American rapper born in 1972. In this track, the rapper sings about his hesitation to go back to Philly while painting pictures of things that go on in the city.
Philadelphia Lawyer by Woody Guthrie
"Come love, and we'll go ramblin'
Down where the lights are so bright
I'll win you a divorce from your husband
And we can get married tonight"
There's absolutely nothing as magical as a great song telling a good story. Written by Woody Guthrie, "Philadelphia Lawyer" tells the story of a lawyer having an affair with another man's 'Hollywood Maid.'
In the song, the Philadelphia lawyer tried to convince her to get a divorce and go back with him to Philadelphia. However, Woody Guthrie ends the song with, "There's one less Philadelphia lawyer In old Philadelphia tonight." Philadelphia Lawyer was off Guthrie's 1997 album, This Land is Your Land.
Philadelphia March by John Philip Sousa
This patriotic song pays homage to the military, Philadelphia, America, and past heroes who built the nation. It was composed by John Phillip Sousa, an American composer known for his military marches. John Phillip Sousa was also known as 'The March King' and has over 130 marches in his name.
Freddy Freeloader by Miles Davis
"It's too fast
Miles, where are you gonna work now?
Right here
Ok, 'cause if you move back we don't get you
You, you were right when you played before"
Miles Davis composed "Freedy Freeloader" for his 1959 album, Kind of Blue. The song was named after a man, Freedy, who often tried to see Davis play and perform without payment, hence the freeloader tag.
East River Drive by Grover Washington, Jr.
Grover Washington Jr. released his Jazz studio album, Come Morning, in 1981. This album featured East River Drive, a 4-minute song inspired by a scenic road in Philadelphia that is popular with runners and bicyclists, and blooms pink every spring with Cherry Blossoms. Grover Washington died in 1999, shocking everyone at the age of 56. However, his songs, including "East River Drive," were a masterpiece that touched fans.
Off to Philadelphia in the Morning by John McCormack
McCormack was a very popular recording artist in the early twentieth century and he has over 800 recordings. Released in the 1990s, this Irish song is exactly what you would expect at a diner in the twentieth century. McCormack recorded "Off to Philadelphia" late in his career and the song suggests Philadelphia's popularity as a place of Irish settlement.
Check out our related article, the best songs about Pennsylvania.