Some posts on this site contain affiliate links, meaning if you book or buy something through one of these links, we may earn a small commission (at no extra cost to you).
One of the best ways to show appreciation for a place is through music. Songs commemorate destinations and stick with us long after the beat is over. There are several songs that do exactly that for Pennsylvania. Some of these songs about Pennsylvania pay homage to the uniqueness of the state, some reference specific cities, while some tell stories about certain events and experiences.
In this article, we gathered some of the best Pennsylvania songs with genres ranging from RnB to folk and rock to rap. Some of these songs are well known already, some are not but one thing is for sure, this Pennsylvania playlist will have you loving the Keystone State all over again.
Harrisburg by Josh Ritter
This sober song starts slowly with:
"…It's a long way to heaven, it's closer to Harrisburg
And that's still a long way from the place where we are
And if evil exists, it's a pair of train tracks
And the devil is a railroad car…"
This song is about Harrisburg, the capital of Pennsylvania. During a conversation about the song, Josh Ritter said that his dad was from Allentown and he remembers driving past the Capitol dome on their family trips. This experience made quite an impression on him as the image stayed in his head enough to make it into one of his songs. Harrisburg is from his album, Golden Age of Radio, released in 2001.
Allentown by Billy Joel
This song is about Allentown, an industrial town in Pennsylvania where many steel mills were going through a hard time at the time Billy Joel wrote this song. The song starts with the blowing of a steam whistle in a factory before Billy Joel goes on to sing about the unemployed workers and the economic depression that was prominent during that period.
He also mentioned Bethlehem in the song as the main employer in the region, Bethlehem Steel, had been closing operations.
"…Well we're living here in Allentown
And they're closing all the factories down
Out in Bethlehem, they're killing time
Filling out forms
Standing in line
Well, our fathers fought the Second World War…"
During interviews about this project, Joel mentioned that the song's title was initially 'Bethlehem' but he changed it to Allentown because it was easy to find rhymes for it.
Philadelphia Freedom by Elton John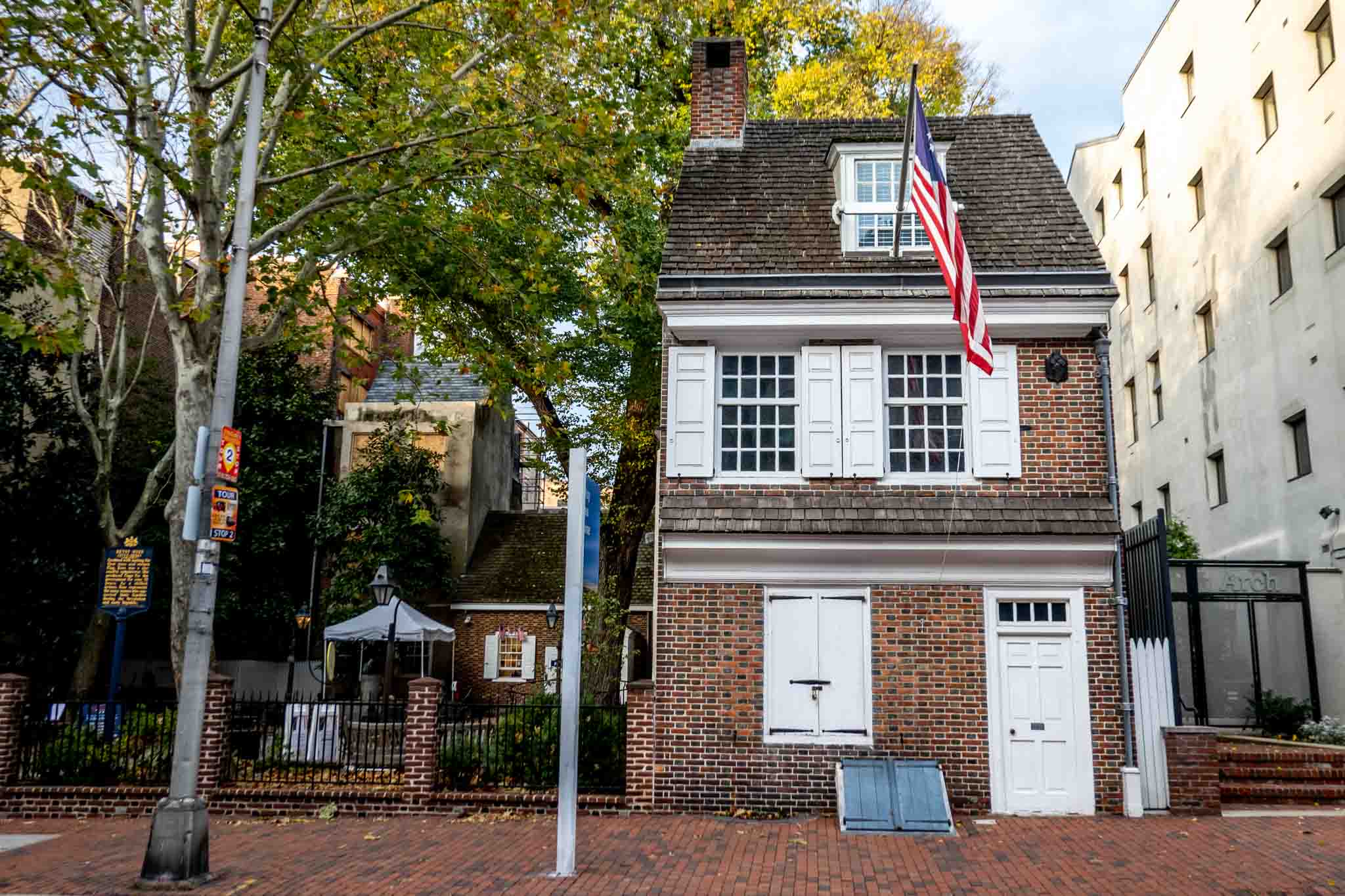 "…Cause I live and breathe this Philadelphia freedom
From the day that I was born, I've waved the flag
Philadelphia freedom took me knee-high to a man, yeah
Gave me a peace of mind my daddy never had…"
This song by Elton John and his collaborator, Bernie Taupin was released in 1975 and is perhaps one of the most popular Pennsylvania songs. Philadelphia Freedom speaks right to the heart of people who regard Philadelphia as their home and this explains its success on music charts. The song was also released less than a year before the American Bicentennial celebrations, which focused on the city.
The song was made to honor tennis icon, Billie Jean and her professional tennis team, the Philadelphia Freedoms. Meanwhile, this song isn't about tennis but instead pays tribute to Philadelphia by celebrating the city. After its release, Philadelphia Freedom spent a long time at No. 1 on the Billboard chart.
The Pennsylvania Polka
Performed by Frank Yankovic and written by Lester Lee and Zeke Manners, there is no Pennsylvania song like Pennsylvania Polka. It's so soulful and brilliant!
Pennsylvania Polka was first released in 1942 but the famous version by Frank Yankovich was released in 1959. The song was also featured in the popular movie, Groundhog Day, which is about the annual 'Groundhog Day' events in Pennsylvania.
You've Got a Friend in Pennsylvania by New Found Glory
In 1999, New Found Glory band put out an album with a track, "You've Got a Friend in Pennsylvania". Although this song doesn't mention Pennsylvania, the fact that it paid reference to the former state slogan is enough to make it to the top of the Pennsylvania music playlist.
"…Oh no,
It must be something I said.
Love is another word for regret.
You know,
It must be part of my plan.
It's never too late to understand…"
This song has a very reflective tone as it tells a story about a relationship with lyrics shifting between the present and past.
30,000 Pounds of Bananas by Harry Chapin
"..It was just after dark when the truck started down
The hill that leads into Scranton, Pennsylvania.
Carrying thirty thousand pounds of bananas.
Carrying thirty thousand pounds of bananas.."
This song by Harry Chapin is about a real-life truck accident in Scranton, Pennsylvania which resulted in the spillage of 30,000 pounds of bananas and the death of the driver.
Harry Chapin was going through Scranton when he came across the accident caused by the Banana truck going to Moosic Street Hill. The song also paid tribute to the driver who tried his best to keep residents from getting killed.
Pennsylvania by Cabinet
"…We spent some time in Pennsylvania
Doing things we never done before
And I can still feel that warm wind blow
Pennsylvania holds me strong, never let me go!…"
In this song, Cabinet sings passionately about Pennsylvania in a way that builds up nostalgia in the listener, whether you're from Pennsylvania or not.
Pittsburgh, Pennsylvania by Guy Mitchell
There are different versions of this song but the most popular one was released in 1952 and recorded by Guy Mitchell. It's quite upbeat and Guy's voice is just so unique.
Pittsburgh, Pennsylvania tells a story of a poor man who was trying to impress a woman he had just met. The man eventually tried to get money from a pawnshop in Pittsburgh to convince his love interest that he's rich. The song was set in Pittsburgh, which makes it a Pennsylvania song and a part of this playlist.
Streets of Philadelphia by Bruce Springsteen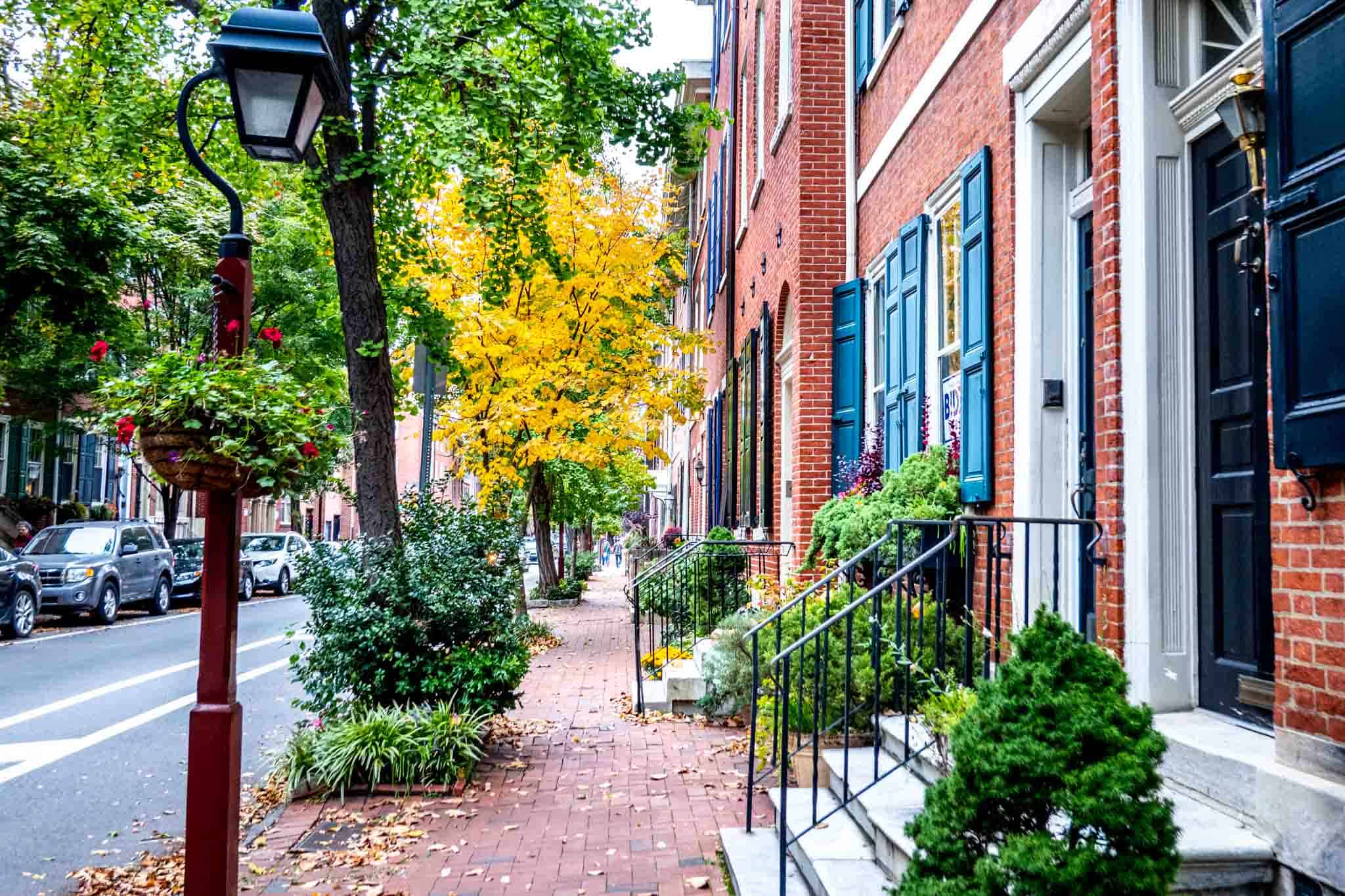 "…I was bruised and battered
I couldn't tell what I felt
I was unrecognizable to myself
Saw my reflection in a window
I didn't know my own face…"
Streets of Philadelphia is a sad song that features sights and people from the city. It's also one of the most recognizable songs about Philadelphia. Although Bruce Springsteen is a native of Jersey, he was big in Philly and his song, Streets of Philadelphia was for the 1993 movie titled, Philadelphia. The movie starring Tom Hanks was about the journey of a man dying of HIV/AIDS. This song would go on to top the charts in many countries, be nominated for multiple awards, and won an Oscar and 4 Grammy Awards.
I-76 by G-Love and Special Sauce
1-76 is the 2nd song on G-love's 3rd album. It's a song about Philadelphia and its lyrics go:
"'…Cause if you've gotta get downtown real quick
Then the only way to go is I-76
Unless of course, you want to take that scenic view
Then East or West River Drive is right for you… "
1-76 is about growth, driving around Philadelphia and watching people around the city. G. Love grew up in the Northwest section of Philadelphia, and I-76 is considered the fastest route of getting to the professional sports stadiums and arenas in South Philadelphia. Although, as anyone from Philly can attest, fast is relative. The highway is usually clogged with traffic at most hours of the day.
Clampdown by The Clash
This song by The Clash is from their 1979 album, London Calling. It was written by Joe Strummer and Mick Jones about repression, freedom, and the failures of capitalism. Clampdown in the song's context refers to the system where people join to make money but end up being subjugated by the society.
"So you got someone to boss around
It makes you feel big now
You drift until you brutalize
Doesn't make you first kill now
In these days of evil presidents
Working for the clampdown
But lately one or two has fully paid their due
For working for the clampdown"
Near the end of the song, there's a line, "Yeah, I'm working hard in Harrisburg."
Philly, Philly by Eve
This song by Eve features Beanie Siegal and it sings about Eve's Philadelphia roots. It has a lot of explicit lyrics but the chorus has Eve basking in the pride of being from Philadelphia. It goes:
"Oh Philly, Philly,
Philly where I am from
Philly, Philly
Philly where I am from
Philly, Philly
Philly where I am from
Philly, Philly
Philly where I am from"
Eve has achieved a lot of chart success in the 2000s with her popular tracks like, 'Who's that girl', 'Satisfaction', and 'Let me Blow Ya Mind'.
I'm In a Philly Mood by Daryl Hall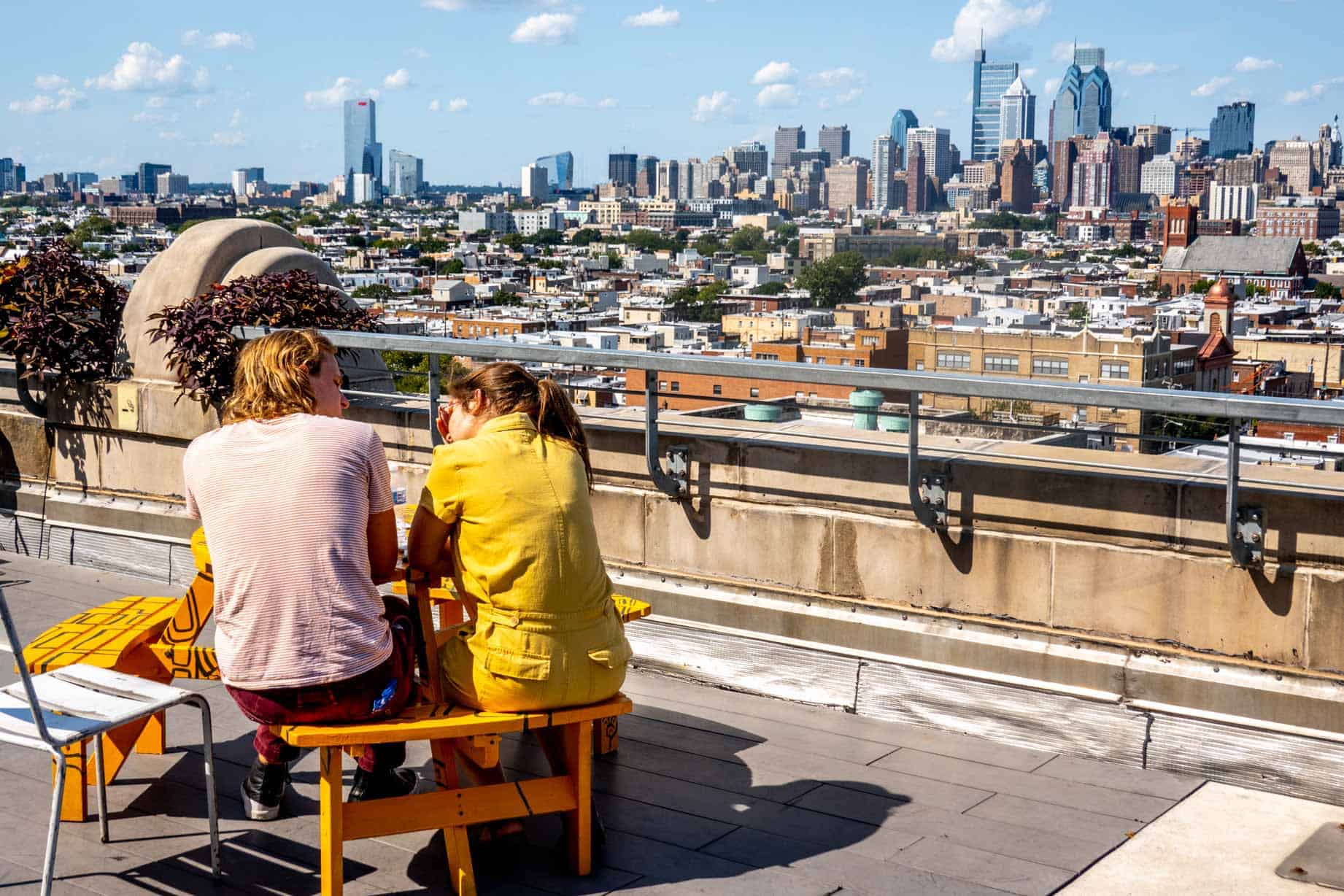 Rockstar Daryl Hall released his album in 1993 and it features a track titled, 'I'm in a Philly Mood.' The five-minute, fast-paced song describes Philly as a mood – a fun and happy mood. The song goes:
"…Oh, baby, it's been too long
I need to feel the same thing
That made that time our own
Oh, let's make it groove
Taking it nice and smooth
I'm in a Philly Mood
Oh, baby come down
I wanna hold you now
I'm in a Philly mood…"
Sailing to Philadelphia by Mark Knopfler
Sailing to Philadelphia is the second album by British singer, Mark Knopfler released in 2000. In the track with the same name, the artist features vocals from James Taylor.
The song was based on the book, Mason & Dixon by Thomas Pynchon and sung from the perspective of Charles Mason and Jeremiah Dixon, the surveyors who established the border separating Pennsylvania and Delaware from Maryland and Virginia in the 1760s. The border is known as the Mason-Dixon Line, which is also the border between the Northern and Southern states.
"…We are sailing to Philadelphia
A world away from the coaly Tyne
Sailing to Philadelphia
To draw the line
The Mason-Dixon line…"
Motownphilly by Boyz II Men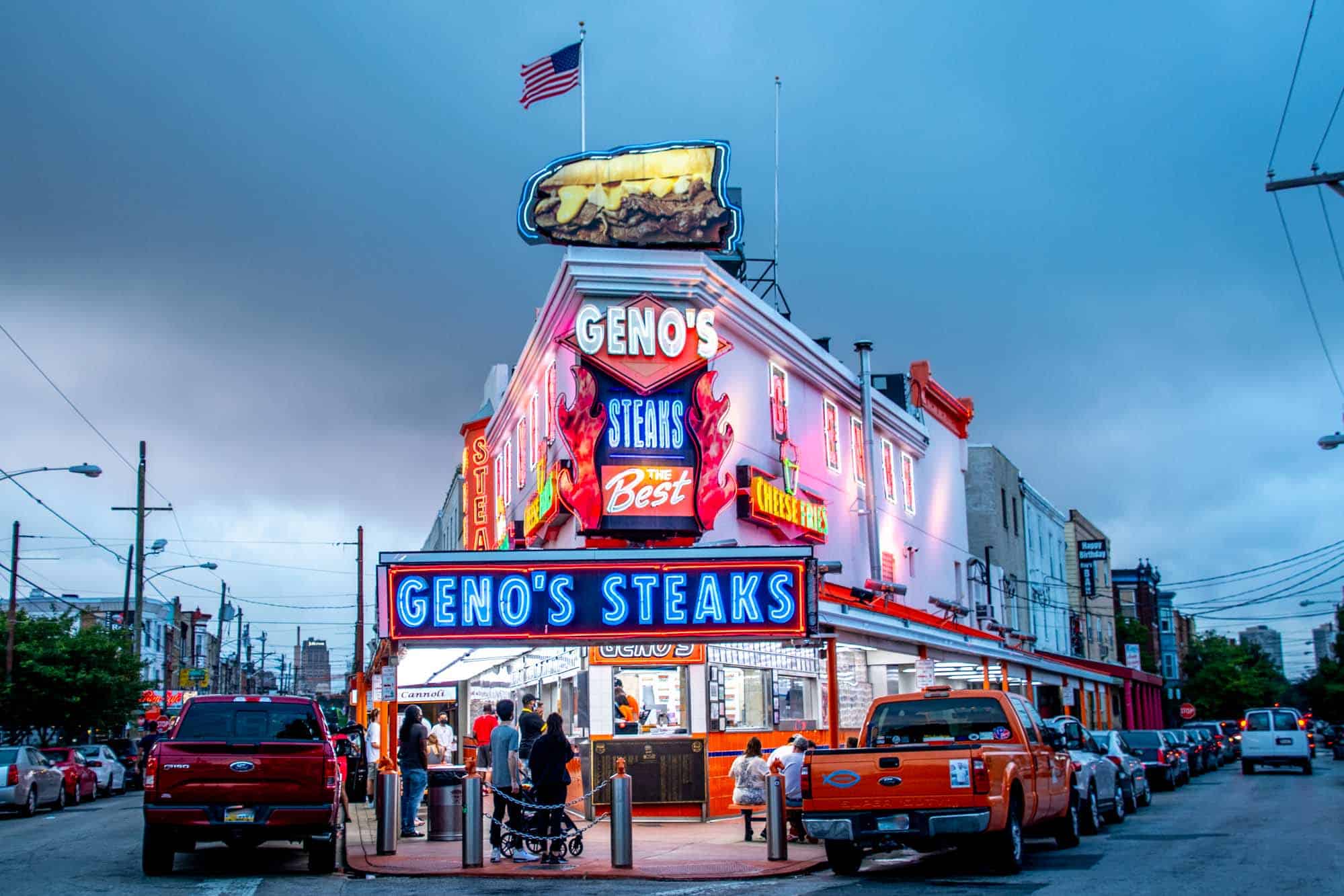 "Never skipped a beat, nah.
While cooling on South Street
Jet black Benz, plenty of friends
And all the Philly steaks you can eat"
Boyz II Men debuted in 1991 with this single, Motownphilly and it peaked at number 3 on the Billboard Charts. The band originated in Philadelphia and grew to become a popular U.S sensation in the 1990s.
The video of the song features many famous Philly landmarks, like the Ben Franklin Bridge, Temple University, Geno's cheesesteak shop, the boats at Spruce Street Harbor. Rewatching the music video now is a good way to see what Philly looked like in the 1990s.
South Street by The Orlons
Sound Street was a top hit when it was released by The Orlons in 1963. The song was about Sound Street, a popular hangout spot in Philadelphia. The Orlons also kind of made the place more popular and is one of the songs that define the city in pop culture.
South Street was from their album by this title and the cover art featured Philadelphia's skyline. The song reached No. 3 in the U.S Pop Chart and U.S R&B Chart in the year it was released. Also, this single sold more than a million copies and got a gold status.
Philadelphia by Neil Young
If you are looking for haunting songs about Pennsylvania, this is it! Philadelphia is a sad song but the performance by Neil Young is remarkable.
This song was from the movie, 'Philadelphia' and was recorded by guitarist Neil Young. The song came up towards the end of the movie and his words go:
"…City of Brotherly Love,
Place I call home, don't turn your back on me
I don't want to be alone
Love lasts forever…"
Midnight In Philadelphia by Lighthouse
'Midnight in Philadelphia' was composed by the Christian rock back from Canada, Lighthouse. In some people's interpretation, the lyrics describe someone trying to find his way back to God.
However, some think it's about losing a person due to a mistake and then crying God to help. Regardless of the meaning you ascribe to it, this song has a beautiful chorus:
"I know that you are watching me
Somewhere over the moon
Shouting down that you love me
Wondering why I can't hear you
If only for a moment
If only in my mind
I could go back to the beginning
In the place, I felt like a child"
Punk Rock Girl by Dead Milkmen
This lyrically direct and fast-paced song by Dead Milkmen tells the story of a man who meets a punk rock girl and together, they explore Philadelphia. The song described their rebellious adventures in Philly and features the sound of a vehicle they stole. 
Punk Rock Girl is the rock band's most popular release and became a sort of anthem for punk culture after its release in 1988. It also referenced Zipperhead, a punk clothing store on Philly's South Street. The song goes:
"….Give me a chance
(Punk rock girl), let's go slam dance
We'll dress like Minnie Pearl
Just you and me, punk rock girl
… We went to the Philly Pizza Company and ordered some hot tea
The waitress said "well no, we only have it iced'
So we jumped up on the table and shouted anarchy
And someone played a Beach Boys song on the jukebox…"
Camptown Races by Stephen Foster
"..Well, the Camptown ladies sing this song doodah doodah
Ah the Camptown race track's five miles long oh doo-dah day
Goin' to run all night, goin' to run all day
I'll bet my money on the bobtail nag, somebody bet on the bay…"
Pittsburgh-born singer; Stephen Foster wrote this song while he was living in Towanda, Pennsylvania, and is about the horse races in Camptown. The Camptown Races became so popular that the races were restarted as a foot race in the mid-20th century.
Fresh Prince of Bel-Air by DJ Jazzy Jeff and the Fresh Prince
There are many movies and TV shows set in Pennsylvania and one of them is, Fresh Prince of Bel-Air. This popular TV show starring Will Smith had a theme song by DJ Jazzy and Fresh Prince (aka Smith) where they paid homage to Philadelphia.
The show was about a teenager from West Philadelphia who moved in with his aunt in Bel-Air. Although only a small part of the show is set in Philadelphia, the show's theme song by DJ Jazzy and Fresh Prince features a reference to the city.
"In West Philadelphia born and raised
On the playground was where I spent most of my days
Chillin' out, maxin', relaxin' all cool
And shooting some b-ball outside of the school"
Fall in Philadelphia by Hall & Oates
Philadelphia's favorite sons, Hall and Oates, are well known for their 1980s classics like, 'Kiss on my List' and 'Out of Touch'. However, one of their tracks, Fall in Philadelphia which appeared on their 1972 album, Whole Oats, honors their native town.
In this song, the Philadelphia natives paid homage to their hometown singing:
"I guess I have to face the fact as real
I think I feel my back against the wall
I'm gonna spend another fall in Philadelphia"
This song isn't exactly hopeful but it's about Philly and it kind of shows how far this city has gone since the song in 1972.
New Sensations by Lou Reed
"I rode to Pennsylvania near the Delaware Gap
sometimes I got lost and had to check the map
I stopped at a roadside diner for a burger and a coke"
New Sensation can be found on Lou Reed's 1984 album with the same title. The singer referenced The Delaware Water Gap, one of the national park-affiliated areas in the state, which makes this a Pennsylvania song that totally deserves to be on this list.
Bandstand Boogie (Theme from American Bandstand) by Barry Manilow
Bandstand Boogie was originally recorded by Barry Manilow in 1975 for his album, 'Trying to Get the Feeling'. It later became the theme song of American Bandstand, a music and dance performance program that aired between 1952 and 1989.
American Bandstand was originally located in Philadelphia and the theme song goes:
"We're goin' hoppin' (Hop)
We're goin' hoppin' today
Where things are poppin' (Pop)
The Philadelphia way
We're gonna drop in (Drop)
On all the music they play
On the Bandstand (Bandstand)"
Pennsylvania by Heart
"…The streets were busy the cafes and the bars
People laughing, the flash of cars
The neon tower like a fist up in the sky
All that power like a spit in heaven's eye
I thought I saw you
Pennsylvania
I thought I saw you
Pennsylvania…"
In their fifteenth studio album, the popular band, Heart has their 6th track titled 'Pennsylvania'. Although it's unclear whether it is actually about Pennsylvania or a person with the same name, the song is nice and it features the state's name. This 2012 song would go on to peak at No. 24 on the Billboard Chart.
Pennsylvania Is by Everclear
Pennsylvania was a track off Everclear's debut album, World of Noise. It was released in 1993 and talks about some people from Pennsylvania and the problems they are facing. This includes abortion which was illegal in Pennsylvania at the time the song was released.
In the first verse, the song speaks of a girl who aborted her baby after her boyfriend beat her up and ended up in prison.
"….Jackson met a girl in a valley town
They fell into a teenage love she'd grow to hate
He's in prison now since he beat her down
He got her pregnant and she made it go away
Hey hey hey hey Pennsylvania
Pennsylvania …"
Pennsylvania 6-5000 by Glenn Miller Orchestra
The title of this song by Glenn Miller Orchestra comes from a phone number of the Hotel Pennsylvania where fans called often to find out the time the band would start performing. They made it to a song and it goes:
"..Numbers I've got by the dozen
Everyone's uncle and cousin
But I can't live without buzzin'
Pennsylvania Six, Five Thousand
I've got a sweety I know there
Someone who sets me aglow there
Gives me the sweetest "hello there"
Pennsylvania Six, Five Thousand
We don't say "how are you"
And very seldom ask "what's new?"
Instead, we start and end each call with
"Baby confidentially I love you"
Pennsylvania 6-5000 was released in 1940 and was later featured in an episode of the American Dad show.
Amish Paradise by Weird Al Yankovic
"We've been spending most our lives
Living in an Amish paradise
I've churned butter once or twice
Living in an Amish paradise
It's hard work and sacrifice
Living in an Amish paradise
We sell quilts at a discount price
Living in an Amish paradise"
Amish Paradise isn't explicitly about Pennsylvania. It's more about the Amish culture of Lancaster County. Pennsylvania has the highest population of Amish in the world which makes it a sort of reference to the state. In the music video of the song, there was a fictitious 'Welcome To Lancaster' sign.
Pittsburgh by The Lemonheads
Pittsburgh was a track in The Lemonheads reunion album, Let Us Laugh, released in 2006. The song doesn't mention the city but the song originally had the lyrics; 'You can lose a lot of innocence in Pittsburgh.' Pittsburgh was eventually changed to 'the world' so the lyrics now read;
"…You can lose a lot of innocence, in this world
You can leave yourself behind"
In the middle of coincidence
See the world in the present tense
Oh mother, your kids are so inclined.."
That Philly Thing by George Thorogood
That Philly thing was released in 1982 in Canada. It is an accurate portrayal of Philadelphia and it will make a good song while driving through the city. That Philly Thing was the 12th track on George Thorogood and The Destroyer's album, Bad to the Bone. The most popular song on the album, Bad to the Bone is considered one of the greatest rock songs ever.
Pittsburgh Town by Pete Seeger
Pittsburgh Town was off Pete Seeger's 1992 album, American Industrial Ballads. This song talks about the steel industries in Pittsburgh and their negative impact on the environment.
"…Well what did Jones and Laughlan steal? Pittsburgh
What did Jones and Laughlan steal? Pittsburgh
What did Jones and Laughlan steal?
Up an' down the river jus' as far as you can see
In Pittsburgh, Lord God, Pittsburgh…"
The Range War by Todd Rundgren
'The Range War' tells the story of two lovers whose fathers were fighting over land. In this song, the singer wants to escape to Pittsburgh to keep him and his lover out of the war their fathers waged. This track appears on the singer's 1971 album, Runt.
"Three years on this range since they started the range war
Nothing has changed except maybe change for the worst
If I'd married you first,
There might not have been any range war
You wouldn't be lost to the range war."
Pittsburgh Sound by Wiz Khalifa
Wiz Khalifa was born in Pittsburgh and spent most of his youth there. It's no surprise that his debut album had a track about his hometown. In 'Pittsburgh Sound,' the rapper referenced locations in the city.
"…Ask him how I do it I tell 'em (what you tell 'em)
(its all in my blood)
I got that Pittsburgh sound
And I'mma always hold Pittsburgh down
It's Wiz Khalifa man
Don't know about you, bra
But I'm a hustla; it's all in my blood…"
The rapper's hit, 'Black and Yellow' is also a very popular Pittsburgh song with the rapper rocking his Western PA pride.
Pittsburgh to Lebanon by Butthole Surfers
The lyrics of this song will let you know why it's on our list;
"….When I crawled outta my momma
Well, I was blind as can be
I bought my first shotgun
At the age of three…"
This song by Butthole Surfers was released in 1987 from their album, Locust Abortion Technician. The song is so…Pennsylvania. And this album is considered one of their best bodies of work.
Summertime by Will Smith
In Summertime, Will Smith sings, "Back in Philly, we would be out in the park. A place called the Plateau is where everybody goes." The plateau is the Belmont Plateau, of course. It's one of the best views of the Philadelphia skyline.
Although Will Smith is best known for his acting career, the star also led a hip-hop career that brought about this song about Philly. The video features many popular spots around Philly, including the Philadelphia Museum of Art and Boathouse Row.
Pittsburgh by They Might Be Giants
"We are the guests of Mr. Smalls
He's somewhere watching us
Through eyeholes in the walls"
Comedy Rock-band, They Might Be Giants wrote this song about Pittsburgh and then dedicated it to Mr. Smalls, a music venue in Millvale. In the song, there was a minute introduction by actor John Hodgman.
Pennsylvania Turnpike, I Love You by Homer and Jethro
Homer and Jethro were popular duos through the 1940s and 1960s. This song has a lot of parodies and humor and it's a great song to listen to when driving through Pennsylvania.
Ode to a Pittsburgh by Loudon Wainwright III
London Wainwright III is an American folk singer with a career spanning decades. He is also the father of singer Rufus Wainwright and singer-songwriter Lucy Wainwright Roche (who just happens to be one of our favorite museums). Ode to Pittsburgh is a tribute to Pittsburgh, Pennsylvania, and captures the beautiful city in the 1970s.
"Let the trees & shrubs grow strong
May the bagpipes never burst
Let the alleycade roll right along
May I thirst the Dukay thirst
May your steel mills last forever
And your learning towers too
May Mellon remain clever
Good luck and god bless you"
Pennsylvania by Eddie Khoury and Ronnie Bonner
"…Pennsylvania, Pennsylvania,
Mighty is your name,
Steeped in glory and tradition,
Object of acclaim.
Where brave men fought the foe of freedom,
Tyranny decried,
Til the bell of independence
filled the countryside.
Pennsylvania, Pennsylvania,
May your future be,
filled with honor everlasting
as your history…"
Pennsylvania has a state song, like a real anthem, but many people do not know it. This song by Eddie Khoury and Ronnie Bonner was adopted by the General Assembly and signed into law in 1990 by Gov. Robert .P. Casey.
It's sometimes used for official government events and the rendition was performed in 1988 by the Men's Chorale. While the lyrics to the song were written in 1955, the music was composed a few years later in 1961.
Dancing In The Streets by Martha & The Vandellas
When you listen to this song, you just want to dance whenever you are. That's exactly the aim of the song; to encourage listeners to have a good time in the city they lived in. "Dancing in the Street" was produced in 1964 by William "Mickey" Stevenson. The original version was recorded by Martha and the Vandellas and is one of their major hit songs.
It reached No. 2 on the Billboard Hot 100 chart and at No. 4 in the UK Singles Chart. In a 1969 release, Dancing in the Streets peaked at No. 5 in the UK Singles Chart.