Some posts on this site contain affiliate links, meaning if you book or buy something through one of these links, we may earn a small commission (at no extra cost to you).
A city known for its grit, it only seems natural that Philadelphia would be the global leader in street art. With over 3,600 murals citywide, Philadelphia envisions a world where art and creative practice are respected as critical to a community's sense of self and place. And these Fishtown murals reflect that.
The murals of Philadelphia not only beautify our concrete jungle, but they carry messages of hope, declarations of love, and songs of a people. While Philly's Mural Arts Program (MAP) is the greatest contributor to the city's outdoor art gallery, various independent artists take to the streets to paint the city's bare walls. The Philly street art scene is thriving!
Due to the sheer quantity of murals in Philadelphia, visitors don't have to travel far to locate these urban canvases. However, some areas are more plentiful than others. Take Fishtown. You will be hard pressed to find a wall without a mural in this artsy North Philly neighborhood. In fact, there are so many that we had to make a list!
Welcome to Fishtown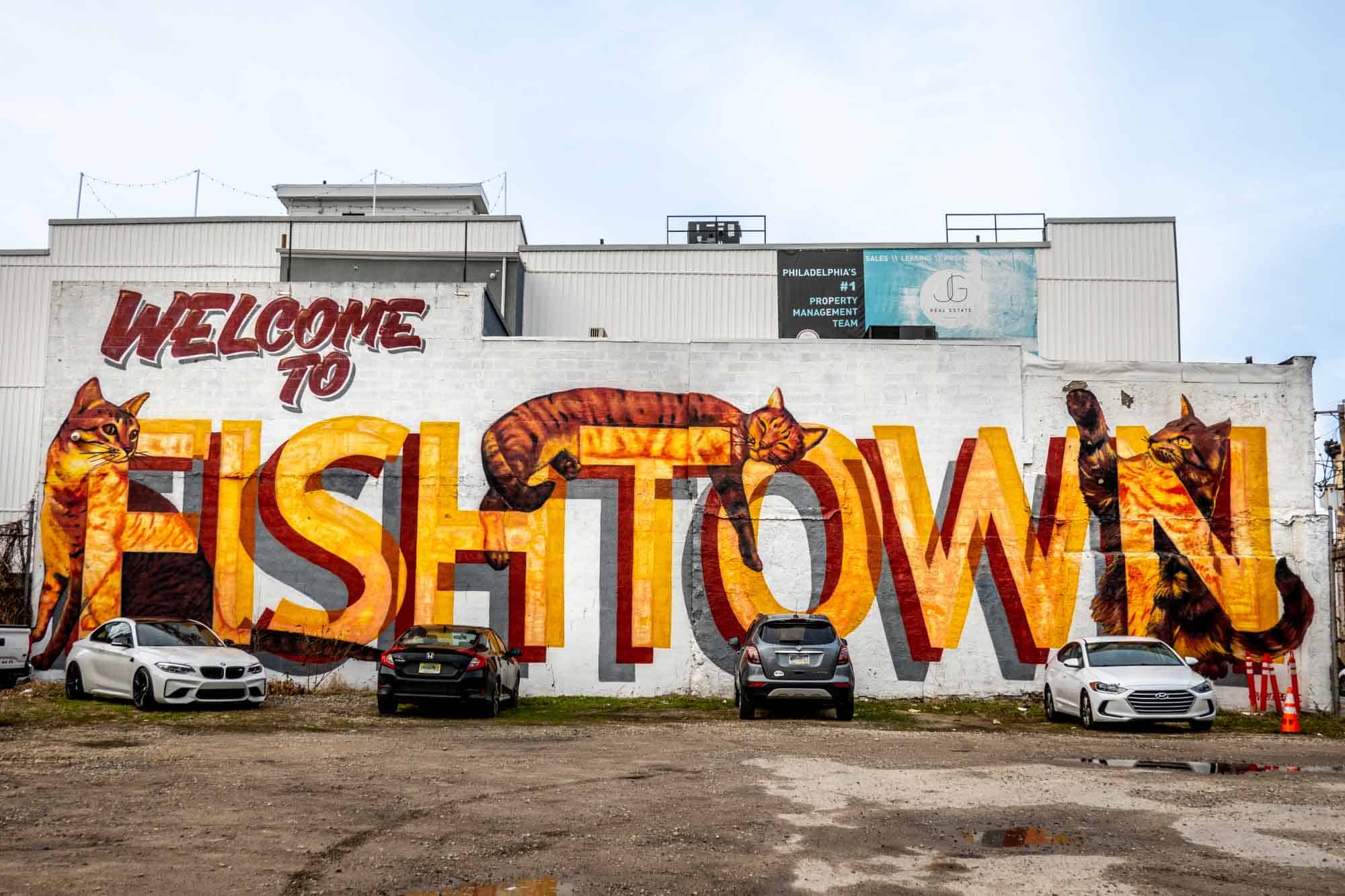 In a town made for fish, you're bound to happen upon a few feline foes. This VURT (Visual Urban Renewal & Transformation) mural welcomes Fishtown travelers with a nod to its fish-centric name. As VURT's co-founder and resident artist, Evan Lovett, stated in an interview, "Well, if I were a cat, I know I'd want to hang around a neighborhood called 'Fishtown,'" Dogs welcome too!
Art by V.U.R.T.'s Evan Lovett in collaboration with Glossblack.
Located the side of a building in an empty lot adjacent to Barcade.
You Can Be Stronger Than Diabetes
Not many murals take up a whole block. But this "Very Hungry Caterpillar"esque work of art does. While lighthearted in nature, this mural takes on the serious topic of juvenile diabetes. The mural itself was actually painted with the help of volunteers who have juvenile diabetes in order to promote education and prevention.
Art by Kristin Groeveld of the MDO Mural Arts Program
Located on the Bell Floor Covering Co building
Life is a Carousel
Just when you thought Kung Fu Necktie couldn't get cooler, Evan Lovett painted carousel horses on its front wall. This hip music venue/bar is the perfect canvas for Lovett's artwork. After creating this piece, the artist posted the following quote to his Instagram when talking about the mural: "Life is a carousel. It goes up and down. All U gotta do is just stay on." -Pharrell Williams
Art by Evan Lovett
Located on Kung Fu Necktie at Front and Thompson Streets.
Entanglement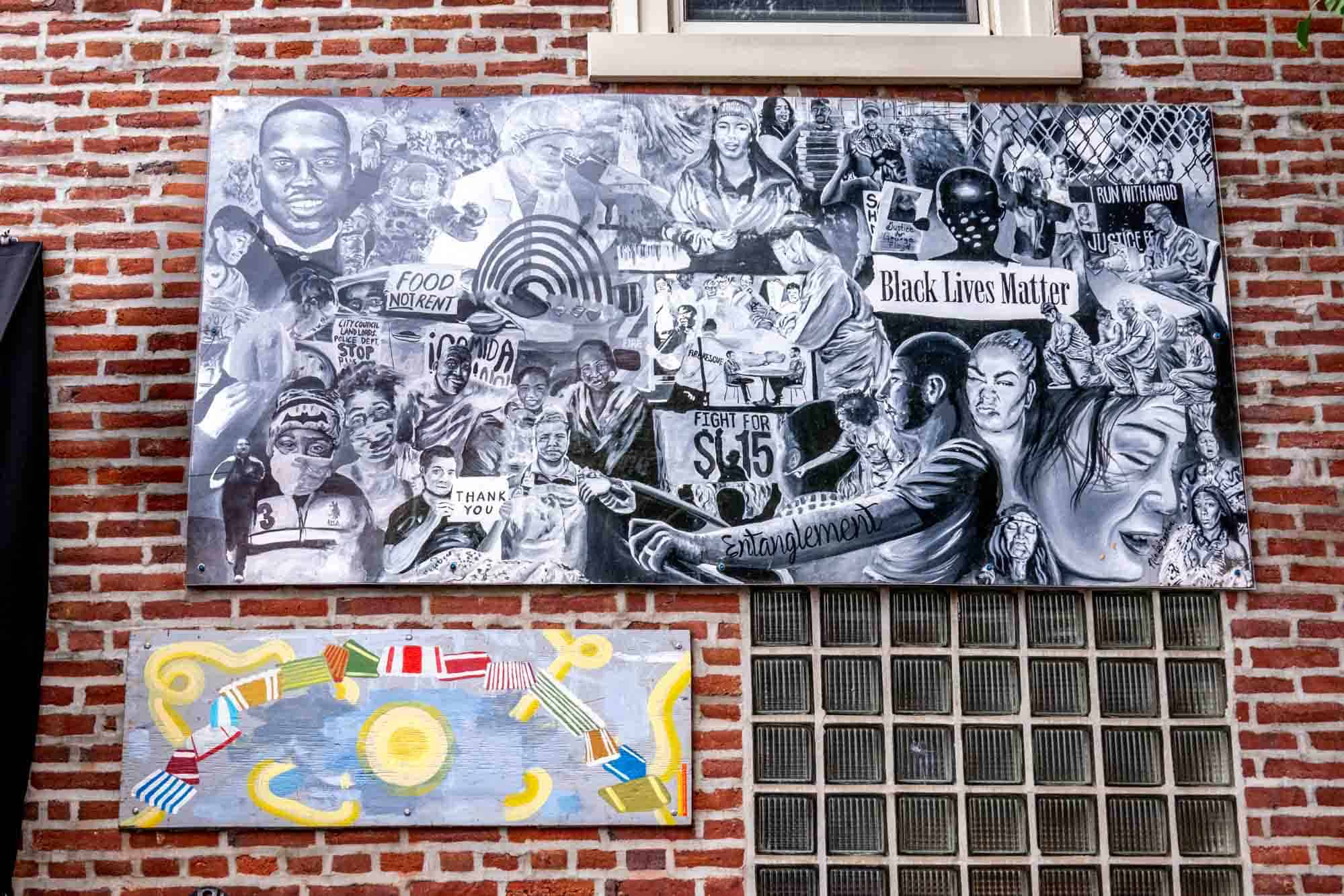 An ode to the memorable contributions to the COVID lexicon, Entanglement captures the complexity of today's world in black and white. In the words of the artist, Nilé Livingston, "this assemblage of moments encourages us to stop and consider the significance and implications of these lived experiences in all of their involvedness…This mural is a continuum of human experience."
Art by Nilé Livingston
Located on the exterior wall of PIZZA Shackamaxon at Girard Avenue and Shackamaxon Street. Note: Pizza Shackamaxon serves some excellent pizza by the slice.
Front Street Murals
Located underneath the Market/Frankford Line (The El) in Philadelphia's Fishtown neighborhood, the Front Street Walls feature a rotating collection of murals with the goal of brightening up this corridor. The walls also serve as an outlet for many of Philadelphia's street artists to submit designs and legally display their work on a large, urban canvas. This unique gallery rotates every six months, featuring new artists who are either experienced veterans of the urban mural scene, or are displaying their work on this scale for the first time.
Art by various artists
Located at Front Street between Columbia Avenue and Oxford Street.
No Borders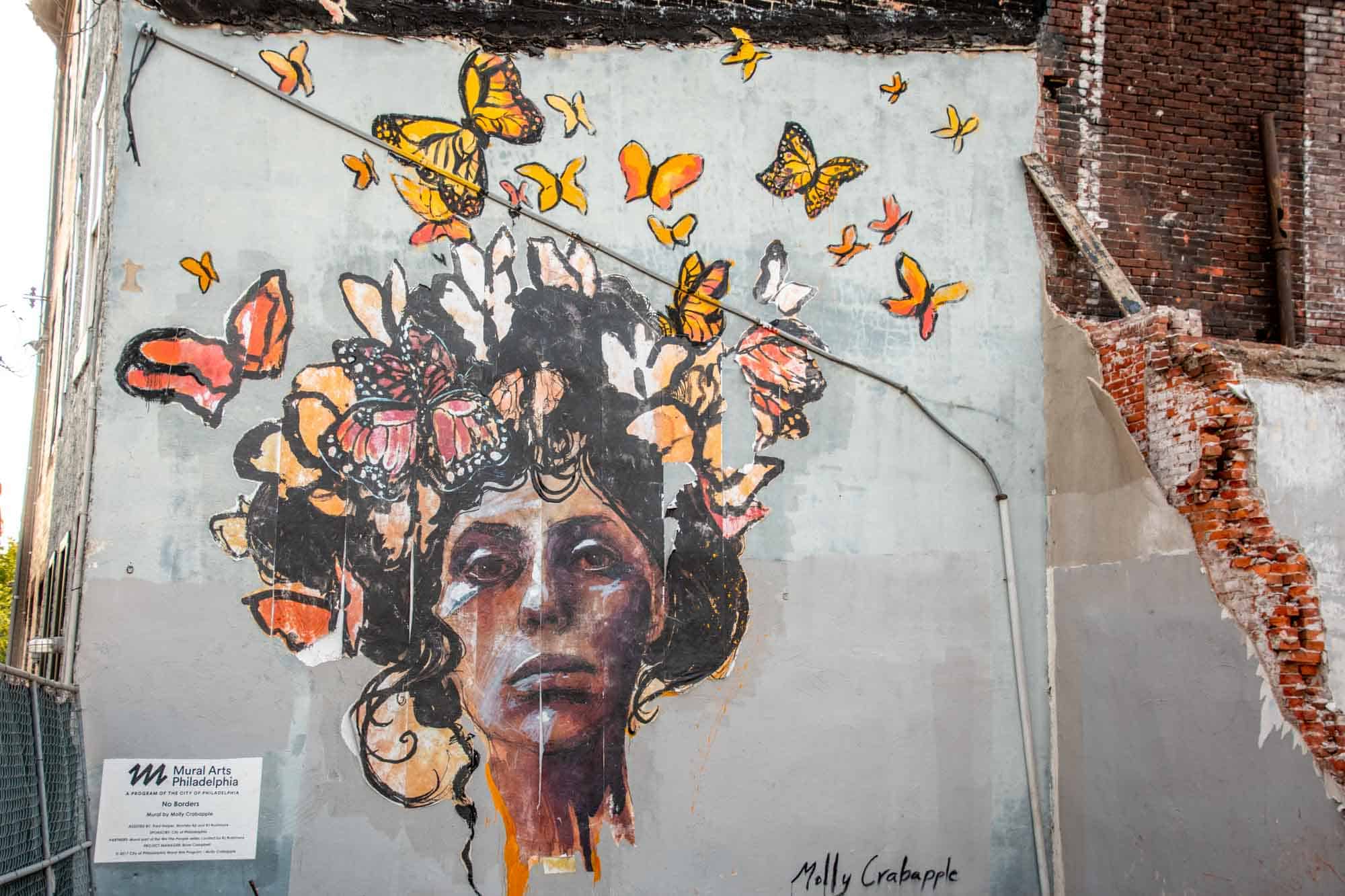 This abstract display of street art uses monarch butterflies as a reminder that borders are a human construct, and that all people, including the immigrant community are both interconnected and welcomed pieces of our society's vast puzzle.
Art by Molly Crabapple
Located at Front and Oxford Streets in Fishtown
Persistence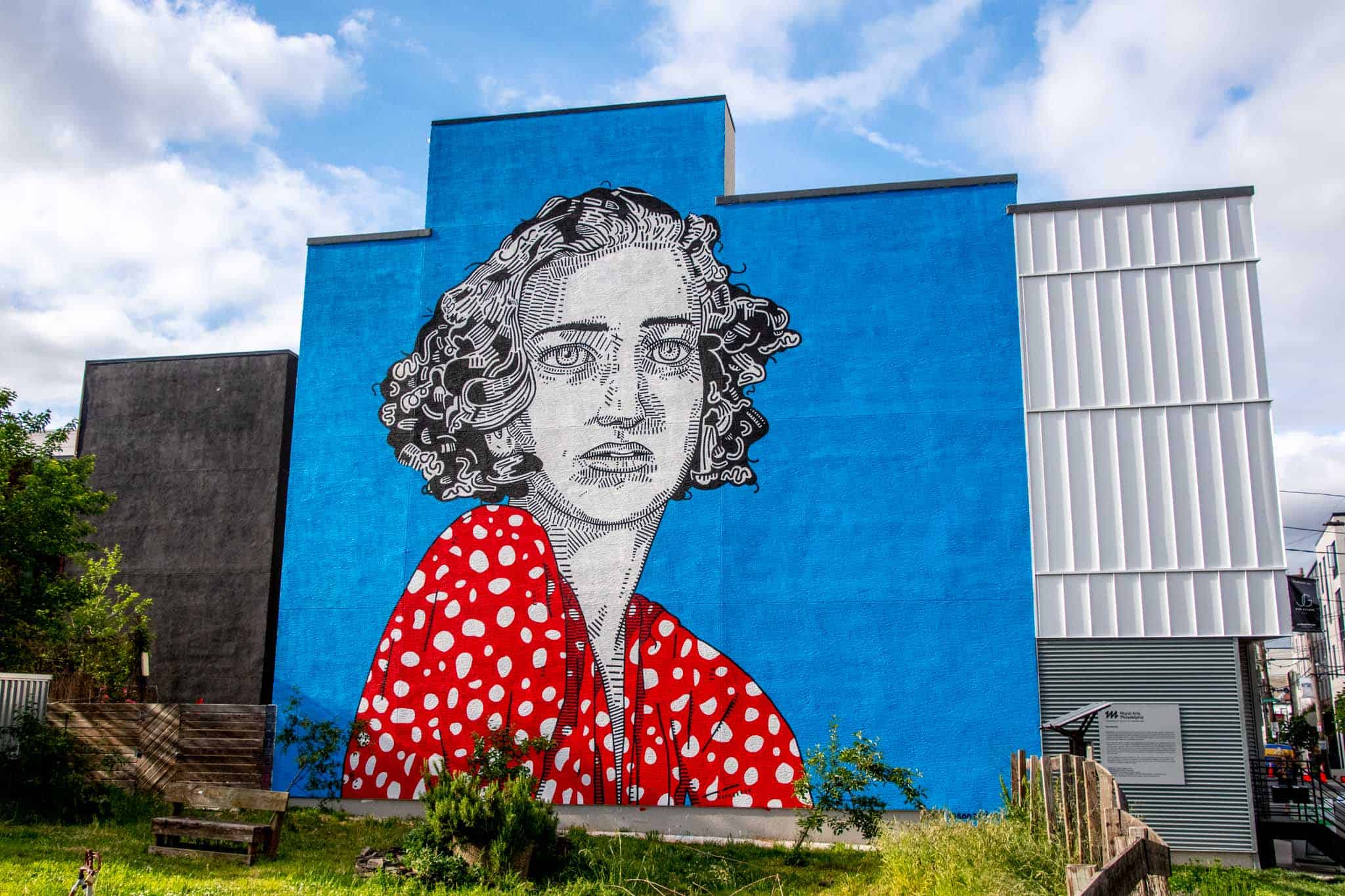 "Persistence​ is an imagined portrait by artist Jason Andrew Turner that was created in collaboration with women at the Lutheran Settlement House (LSH) in 2019," project curator Ryan Strand Greenberg explained over email. "The portrait does not portray an existing person in the present, but rather one deeply inspired by the oral history of long-time community members and the history of LSH. In 1902, LSH was started by women in service to women and families through social, advocacy, and educational services."
Art by Jason Andrew Turner
Located at the Lutheran Settlement House
Matisse Thybulle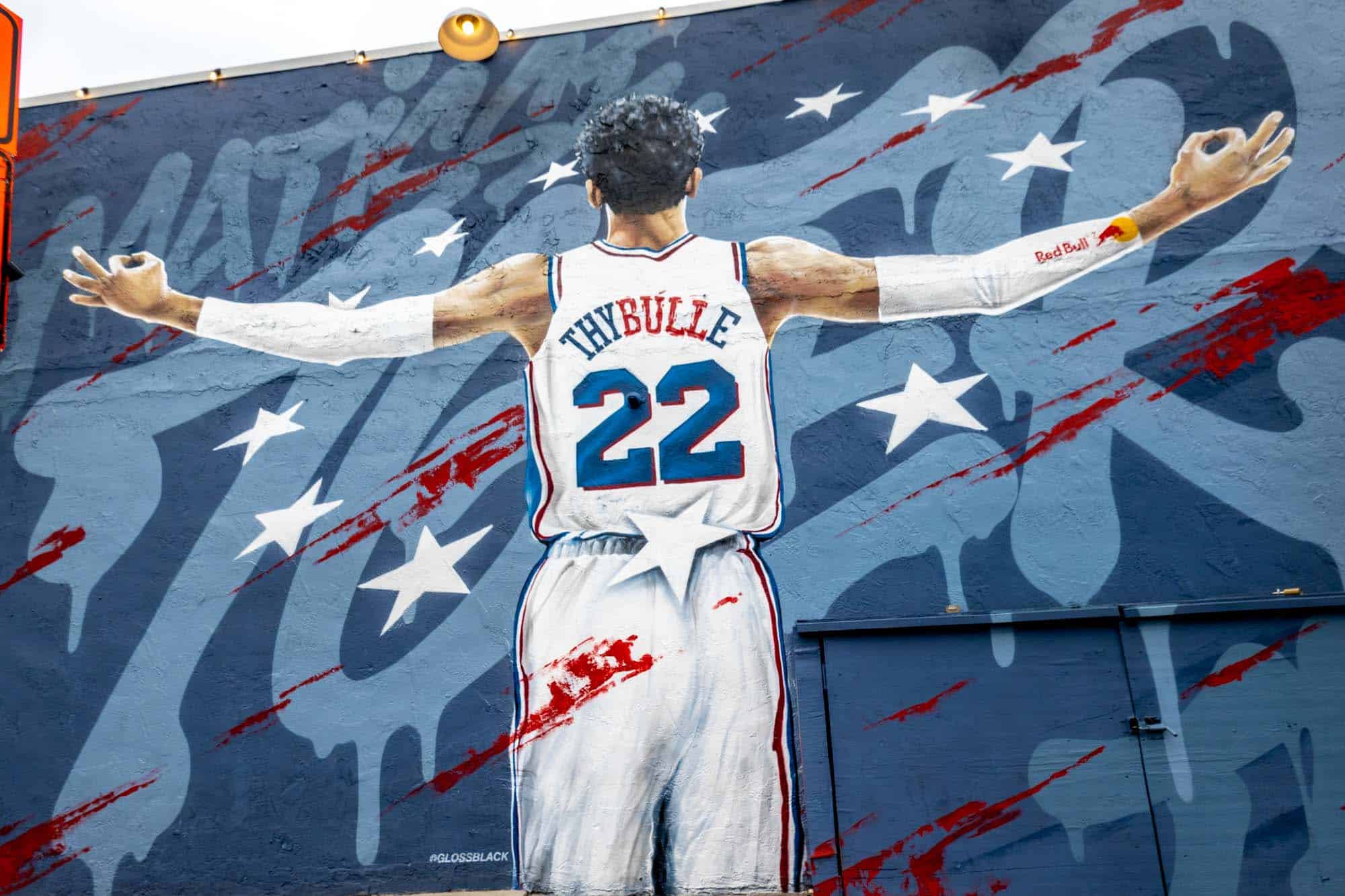 A newer Fishtown mural, this project was enabled by a partnership between Red Bull, the Sixers and Philly artist Gloss Black to celebrate Philadelphia 76ers player, Matisse Thybulle. Through the new partnership between Red Bull and Sixers, every steal Thybulle records during the inaugural season of the mural will result in a $250 donation that will go to Philadelphia Parks and Recreation to refurbish local basketball courts.
Art by Glossback LLC
Located on the corner of Frankford and Girard on the side of Garage.
How to Get To Fishtown:
SEPTA's Market-Frankford Line runs through Fishtown. Get off at Girard Avenue to access the heart of the neighborhood. Fishtown is also accessible by bus, the Route 15 trolley and by car.
The murals are just one of the many things to see and do in Fishtown. Why not check out some of the others?