Some posts on this site contain affiliate links, meaning if you book or buy something through one of these links, we may earn a small commission (at no extra cost to you).
What does "street art" even mean? The label tends to unintentionally (or in some cases, very intentionally) collapse a complex, layered, multimedia world of artistic expression into a small box. Street art is most commonly associated with graffiti but, as a leader in the craft, Philadelphia street art knows no bounds.
While much of the city's outdoor art gallery consists of commissioned works and privately-funded projects, the expansive public art scene is just as robust. Everywhere you look in Philadelphia, new forms of street art continuously appear, including murals, mosaic pieces, tile art, yarn bombs, wheatpasting, and more.
Yet, under thick layers of paint and paste lives the universal desire to make one's mark. The need to tell one's story. The hope that someone understands. As more and more stories enter the conversation of Philly street art, its definition continues to expand and the streets of Philadelphia grow just a little bit brighter.
Mural Arts
Street art in Philadelphia does not exist without its mural collection. Started in 1984 as an anti-graffiti program, Mural Arts has grown into the nation's largest producer of public art with over 4,000 works of community-based public art.
With programs that aim to educate youth through art, promote restorative justice, and encourage community healing, Mural Arts strives to create art that "transforms public spaces and individual lives." A crucial step to Mural Arts' process is fostering dialogue within the communities of each mural. While the artworks of Mural Arts span the entire city, Mural Mile has 17 of Philly's most iconic murals.
Mural Mile maps can be found on the Mural Arts website.
Individual Murals
While Mural Arts is a big name in Philly street art, they are far from the only name. Many smaller, often anonymous, artists contribute just as much to the beautifying of city walls.
When in neighborhoods like Fishtown, this is all too apparent. The subjects of the Fishtown murals range from timely social justice issues to a crew of kitties guarding the neighborhood's entrance. Newer collections like the Sharktown Walls, located at Cecil B. Moore Avenue and Hancock Street in Kensington, feature the work of 20 local artists.
The mural festival was curated by Philly-based artist Alloyius Mcilwaine. If you venture over to West Philly, make sure to check out eL Seed's mural on Market and Preston, a beautiful collision of Arabic calligraphy and graffiti. Many other murals exist within the city limits, but we'll leave those for you to find!
Tags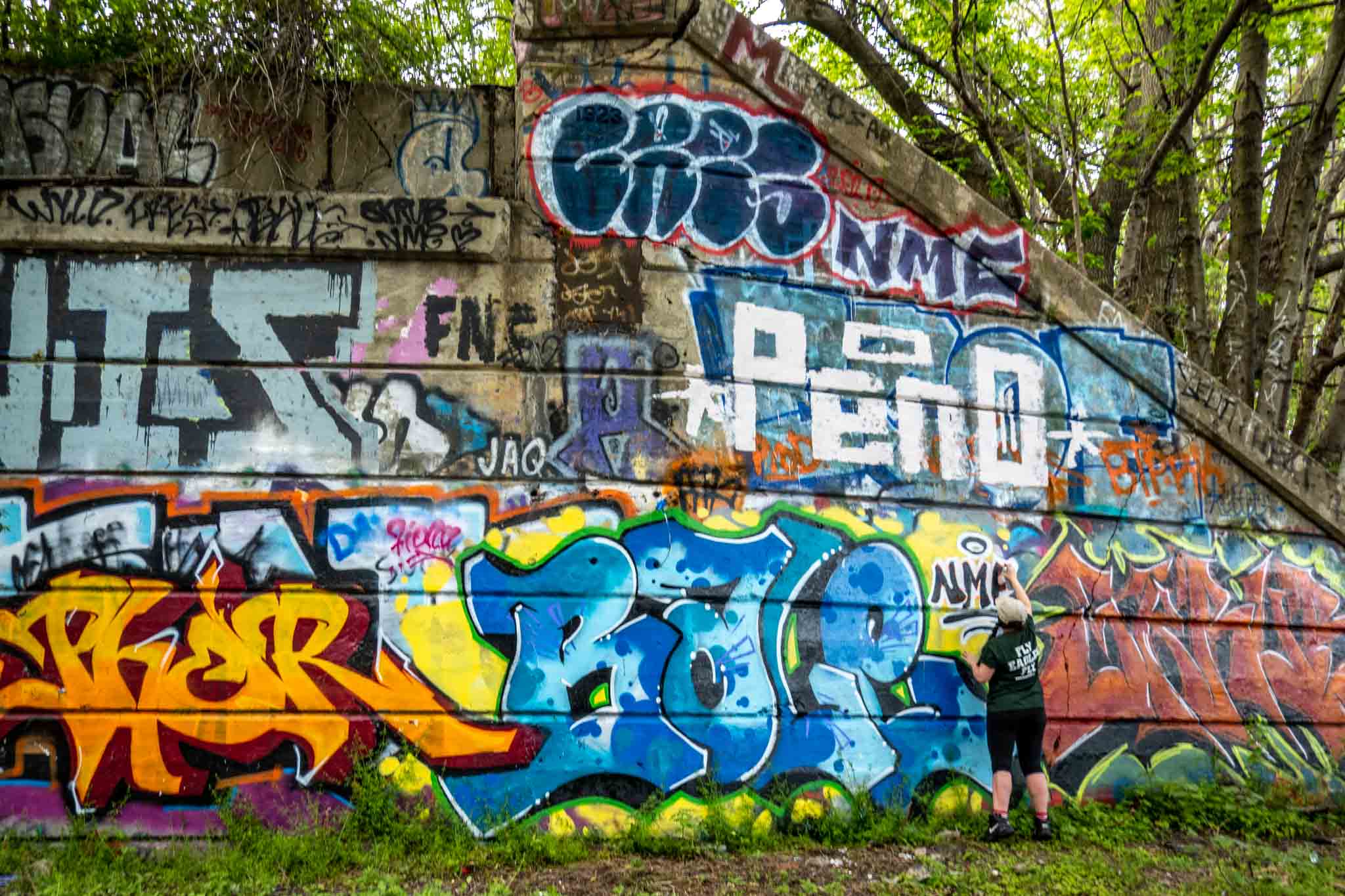 Ah, here we are! The great graffiti debate. Is it street art? Is it vandalism? Does it belong in its own category? While everyone has their own opinion, it is indisputable that graffiti holds a sacred place in Philadelphia art history.
Philadelphia graffiti is the beginning of the art as we know it. Ushered in by Cornbread, or Darryl McCray, in 1967, graffiti has long been a way of gaining notoriety, setting a style standard, and communicating with other writers. While most writers of graffiti prefer to fly under the radar, local legends like ESPO (Stephen Powers) and AGUA (Timothy Curtis) have made their way into the public eye.
If you haven't seen huge bubble letters (throws) or full-scale pieces with these names, it's probably because they are hiding within a cryptic calligraphy called "wickets." Native to Philly, this style of tagging (similar to a signature) requires a high level of skill and artistry, not to mention an extensive list of style requirements. If you're interested in learning more, check out our article on Graffiti Pier.
Mosaic Art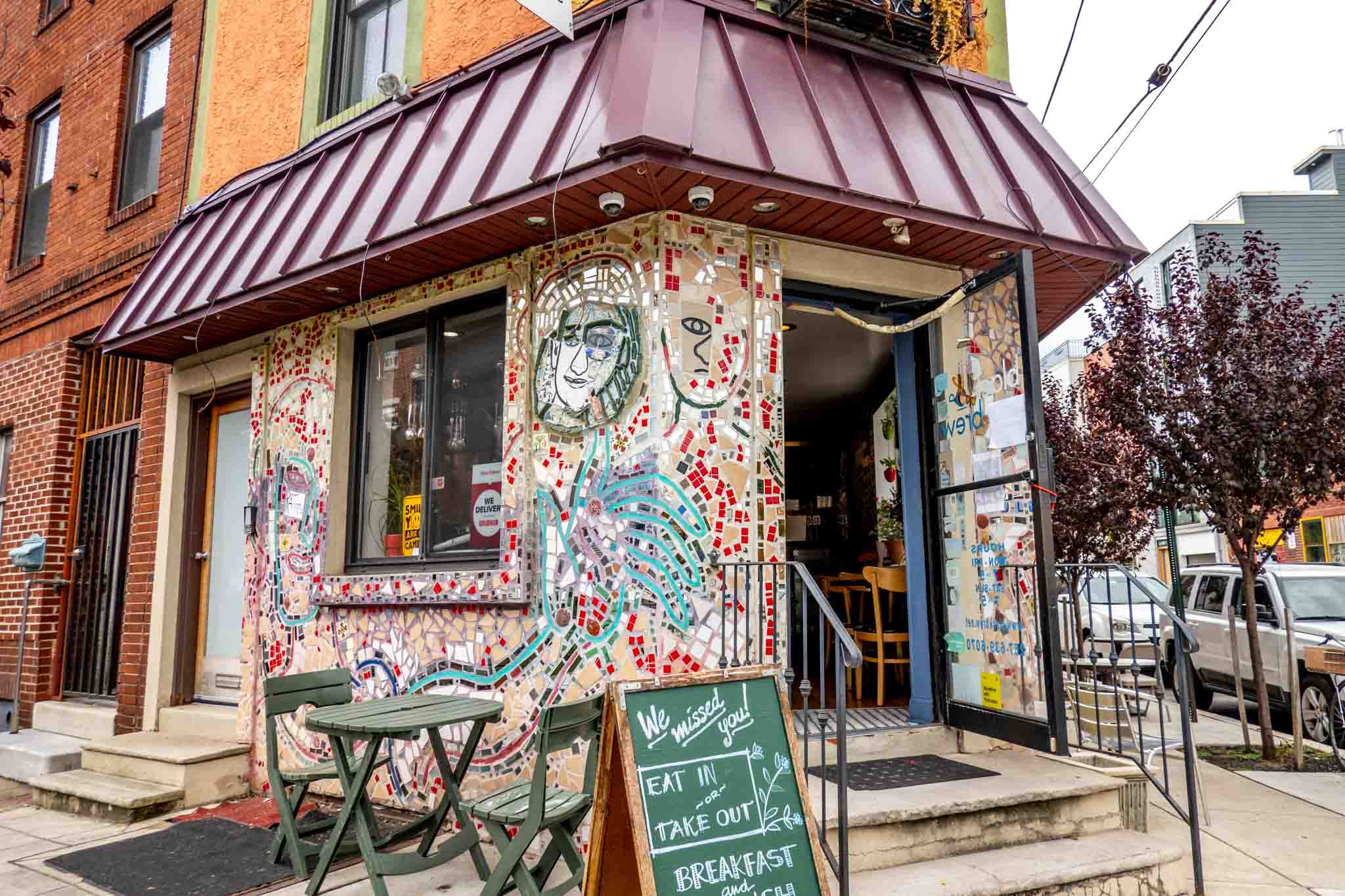 If you search for Philadelphia mosaic art on the Internet, you will surely end up discovering the Magic Gardens. Created by Philly artist, Isaiah Zagar, the outdoor mosaic labyrinth is a multimedia, visionary arts experience that attracts visitors from all over.
However, Philadelphia Magic Gardens is not the only place where you can appreciate beautiful mosaic art in the city. Some mosaic artworks blend so seamlessly with the city's infrastructure, you may not even know it's there! Jim Bachor's "Pothole Mosaics," for instance, provides an artistic answer to one of Philly's most glaring issues by filling the streets' holes with colorful mosaic installations.
Tile Installations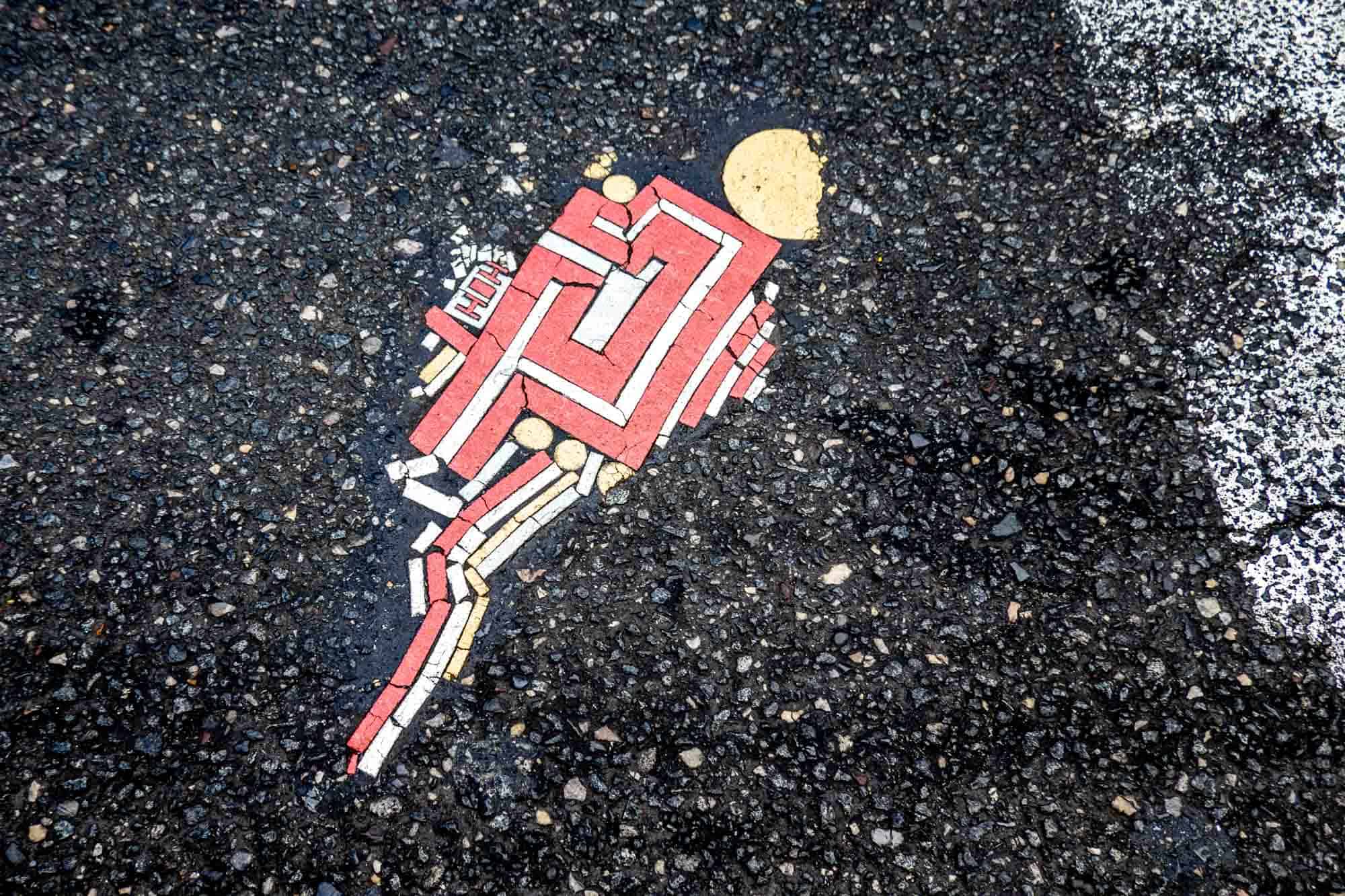 Much like any other form of street art, tile installations appear seemingly out of thin air. Especially repeat offenders with cryptic messages and a collection spanning the nation. We're talking about Toynbee Tiles, tile art mysteriously embedded in the asphalt of random Philly streets.
The anonymous artist began placing these tiles in the 80's, originally in Philadelphia, but today found across the U.S. and one found in Chile. The most famous of these tiles reads, "TOYNBEE IDEA IN Kubrick's 2001 RESURRECT DEAD ON PLANET JUPITER," alluding to philosopher Arnold Toynbee's theory of regeneration and Stanley Kubrick's film, "2001," which features a man embarking on a mission to Jupiter.
Another more recent example of tile art appeared in a South Philly alleyway. The tucked away alley begins just south of Pat's King of Steaks on what is referred to as "Electric Street." On this street, just at eye-level, sits a dollhouse-sized, tilework replica of the creator's home. The carefully adorned tilework is likely to hang there for a while, but in the case that's it not, go check it out now!
Yarn Bombing
Originating as a form of street art in 2005, yarn bombing began as a way to cozy up and add color to a formerly bland landscape. Artists like Jessie Hemmons (Ishknits) took that mission and ran with it, applying her fiber arts to SEPTA buses, bike racks, and Rittenhouse trees. Other yarnbombers like Nicole Nikolich (Lace in the Moon) have taken to knitting inspirational messages onto the walls of Philadelphia or creating site-specific installations.
Some notable pieces like Nicole's over easy yarn egg live at 23rd and Walnut, but if you're roaming the city streets, you're bound to see a lot more than that.
Temporary Works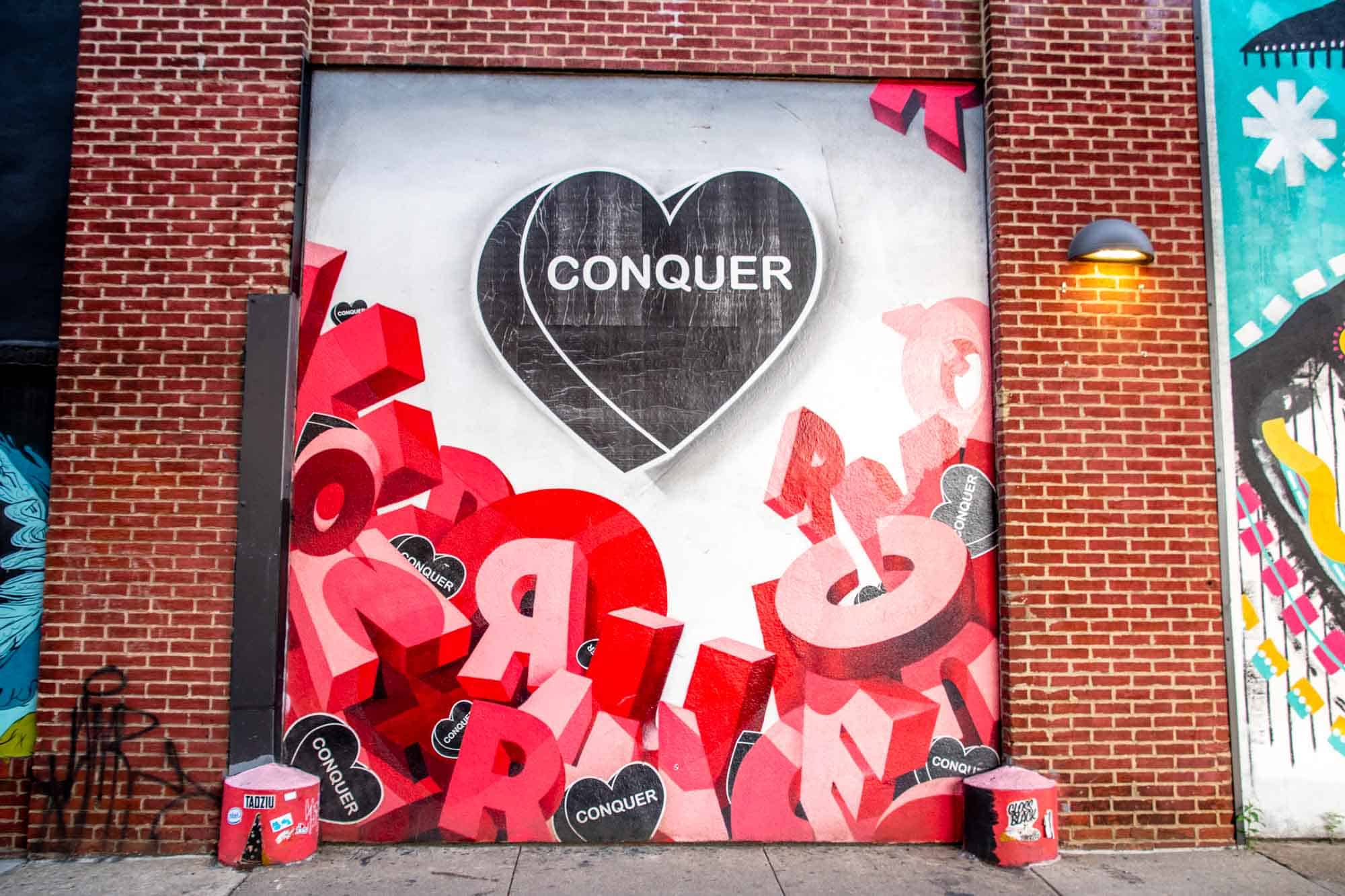 We would be remiss to exclude sticker art and wheatpasting from our list of street art in Philadelphia. The sticker art community is an ever-growing collection of artists making their mark on the city with hand-drawn, screen printed, stenciled, collaged, and stamped stickers.
If you've never seen sticker art in the city, just look at any public garbage receptacle, lamppost, or electrical box. Sticker art is such a huge part of Philly street art culture that South St bar, Tattooed Mom's, is home to one of the best and biggest international sticker shows, Characters Welcome!
If you see a collage of stickers on the street, you're likely just a few paces from a wheatpaste display. Wheatpaste art ranges from advertisements to political activism. A wheatpaste display on Ridge and Spring Garden urges an end to cash bail, a wheatpasted heart on Germantown and 4th urges to "Choose love" by artist Amberella.
Wherever you go in Philadelphia, the streets seem to have a message for you so keep your eyes peeled, because it could disappear tomorrow.