Some posts on this site contain affiliate links, meaning if you book or buy something through one of these links, we may earn a small commission (at no extra cost to you).
Families playing in the waves, the smell of fresh popcorn, the squeal of kids on a roller coaster–these are the sights, sounds, and smells of summer across boardwalks in New Jersey.
Whether you're looking for a peaceful night at a seaside restaurant or an afternoon packed with thrill rides and all the boardwalk treats you can handle, there are lots of options to choose from. A visit to one of the NJ boardwalks is what summer is all about. Here's a look at six fun options to check out this year.
Atlantic City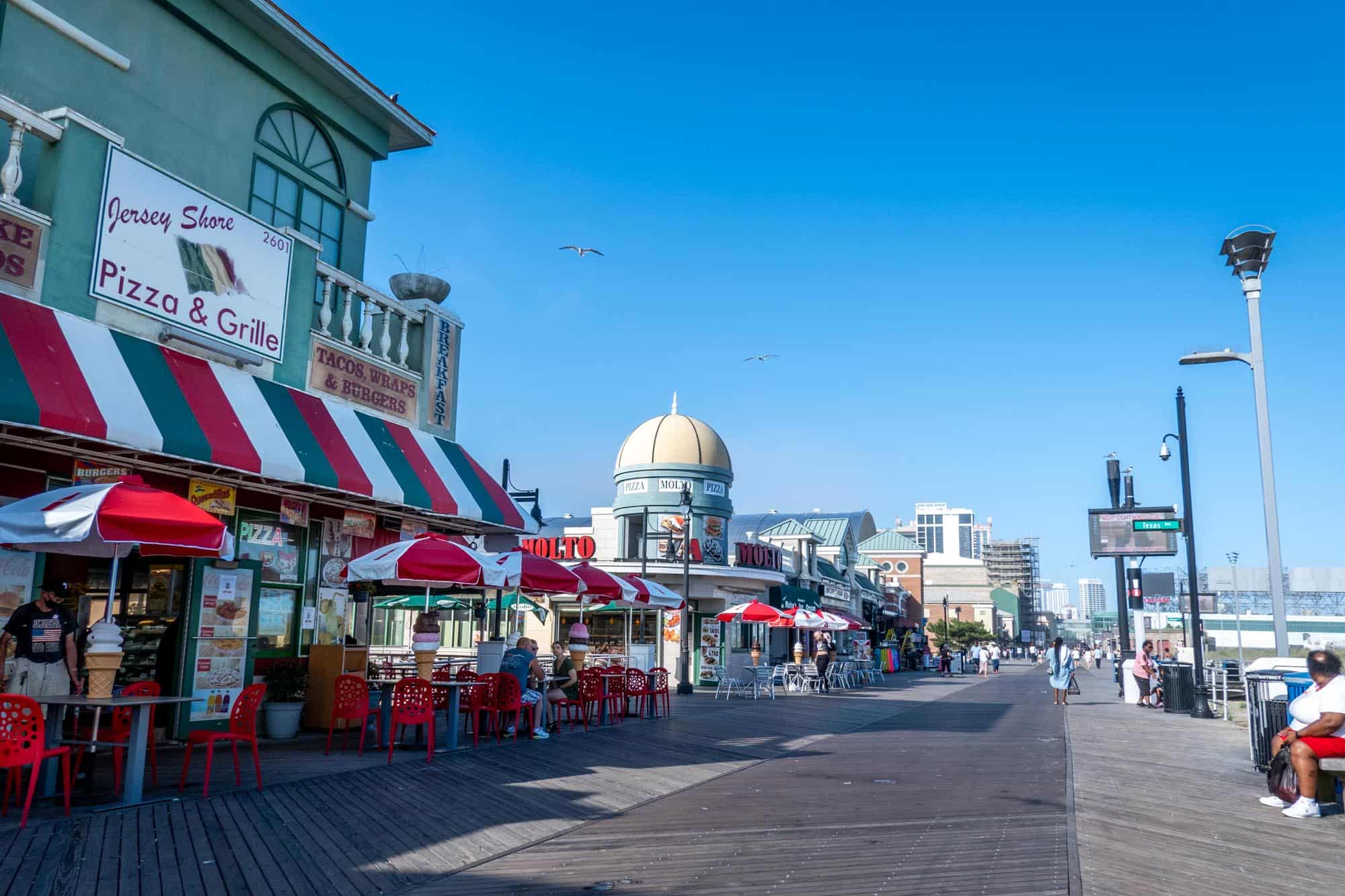 The Atlantic City Boardwalk is the city's most popular tourist attraction, and every visitor makes it here for a stroll sooner or later. Initially constructed in 1870, the five-mile-long walkway is the oldest boardwalk in the county.
The area offers some of the best people watching you could imagine at the shore. Plus, there are open-air shows, shops, casinos, and good restaurants. Visitors can walk or explore from the comfort of one of the popular rolling chairs (a large wicker chair pulled along like a rickshaw) or the equally popular electric tram.
Another reason why the boardwalk is at the top of the list of Atlantic City attractions is that it is family friendly. There is a little bit of something for everyone, including Ripley's Believe It or Not! and the amusements at Steel Pier like the iconic Wheel and more than 20 other rides and carnival games.
You'll also find the Entrance to the Stars, the city's version of Hollywood's Walk of Fame. It features the handprints of celebrities like Stevie Wonder, Cher, and Frank Sinatra.
Ocean City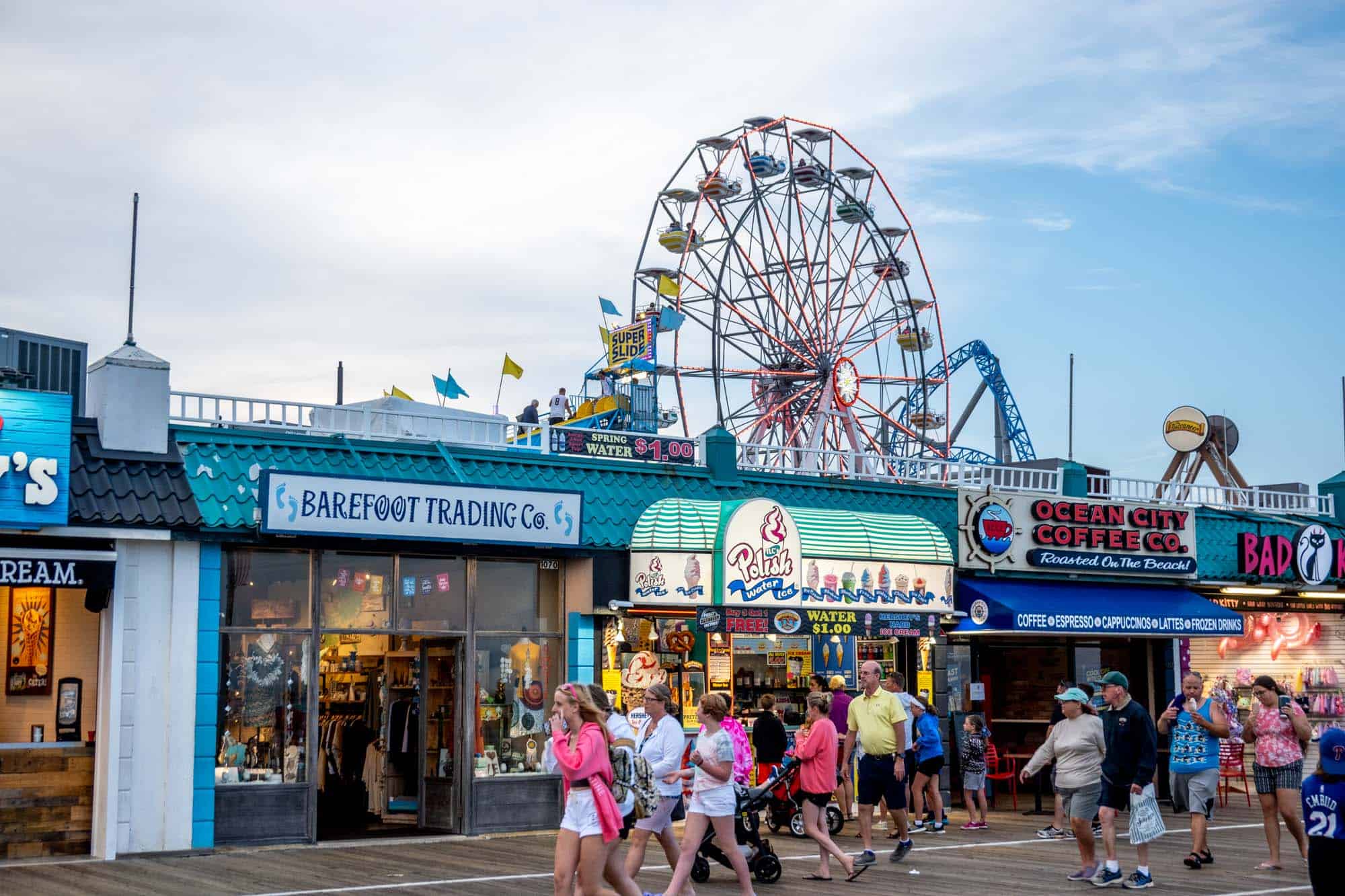 The 2.5 miles of the Ocean City Boardwalk is full of things to do. It offers arcades, amusement park rides, shops, restaurants, and activities that keep people coming back to this charming town every summer.
Two of the main draws are Gillian's Wonderland Pier and JiLLy's Arcade. Gillian's has been a staple here for nearly 100 years and is one of the main reasons many people consider Ocean City to be the best boardwalk in New Jersey. It offers dozens of rides, including the famous Giant Wheel–a massive Ferris wheel towering over 140 feet in the air—and the Canyon Falls Log Flume.
Farther down, JiLLy's Arcade features vintage and modern arcade games ranging from pinball machines and air hockey to Jurassic Park and Star Wars games. Don't miss Skeeball, which still costs just a dime to play.
Food is also a key part of a visit here. Various snacks are available, such as pizza from Manco & Manco and taffy from Shriver's Taffy, which sells over 47 different varieties. You'll find other treats like ice cream, caramel corn, funnel cake, fried Oreos, and popcorn, to mention a few. Sampling your way through all the options is one of the fun things to do in Ocean City in the summer.
Asbury Park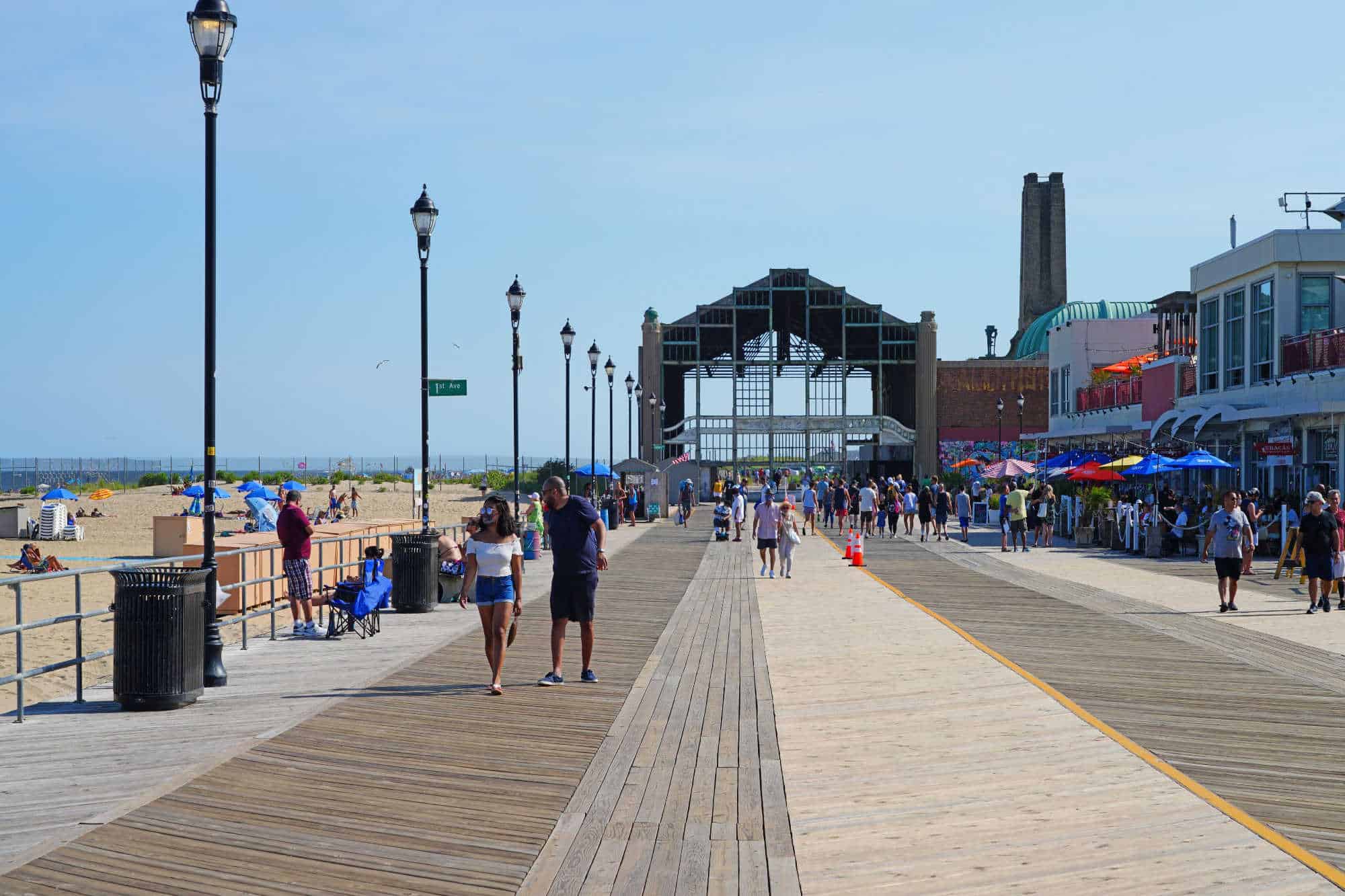 Thanks to Bruce Springsteen, Asbury Park has been one of the most well-known places in New Jersey for decades. This seaside town attracts visitors to its lively Boardwalk for music, historic buildings, and street art murals, plus shopping, trendy restaurants, and more.
The Silverball Retro Arcade is one of the cool places to see here. With over 600 vintage and modern pinball games in rotation, it provides pretty much endless entertainment.
For something to do outside, both Asbury Eighteen and Asbury Splash Park are just a few steps away. You'll find a mini-golf course and a water-themed playground with ocean views that will keep the family entertained for hours.
Shops like Cultivart, Fun House, and Sanctum Handmade have creative (and sometimes Asbury Park-themed) clothes, decor, jewelry, and gifts. Fun bars like Wonder Bar and the Asbury Park Yacht Club also offer drinks, live music, and a break from the sun.
Music lovers always flock to the Asbury Park Boardwalk for concerts at The Stone Pony, Paramount Theater, and Convention Hall, which make sure there's a great act to see nearly every night of the summer.
Cape May
The last wooden Cape May Boardwalk was the victim of a 1962 storm, so today's beachfront path is the paved Promenade. For nearly 2 miles, it parallels Beach Avenue and provides views of the beach and the buildings on the opposite side.
Unlike some of the other shore towns, the Promenade isn't packed with Cape May attractions or tons of things to do, but that doesn't mean there's nothing to see. Some of the grandest Victorian homes are right along Beach Avenue, and there is a long list of restaurants from La La Lobster to Uncle Bill's Pancake House. The Convention Hall at the center of the Promenade also hosts a popular summer concert series.
Lighted in the evening, the Promenade is the perfect space for a walk or jog all day long. There are more than 360 benches to take a break and people watch along the way.
Wildwoood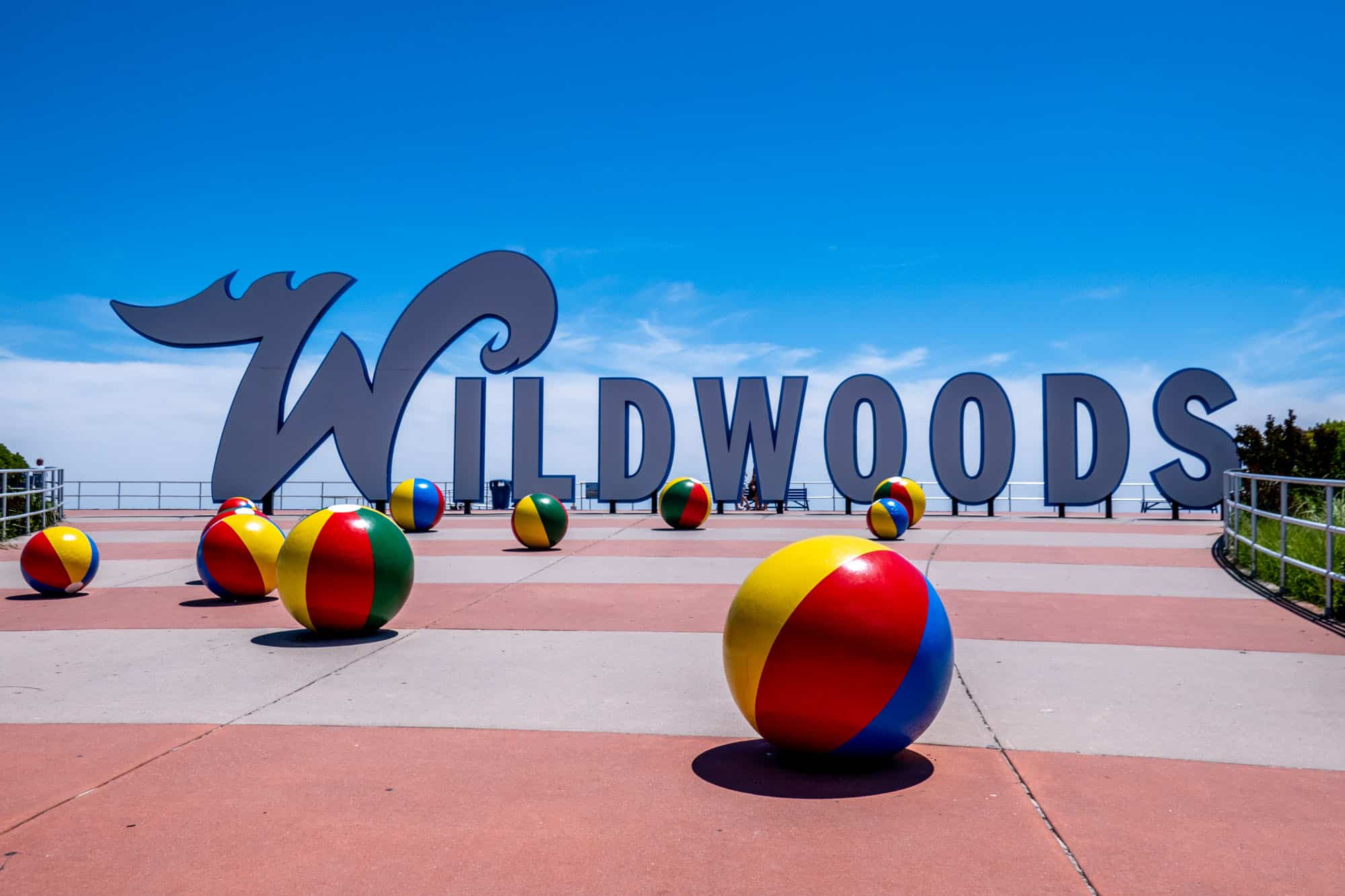 The Wildwood Boardwalk is pure entertainment. The 38-block stretch along the beach feels a lot like a giant carnival with rides, games, arcades, and lots of indulgent snacks. It's sure to keep you busy whether you're visiting for a night or a week.
This Jersey shore Boardwalk is heavily defined by its three amusement piers that are full of different attractions and boast that they have more rides than Disneyland. From the kid-friendly Wacky Whip "race cars" and Rockin' Tug swinging tugboat at the Surfside Amusement Pier to the Screamin' Swing that will take you 70 feet in the air at the Adventure Amusement Pier, there's a ride here for every thrill seeker.
For a slightly slower pace, there are lots of arcades and interesting things to see in Wildwood like the Doo Wop Museum, which honors the town's history and its unique 1950s and '60s classic architecture. While you stroll, don't miss some of the classics like the Douglass Fudge Store, which has treated visitors to fudge and taffy for over a century, and Lime Rickey World, a perfect stop for a soda and some video games.
Point Pleasant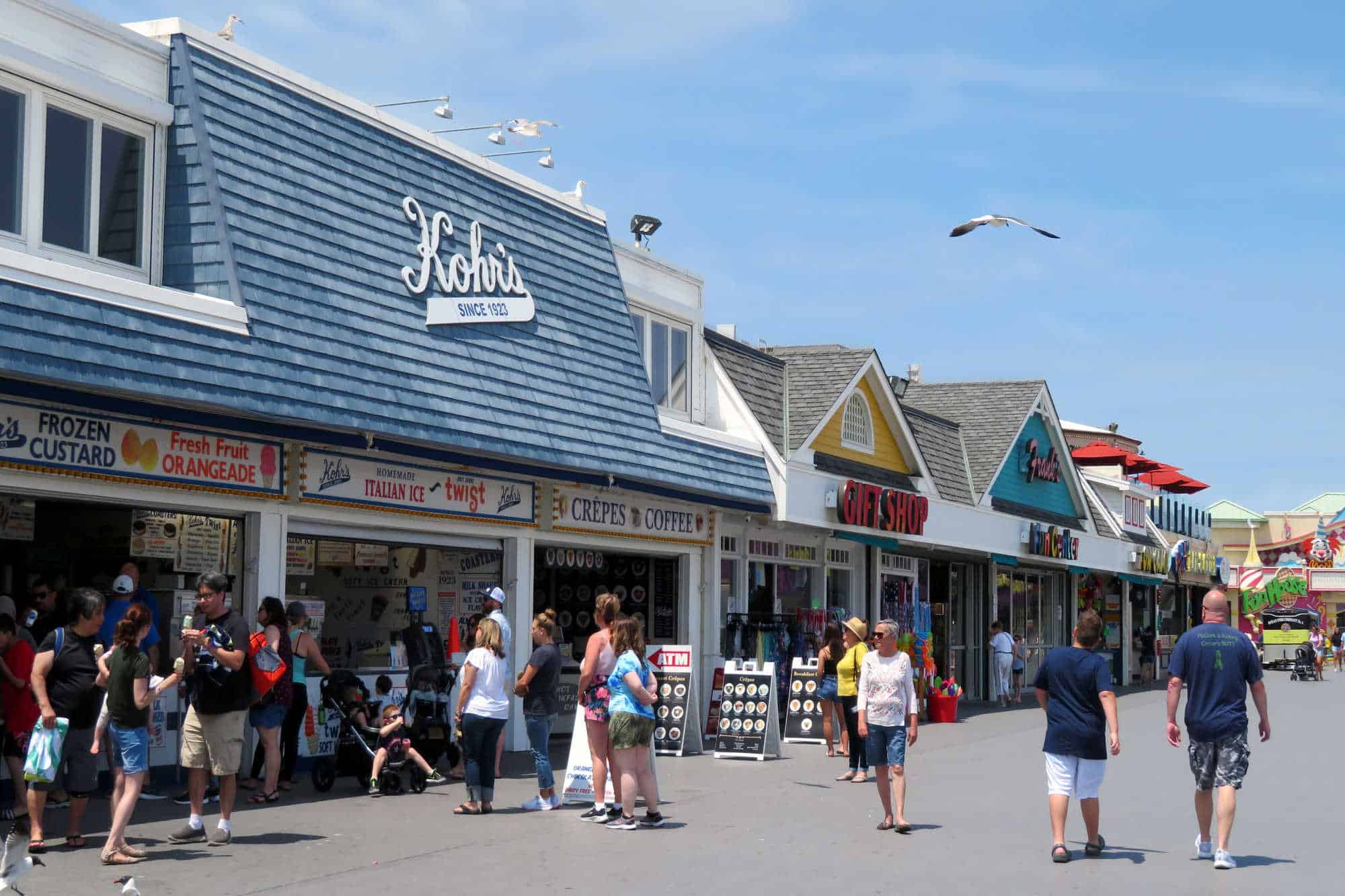 One of the most fun-filled miles in New Jersey, the Point Pleasant Boardwalk is home to arcades, shops, a fun house, and Jenkinson's Boardwalk Amusements. The variety of options ensures that there is always something engaging in this family-friendly spot.
For something active, check out the Adventure Lookout Ropes Course that includes a zipline and multiple unique obstacles, or head to Cast Away Cove Mini Golf, which offers two pirate-themed courses. There are also lots of rides and arcade attractions ranging from video games to Skeeball.
For an indoor break, head to Jenkinson's Aquarium. This educational spot has been entertaining and teaching visitors for over 30 years with its marine exhibits, including seals, sharks, penguins, and more.
From Carousel Candies and Dippin' Dots to the tropical atmosphere of Martell's Tiki Bar, there are also lots of concession stands and restaurants to keep visitors fueled for their summer adventures.