Some posts on this site contain affiliate links, meaning if you book or buy something through one of these links, we may earn a small commission (at no extra cost to you).
Wildwood, New Jersey is the premier beach destination at the Shore. While there are lots of reasons for this, the biggest is that there are a ton of free and fun things to do in Wildwood NJ. So start your Shore vacation right here.
Whether you like the sun and the sand, or the amusements and the food, there's something in The Wildwoods just for you. If you are looking for a great beach town with lots of history and fun around every corner, this is the place.
Here are the best things to do in Wildwood, New Jersey when you visit:
Wildwoods Sign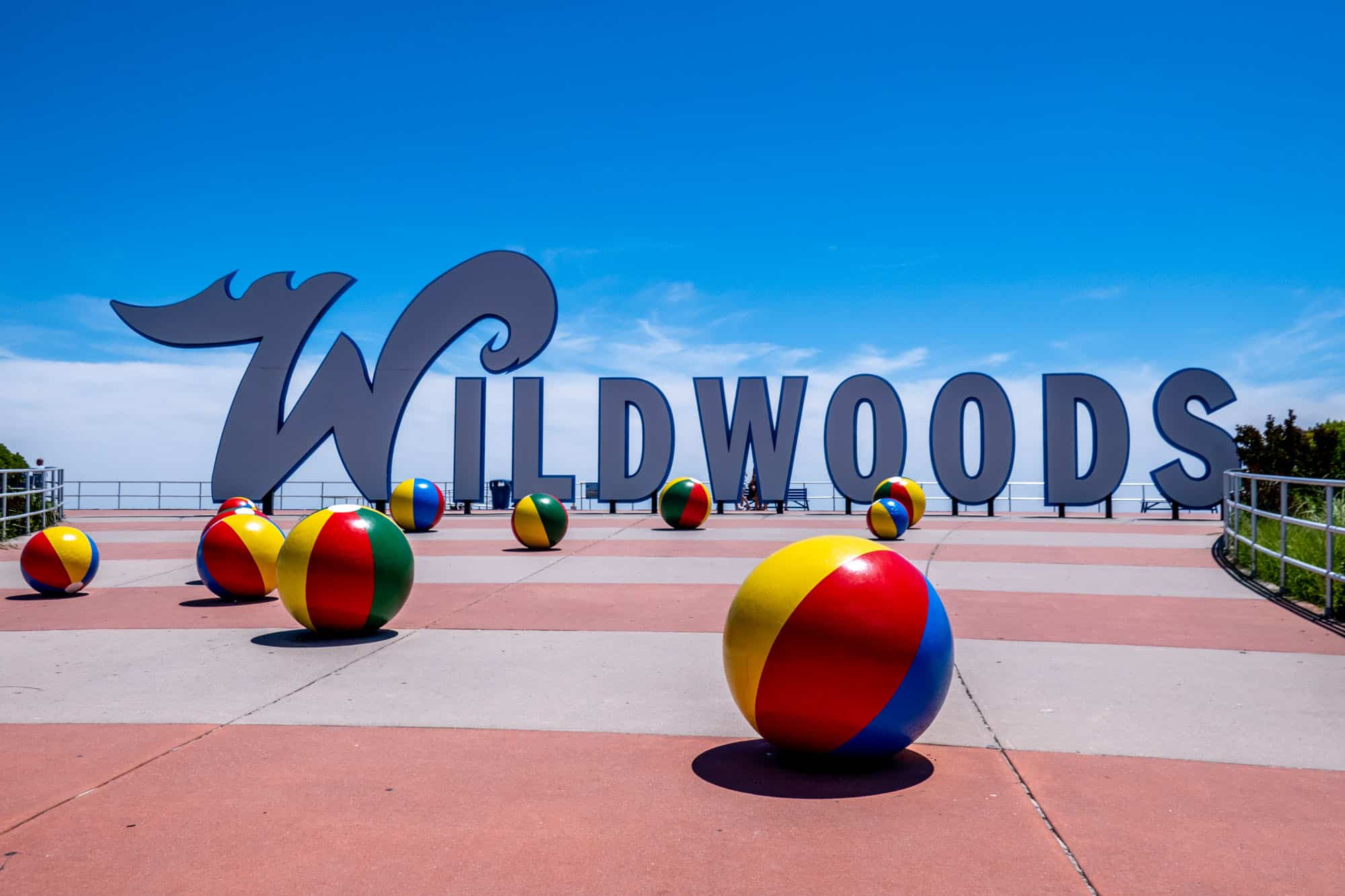 This should be one of the first fun and free activities. Grab your camera and head to The Wildwoods sign along the beach. This made-for-Instagram spot is one of the most photographed spots along the Jersey Shore.
Whether you stand like a guard, jump on the beach balls, or do some other funny or outrageous pose, you'll want to capture it forever. Snap a pic, throw on a cool Shore caption, and you're Insta-famous! But this is more than just a sign. It is a marker of all the stories and adventures you will have down the Shore.
A tip: if you want to gauge how much you have enjoyed your vacation, take a picture with the sign before you get into town and then take a picture when leaving. You will see the difference, particularly in your tan.
Throwback Architecture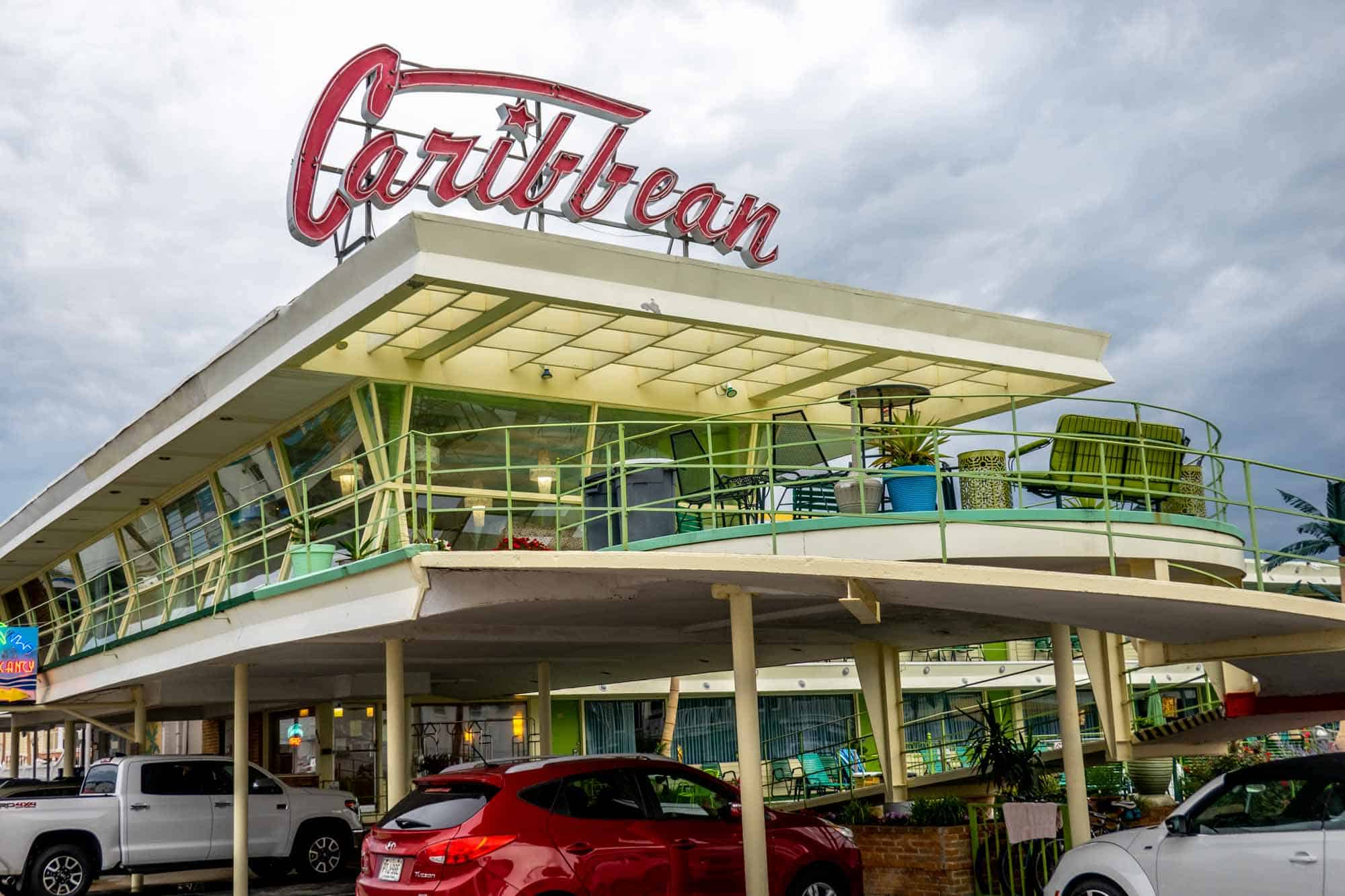 The bright, bold neon signs of the Doo Wop period are still a strong architectural presence in Wildwood, New Jersey. In fact, the community has preserved as much of the architecture from this early R&B period, and they have done a commendable job.
Taking in the architecture of the town is like walking through a large hall decorated with doo-wop paraphernalia. You can see this history reflected in the contrasting colors, industrial materials, and geometric shapes featured in the architecture of the buildings. The 50s and 60s were a wild time in Wildwood. A lot of that remains in the beauty of its buildings.
Wildwood welcomed families in the Doo Wop area, and many of these families have stayed and built some of the best spots in the town. You can tell by the buildings in the town that it was an excellent place to live.
Wildwood Beach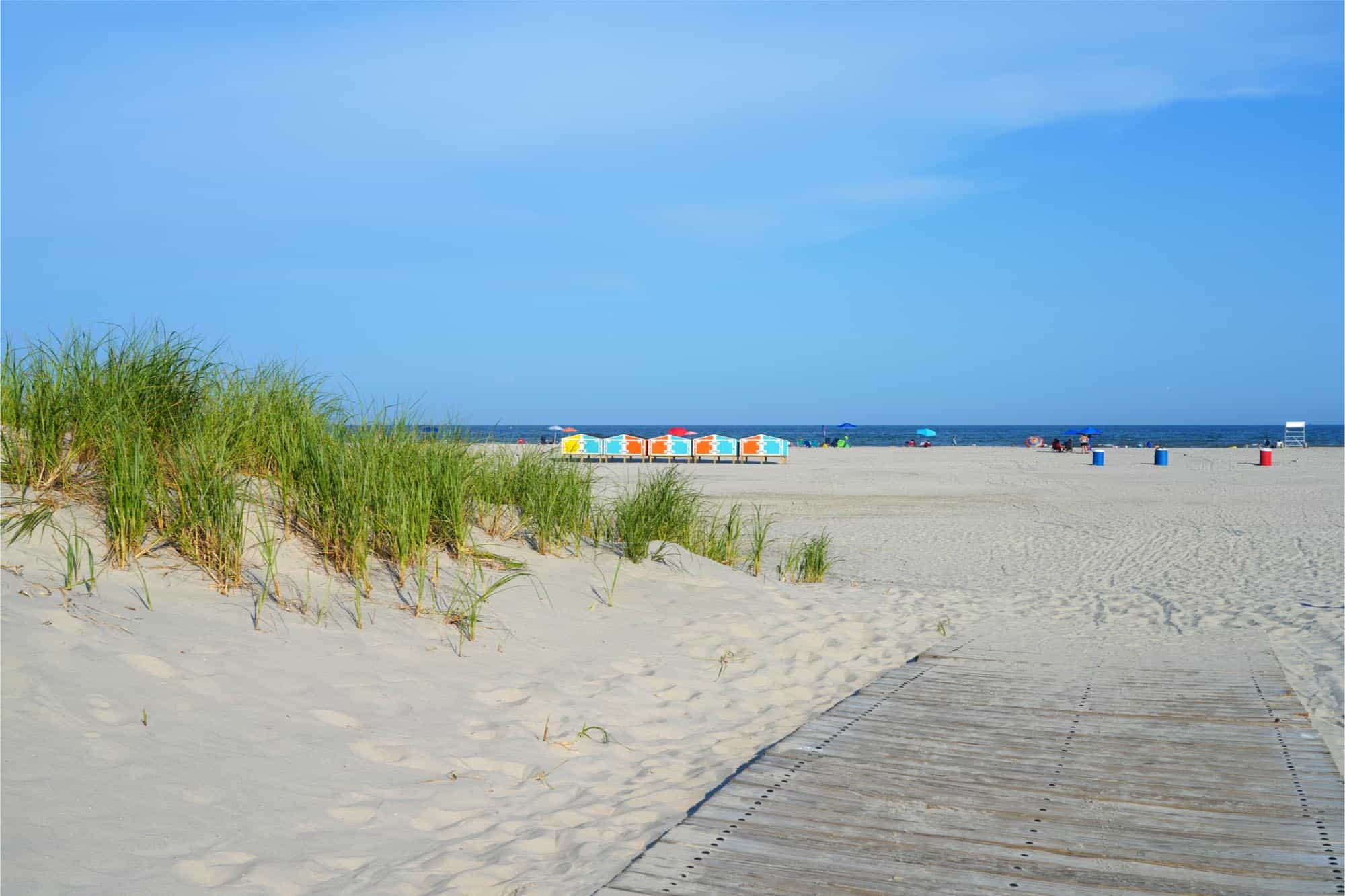 There are lots of beaches on the Jersey Shore, but there's only one Wildwoods beach. This is New Jersey's largest beach: over five miles long, extremely wide, clean, and safe. What's not to love about that?
But, even better, the beach in Wildwood is actually FREE. You can visit and not be harassed by beach attendants every hour to see your beach tag. And you can actually enjoy a day at the beach.
Bring your friends, bring your family, or just come alone. You can do everything from body surfing to playing a full match of beach volleyball. So come and enjoy one of the best beaches in the region.
Morey's Piers
We all know that seaside amusement parks are among the most memorable places in the world. When we're at the beach, all our troubles and worries recede, and we can just focus on the enjoyment of the park.
Since 1969, people have been screaming their hearts out at Morey's Piers. The seaside location adds a tropical tinge to the park's ambiance, so you are free to go on rides at full speed without worrying about catching a cold.
The staff is friendly. It is hard not to be when you are consuming the ocean breeze all day. Morey's Piers is one rabbit hole you are going to keep going down.
Doo Wop Experience
You do not have to be a historian or a senior citizen to enjoy Doo Wop or that period of American life. The stylized eccentricities of the musical movement shaped entertainment in the 50s and continue to do so today.
If you have heard of Wildwood, you are familiar with how much the town made a home for the trendy and jazzy style of Doo Wop. You can see the Doo Wop everywhere, from the architecture to the fashion and the old record stores.
The essence of the Doo-Wop era is perfectly preserved in the Doo-Wop Museum at Wildwood, NJ, and it is a must-see experience. This place immediately transports you into the concert and dance halls of the 50s and 60s.
It was the Doo Wop era that created the growth in the town, including the hotels, diners, and motels in Wildwood. The entertainers and their fans would pour into town for concerts and shows. Wildwood, New Jersey, has a unique identity inherited from the Doo-Wop Era that makes it easily one of the best towns on the Eastern Seaboard.
Plastic palm trees still hang around modern buildings. At night, you will be able to see Wildwood's bright neon lights. And you will be happy.
Lazy Eye Distillery
The Lazy Eye Distillery is another gem that might make staying in the town a thing to consider. This family-owned distillery makes one of the best hand-crafted vodkas in the state of New Jersey and is top on the list of Wildwood activities for tourists. Lazy Eye Distillery is not only about craft, but they are also about community, and they give support wherever they can.
Why should you visit a distillery, you may ask? For the spirits, of course. The Lazy Eye bar is spacious, cozy, and built for people to come with their friends. A vodka tasting package built into the menu could score you more connoisseur experience points. The vodka is potent, fantastic, and gluten-free.
However, if you are not interested in the spirits, you could stick around for the friendly ambiance of the bar or head out back and find Nick, who is always kind enough to take you on a tour of the distillery. You will be exposed to the mastery of the distillation process. You can learn a thing or two—about how to make spirits or how to run your business with kindness, which the owners have been doing for years.
Hereford Inlet Lighthouse
The Hereford Inlet was a port for whalers and fishermen from 1632 until the 1950s. The primary catch was menhaden, a type of herring fish. But a number of shipwrecks in the inlet and just off shore proved how dangerous these waters could be. In 1874, the lighthouse was built and would eventually become one of the oldest buildings in Wildwood and one of the most unusual lighthouses on the shore.
Over 150 years later, the lighthouse still protects seafarers. The tower light is 57 feet above sea level and can be seen out on the Atlantic over 13 nautical miles. The light itself is still maintained by the U.S. Coast Guard.
These days, the lighthouse is an extremely popular wedding venue. Couples often book the Hereford Inlet Lighthouse as a wedding location because of the Hereford Gardens and its Victorian-style park. The Hereford Garden is, of course, a beauty with over 200 kinds of flowers. It has received recognition from horticultural organizations and is deemed a wildlife sanctuary. The lighthouse itself is a stop on the New Jersey Coastal Heritage Trail, a designation by the National Park Service in New Jersey. This lighthouse is nothing less than a national treasure.
Visitors can sign up for guided tours and self-guided tours at the Hereford lighthouse to learn about its rich history. And then, take a lot of pictures. It is one of the oldest Wildwood attractions.
Maui's Dog House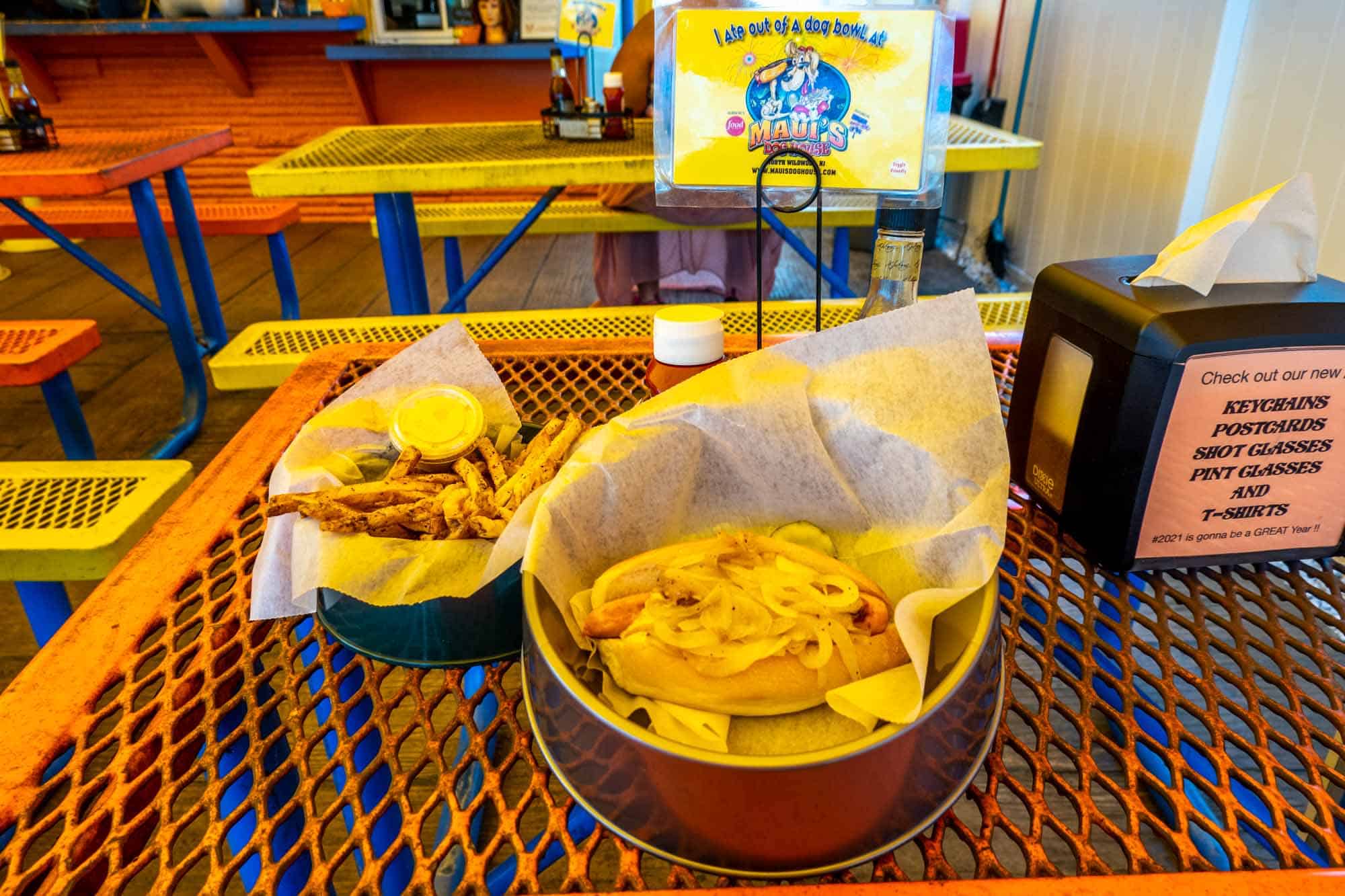 The hotdog you will never forget is waiting for you at Maui's Dog House. And it has been waiting for you for 22 years. Having been in business for over two decades, Maui's Dog House boasts some of the freshest food around. Hot dogs are their specialty, yet they have a vast menu of American comfort food – everything that fits in a bun.
Maui's Dog House is not just a house of food. It is an institution that will engage your palate in rich tastes and give you the sandwich experience of a lifetime. You can choose a different hot dog topping each day and experience a whole month of only delicious hotdogs at Maui's Doghouse.
The staff is also nice. They offer excellent service and are willing to give you the lowdown on the secret sweet spots in New Jersey. Visiting Maui's Doghouse is one of the most fun activities at Wildwood.
Douglass Fudge
When you are visiting, the sweetest of activities awaits you at Douglass Fudge, one of New Jersey's greatest candy stores. The store smells terrific, and half their inventory of freshly made sweets is usually gone by noon. That's how popular this place is.
The Douglass Fudge Store has been around for a hundred years. That is four generations of recipe perfection and neighborly love sitting on one corner block. Douglass Fudge's candy makes all your Shore memories that much sweeter and more enjoyable. And yes, you can get saltwater taffy here too. So, you can visit in the morning and get candies to go as you explore more of the town or just sit at the beach.
Lime Ricky World
This hybrid café/arcade will test your bandwidth for fun and excitement. But one thing is for certain: Lime Ricky World is without a doubt one of the most fun activities in town. In fact, this is a local tradition.
When it comes to places to take the kids in Wildwood, Lime Ricky World is at the top of the list. There is nothing else like it. No ice-cream store is as loved as the ice cream at Lime Ricky, and no arcade is as fun. There are several games to play at the arcade, and skee-ball, of course. All of these with an ocean view.
But Lime Ricky World is best known for the drink that bears its name: the lime rickey. This is a kind of glorified lemonade, but from limes instead. The recipe is essentially lime juice and a whole bunch of soda water. While it doesn't sound all that remarkable, it is one of those classic Shore experiences on the Wildwood boardwalk and everyone loves it.
Mudhen Brewing Company
To get your Wildwood beach day started right, visit the MudHen Brewing Company and taste one of New Jersey's finest brews. If you are hungry, that's fine. Just strap in for delicious food too. MudHen Brewing Company is Wildwood's only brewing company, and they are more than happy to show how beer is done down the Shore.
MudHen is also not like other breweries. The food here is actually great! This brewery is so good that people come from all over the Jersey Shore to eat here. It's not uncommon for people staying in Avalon or Cape May to pop over to Five Mile Beach and experience MudHen.
This is easily one of New Jersey's most exciting towns to visit on vacation. Biking enthusiasts looking for fun Wildwood activities can pedal the entire island from the crest dunes all the up to the sea wall at North Wildwood. So gear up for great food, memorable experiences, and fun adventures.