Some posts on this site contain affiliate links, meaning if you book or buy something through one of these links, we may earn a small commission (at no extra cost to you).
For a state of its size, Delaware packs quite a punch. It has over 380 miles of shoreline to explore, offering state parks, wildlife areas, and lots of waterfront real estate. There is quite a bit happening here, particularly in the summer, and much of that activity revolves around the Delaware beaches.
From touristy spots like Rehoboth and Dewey to some more laid-back locales like the parks, visitors will find golden sand, water sports, and fun at some of the best beaches in Delaware. Here's a look at some of our favorites to consider visiting this summer.
Rehoboth Beach
Arguably the most visited beach in Delaware, Rehoboth Beach calls itself "The Nation's Summer Capital." It's free to visit and family-friendly, so it draws visitors from all over the Mid-Atlantic and East Coast. Rehoboth also boasts a mile-long boardwalk flanked with restaurants, stores, and kiosks selling all kinds of merchandise and some delicious food.
As you wander, don't miss some of the classics. Thrasher's fries are a summer must-have, but be aware that they come with apple cider vinegar–there's no ketchup here. A burger or cheesesteak at the iconic Gus & Gus' Place has also been a Rehoboth staple for over 60 years.
Not far away, Zelky's Beach Arcade makes an entertaining stop, and Funland has lots of rides and games when you're ready for a break from the beach. Going from end to end on the boardwalk always offers some great people watching!
Away from the beach, there are lots of other things to do in Rehoboth. You'll find tax-free shopping and lots to buy at Tanger Outlets, craft beer at an outpost of the famous Dogfish Head Brewery, and even more aquatic fun at Jungle Jim's River Safari Water Park. Plus, there are lots of top restaurants selling incredible seafood.
Delaware Seashore State Park
With about six miles of oceanfront and 20 miles of bay shoreline, Delaware Seashore State Park is a hub for some of the most fun summer activities. The construction of two jetties that joined the Indian River and Rehoboth Bay to the Atlantic have transformed the state park into the beach goer's utopia.
Visitors can take part in loads of activities such as swimming, kayaking, and fishing in the safe waters. You will also enjoy the view where the Rehoboth Bay and the ocean come together flanked by a stretch of undeveloped coastline.
The Indian River Life Saving Station that used to respond to shipwrecks stands tall and serves as an educational center, so there is an educational component to this Shore destination. You can surf and sunbathe on the sand or camp out in one of the cottages where you can listen to the music of the waves at night.
Outdoor activities on the Delaware Seashore Beach include six family trails where you can hike or bike, dining at the oceanfront restaurant called Big Chill Beach Club, or a hang out at an open-air area called the Umbrella Bar. One notable mention is the Dockside Marina Bar & Grill, a full-service outdoor restaurant with the best view of the marina and a sumptuous menu.
Note that, like the other Delaware state parks, there is an entry fee of $5 for Delaware residents and $10 for out-of-state visitors.
Bethany Beach
This is the quintessential small town. There are just 1000 people living in Bethany Beach. Yet the population swells to 10 times that amount in the summer when visitors come to town. Despite the increase, Bethany maintains a reputation for being a family-friendly "quiet resort."
You can start your day with sunrise yoga on the beach, spend some time watching for dolphins, and even go kayaking.
The compact Bethany Beach boardwalk is lined with shops to browse and plenty of restaurants. Get your beach gear at Bethany Surf Shop or head downstairs for a beach read at Bethany Beach Books, an independent bookstore that has served the area for over 30 years. All kinds of gummy treats abound at Candy Kitchen, so you can indulge there or head over to Dicky's Frozen Custard, a local institution for frozen desserts.
South Bethany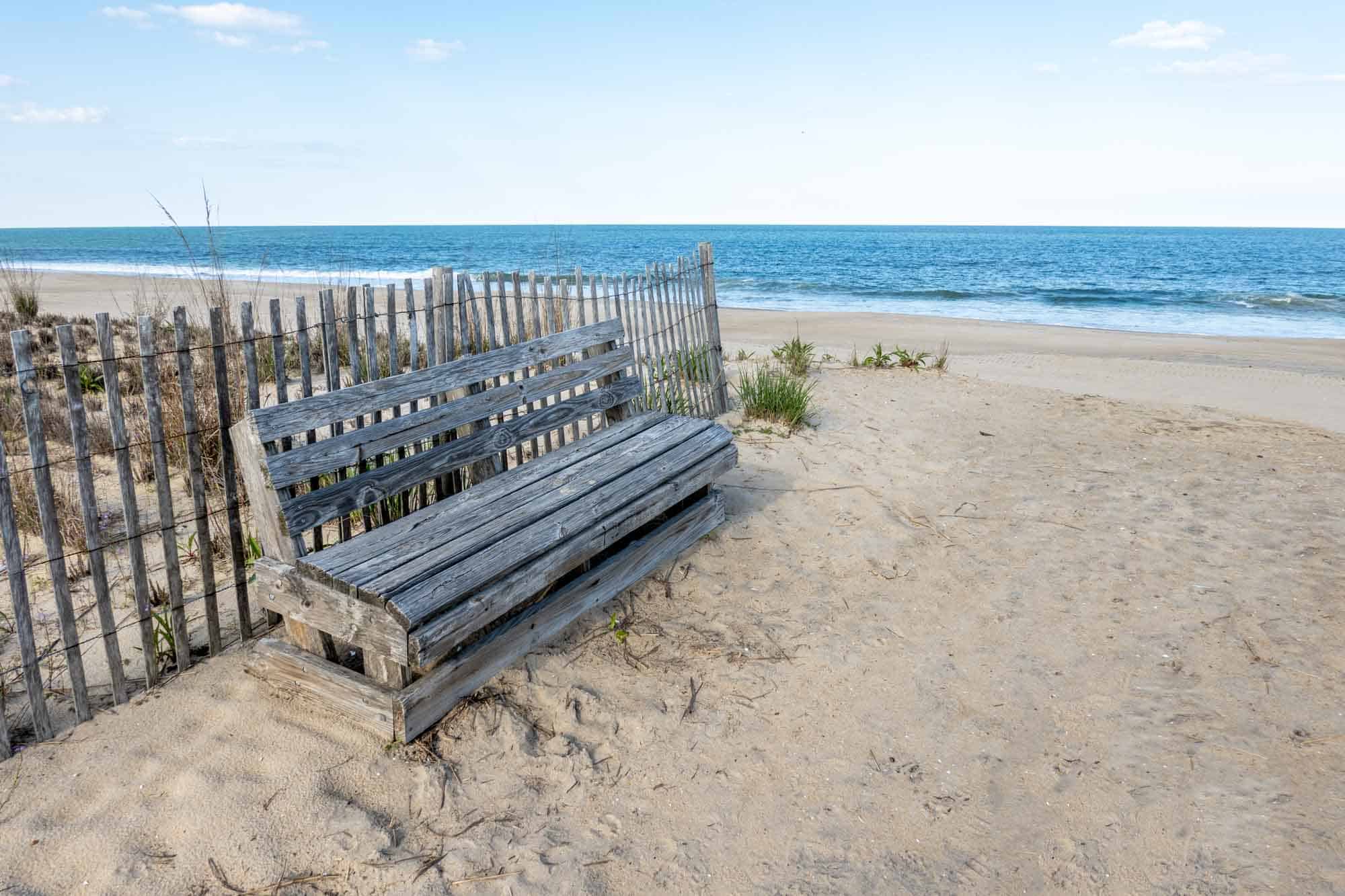 Since the fun places in this state run into each other, you might just spend the summer going from beach to beach without even knowing it. In a world without road signs, this could happen. And you could wander into this quaint one-mile-long beach that sits beside South Bethany. It's tough to see where Bethany Beach ends and South Bethany starts.
For the quieter side of summer at the Delaware shore, South Bethany is the place you want to go to. The smaller, chiller cousin to some of the more popular places nearby, this is a good place to enjoy swimming, sunbathing, and kayaking.
South Bethany is not without its attractions. It has a golf course, restaurants and a fishing bay where you can spend time trying your luck. South Bethany knows its type of vacationer, and it meets their needs on every level.
Lewes Beach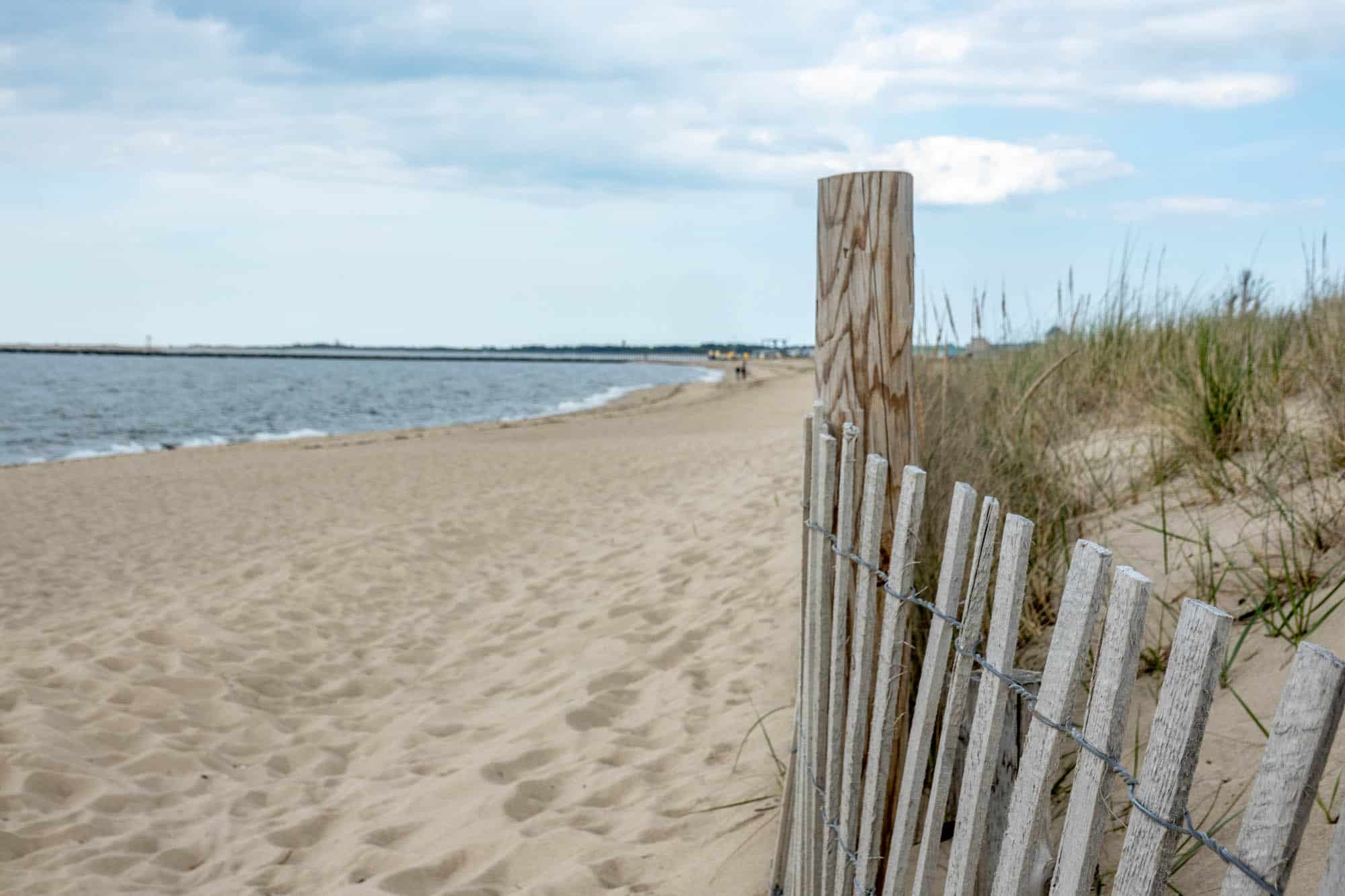 One of the cleanest and nicest beaches in Delaware, Lewes Beach is also one of the best destinations for families with small kids. The water here is shallow and the waves are generally calmer than other spots along the coast.
Lewes Beach is quiet but still has attractions to keep people entertained with things like fishing and boating. At low tide, you can spot jellyfish in the shallows, a sight that children never cease to be amazed by. Plus, there's plenty of room for sunbathing and sand castle building. As a bonus, visitors may find parking just a little bit easier here than at other destinations, though that is relative because the southern Delaware coast get very busy in the summer.
Away from the beach, there are lots of things to do in Lewes. History lovers will enjoy "the first town in the First State," which has numerous historic buildings and small museums telling the stories of early Dutch settlers, residents in the 1700s, and people who helped make Delaware what it is. Check out the colorful Zwaanendael Museum and the collection of unique buildings at the Historic Campus, including Sussex Tavern that offers live music and 18th-century drinks on the first Friday of the month.
Downtown Lewes has dozens of boutiques and restaurants as well as unique attractions like the Lightship Overfalls. For something sweet, head to Hopkins Farm Creamery to enjoy farm-made ice cream in the company of a few dairy cows.
Fenwick Island Beach
Fenwick Island is one of Delaware's coastal peninsula towns with a wild ocean ambiance and a natural landscape. It is often lauded as a quiet stretch of sand only interrupted by the sounds of nature. One notable thing about the beach at Fenwick is that it retains a lot of its natural charm because there hasn't been any commercial development, which is a good thing as Fenwick boasts of an assortment of wildlife.
The Fenwick Island State Park is its biggest attraction. It is a haven for swimmers, so it has a modern bathhouse, convenient showers, and changing rooms. The water is a great place to be in, whether you are swimming or sailing.
With fewer crowds than most Delaware beaches, Fenwick is an excellent location to enjoy sunbathing. It's also a lot quieter than that "other" beach town just over the Maryland state line.
Cape Henlopen State Park
Cape Henlopen was a strategically important area to maritime travel and was developed in 1918 to provide protection during World War I. Visitors to the area can explore the historical landmarks and World War II fortifications.
But before you hit the sand, check out the Gordon's Pond Trail, which takes you about 5 miles and you can catch all of the sights of Cape Henlopen. You can walk it, but cycling takes less time and Cape Henlopen has a borrow-a-bike program that can facilitate this.
A number of guided tours are offered where you can visit Fort Miles, learn about Cape Henlopen's natural attractions at the Seaside Nature Park, or reserve a camping space in the woods.
Slaughter Beach
It is hard not to wonder where the name Slaughter Beach came from. This doesn't really sound like it would be an enjoyable experience. But stories say that it was named after William Slaughter, one of the town's local postmasters in the 19th century.
However, a less appealing tale says that it is because of the crabs that wash up on the shore and die each year. There is also a story that brings up some dark history from the past. Whatever the origins of the name, Slaughter Beach offers travelers an escape from the real world. This is a worthy feature of any vacation. The town has a population of about 300 people, but its summertime population increases by thousands.
There are no lifeguards here, so you need to exercise caution with aquatic activities. But the beach is quiet, secluded, and peaceful. The beauty of Slaughter Beach lies in the polished stones and quartz minerals that wash up on the shore in the form of sea glass.
Broadkill Beach
The calm waves of Broadkill Beach are an experience. It is 'super chill' and has lots of natural beauty and animals to watch, including birds, crabs, and dolphins. This is a long strip of land bordering the Prime Hook National Wildlife Refuge and the mouth of the Delaware Bay. It has only two access points, and thus, it has few visitors, so don't be surprised when you find a whole mile of beach to yourself.
You can drive a truck (with a license) along the length of the beach, from the south end to the north end. You will pass the Broadkill Store in the middle, one of the few businesses in the area, where you can rent a bicycle to explore nearby. Across the street is a cute, well-cared-for Little Free Library and a garden bed designed to serve as a waystation for monarch butterflies.
Broadkill Beach is worlds away from the famous beaches, so it is perfect for people looking to have solitude and quiet.
The next set of beaches either do not allow swimming or are not good swimming spots (being located within the bay), but they provide opportunities for walking along the beach or just sitting out and enjoying nature.
Fraland Beach
This slice of Delaware is always bliss in the summer. Fraland is located within the Delaware Bay, so it doesn't get the ocean waves. This slice of coastline is a beautiful sight to behold. Walking along the shore gives a strong sense of calm to those who have come to get away from work and stress. While swimming is allowed, it is not recommended. There are not any lifeguards on duty and the water clarity isn't the best.
It has an elevation of about 7-8 feet, and this makes it great for camping. Take some time to explore and visit the places around Fraland Beach, such as visiting Fraland Cove. If you want to get away from the shore, you can hit the Sundog Marina for a fishing experience.
Pickering Beach
Wildlife is the draw at Pickering Beach. From shorebirds to turtles, bald eagles, and even foxes, there are different species to see year-round.
Much of the activity here happens in the late spring and early summer during the horseshoe crab spawning season. Pickering Beach is a sanctuary for these unusual looking crab who take to the beaches in Delaware and New Jersey to lay their eggs in clusters at the edge of the water. The process is fascinating to watch, and visitors are even asked to assist in flipping over crabs that accidentally turn upside down on their curved shells in order to help them return to the water.
Holts Landing State Park
Holts Landing State Park is a 203-acre park with gorgeous views in every direction. Located within the Indian River Bay, this is a great place for picnics, and it has extensive walking trails.
The park is home to a great variety of wildlife. Birdwatchers and photographers all come for the beauty and the diversity of the wildlife. Spotted in the park are herons, egrets, and ibises. Hawks and ospreys dominate the top of the food chain, and the forest is home to songbirds, raccoons, muskrats, foxes, and opossums.
There is something for people who want to be near the water. This is a great spot for boating, kayaking, and other watercraft. It is particularly popular with fishermen looking to snag sea trout, flounder, bluefish, and perch. It's also a popular spot for clamming and crabbing.
Holt's Park is open all year round, and it provides a good space for boating and recreation, but not for swimming.