Some posts on this site contain affiliate links, meaning if you book or buy something through one of these links, we may earn a small commission (at no extra cost to you).
Sushi Hatsu in Ambler blends bold, visionary flavors with traditional, delicate preparations to create one of the best Asian restaurants in the suburbs. Seafood, sushi and Japanese-inspired tapas round out a unique dining experience from Chef Harrison Kim.
Overview
Sushi Hatsu is the brainchild of local-boy-makes-good Harrison Kim. A graduate of the local Upper Dublin High School, Chef Kim earned his stripes in the kitchens of Morimoto, Nobu, Chestnut Hill's Osaka, and Garces Events catering. For his first restaurant, he's boldly set a clear vision for the best Asian restaurant around Ambler.
We've had the pleasure of eating at Hatsu over a dozen times. Each time is a journey into both the familiar and the unknown – enjoying old favorites and trying new flavors and nigiri never before sampled. And that's the way to approach Sushi Hatsu – an enjoyable experiment that can take you far outside your comfort zone, or give you a new appreciation for your old favorites.
The Menu
The Sushi Hatsu menu has a broad range of offerings to accommodate the most die-hard seafood lover or those who are totally averse to anything in raw form. Smart patrons look to the chalkboard above the sushi counter for the 4-8 nightly specials, which are always good.
Menu highlights include all the a la carte sashimi and nigiri items, particularly Hamachi toro (yellowtail belly), Branzino (Mediterranean sea bass), and Hirame (local fluke). In maki rolls, the Dragon Roll (shrimp tempura, crab, cucumber, eel, avocado, and strawberry), Tarantino Roll (shrimp tempura, spicy Hamachi, topped with seared salmon, spicy mango apricot) and Hatsu Roll (tuna, salmon, avocado, mango and wrapped in cucumber) are all particularly popular.
The Patagonian toothfish is a remarkable dish – an entrée-sized portion of Chilean sea bass with pickled vegetables. Also popular are the short-rib empanadas, an East-meets-West trio of doughy empanadas with a bright and bold chimichurri sauce.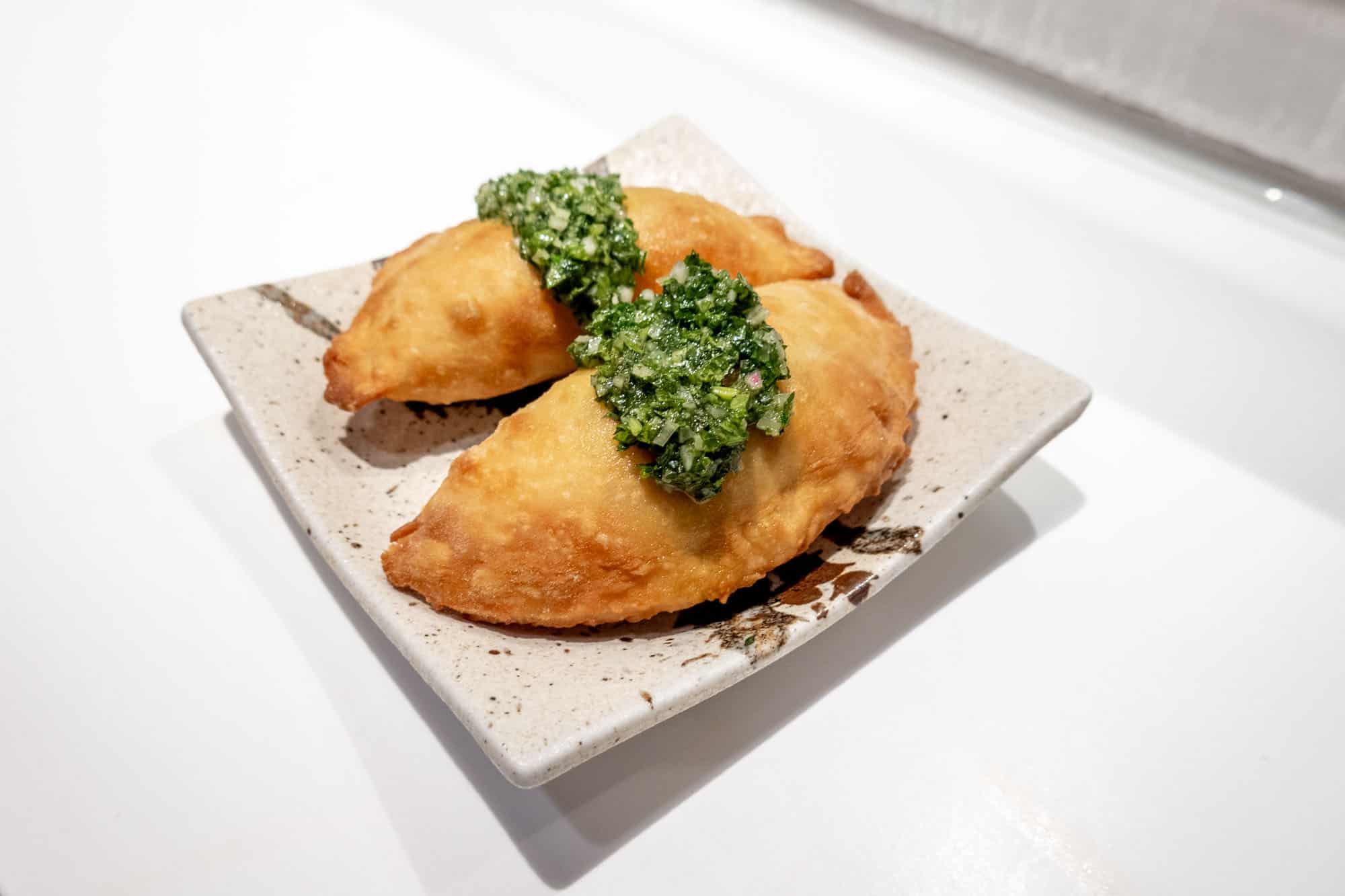 The full menu is available for takeout, although some dishes transport better than others (namely the sushi and maki rolls), along with the empanadas and dumplings.
Chef Kim also does omakase tasting menus a few times a month, which are wildly popular and book out almost immediately.
Note: Sushi Hatsu is a BYOB. There is a Stone & Key bottle shop next door to pick up Pennsylvania wines, beers and cocktails. The nearest Fine Wines & Good Spirits state store is located about 6 blocks north on Butler Avenue.
The Vibe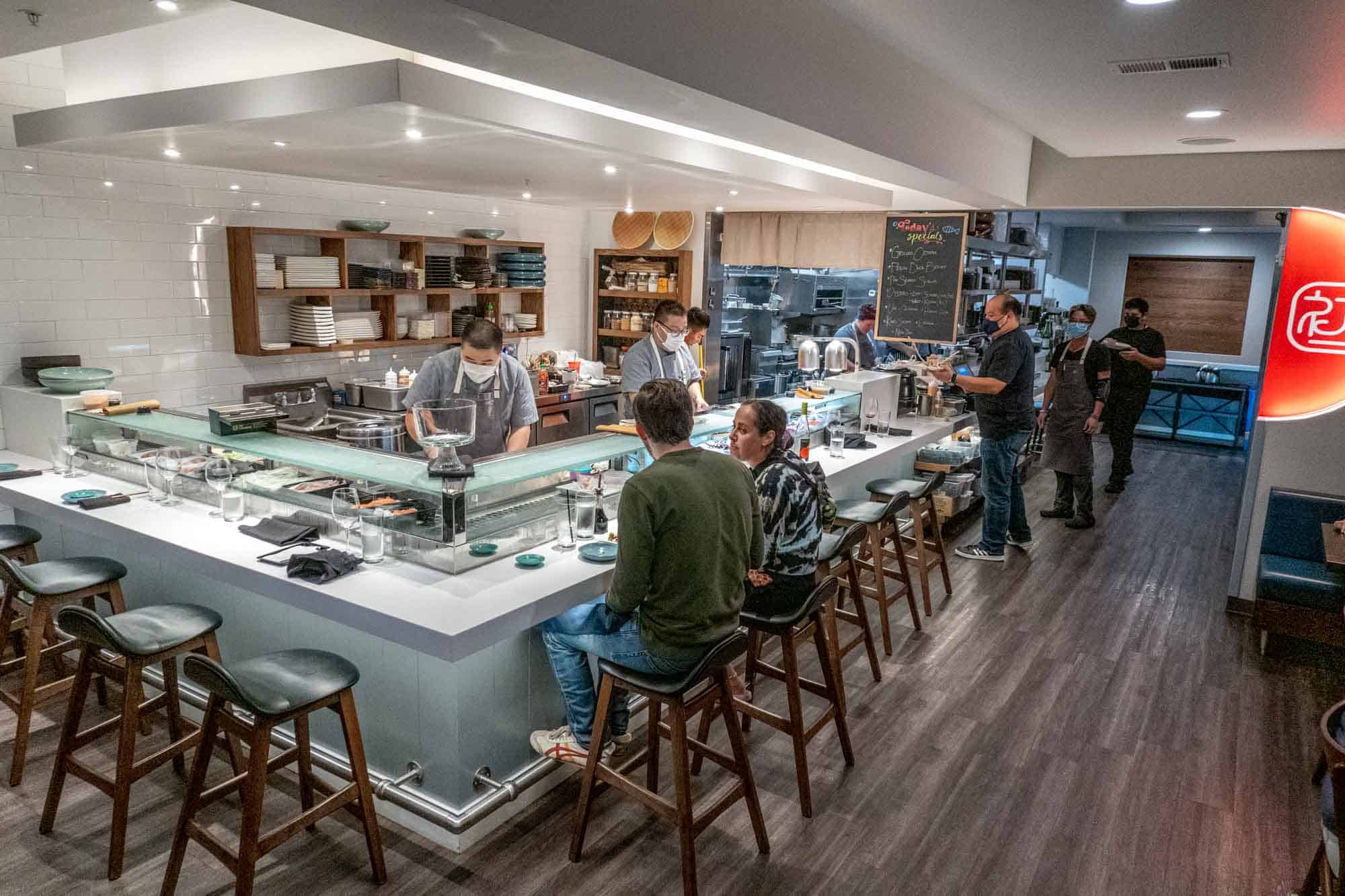 With sleek, modern all-white counter tops and tables, Sushi Hatsu could feel sterile, but it doesn't. The focus here is on the food.
Even with fully booked, it isn't too loud to carry on a conversation, even on the busiest weekend night.
Price Range
Hatsu is priced consistently with other sushi restaurants in the area. Specialty maki rolls are $18-22, regular maki rolls $6-13 and sashimi/nigiri $4-8 per piece. The hot and cold specialty items are $12-38, such as the Patagonian toothfish $38, short-rib empanadas $15.
Couples should plan on about $60-75 per person. Since it is a BYOB, all prices exclude alcohol.
Reservations
Having a reservation is smart, particularly on weekends. During the week, it is not essential to have a reservation, but woe to the couple who show up on a Friday night without one.
Location
Sushi Hatsu is located in Ambler at 51 E. Butler Avenue. There is street parking and some smaller parking lots throughout Ambler Borough, which are all free after 6:00pm, but can often be full due to all of the popular local restaurants in Ambler (this is a dining town!). However, there is always ample parking at the massive SEPTA parking lot located at 100 S. Main Street, a three-block walk to the restaurant.
For public transportation, it is a short, three-block walk from the Ambler station on the Lansdale Doylestown Line. The restaurant is also located on SEPTA bus lines 94 and 95.
Visit the Sushi Hatsu website for more information.