Some posts on this site contain affiliate links, meaning if you book or buy something through one of these links, we may earn a small commission (at no extra cost to you).
Families look forward to the winter season and the accompanying cold and snow. As the flurries begin to fly, families love heading out to go snow tubing in NJ.
Whether you plan to go tubing during the holiday season or enjoy some of the big spring snowstorms, there's never a bad time to go tubing and memories with family, friends, and loved ones. Whether spending a day or just afternoon, snow tubing in New Jersey is a perfect activity that every member of the family can enjoy thoroughly.
In this article, we will find out the best locations for snow tubing in NJ and also nearby.
In New Jersey:
Campgaw Mountain Ski Area
Looking for an NJ snow tubing location that is intimate and fun? Then the Campgaw Mountain Ski Area is your destination. Here guests can ride their tubes up and down the slopes. There is also a variety of slope levels for everyone to enjoy.
Another great thing about Campgaw is that there are no age limits. However, riders need to be at least 42 inches tall to ride. The Campgaw Mountain Ski Area is open on weekends and afternoons during the week. Tickets are also available for advanced purchase online, guests are encouraged to use this option for better deals.
Mountain Creek
With a generous 30 tubing lanes spanning over five acres, Mountain Creek is one of the largest parks for snow tubing in NJ. Here, you and your family are guaranteed a great time with lots and lots of space to have some quality winter fun.
Riders need to be at least 5 years of age and at least 42 inches tall. There is also a one-rider-per-tube policy at Mountain Creek. Two magic carpet lifts take tubers to the top of the mountain, so they don't have to hike up the mountain. Mountain Creek is open 10 am to 8 pm on weekends, and from 4 pm to 8 pm on weekdays. Rides are booked in two-hour sessions and can be reserved online.
Near New Jersey:
Outside of New Jersey, there's some great snow tubing in Pennsylvania across the Delaware River. Some of the best tubing can be found at ski resorts in the region, which gives you the option of either tubing or skiing…or both!
Blue Mountain Ski Resort
Located near Palmerton in Pennsylvania, Blue Mountain Resort is one of the largest in the country and is home to 46 snow tubing lanes and three lifts. Another perk a lot of people love is that riders can choose to double their tubes and slide down in tandem, guaranteeing an unforgettable experience.
Here, although there is no age requirement for tubers, there is a height requirement. Kids need to be at least 36 inches tall to ride. Tickets at Blue Mountain Ski Resort include a three-hour session. The resort is open from Thursday through Sunday.
Camelback Mountain
Boasting the largest snow tubing park in the U.S., Camelback Mountain located in Tannersville, Pennsylvania is a tubing paradise. Camelback's ski area has 166 acres and the tubing area feels almost as big!
The park has 42 "lightning-fast" snow tubing lanes as well as two magic carpet lifts. Camelback offers guests a unique and amazing nighttime Galactic tubing experience with beautiful LED light shows and accompanying music.
Kids have to be at least 44 inches tall to ride solo, however, what is great is that kids under 44 inches (at least 33 inches) can ride with an adult. Tickets include a two-hour session and are discounted during the week.
Jack Frost Big Boulder
This resort is a two-for-one special… Yes, there are indeed two resorts at Jack Frost and also Big Boulder. Tubers have a total of 26 lanes and 4 lifts/tows to enjoy in this location. With 2 of the tows and 6 lanes, or "chutes" as it is called here at Jack Frost. With the other 20 chutes and 2 lifts at Big Boulder. Jack Frost Big Boulder is a very popular tubing spot.
At this double resort, there is no age requirement for kids, however, they must be at least 42 inches to go tubing. Jack Frost is open only on weekends, but Big Boulder is open from Friday afternoon through Sunday. Tickets include a three-hour session and are recommended to be purchased in advance.
Montage Mountain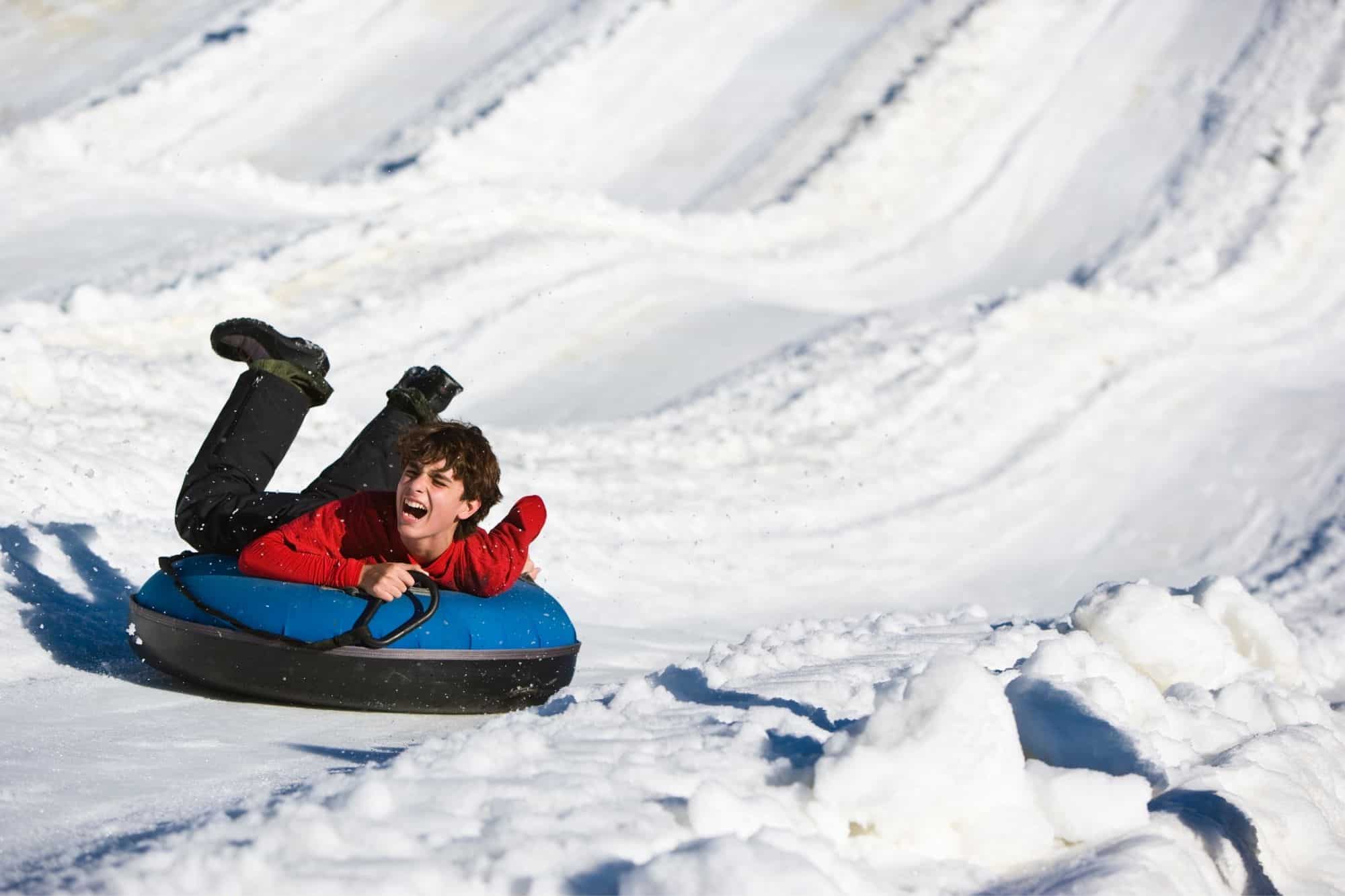 Located in Scranton, Pennsylvania, Montage Mountain offers not just snow tubing, but also night skiing, snowboarding, or even just enjoying some delicious treats and cocktails with a view of the communal fire pits. Everyone in the family is certainly going to find something to enjoy here.
The Park is serviced by a Magic Carpet Surface Lift. Tickets include a three-hour session and are available seven days a week.
Shawnee Mountain
With 7 snow tubing lanes, Shawnee Mountain Park offers visitors a spectacular and intimate experience in Eastern Pennsylvania. Kids that are not 46 inches tall can still go tubing with a parent or an adult, however, note that the age requirement is 5 years of age. Kids that are at least 46 inches tall can go on a ride by themselves.
The park has two magic carpet lifts to take visitors up the mountain. Tickets for the 90-minute sessions are available online. The park is open during the week as well as on weekends.
White Lightning
Located at East Stroudsburg is the beautiful White Lightning snow tubing park. With only 5 snow tubing lanes and one magic carpet lift, this is an intimate resort. The small park is not as crowded as other parks, making it a great spot for bonding with friends and family.
Kids need to be at least 4 years old and at least 40 inches tall to be able to go tubing. Tickets last two hours per session, and the park is open every day but on Tuesdays and Wednesdays.