Some posts on this site contain affiliate links, meaning if you book or buy something through one of these links, we may earn a small commission (at no extra cost to you).
Winter does not have to be spent indoors. It's possible to go on a wintery adventure with your family. When the weather turns cold and the snow starts to fall, head out of town and go snow tubing near Philadelphia.
There's a lot of overlap between places for winter tubing and ski resorts – the same places offer both. This is actually perfect! If you make a weekend getaway of it, you can spend one day skiing or snowboarding and then spend the second day on the tubes.
If you are looking to go snow tubing near Philadelphia, here's some of the best places (in alphabetical order):
AvalancheXpress at Heritage Hills
If you are looking to experience some of the best snow tubing in PA, then you should head out to the AvalancheXpress at the Heritage Hills Resort. This resort is perfect for both solo snow tubers and families or other groups looking to have fun. There are 10 lanes of snow tubes. Stepping into one will take you on a journey down the seven story, 900-foot tubing runs.
AvalancheXpress is a family-friendly resort with no age and height restrictions. The tubes are safe for both adults and kids, as long as the kids can get into the tubes on their own and they are watched by their parents.
Bear Creek Ski Resort
You should check out Bear Creek Ski Resort if you are looking for the closest snow tubing to Philadelphia. Located in Lehigh Valley, Bear Creek is a popular resort that is within an hour of Philadelphia.
This snow tubing resort offers a simple experience for families with single rider tubes that only allow one person to ride sitting in the tube. Bear Creek also has a magic carpet lift which you will take to the top in comfort. This will make the experience more fun as instead of spending time struggling to make the climb up the mountain, you get to spend more time on the tube. The snow tubes are only suited for 6 years and up, and are at least 3' 6″ feet six inches tall.
Blue Mountain Ski Resort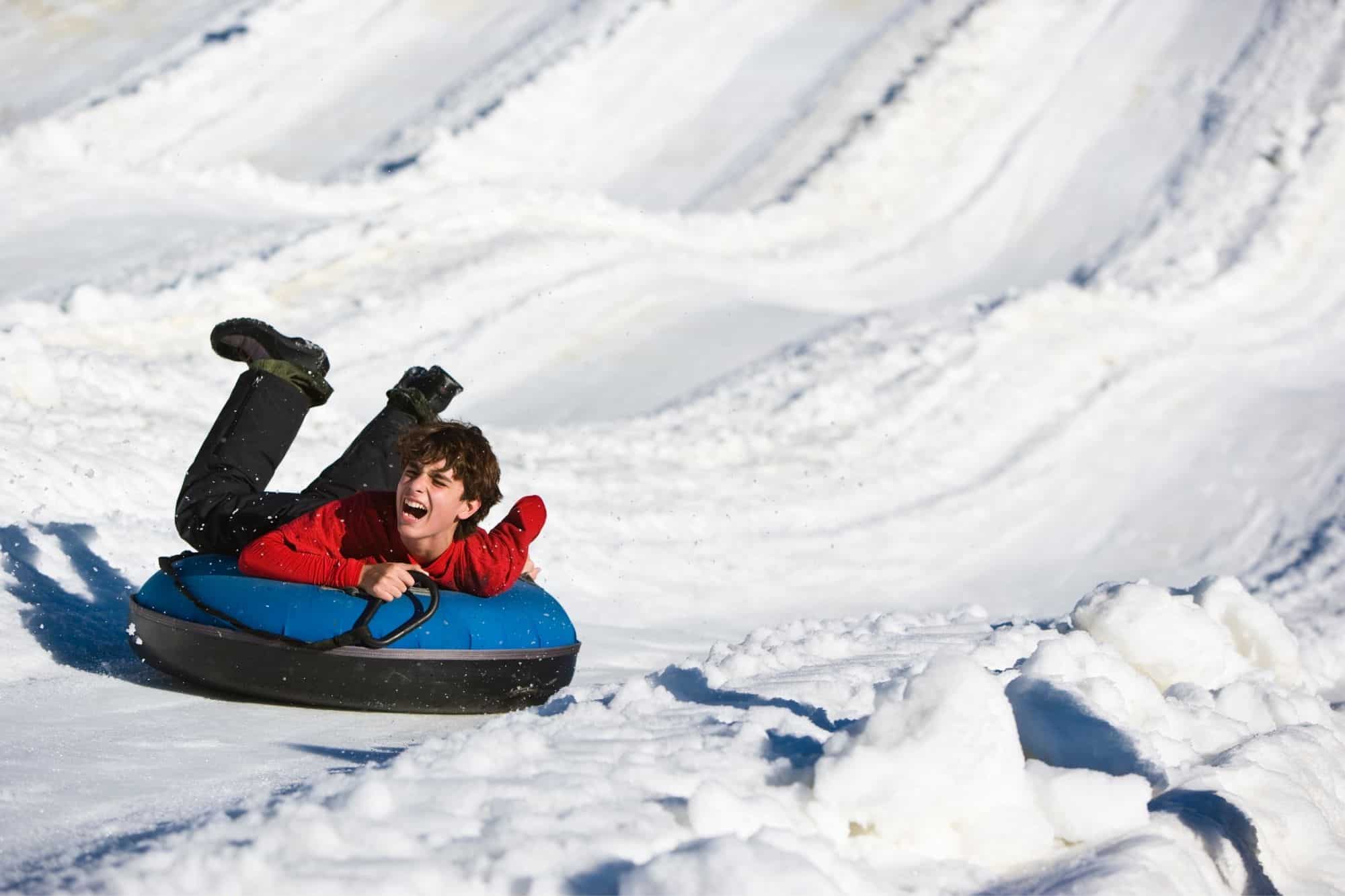 If you are looking for a family snow tubing experience, head out to Blue Mountain Ski Resort. Blue Mountain allows you and your family or friends to create memories together! The resort features family-sized snow tubes that can comfortably accommodate up to six children or four adults. This makes it the perfect place to go if you have kids who are just getting the hang of it and not yet ready to head out on their own.
The resort has three lifts to take you to the top and 46 snow tube lanes that stretch over 1,000 feet. That makes these the longest and fastest lanes in the state. With the three-hour-long sessions that run from 5pm to 9pm on Thursdays and 9am to 9pm on weekends and holidays, everyone can have fun here.
Camelback Mountain
Camelback Mountain is an extremely popular tubing option. With over 42 lanes, Camelback is the biggest snow tubing park in the United States and the most popular of the Poconos snow tubing resorts.
The park offers single and double tubes, which allow individuals or couples to share tubes. The double tubes are also great for families with younger children, as older teenagers or adults can ride with them in the double tubes. Snow tubers who are up to and above 3 feet 8 inches tall can ride alone, while those between 2 feet 9 inches tall and 3 feet 7 inches tall have to ride in a double tube or ride in a chain with an adult.
Use the Magic Carpet Lifts to get to the top so you can spend more time on the tubes. If you have the time, stay for the nighttime Galactic LED light show in the park.
Iron Valley Tubing
Iron Valley Tubing offers some of the best snow tubing in Pennsylvania. This lovely facility founded in 2015 features 15 lanes, an over 900 feet long course, and a 133 feet vertical drop.
The facility welcomes both individuals and families with children to an enjoyable experience. To create a more inclusive experience for little kids, Iron Valley has a "Mini Tuber Hill," perfect for little kids who are just getting started.
Iron Valley also features a land bridge linking its two lifts to the starting line of the Iron Valley Huge Hill to reduce time spent walking and to ensure that people have the best time while snow tubing at Iron Valley Tubing.
Jack Frost Big Boulder
Jack Frost Mountain and Big Boulder resort are the foremost snow tubing spots in Pennsylvania, with Jack Frost being the first location to create tubing lanes in the area. Both locations are very popular. Jack Frost features eight tube chutes, while Big Boulder features 11 lanes. Jack Frost and Big Boulder accommodate adults and children, thus, making them family-friendly.
Both Jack Frost and Big Boulder offer three-hour sessions as well as all-day sessions. While Jack Frost offers a pair of cable tows to get you to the top of the park, while Big Boulder features a Magic carpet lift.
Liberty Mountain
Located in Carroll Valley, PA, Liberty Mountain is one of the best Pennsylvania snow tubing locations. Liberty Mountain promises you great old-fashioned winter season fun through its Boulder Ridge tubes.
This snow tube park is ideal for families and groups of friends irrespective of their age. There are 15 lanes for people ages five and older. There is also a special tubing area for kids between the ages of two and four. Head out to Liberty Mountain and have a lovely time zipping down the snow-covered hill.
Montage Mountain
Montage Mountain is a great destination for tubing enthusiasts looking to have fun during winter. Whether you have been sliding before or are just discovering how much fun this can be, Montage Mountain has something for everyone.
The resort has a main tubing park for people 3 feet 6 inches and above and a kiddies tube park for people between 2 feet 8 inches and 3 feet 5 inches. There is also a Magic Carpet lift to take you to the top. The resort offers sessions every day of the week with time slots from 4pm-9pm on weekdays and 9am-9pm on weekends and holidays.
Roundtop Mountain
Snow tubing at Roundtop Mountain Resort is an enjoyable experience for people of all ages, as the resort has features intended to cater to both adults and younger kids. The features of this resort include 14 large tubing lanes, which can be used for people ages five and older. The tube runs are 800 feet long with a drop of 80 feet.
Roundtop Mountain also features something for kids younger than 5. This is Kiddie Tubing, which is an area designed for kids ages four and under. Kiddie Tubing has shorter child-sized times, which allow the kids to walk back up on their own or for parents to pull their kids back up in the tube.
Shawnee Mountain
Shawnee Mountain is a major spot for snow tubing in the Poconos Mountains. There is so much fun to be had at this family-friendly resort. The park featured single tubes for adults and child tandem tubes that accommodate a child and an adult. This ensures that the whole family can enjoy the experience.
At Shawnee Mountain, you can take a ride from the top of the park all the way down what is called the "Pocono Plunge," which is a downhill drop through ski trails and picturesque woods. There are two Magic Carpet lifts at the bottom of the drop that will take you back up the hill after each run in a tube.
White Lightning
White Lightning Snow Tubing is another popular park located in the Poconos. This popular tubing park is open from December through late March and has many interesting features. For a start, the facility makes 100% of its snow, so you do not have to worry about not having enough coverage. It also offers 5 chutes that you can ride with a vertical drop of 100 feet. There is also a 410 feet high Magic Carpet lift that takes you all the way to the top.
If they are above four years old, you and your kids are sure to have a great time here. If you are looking to relax after a fun day on the snow, there is the Warehouse Tavern & Grill at the base, which offers you a warm fireplace to sit around, as well as hot meals for you and your family to enjoy while listening to live entertainment.
Whitetail Resort
Whitetail Resort is one of the best places to go if you are looking to engage in winter tubing. Whitetail offers two different types of tubing lanes and slopes. There are 10 lanes on the big slope at the resort designed for people ages five and above.
The resort also has a separate kiddie tubing park with a slower slope designed for kids ages two to four. This is aligned with the resort's claims of being open to everyone from ages 2 to 92. The resort also features a lift that takes you up to the top.