Some posts on this site contain affiliate links, meaning if you book or buy something through one of these links, we may earn a small commission (at no extra cost to you).
If you are craving some year-round Christmas fun, visit the Byers' Choice Christmas Museum situated in Chalfont. In this Philadelphia suburb, it is always Christmas! Why Chalfont? This is where the famous Byers' Choice Carolers are made.
Stepping back in time, around 40 years ago, Joyce Byers, started creating her signature caroler figurines for her own house's Christmas decorations. Bored with the traditional stars, candies, and lights, she created Christmas dolls that were truly memorable. And people loved them. So, she started making these for her family and friends. What was once a small hobby is now big business and these caroler figures can be found in stores all over the world.
Growing up, these Christmas figurines played a big part in how my family celebrated the holidays. My seven aunts would give them as holiday gifts to each other. The aunts would focus their collections based on hobbies or professions. Never a year went by that these figures would not be found decorating the house. It is more remarkable that I grew up thousands of miles away – these dolls are a worldwide phenomenon.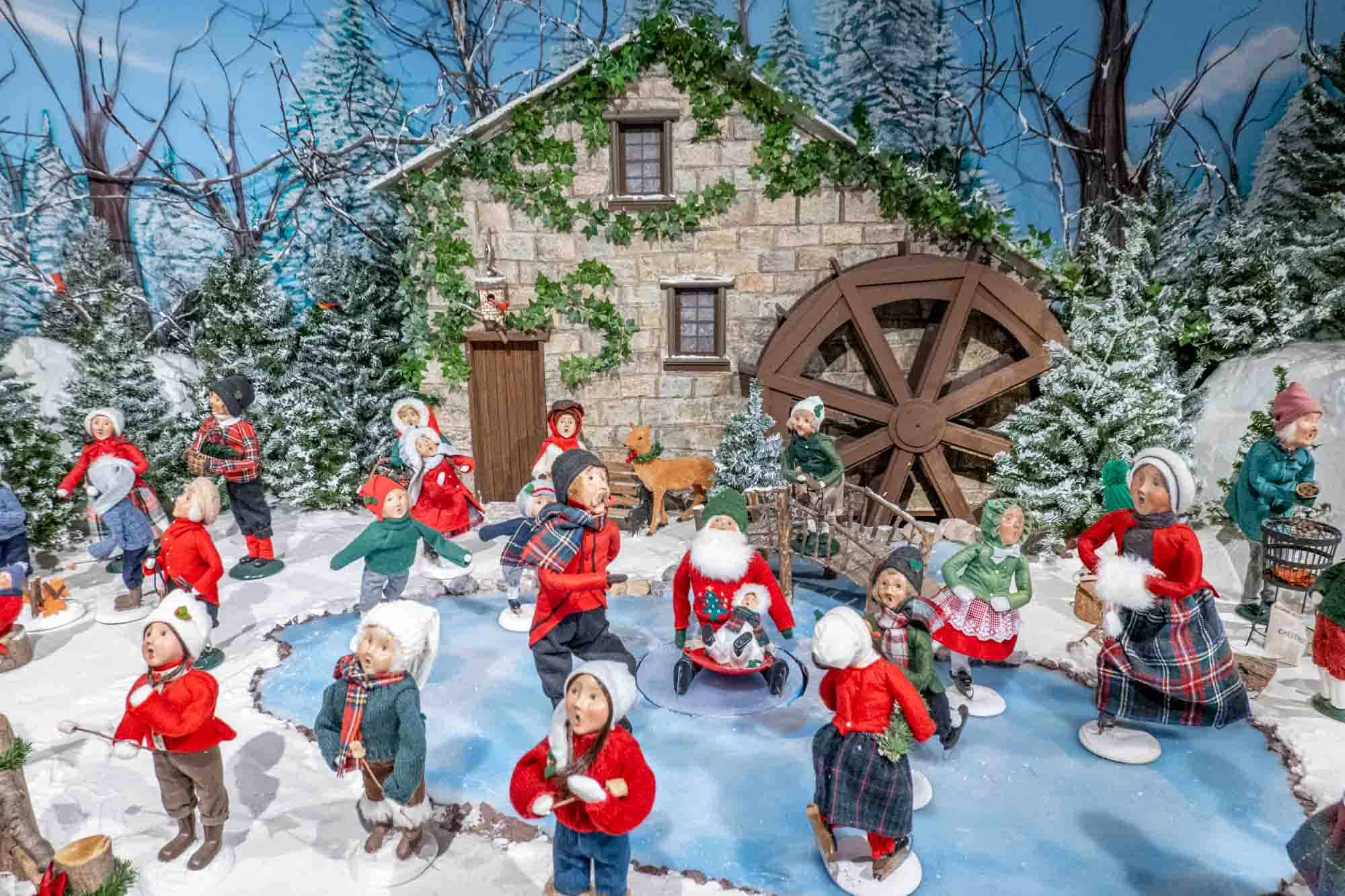 With increased demand, Joyce and her company now has a team of 50 artisans in her Chalfont, Pennsylvania factory, who she has trained to make these hand-made figurines with extreme care and attention to detail. You can visit the visitor center during any working hours and see the artisans at their craft. Sometimes, you may spot Joyce herself making the figurines or instructing the craftsmen.
Whether you are visiting Byers' Choice Factory with kids or not, people of all ages love the festive atmosphere, and this is one of the more unique attractions in Bucks County.
What's So Special About Byers' Choice Carolers?
The most unique thing about Byers' Choice Christmas Carolers is that each one of them is handmade by a trained and experienced artisan with utmost care and attention. The feet and head have a wire armature, while the body and arms are completely bendable. This allows you to display the figurines the way you like as if they are in the middle of an activity or interacting with each other. Special attention is given to their heights, characters, and colors, all of which work together to tell different stories.
A Visit to the Factory and Visitors Center
Your visit to the Byers' Choice Factory and Visitors Center is not just a tour, but a festive holiday experience. These are the areas that will make your visit a memorable one:
Byers' Choice Christmas Museum
In the Christmas Museum, you walk down a cobblestone street reminiscent of London depicted by Dickens. The homes and shops you walk past are filled with mesmerizing displays depicting global holiday traditions with hundreds of the famous carolers, as well as their line of smaller Kindle figurines.
Kids love the North Pole with its toys and cookies. Do not forget to the view from the observation deck lets you watch how artisans make the figurines in their workshop.
For many locals, it would not be Christmas in Philly without a visit to the museum and the factory workshop. We try to visit every fall to get into the holiday spirit. A visit to the factory and museum will make memories you will cherish forever, and the famous carolers and gifts you may collect from here will help you recreate displays that you can flaunt for years.
Creche Collection
Boasting a collection of over 200 nativities or crèches from across the globe, you will find crèches in varying sizes and styles, including some that are quite old (one antique Italian presepio is from the 18th century).
Gift Shop
Here, you can find an exclusive collection of festive holiday gifts handpicked by Joyce, including foods, women's accessories, jewelry, and specialty gifts.
Formal Gardens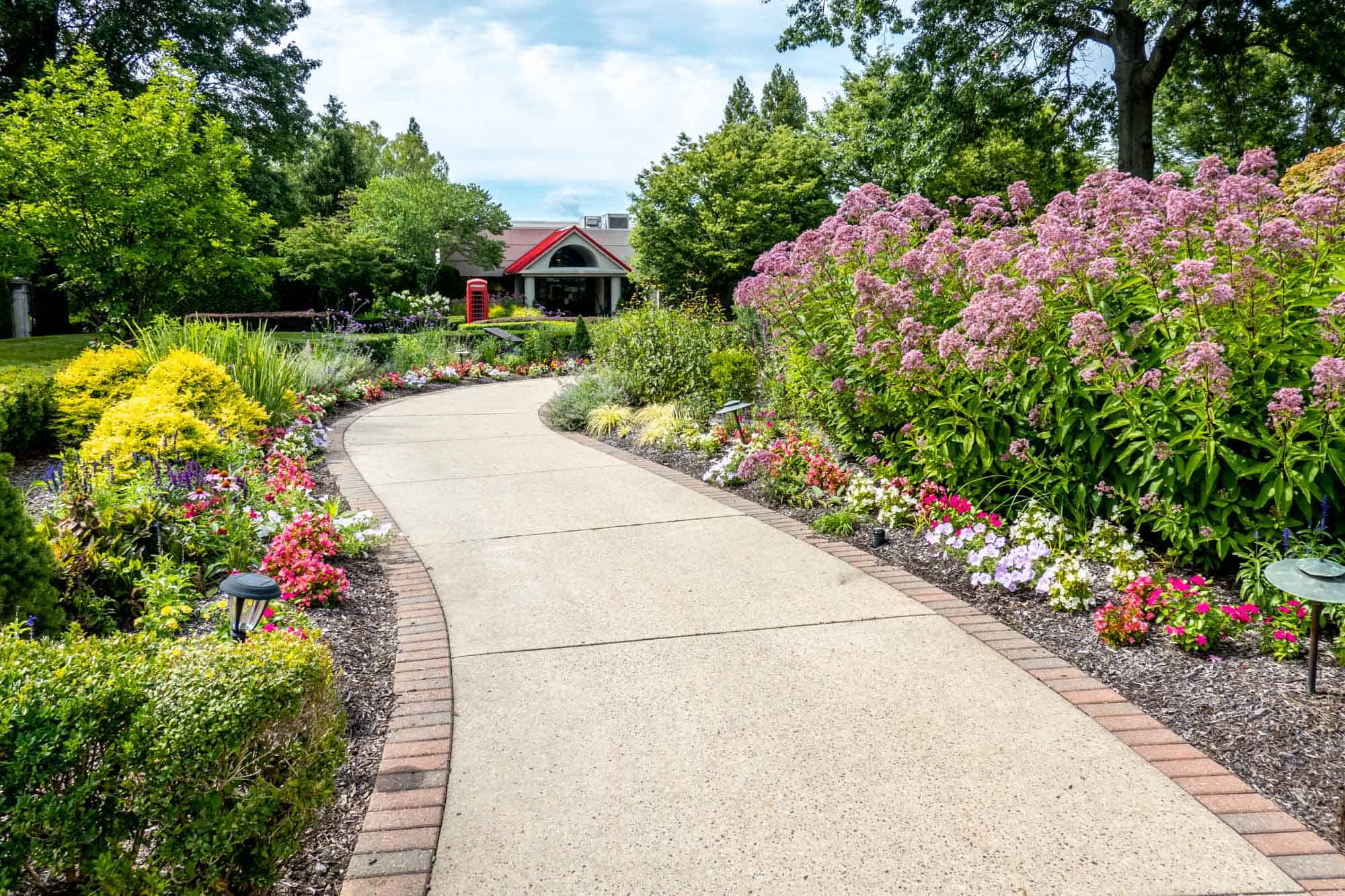 If you happen to visit the place in the summer or spring months, the formal gardens behind the museum and the gift shop are a sight to behold. Lined with trees, blossoms, and rose bushes, they are perfectly decorated with sculptures from renowned artists.
The gardens can also be rented for private events, including weddings.
More Information
Located at 4355 County Line Road, Chalfont, PA 18914.
The hours vary by season. Generally closed in the months after the holidays and New Years, reopening in the late Spring. In general the hours are 10am-5pm daily, closed on Sunday and Monday. However, consult the website for up-to-date information by season.
Visit the Byers Choice website for current hours or to order a caroler for shipment.