Some posts on this site contain affiliate links, meaning if you book or buy something through one of these links, we may earn a small commission (at no extra cost to you).
Sor Ynez delivers rustic Mexican cuisine in a fun, relaxed way. It's so good, you'll want to come back over and over again.
Overview
Philadelphia doesn't lack for quality Mexican restaurants. In fact, there are dozens of great places throughout the city, from South Philly to Fairmount. And yet, an unassuming industrial building in Kensington has one of the best in the city. This is Sor Ynez. And it needs to be on your dining list.
Amongst the revitalization of American Street in Kensington, Sor Ynez is tucked into an industrial complex and is often overlooked. But those who venture to this outpost of rustic of cuisine from South of the Border are rewarded with a delicious dining experience.
Best of all, Sor Ynez takes a sustainable, unique approach to the traditional recipes from various parts of Mexico. Chef Alex Tellez draws inspiration from his heritage in creating a masterful menu that you'll enjoy.
The Menu
The menu focuses on contemporary interpretations of rustic, Mexican comfort food. Emphasis is on comfort – in both the surroundings and the cuisine.
This isn't a taqueria and tacos don't figure prominently into the menu. Instead, they offer numerous lite bites and a handful of filling entrée dishes
At the Sor Ynez restaurant, they have mastered the art of blue corn. It features heavily across all of their dishes, from the blue corn tostadas that accompany the fresh guacamole to their signature dish, the Tlacoyos. This is heaven on a plate. Dense blue masa cakes are stuffed with refried beans, queso fresco, nopales, and then topped with salsa verde and radishes. It's an appetizer that fills like a meal and are incredibly delicious.
For entrees, two stand out. The shrimp al ajillo is a Mexican-riff on the traditional Spanish dish, featuring large Mexican gulf shrimp swimming in a mezcal lime garlic sauce.
Not to be outdone, the succulent heritage pork carnitas are a legend in the city. Tender, moist chunks of pork shoulder, rest on a bed of pinto beans and are accompanied by a onion escabeche and salsa. Roll them up in the blue corn tortillas and it is pure heaven.
There are several traditional desserts on the menu, but we recommend the churros, which are fresh, fluffy and flavorful.
The Vibe
Don't judge a book by its cover and don't judge a restaurant by the parking lot. Let's face it, there's nothing about the Sor Ynez restaurant that looks good from the outside.
But take a closer look. As you head up to the front door from the parking lot, you're greeted by a hip, garden oasis. Brightly colored benches and chairs cover an astro turf paradise. This is the kind of fun, urban garden where you want to spend LOTS of time, drink a margarita or beer in the summer sun, and spend time with friends.
The building that houses the restaurant is a large, industrial facility that contains a bike shop, an entrepreneurial incubator, some kind of interior design company, and was once the home of Philly's Neon Museum. Nothing about the building says "great restaurant." (The restaurant is owned by the same couple who own the industrial incubator, which kind of makes sense).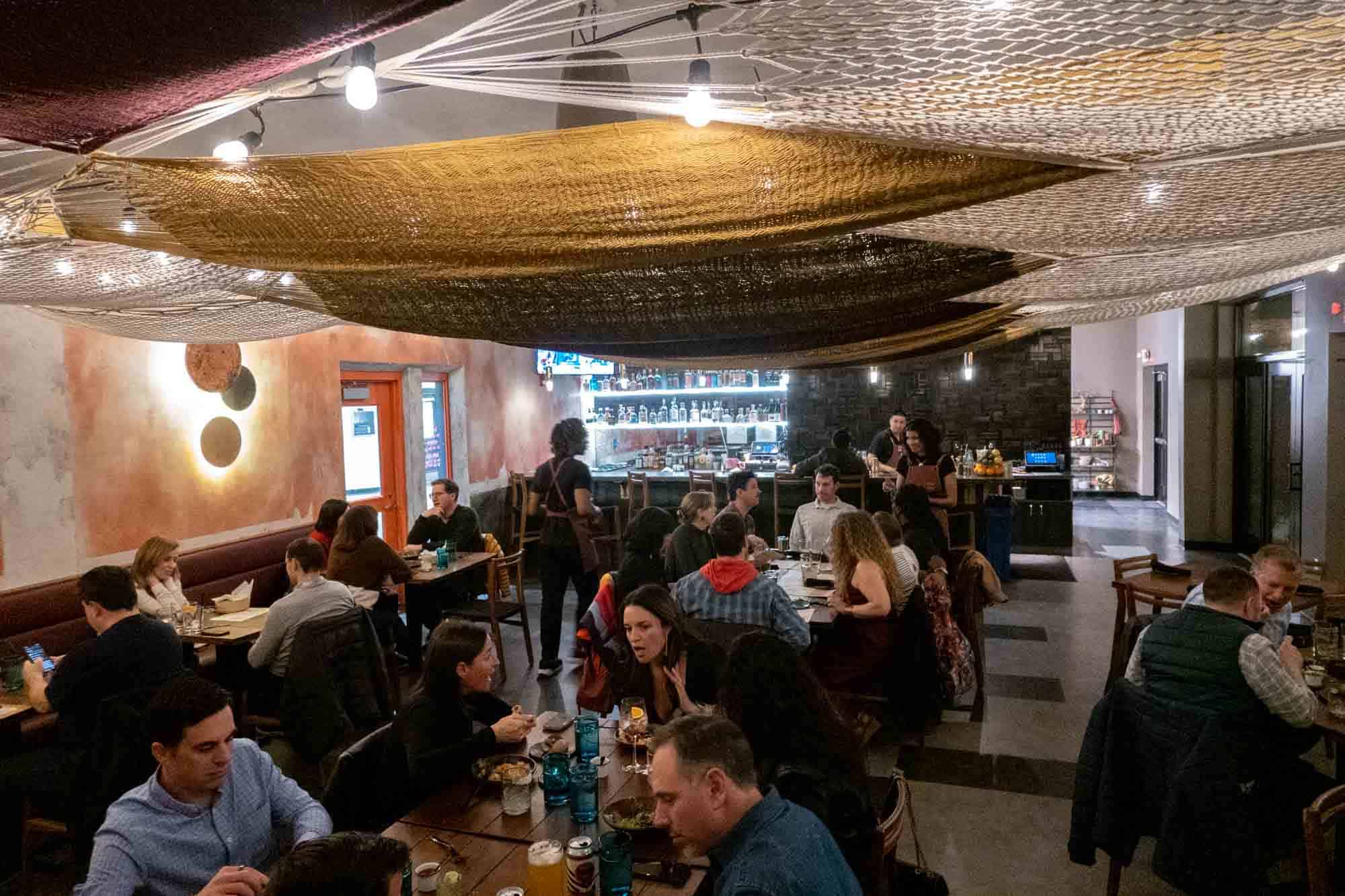 And yet, here it is. And Sor Ynez is a great restaurant. Inside, rustic wooden tables are lined up in neat rows under hammocks hanging from the ceiling. There is a lively energy without being deafening. Service is fast and efficient, without feeling rushed.
Price Range
Appetizers and small plates range from $10-18. Entrees range from $22-27, plus a couple of signature dishes that are $35.
There is a full bar at Sor Ynez and they have a large selection of tequilas available, so there is a range of price points available. Find your favorite and have them make a margarita.
Reservations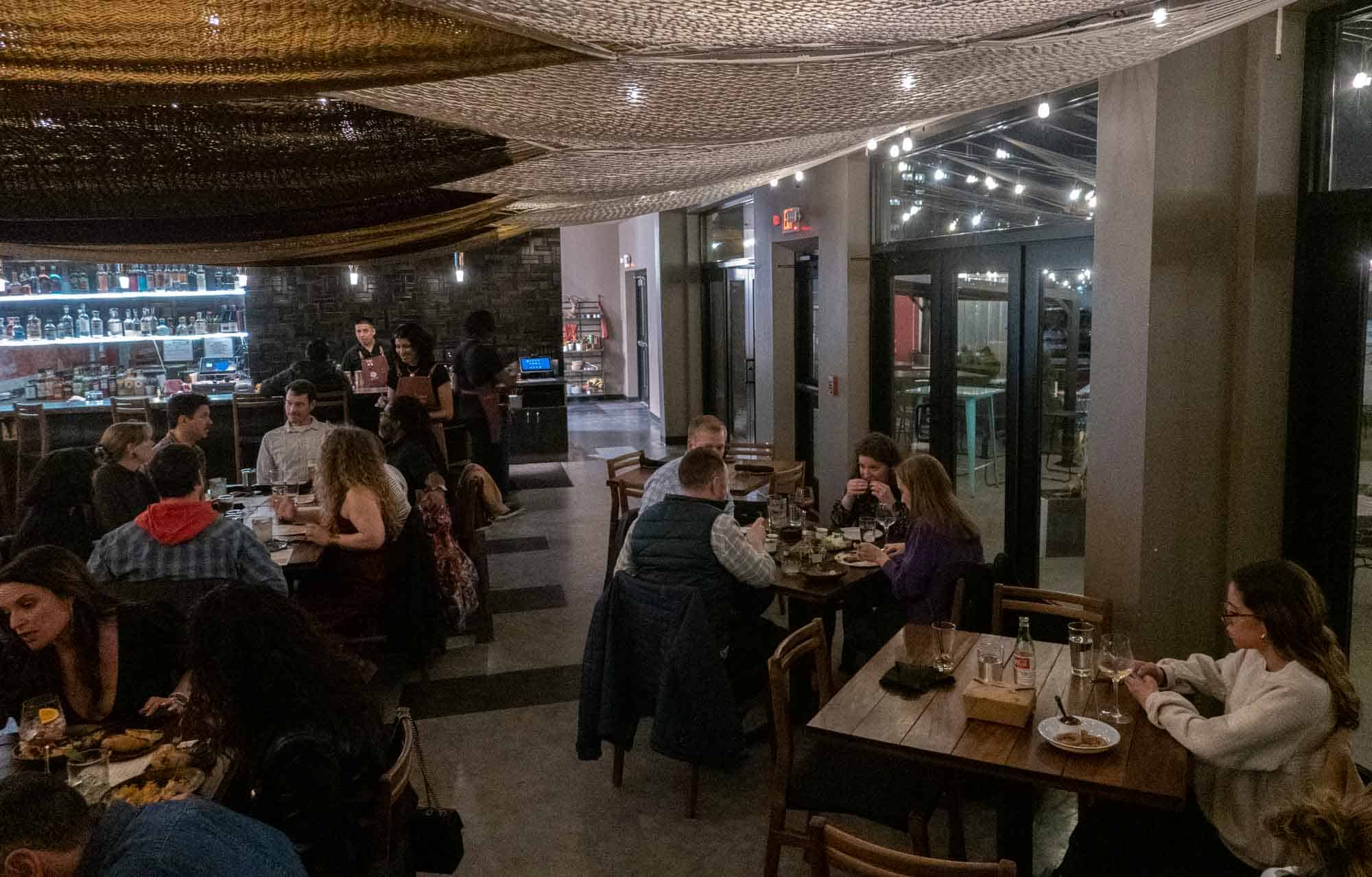 It is smart to have a reservation, particularly for weekends, although not strictly necessary. We found a mostly empty restaurant at 7:15pm on a Saturday night, although it was completely full later in the evening. If you plan on eating early, you can probably get away without a reservation.
Location
The Sor Ynez Mexican restaurant is located at 1800 N American Street. This is one of the best restaurants in the Kensington section of the city. The restaurant is on the eastern/parking lot side of a large industrial building that also once housed the wonderful (although now permanently closed) Neon Museum.
There are ample parking spots in the giant parking lot. The restaurant is served by bus #57 and the stop is N American & Berks. The Berks Station on the Market-Frankford Line is about 7 blocks away.
Visit the Sor Ynez website for more information.