Some posts on this site contain affiliate links, meaning if you book or buy something through one of these links, we may earn a small commission (at no extra cost to you).
For over seven decades, Romano's Pizzeria and Italian Restaurant has stood as an enduring presence in Essington, the waterfront community just south of the airport. This corner pizza shop is on the map for the another reason: it is the birthplace of the stromboli sandwich. And everyone needs to try a Romano's stromboli at least once.
The history of Romano's is a classic immigration story that makes this city so great. Nazzereno Romano, an Italian immigrant, stone mason and fascist fighter came to the U.S. After helping construct some buildings at Villanova University, he decided to turn his ingenious mind to food.
He started peddling Tomato Pies (another iconic Philadelphia food) from a wagon during the 1940s, before landing a restaurant in Essington. In the winter of 1949, Nat Romano embarked on a culinary experiment, crafting a novel sandwich by encasing his secret recipe dough with an assortment of Italian meats, bell peppers, and cheeses, which he then rolled into a log and baked to perfection. The as-yet-unnamed sandwiches began to be produced and sold in the early months of 1950.
But the sandwich lacked a name. During this time, regular customer and local resident, William Schoefield, quizzed Nat about the unnamed menu item. During a session of friendly banter (that likely involved a serious amount of alcohol), Nat challenged Schoefield to come up with a suitable moniker.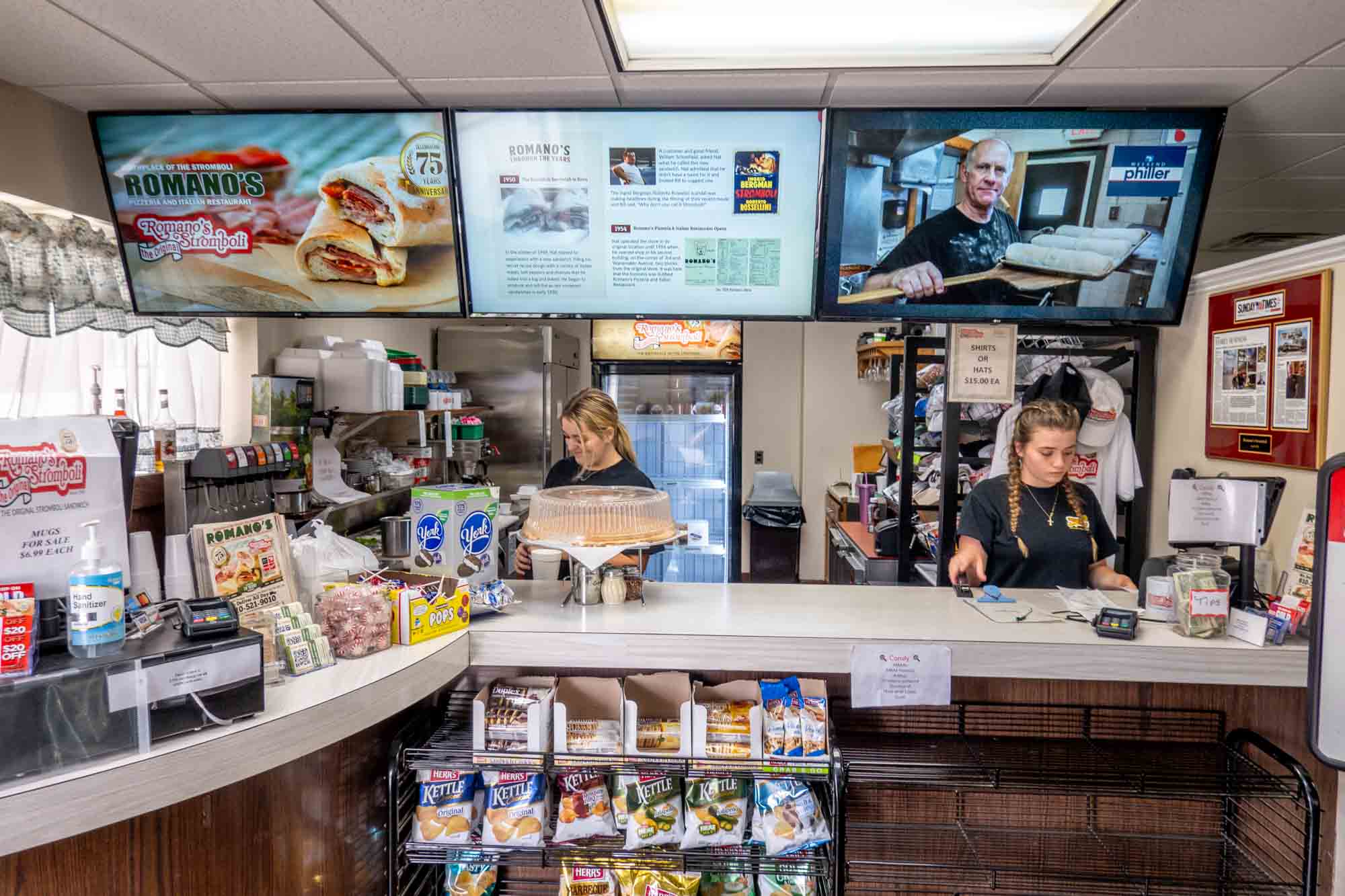 The year was 1950, and the press was ablaze with the scandal involving Ingrid Bergman and Roberto Rosselini, who kindled a romantic liaison during the filming of the movie "Stromboli." This affair triggered widespread moral indignation as Bergman left her spouse and daughter for Rosselini, giving birth to an illegitimate child. Drawing inspiration from this global scandal and its media buzz, Mr. Schoefield suggested why not call it Stromboli? And so the name was embraced. (Not to mention the free marketing coming along with the scandal.)
Nat continued to manage the original establishment until 1954 when he moved to a new venue on the corner of 3rd and Wanamaker Avenue, just two blocks away from the initial location. During this period, the Romano's pizzeria and its famous sandwich got some free advertising when cartoonist Carl Grubert included the stromboli in his comic strips.
Nat Romano held an unwavering affection for the restaurant and his now famous creation. He stepped away the business in the 1960s and his son Peter Romano took the helm. Nazzereno Romano passed away in 1964, but his legacy continues to this day.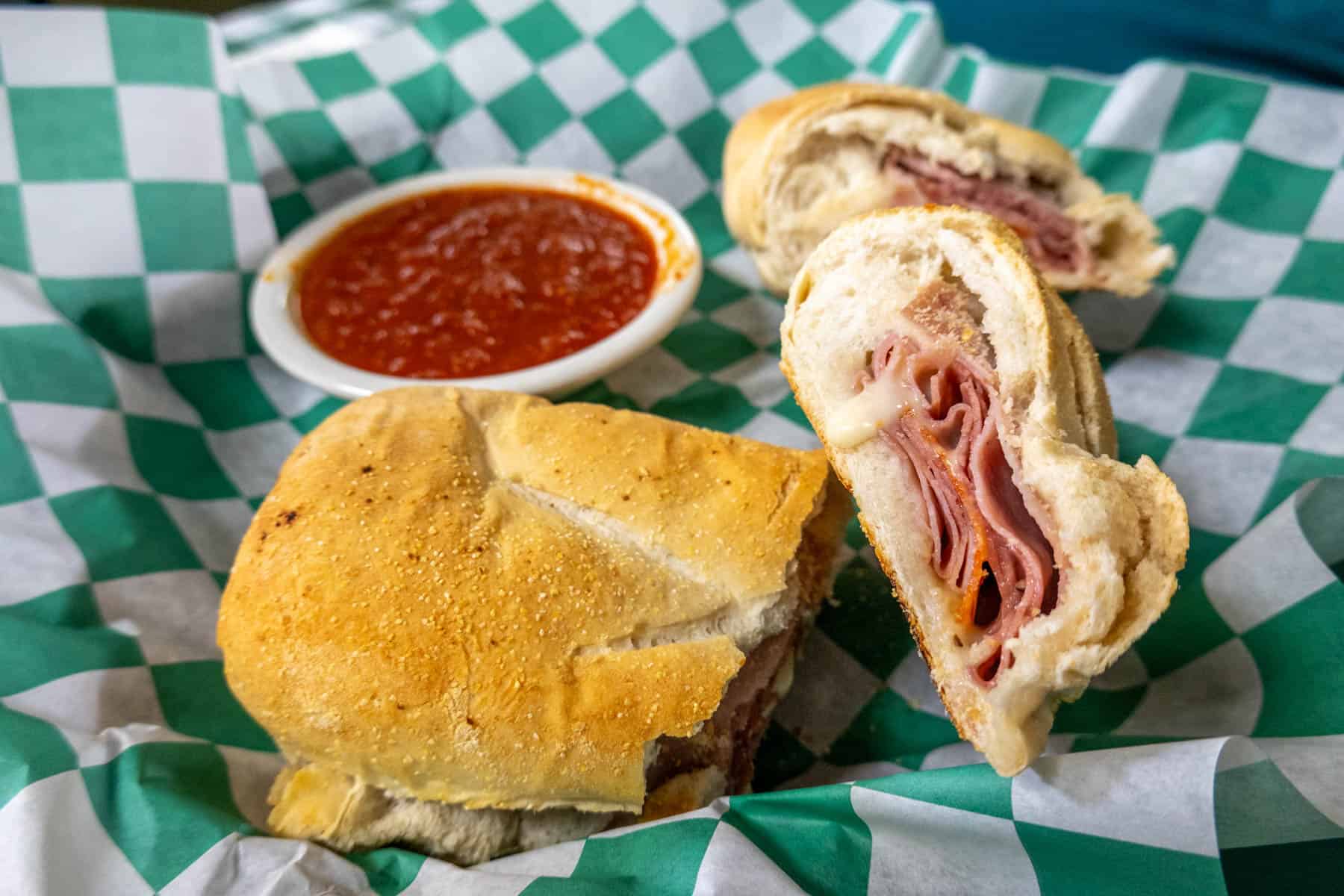 Like most people, we first encountered the stromboli in our school lunch rooms. The stromboli is one of the top 25 school lunch meals in the country (although is sometimes called a "pizza pocket" in other parts of the country). It's easy for schools to make in volume, it is relatively healthy, and unlike most school lunches, it actually tastes good! When Nazzereno Romano invented the stromboli, he could never have predicted all of the lives he would eventually impact. And in the process, make the stromboli one of the things Philadelphia is known for.
Of course, you can visit Romano's and try his stromboli for yourself (perhaps reliving a bit of your childhood in the process). And visit we did. We found a humble Italian restaurant in a working-class neighborhood with classic green-and-white checkered tablecloths. The food is cooked to order, so allow some time for baking.
You'll want to try one of the original strombolis – still made with Nat Romano's recipe. It's delicious and comes with a bowl of red marinara dipping sauce. It's a massive amount of food. We each ordered one and we could have easily split one. As you are eating one, take a moment to reflect on this immigrant success story.
Details
Romano's Pizzeria & Italian Restaurant is located at 246 Wanamaker Avenue in Essington, PA. Parking is available along the streets in the neighborhood. Romano's location makes it a good bet before or after a flight at Philadelphia's airport. Visit the Romano's website for more information.