Some posts on this site contain affiliate links, meaning if you book or buy something through one of these links, we may earn a small commission (at no extra cost to you).
From delicious noodles to savory bites, the Mawn Noodle House in Philadelphia delivers incredible, approachable Cambodian cuisine. Chef Phila Lorn takes guests on a culinary tour of southeast Asia and delivers an instant hit with his noodle shop in the Italian Market.
Overview
In many ways, Mawn is a love story. The love of a husband-and-wife team who own the place, and their shared love of food. And guests feel that love in every delicious bite at this Philadelphia noodle shop.
After toiling for years in other kitchens (CoZara in University City, Barbuzzo, Stock in Fishtown, and even Terrain in Glen Mills), Chef Phila Lorn and his wife Rachel decided to open their own place, what they envisioned as a "no rules" noodle house specializing in Cambodian cuisine. They named the place Mawn, which means "chicken" in the Khmer language (spoken in Cambodia). And while Mawn certainly isn't the first Cambodian restaurant in Philadelphia, it's definitely the one we're all talking about right now.
In case you missed it, the chefs name is Phila (pronounced Pee-La), but spelled like shorthand for the city of Philadelphia. Like tens of thousands of others, the Lorn family came to Philadelphia as refugees and were welcomed by the city. It's one of the reasons why Philly has one of the best Vietnamese restaurant scenes in America. By the time the civil war (and the horrific genocide of the Killing Fields) ravaged neighboring Cambodia, the city was still welcoming families, and the Lorns came. And shortly after arriving, young Phila became the first in his family to be born here and his parents named him with love for the city.
Mid-way through the skewers and salads, we knew this place was special. After the noodles, we were convinced. It is the kind of place we will come back to over and over again. Mawn Philly is the place you want on your regular rotation of culinary delights.
The Menu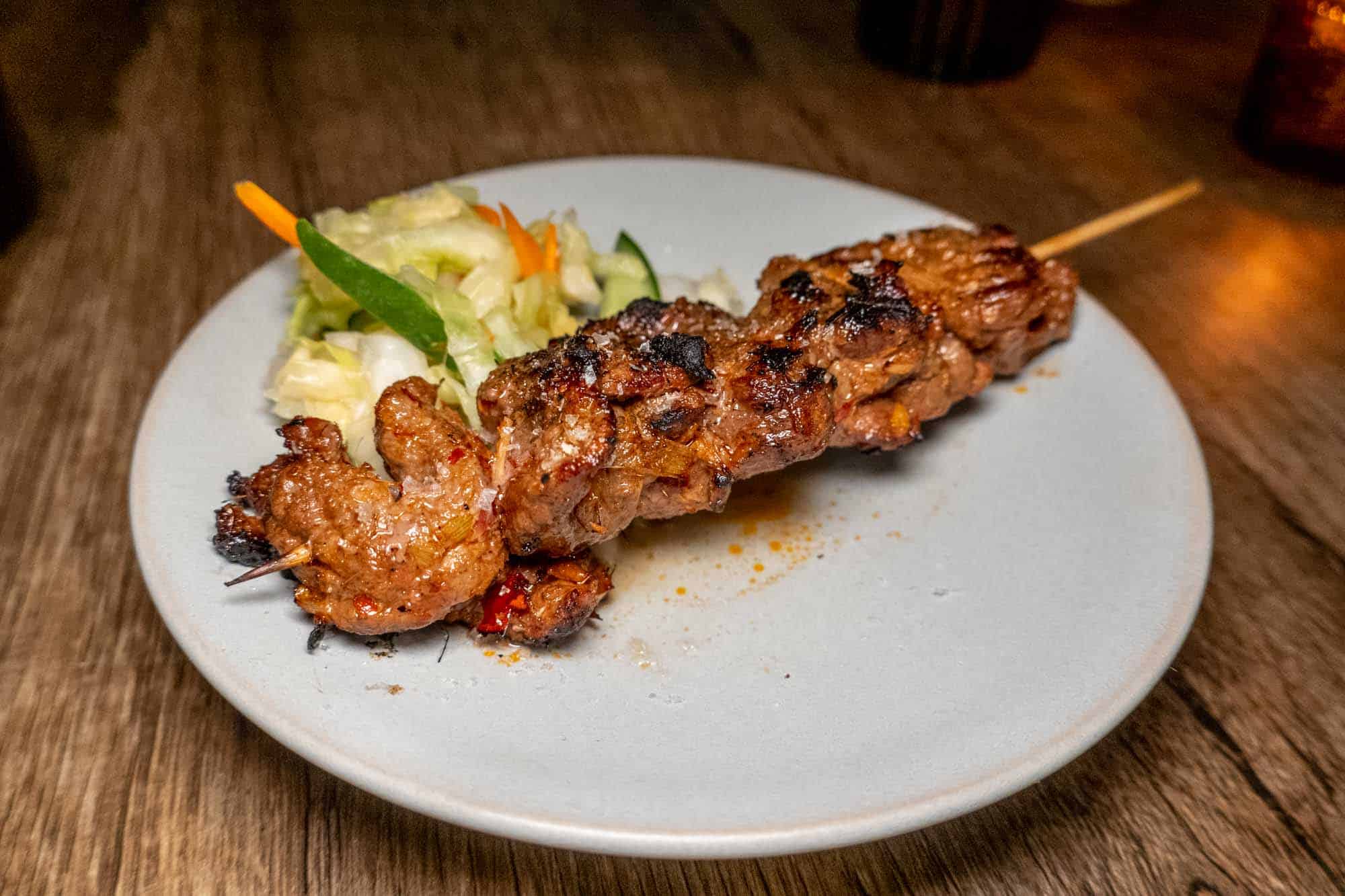 The primary focus of the menu is Cambodian cuisine, but there are also dishes from across southeast Asia on the menu. And while Mawn bills it itself as a "noodle house," there's a lot more to the menu than just noodles.
Menu highlights include the banh chow salad, a scallion crepe with sauteed ground chicken, shrimp and lots of herbs. It's hard to say that a salad is inspiring, but this one is. We talked about how delicious it was every day for a week after eating there.
If there's a classic Cambodian dish, it's probably the saht koh – large pieces of beef ribeye that have been marinated in ginger and lemongrass and then grilled. They meat literally melts in your mouth it is so tender.
The khao soi noodles kick up the spice level a few notches (although aren't overly hot). The ramen noodles are topped with a Thai curry sauce, chili jam, and braised chicken. Mix it all up and you've got a real treat.
The only dish that didn't blow us away was the steak & prohok entrée. Don't get us wrong, it's good and there's a ton of steak, but on a menu of remarkable dishes this was merely solid. When we return (and we will), we'd look to other noodle dishes or a different entrée.
All the menu items (except the soups) are designed to be shared. So bring a few friends with you and order everything.
The Vibe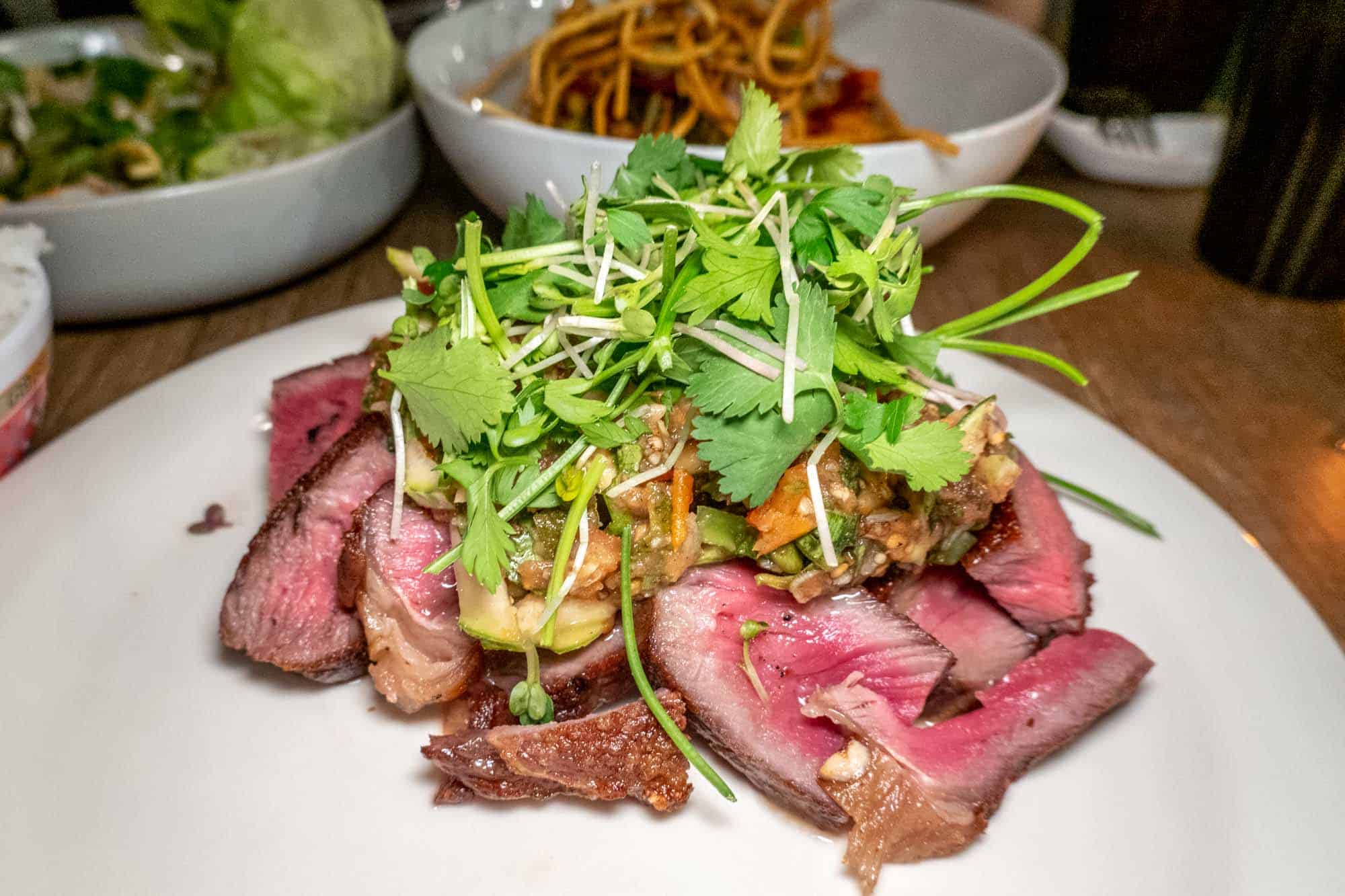 Mawn Philly has a fun, lively atmosphere. There a dozen tables, a mix of 2-tops and 4-tops. The salad workstation sits out in the open where guests can peek in and see what's happening.
We visited on a Thursday night in March just a few weeks after Mawn opened. The atmosphere is lively and exciting. The noise was significant making the conversation challenging at times.
Price Range
Small plates and appetizers range from $7-21, with a large variety of items available. Salads are $15-18 and entrees range from $26-49. The signature Khmer noodle dishes are $18-20. There are a couple of non-alcoholic beverages available for those who forgot to bring a bottle (yes, Mawn is BYOB).
Reservations
While the restaurant is still new and there are only a handful of tables, reservations are critical. During our visit, we saw numerous patrons being turned away without a reservation.
Location
The Mawn Cambodian Noodle Shop is located at 746 S. 9th Street in the Bella Vista section of the city, specifically the Italian Market. Mawn Philadelphia occupies the space that was the original Kalaya restaurant.
Being South Philly, the street parking is limited-to-non-existent. There's a tiny parking lot located at 723 Christian Street and another slightly larger lot at 1012 E. Passyunk Ave.
The restaurant is located on the Bus #47M route.
Visit the Mawn Noodle House website for more information.