Some posts on this site contain affiliate links, meaning if you book or buy something through one of these links, we may earn a small commission (at no extra cost to you).
Laurel has been a stand-out restaurant in the city for over a decade. The restaurant begins its next 10 years with a new enthusiasm. And it is not to be missed!
Overview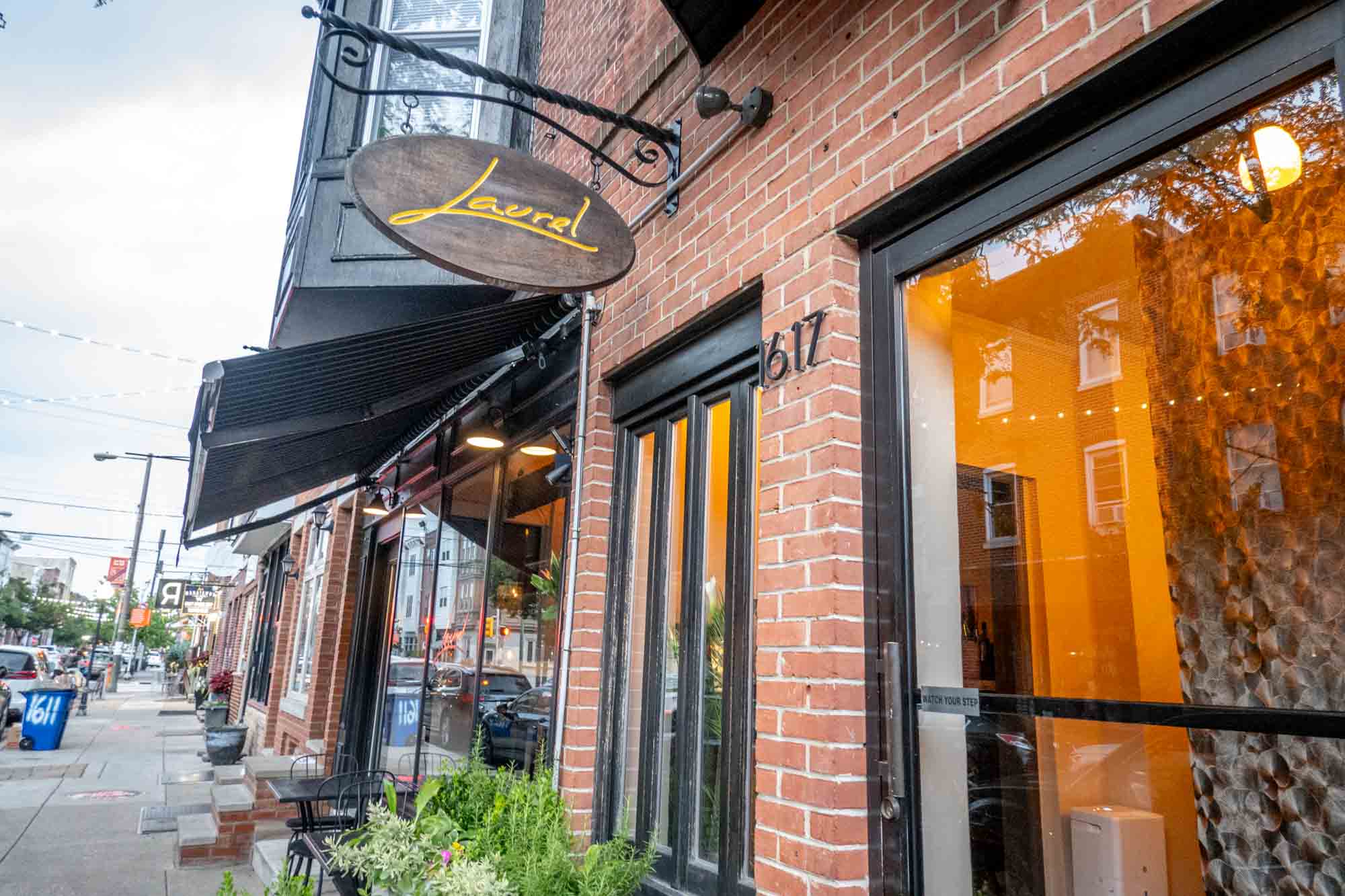 Some restaurants are static and seemingly locked in time. That's not Philadelphia's Laurel restaurant. After spending a decade with an elaborate tasting menu, Laurel now has an a la carte menu infused with the same passion and creativity that guests have long expected from Chef Nicholas Elmi.
Nick Elmi needs no introduction to patrons in Philly. He helmed the city's flagship Le Bec-Fin for years and was a veteran of New York's Daniel. When he opened Laurel in 2013, it was immediately nominated for a James Beard Best New Restaurant in America. He won Top Chef Season 11. All of that is to say, there is a pedigree here steeped in French-inspired cuisine.
The recently renovated Laurel now occupies two addresses along the Passyunk Ave strip of restaurants. The original space has been renovated with a sleek, modern design of white brick, polished steel and a focus on the food. Next door, the space formerly known as IVT (In The Valley) serves as the restaurant's bar and a more casual dining space.
And while Chef Elmi has been focusing on additional projects the last few years (including the opening of the exceptional Lark at The Landing in Bala Cynwyd), he has shown that his Laurel Philadelphia hasn't been forgotten.
The Menu
The Laurel menu is French-ish. It draws heavily on past successes at the restaurant, as well as IVT next door. But the menu isn't constrained by the formula of the tasting menu.
There are about fifteen menu items arranged progressively in size from small to large on the menu. There two lite-bite snacks – a bread plate and a by-the-piece oyster topped with pickled serrano and Thai chili. I could have made a meal of the oysters alone.
Laurel offers nine small-plate items, perfect for sharing. The fluke crudo in yuzu kosho and lime juice is a delicate option packed with the flavors of Asia. The celery salad almost defies description. The thinly sliced celery is accompanied by hazelnuts and dates, and then topped with shaved ricotta. It literally melts in your mouth.
Everyone must try the Parisian gnocchi. More pasta based than an Italian gnocchi, in chicken jus and topped with pecorino, this dish is transcendental and one of the best pastas in the city.
Laurel offers four entrée sized portions: two fish, a poultry and a Wagyu beef. Currently on offer, the scallops with leeks and cream is a robust dish with a delicate protein. It is the perfect "surf" to accompany the Wagyu steak with apricots and Wood Ears in a maple sauce – a dish that channels all of the emotions of wintery comfort food, but using seasonal fruit and foraged mushrooms.
There are also two sweet desserts and a savory cheese selection to end the meal. Naturally, all sharable.
The Vibe
Laurel is refined, without being stuffy or pretentious. It's the perfect spot for a refined night out or a classy date night, without breaking the bank.
One of the things we appreciated the most on our visit was the ability to have an actual conversation. In recent years, some restaurants in the city have used loud music and noise as a strategy for increasing table turnover. If it is too loud, the guests will leave. Not so at Laurel. We could have an elaborate, lengthy conversation without the shouting that has become the default at many lesser restaurants.
Which is to say, Laurel might be the absolute perfect date-night restaurant in the city. From the shareable food, the welcoming service and the quality ambiance, it sets a friendly mood. And as I looked around the restaurant on a Tuesday night, that's exactly what I saw – 10 sets of couples all having a wonderful night out.
Laurel is the kind of restaurant that I can't wait to get back to.
Price Range
Laurel offers a broad price range to appeal to a range of guests. Oysters are $4/each and the bread plate is $5.
The small plates range from $15 (boquerones) to the signature Parisian gnocchi ($20). Entrée-sized portions range from $33 (scallops with leeks) to $40 (Wagyu beef coulotte).
For us, seven dishes, a dessert and three drinks came out to $230 – about what a tasting menu might have run. But we had the fun of picking our favorite items.
Reservations
While Laurel still maintains its quaint, neighborhood charm, reservations are always smart. Some walk-ins can be accommodated, particularly in the bar (the former IVT – In the Valley space), but if you are here to dine, you want to be in the main dining room.
Location
The Laurel restaurant is located at 1617 E Passyunk Ave. It is one of the main anchors in the popular East Passyunk Avenue neighborhood, which has been called one of the "Best Food Streets" in America by Food & Wine magazine.
Street parking in this area can be a real challenge. There's a single parking lot at 1628 E Passyunk Ave, but spots are usually hard to come by. The restaurant is served by bus #29 (either east-bound along Morris or west-bound along Tasker) and bus #45 along S. 12th Street. The nearest SEPTA stop is Tasker-Morris on the Broad Street Line, about 7 blocks away.
Visit the Laurel website for more information.