Some posts on this site contain affiliate links, meaning if you book or buy something through one of these links, we may earn a small commission (at no extra cost to you).
Laser Wolf offers charcoal grill perfection and the best salatim in America. Dive in to see why it has been named one of the best new restaurants in America.
Overview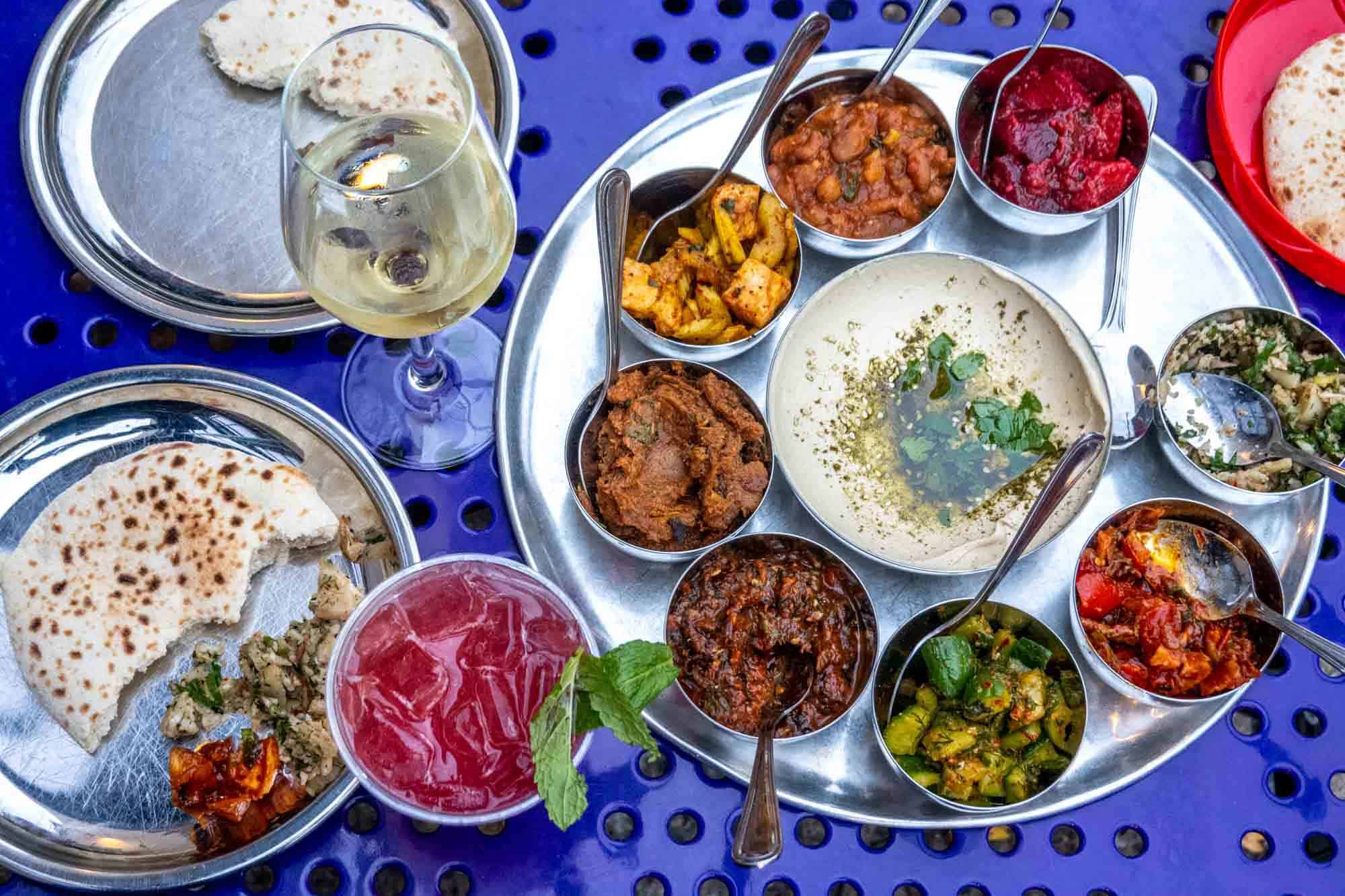 Laser Wolf is best described as an Israeli grill house – a kind of skewer house (shipudiya in Hebrew). It is brilliant in its simplicity and flawless in its execution. This cousin-of-Zahav is like a chill, laid back, beach bar serving delicious foods and wonderful drinks. And yet that overt simplicity masks a beautiful complexity beneath the surface.
That Laser Wolf is compared to the acclaimed Zahav is natural. Both have the same ownership group, both have their genesis in the genius that is Michael Solomonov and his business partner Steve Cook. And yes, they both serve food that is vaguely described as Israeli/Middle Eastern or…over there. But the comparison isn't a good one. Laser Wolf really is its own concept and deserves to be judged on its merits, not by comparison.
Named after the butcher in the Fiddler on the Roof, Laser Wolf is helmed by executive chef Andrew Henshaw, a long-time Zahav veteran. Under Henshaw's lead, Laser Wolf Philly is turning out stunning dishes that rival anything you'll find in Old City.
The Menu
The menu is totally simple in its concept. Pick your grill option, whether meat, fish or vegetables. All of the salatim appetizers and dessert are included. That's it. Done and done.
Only, that isn't quite it.
The specialty, kebabs, are exceptional, whether you get lamb kofte or chicken shishlik. While the inclination is to have meat, the fish is excellent. Only the Flanken-style short rib didn't blow our minds.
For the light eaters, you can do the express plan of salatim, hummus, pita, and dessert for just $18. Although, you'll be missing the best of the menu.
The Vibe
The vibe at the restaurant is Hawaii-Five-0 meets the Middle East. Bright colorful tables and decorations offer a playful welcome, and it obscures the culinary perfection about to unfold before your eyes.
For those who been to Zahav (yes, another Zahav comparison), imagine the opposite. Relaxed, fun and very, very casual. This is the kind of place where you want to come with friends and linger for hours.
Price Range
Dinner will run between $65-85 for most guests. Grill options are: meat ($38-40), fish ($42-22) or vegetables ($36). Salatim and dessert are included.
Reservations
Reservations are required. And since being named one of the best new restaurants in America by Conde Nast Traveler, Laser Wolf reservations are pretty hard to come by.
Location
Laser Wolf Philadelphia is located at 1301 N. Howard Street in the Olde Kensington neighborhood (adjacent to Fishtown). There is ample on-street parking in the surrounding neighborhood. Visit the Laser Wolf website for more information.