Some posts on this site contain affiliate links, meaning if you book or buy something through one of these links, we may earn a small commission (at no extra cost to you).
Christmas in Cape May is a festive season filled with lights, decorations, shopping, and Santa. Local homes and businesses pull out all the stops with remarkable holiday displays, and shops stay open late for bargain shoppers. There are lots of special events bringing live music, performances, and seasonal treats. All around town, there are trolleys and carriage rides showing visitors the joyful sights of Christmas.
There are so many things to do in the charming seaside town during the holidays. Here's a look at some of our favorites.
See the Victorians
The town's Grand Victorian homes are painted in all the colors of the rainbow. A stroll around the Cape May Historic District is beautiful in any season but takes on a special feeling during the winter. In December, the houses are often decked out with lights, garlands, and other gleaming decorations that make them a pleasure to see at night.
Decorations vary yearly, but walking or driving along Columbia Avenue, Jackson Street, Decatur Street, or Ocean Street is usually a good bet to see gorgeous homes.
Catch a holiday performance
The holidays are the perfect time to catch a theater performance, and the shows at the local venues never disappoint.
This year, Cape May Stage showcases One Christmas Carol, a one-man show performance of the renowned Dickens work. It runs November 16 through December 30. At the East Lynne Theater Company, you'll find Christmas Presents From The Past in which performer Gayle Stahlhuth adapts American classic Christmas stories. The show is on November 25 and 26 and December 4, 8, 9 and 10.
Visit the Old-Fashioned Christmas exhibit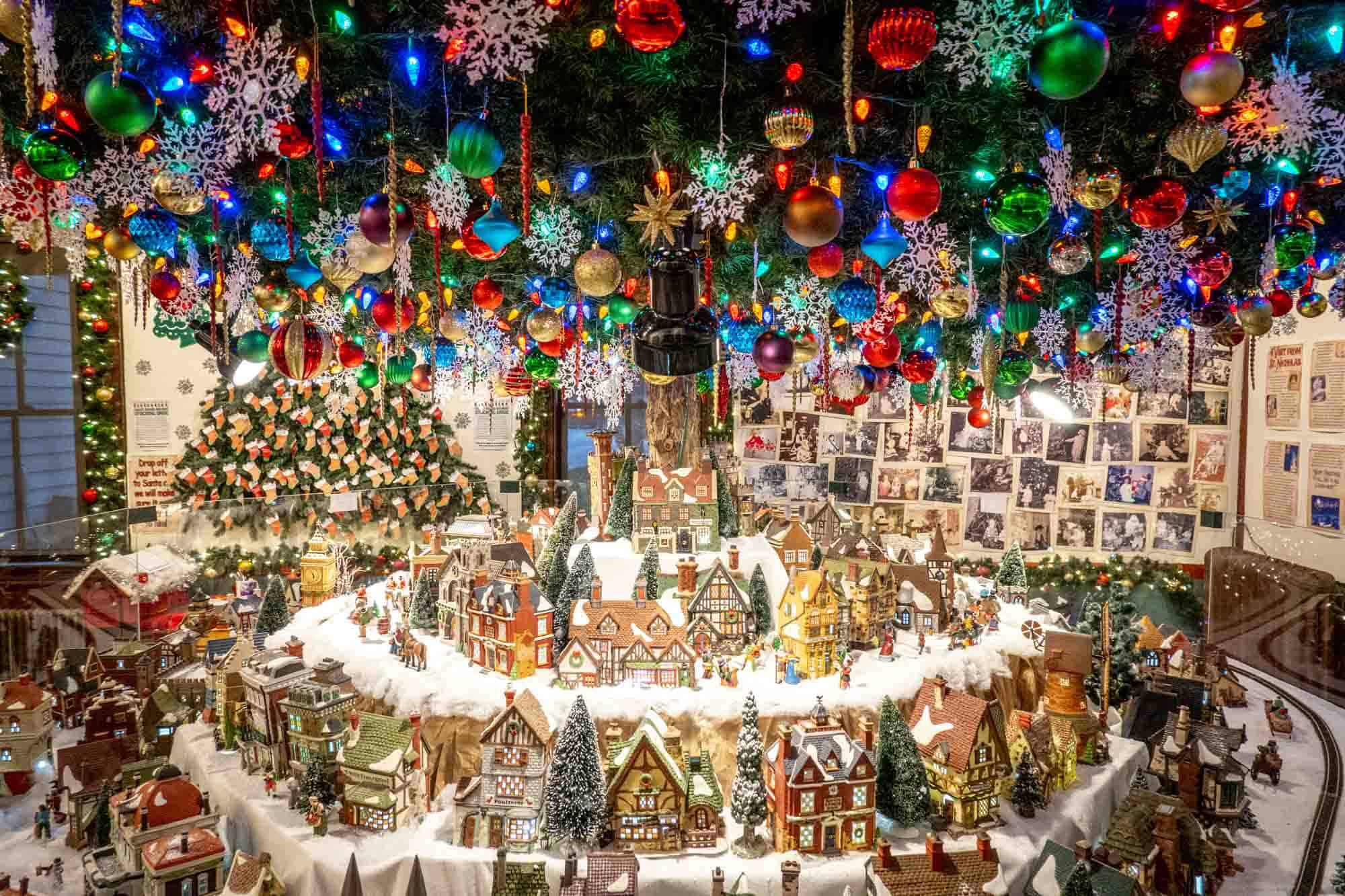 Every year, the Carroll Gallery features "An Old-Fashioned Christmas" exhibit. The free display is packed with ornaments, and a model train winds its way through a miniature Dickens Village. On the walls, there are quotes from A Christmas Carol and classic Christmas scenes and photos.
Take a candlelight house tour
There are lots of unique tours to take during the Christmas season. One of the most popular is the Candlelight House Tour which has delighted visitors for 50 years. The self-guided walking tour includes visits to more than 10 decorated homes and inns, caroling, music, and seasonal treats. Walking is encouraged, but trolleys make designated stops.
The candlelight tour is one of the highlights of the season and is always in demand, so book tickets early if you want to attend.
Visit Winter Wonderland at Congress Hall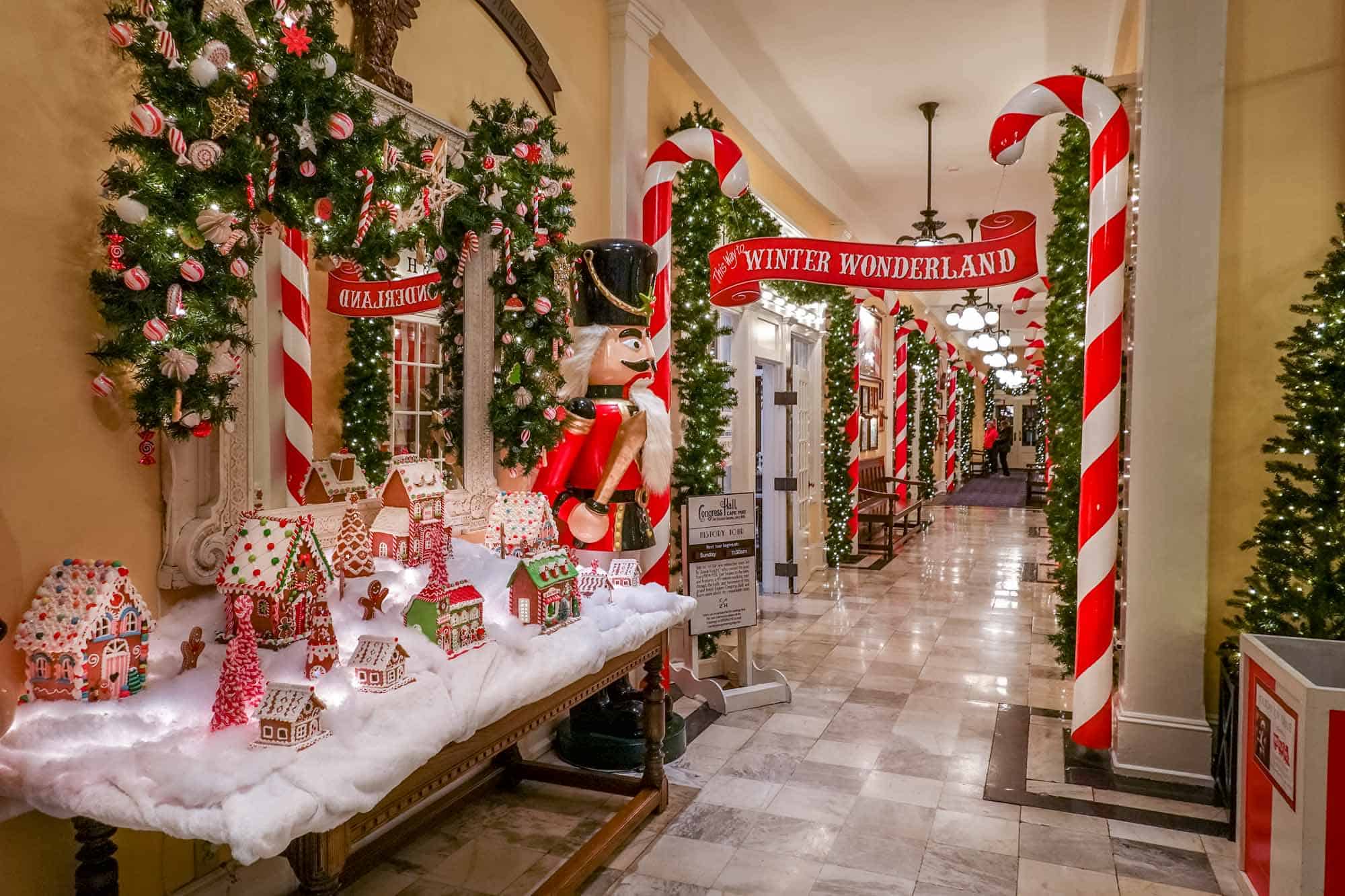 Congress Hall is one of the most popular places to go in Cape May at Christmas. The historic hotel is full of Christmas cheer for adults and children.
Inside, the public spaces of the hotel are fully decked out in ornaments, life-sized Nutcrackers, and garlands sparkling with lights. Outside, the annual Winter Wonderland has food vendors reminiscent of European Christmas markets and artisans selling specialty items. There are lots of seasonal cocktails to savor around the fire pits.
Kids can enjoy the carousel that takes center stage on the lawn of the hotel as well as the Congress Hall Express—a mini-train that makes its way around the grounds.
Watch the Christmas parade
The West Cape May Community Christmas Parade always kicks off the holiday season in the area. Each year on the first Saturday in December, members of the WCM Volunteer Firehouse and other civic and commercial groups make their way to Ocean Street. There is dancing, music, decorations, and costumes. The event has been a Christmas tradition for nearly 60 years.
See the best lights in town
Much of the town lights up for Christmas, so it's easy to find charming displays as you drive around. But where do you find the best ones if you don't have all season to explore?
When we're looking for the best Christmas lights in Cape May, we start with the winners of the Light Up Cape May awards. They include residences, B&Bs, and other businesses that have made their windows or buildings particularly festive. If the winners haven't been named for the current year, the list of last year's winners is a great place to start.
Visit with Santa
Seeing Santa is always one of the most fun parts of the Christmas season for kids and plenty of adults, too. Beginning just after Thanksgiving and throughout December, there are lots of opportunities to see Saint Nick at holiday events.
Places where you might spot Mr. and Mrs. Claus include the tree lighting at La Mer resort, the West Cape May Christmas Parade, and the Winter Warmup Weekend at Ferry Park. For a more formal opportunity, check out one of the many breakfasts with Santa nearby, including at Congress Hall, The Inn of Cape May, The Pier House, and Hemingway's Restaurant. It's a good idea to make reservations well in advance.
Take a holiday tour at the Emlen Estate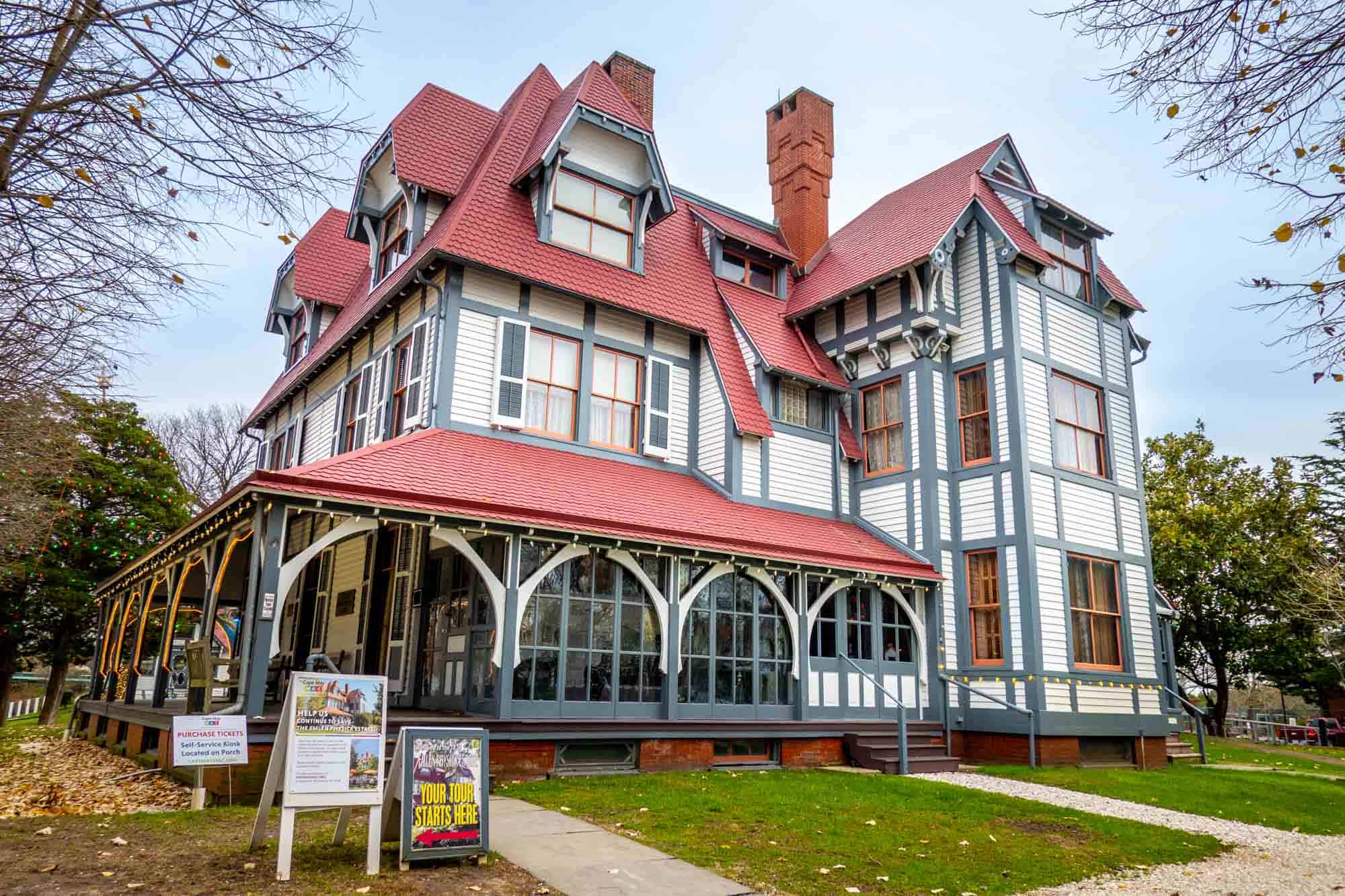 Visiting the Emlen Physick Estate is one of the most popular things to do in Cape May any time of the year. The outstanding Victorian house museum was built in 1879 and is an architectural wonder.
During the holiday season, the mansion is decorated for Christmas, and the tour highlights not only its Victorian-era architecture but how Victorian residents celebrated Christmas 140 years ago. After a guided house tour, don't miss the Winter Wonderwalk, a route that will take you across the estate to see different winter displays.
Go to a tree lighting ceremony
Each year, several tree lighting ceremonies take place in late November and early December. There is often live music and caroling, and you may even find fire pits and seasonal treats, depending on the location.
Local tree lightings include Emlen Physick House, Congress Hall, and La Mer beachfront resort. The official City of Cape May tree lighting is at Rotary Park just one block from Washington Street Mall.
Shop on the Washington Street Mall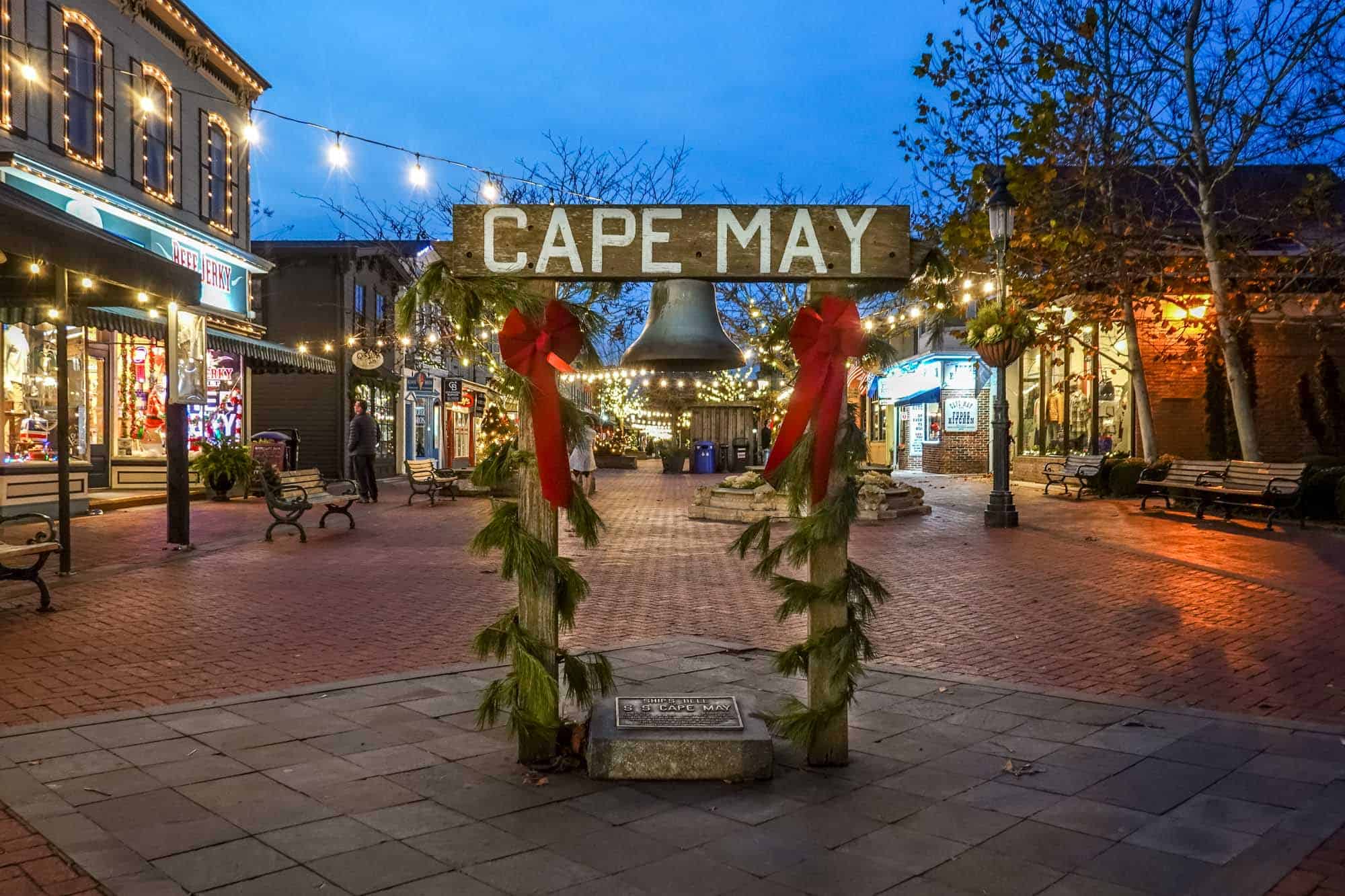 Washington Street Mall is a prime place for shopping year-round, but it's especially lovely to visit at Christmas when it's decorated for the season and stores have special lights and window displays.
Certain designated nights throughout the holiday period are Hospitality Nights—stores offer unique discounts and specials for those in search of a perfect gift. Among the merchants here, you'll find souvenirs, designer outfits, and specialty shops, including artisan chocolates, salt water taffy, and a cheese shop that makes cheese and charcuterie boards with locally sourced ingredients. Don't miss Winterwood Gift & Christmas Shoppe if you're in the market for decorations and ornaments both traditional and unexpected.