Some posts on this site contain affiliate links, meaning if you book or buy something through one of these links, we may earn a small commission (at no extra cost to you).
Margate City, New Jersey has a long and rich history of providing the best of everything the Jersey Shore has to offer. These are the best things to do in Margate NJ in the summer.
Located near the southern end of Absecon Island, this beach town is a popular summer destination. This is one of the best beaches at the Shore. Margate beach is a waterfront community that is known for their small size and approachable feel. During the summer days you can find yourself embracing the small-town beach life style. The narrow beaches are excellent for surfing and sunbathing. On the bay, you can kayak and paddleboard across the channel to Pork Island or the Whirlpool Island Park.
During the night, you can embrace Margate's next-door neighbor's big city nightlife in Atlantic City. This beach town offers restaurants with stunning views of the bay, as well as bakeries, deli's, and ice cream shops. You can choose from a range of dining options, that will be sure to please every palate. Be sure to check our guide to restaurants in Margate.
Though Margate has no hotel lodging, they offer a considerable number of houses that are available to rent on a weekly, monthly, seasonal, or annual basis. Many of these houses are also used as second homes during the summer for those desiring to get away from the East Coast suburbs or big city bustle. Hurry up and reserve your stay, as this popular summer destination will fill up quick!
Margate Beach
Margate Beaches are located near the southern end of eight-mile long Absecon Island and neighbors Atlantic City. The beaches offer a family friendly experience with lifeguards protecting the beaches Memorial Day through Labor Day.
Their beach scene is known to be clean and consist of less people than other NJ popular beaches. This ultimately provides a relaxing and fun day. Be sure to purchase your beach badge to reserve your day at the shore!
Lucy the Elephant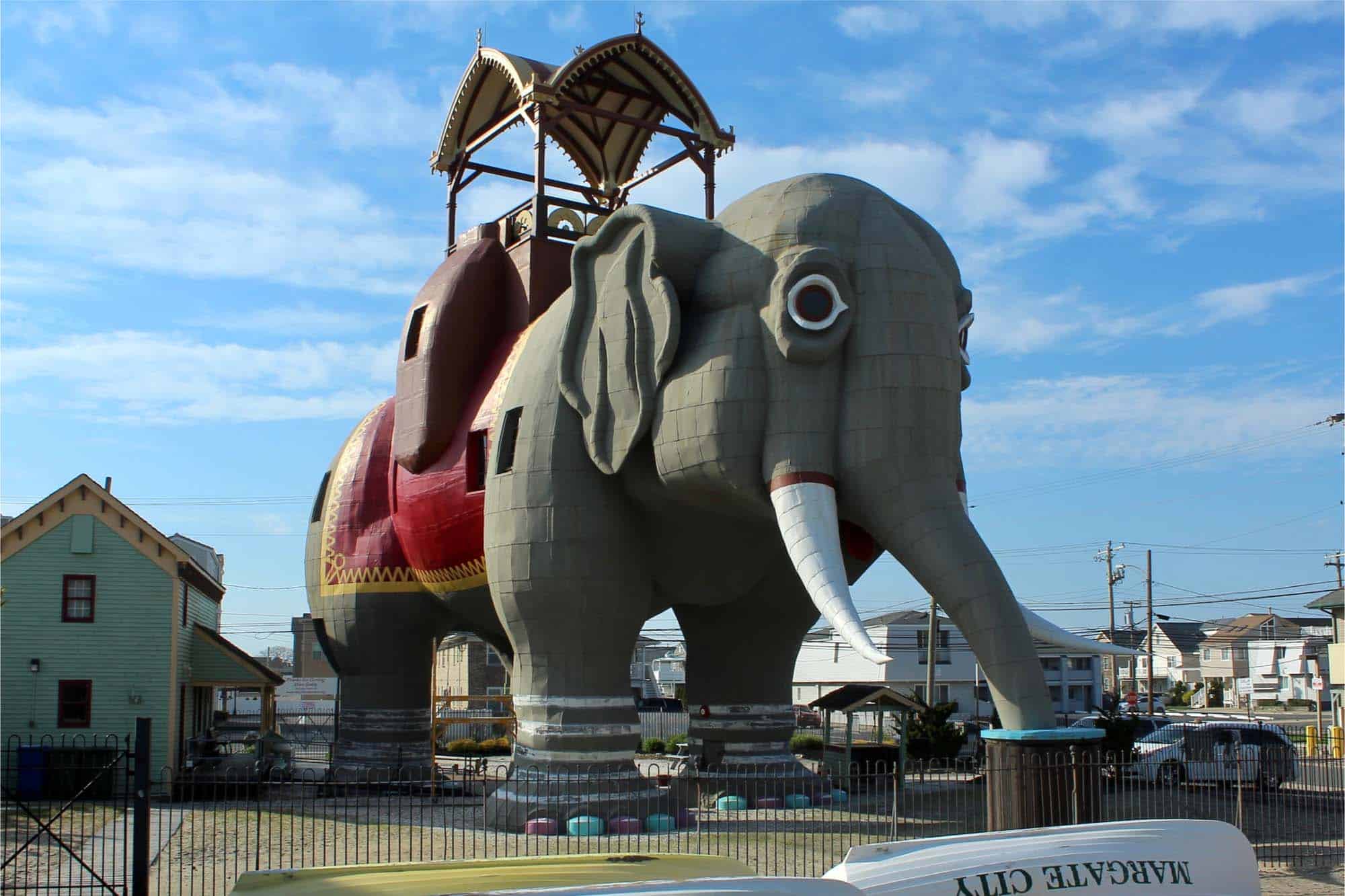 Take the time to visit the world's largest elephant, located just off Margate Beach. Lucy the Elephant is a National Historic Landmark that has been part of Margate since its earliest days and is considered the oldest surviving tourist attraction in the United States. It was built in 1881 to attract prospective real estate buyers to Margate.
You are able to experience the 65-foot high wooden elephant by booking a guided tour, browsing the gift shop, or visiting the grounds at which she stands. Take a photo or selfie in front of the popular landmark is a popular activity.
Other Attractions
When you're not relaxing on the beach or dining at Margate City's finest restaurants, take the time to visit these following attractions or participate in the activities they have to offer.
Congo Falls Adventure Miniature Golf: Enjoy family-fun entertainment through the 18-hole Jungle themed mini golf course.
Margate Historical Society Museum: Explore the rich history of Margate NJ through the museum filled with artifacts and documents.
Stacey's Surf and Paddle Camps: Learn exciting watersports and ride the waves with experienced instructors at this local surf shop.
The Zen Den Yoga and Pilates: Challenge and unify the body, mind, and spirit through a fun and creative vinyasa yoga class.
Ray Scott's Dock Fishing Charters, Boat Tours, and Boat Rentals: Enjoy a day on the water by taking a boat tour, participating in water sports, or renting a boat or kayak.