Some posts on this site contain affiliate links, meaning if you book or buy something through one of these links, we may earn a small commission (at no extra cost to you).
The summers in Philadelphia can be hot, humid and horrible. Sometimes you just want to dip into some nice, cool water. And these swimming lakes near Philadelphia offer just the ticket!
While there are plenty of beaches near Philly at the shores in New Jersey and Delaware, sometimes you would rather be in fresh, cool water, and these swimming holes are where you should look! Many of these lakes near Philly also offer fishing, boat rentals, picnic areas and even camping.
Here are the 11 best swimming lakes in Philadelphia and the region:
Bellmawr Lake, Bellmawr, NJ
Bellmawr is one of the best lakes near Philadelphia for a quick getaway, despite being in New Jersey. It is a short trip from Philly; about 15- to 20-minute drive from Center City, and it's open seven days a week. And it is perfect for a quick (or long) swim!
Whether you are going there alone, on a family trip or for friends' hangout, you will find lots of exciting activities. Bellmawr Lake features picnic areas, beach volleyball, mini-golf, water slide, horseshoes, and an on-site catering option.
No alcohol or pets are allowed here, but not to worry, the water has all you need for a fun time and a chance to cool off.
Blue Marsh Lake, Leeport, PA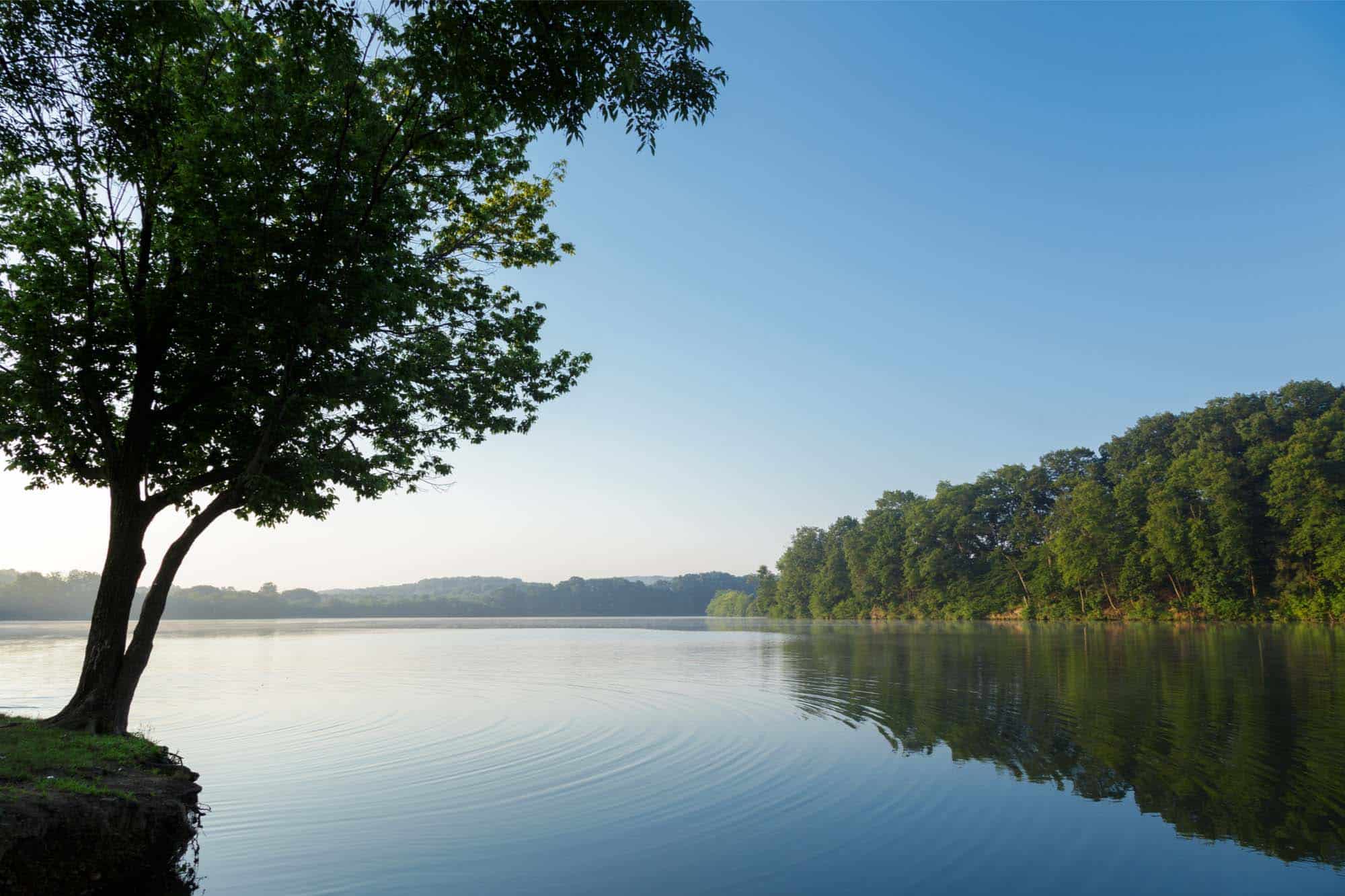 Blue Marsh Lake is one of the most well-known artificial lakes near Philadelphia. It was built and maintained by the Philadelphia District U.S. Army Corps of Engineers. It is massive and well maintained, making it a perfect paradise for recreational activities like swimming, picnicking, building sandcastles, boating, paddle boarding, hiking and fishing.
There is also ample space and multi-use trails for hiking, biking and horse riding. Blue Marsh Lakes also hosts some events where guests enjoy a tour of the dam and participate in ranger-led nature walks.
East Lake Park, Ridley Park, PA
East Lake often goes by the name 'The Lake' amongst the locals. While there are not any actual Philadelphia lakes, this one is the closest to the city. Nestled in Ridley Park, this is a site for discovery and fishing, but not for swimming. It is well-kept and has many features put in place to ensure everyone has a good time. There is a self-guided walking trails, a fountain and a traditional floating fishing dock.
East Lake has a collection of wildlife like foxes, ducks, geese, wild turkeys, bald eagles and even coyotes. It is a great place to go birding in Philadelphia and the rare Mandarin duck has been spotted here.
There is also an annual Victorian Fair spring festival that is very notable. And the park is very popular for fireworks during the Independence Day holiday.
Delaware Water Gap National Recreation Area, East Stroudsburg, PA
There are nearly 200 lakes in the Delaware Water Gap National Recreation Area. With so many lakes and ponds, there are lots of them to explore. And while some recreation areas are struggling to have one swimming area, Delaware Water Gap has three! The three swimming areas in this recreational area are Milford Beach, Smithfield Beach and Turtle Beach, and they are not lakes, they are in the Delaware River. Each swimming area has lifeguards from mid-June to August.
Delaware Water Gap stretches through Pennsylvania and New Jersey, and it is a nice place to go with friends or family. Visitors can bring in their own meals to take maximum advantage of the picnic areas.
There are many species of wildlife around the Delaware Water Gap National Recreation Area. After taking a dip in the water, you can take a walk on the trails to take in some wildlife viewing.
Atsion Recreation Area, Shamong, NJ
Atsion Recreation Area is a part of Wharton State Forest, and it's about 50 minutes from Center City. This recreation spot offers attractive amenities to ensure visitors have a fun and enjoyable stay. You can have fun at the beach, explore the trails, and take advantage of the picnic areas and barbecue grills. Swimming is possible when the lifeguards are on duty and they deem the weather in conducive.
If you are planning a trip to Atsion Recreation Area, it is best to go early especially during hot days and good weather. The 100-acre lake sees a lot of visitors and is closed once the capacity allotment is reached. You can camp at the park if you want a more rustic experience.
Locust Lake, Barnesville, PA
If you are looking for lakes in Philadelphia and are disappointed, head north and seek out Locust Lake. Nestled at the edge of Locust Mountain, Locust Lake is less than a two-hour drive from Philadelphia and has great camping options.
This spot is known chiefly as a camp area as it is located between two campgrounds. It has over 250 campsites and can accommodate up to five guests per site. Campfires are allowed, there are picnic tables for your use, and they have camp stores where you can rent gear that you need to camp.
This area does not have lifeguards but there are designated sections for safe swimming. There are also boat rentals and boat ramps for visitors who want to try boating.
Parvin State Park, Pittsgrove, NJ
Hiking, swimming, canoeing and fishing are all popular activities in Parvin State Park. The most notable feature of the park is Parvin Lake, where visitors can swim safely under the supervision of lifeguards present from Memorial Day to Labor Day. You can also fish, kayak, canoe and rent boats in Parvin Lake. The park also has many campgrounds and cabins to cater to guests.
However, aside from the lake, the most striking feature in Parvin State Park is its natural area. The natural area is filled with pine forests, a swamp hardwood forest and over 200 flowering plants, including laurel, magnolia, wild azalea. In addition, the park is a birding hotspot with over 180 species of bird spotted. The park is also home to state-threatened barred owls and the endangered swamp pink, which you may see while exploring the 15 miles of hiking trails.
Beltzville State Park, Lehington, PA
Beltzville State Park is about an hour and 40-minute drive from Philly, and sits in the rolling hills of the Poconos. This park features a 949-acre lake, surrounded by a sand beach and picnic pavilions.
Swimming is permitted in the lake but at your risk as safeguards aren't available. Meanwhile, scuba diving and camping are strictly not allowed. You can fish from the shoreline or rent a boat for boating.
The park also sees many hunters with the most popular game species being rabbits, squirrels, and waterfowl. Beltzville State Park opens all year, including in winter when ice fishing, ice skating, cross-country skiing and snowshoeing are popular.
Lake Absegami, Tuckerton, NJ
Lake Absegami is a 64-acre lake, an hour from Philly, offering a safe spot for swimming. Other popular activities in Lake Absegami include kayaking, canoeing, and paddle boarding.
The lake is the perfect place to have outdoor fun; there are lifeguards to supervise your water activities, and concession stands to fill up your post-swim appetite.
Visitors will also enjoy hiking on any one of the eight natural trails, especially the Absegami Natural Area, where you will find a beautiful forest with cedars, magnolias and many flowering plants. If you plan to visit Lake Absegami, it's best to go early because the parking lot fills up quickly.
Lake Nockamixon, Quakertown, PA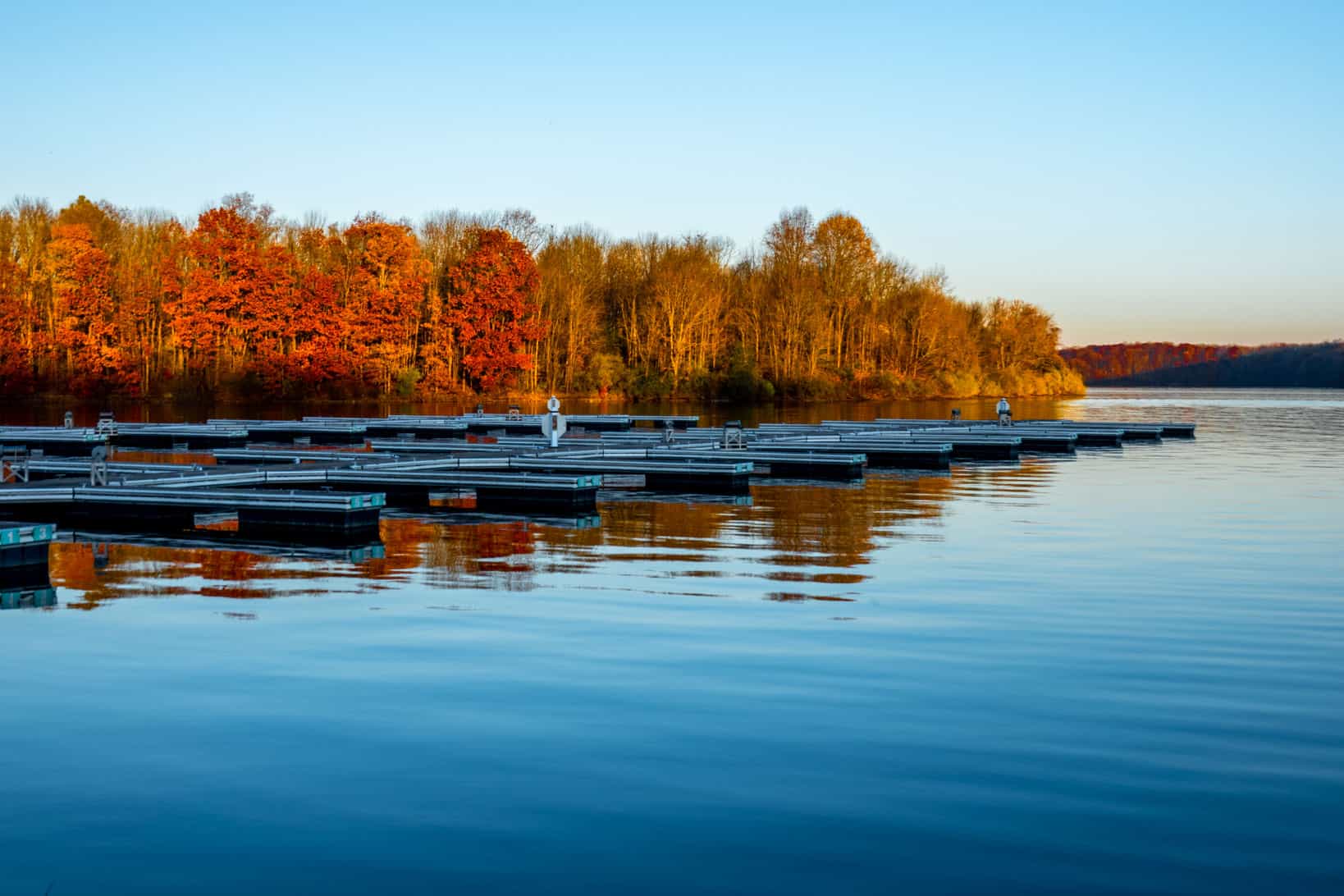 Lake Nockamixon is an artificial reservoir that serves as a centerpiece in Nockamixon State Park. While there are many swimming lakes near Philadelphia, Lake Nockamixon isn't one of them. Unlike other state parks, this lake doesn't allow swimming, but there is a very nice pool complex in the park for swimming. There are many other opportunities for outdoor fun, including horse riding, hiking the trails, boating, and fishing. Visitors can hold an evening picnic at the 1450-acre lake under the view of the beautiful scenery and epic sunset hues.
Lake Nockamixon is also a popular destination for sailing, anglers, windsurfers and fishers. The park has a marina, boat rentals and three boat launches so that guests can join in the fun too. If you want to stay awhile, there are equipped cabins to host you.
RIP
Previous versions of this article included the world-famous Dutch Springs Aqua Park, which was demolished by real estate developer Trammell Crow (part of CBRE Group) to make way for a warehouse.