Some posts on this site contain affiliate links, meaning if you book or buy something through one of these links, we may earn a small commission (at no extra cost to you).
There's nothing more liberating than buckling up on a sunny afternoon, rolling down the windows, and hitting the road. Pennsylvania has its fair share of wide open spaces, rolling hills, and impressive rock formations. Pack plenty of snacks, pick your favorite playlist, and strap in for the best scenic drives in Pennsylvania.
Whether you are trying to stay close to Philadelphia, or explore the rest of the state, there's bound to be a drive that will interest you.
Covered Bridge Trail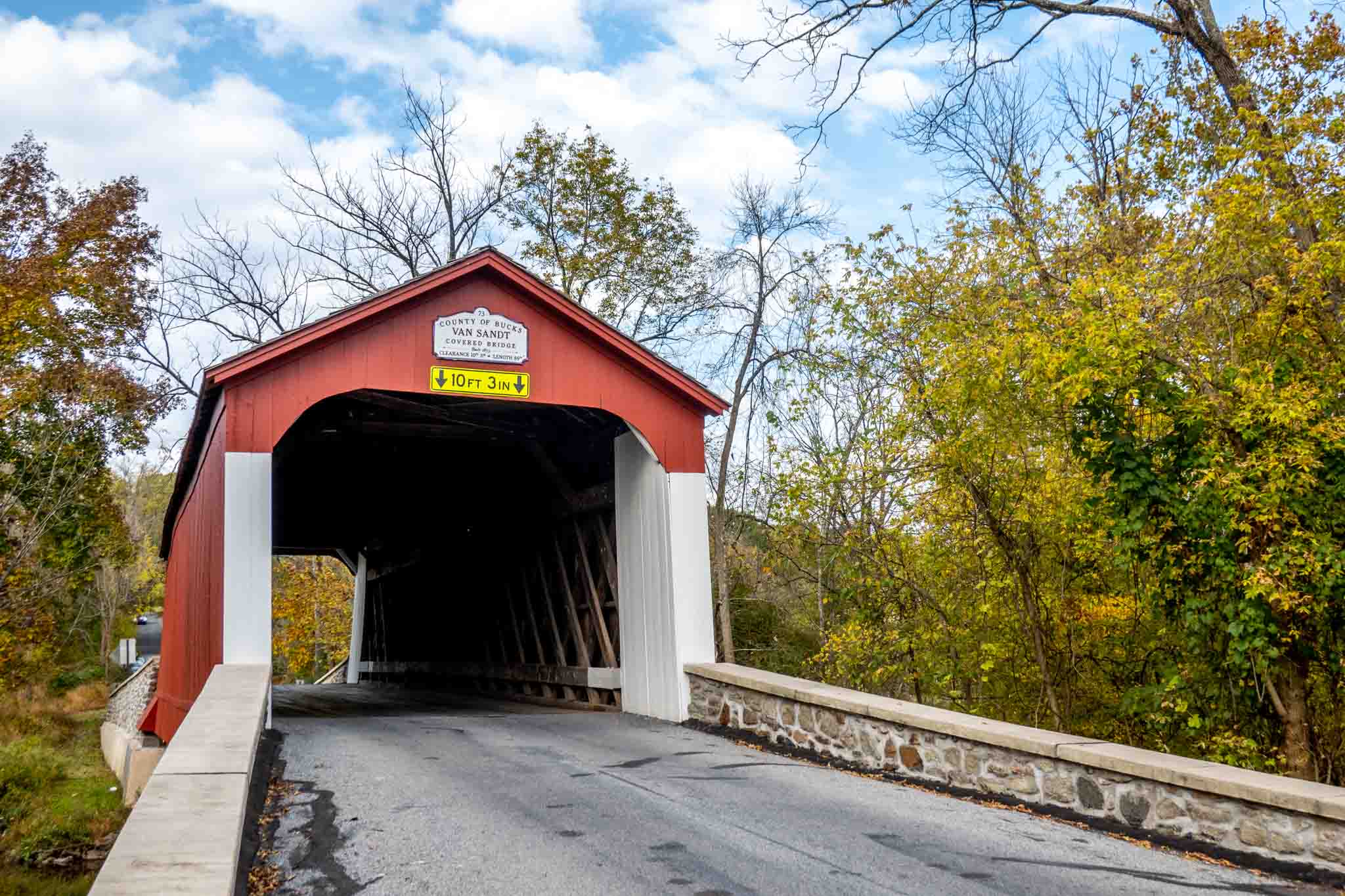 Pick your adventure on this two-part, covered bridge driving tour through Bucks County. The covered bridges you'll see today in Bucks County were built using the Town Truss which created a lattice, or crisscrossed, design on the interior.
Opt for the eastern half loop and enjoy two and a half hours of picturesque farmlands near New Hope, sparkling lakes, from Washington Crossing Historic Park to Perkasie. If you're a little tighter on time, check out the western half loop and don't forget to explore Lenape and Tyler State Park along the way.
Brandywine Valley Byway
Take a trip through the picturesque town of Kennett Square all the way to Wilmington, Delaware for 15 miles of wildflowers, tulips, and oak trees. If the smell of mushrooms wafts into your open windows, you're not going crazy. Kennett Square is the mushroom capital of the world.
If you are driving by in early September, make sure to stop by the annual Mushroom Festival and save room for the soup and wine tasting.
Bucktail Trail Scenic Byway
Named for a Civil War Ranger Regiment, this PA scenic byway spans 100 miles through the Elk and Sproul State Forests. Seven state parks are within reach of the Bucktail Scenic Byway with access to hundreds of miles of remote hiking trails and many other outdoor recreational activities.
For a history lesson along the way, look no further than Straub Brewery in St. Mary's, the 3rd oldest brewery in the USA. Tours of Straub Brewery are free of charge and open to the public ages 12 and older.
West Branch Susquehanna Byway
During post-Industrial America, the Susquehanna River served as a transportation system that provided the economic growth to Clearfield County. Today, the West Branch Susquehanna Byway offers access to this historic river with opportunities to bike, fish, camp, and boat.
You don't need to leave your car to catch the natural and scenic rarities that the byway has to offer though. Along this 72 mile stretch of winding roads, find wineries, golf courses, and art galleries. Or simply admire the reflection of the afternoon sun on the water as you roll on by.
Route 666
Route 666: the Highway to Hell—or so you'd think. Ironically, the highway is memorialized in honor of a preacher, Moravian Christian Missionary David Zeisberger. The views? Nothing short of heavenly. Immerse yourself in the dappled shade of dense forest as you pass by apple orchards, horse ranches, and small creeks. Tionesta Creek is especially popular with fishermen.
Just around the bend, find a rustic mountain pub, Cougar Bob's Kellettville Tavern, that invites first-time visitors to "Kiss the Moose," hanging high on the wall.
Longhouse National Scenic Byway
The Allegheny National Forest is a Pennsylvania treasure, surrounded by mountains and towering trees. When you're not kayaking through Willow Bay, you can relax and unwind on the meandering byway, catching glimpses of the Allegheny Reservoir all the way.
Located in northwestern Pennsylvania, this is a fantastic year-round destination. The drive through the Allegheny Plateau is pleasant and memorable..
High Plateau Scenic Byway
Unplug and tap into the natural beauty of the Northeast, on this remote 27-mile drive. With uninterrupted views of the Sproul State Forest, you are likely to see wildlife such as deer, bear or elk.
Pass through Burn's Run and Fish Dam Wild Areas, or park the car and follow one of the several recreational trails at your disposal.
Seaway Trail
Recognized as a National Scenic Byway, Seaway offers unmatched views of Lake Erie and cradles Presque Isle State Park where you can go swimming, boating, or just enjoy the lakeside views.
The Seaway Trail was originally an 80-mile byway extending from the Thousand Islands Bridge to the Seaway International Bridge by way of a series of highways paralleling the Saint Lawrence Seaway. The area along the Seaway Trail was also a major front in the War of 1812.
Cumberland Valley's State Parks
On a crisp, fall afternoon, take in one of the most scenic routes in PA. PA-233 south is accented by Cumberland Valley's State Parks. Start at Waggoner's Gap Hawk Watch, a 20-acre, hawk-watching site and one of the largest concentrations of raptors in the United States.
From there, get your camera ready and head to Colonel Denning to capture the spectacular foliage ranging from burnt orange to cherry red. If you have time, check out the Kings Gap Environmental Education Center for mountainous terrain, extensive forest, and panoramic views.
U.S. Route 6
U.S. Route 6, stretching from Long Beach, California, to Provincetown, Mass., may not be a spontaneous afternoon drive, but it is well worth the mileage. It's one of the most scenic drives in PA. In fact, the stretch of road that covers northern Pennsylvania has even been called one of the most-scenic drives in the USA by National Geographic magazine.
With the Allegheny National Forest, Kinzua Bridge State Park, Pine Creek Gorge, and the Pocono Mountains at your disposal, you won't need to go much further than the PA state lines to experience the beauty of the unspoiled wilderness.