Some posts on this site contain affiliate links, meaning if you book or buy something through one of these links, we may earn a small commission (at no extra cost to you).
When winter weather creeps in, venturing outside can feel like a chore–but resist the urge to go into hibernation just yet! Philly has several ice skating spots that are well worth the trek. If you're looking for a fun cold-weather activity this winter, ice skating in Philly may be just the thing for you. Not only will you get some exercise to burn off those Christmas cookies, but ice skating is the perfect way to get the family or friends together.
From skating clubs to frozen creeks to temporary cocktail cabins for the less athletically inclined, we've touched down on all the best ice skating spots in Philadelphia and the surrounding area. Ready to hit the ice? Keep reading for our ultimate guide to Philadelphia ice skating.
In Philadelphia:
Blue Cross RiverRink Winterfest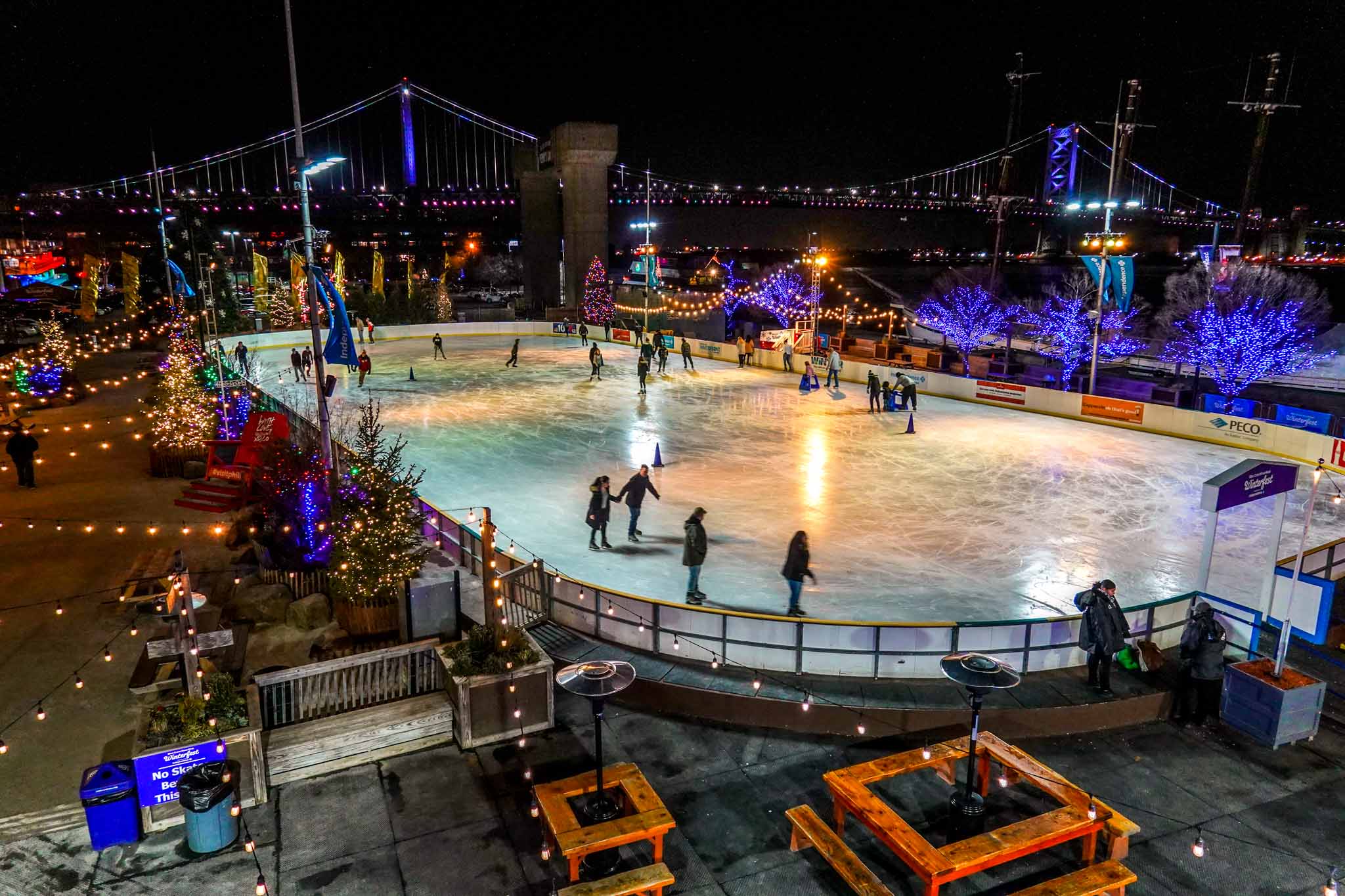 Immerse yourself in the holiday spirit with this waterfront winter wonderland. At the center of Winterfest sits the crown jewel: an NHL-sized ice skating rink. This is the best Philadelphia ice skating rink and it has a beautiful location on the bank of the Delaware River at Penn's Landing.
Penn's Landing ice skating tickets are available for $5 with the option to rent skates for an additional $10. When you're done skating, check out a variety of boardwalk games and attractions or enjoy a heated cabin with signature winter cocktails. Located at 101 South Christopher Columbus Boulevard. More information.
Rothman Orthopaedics Ice Rink at Dilworth Park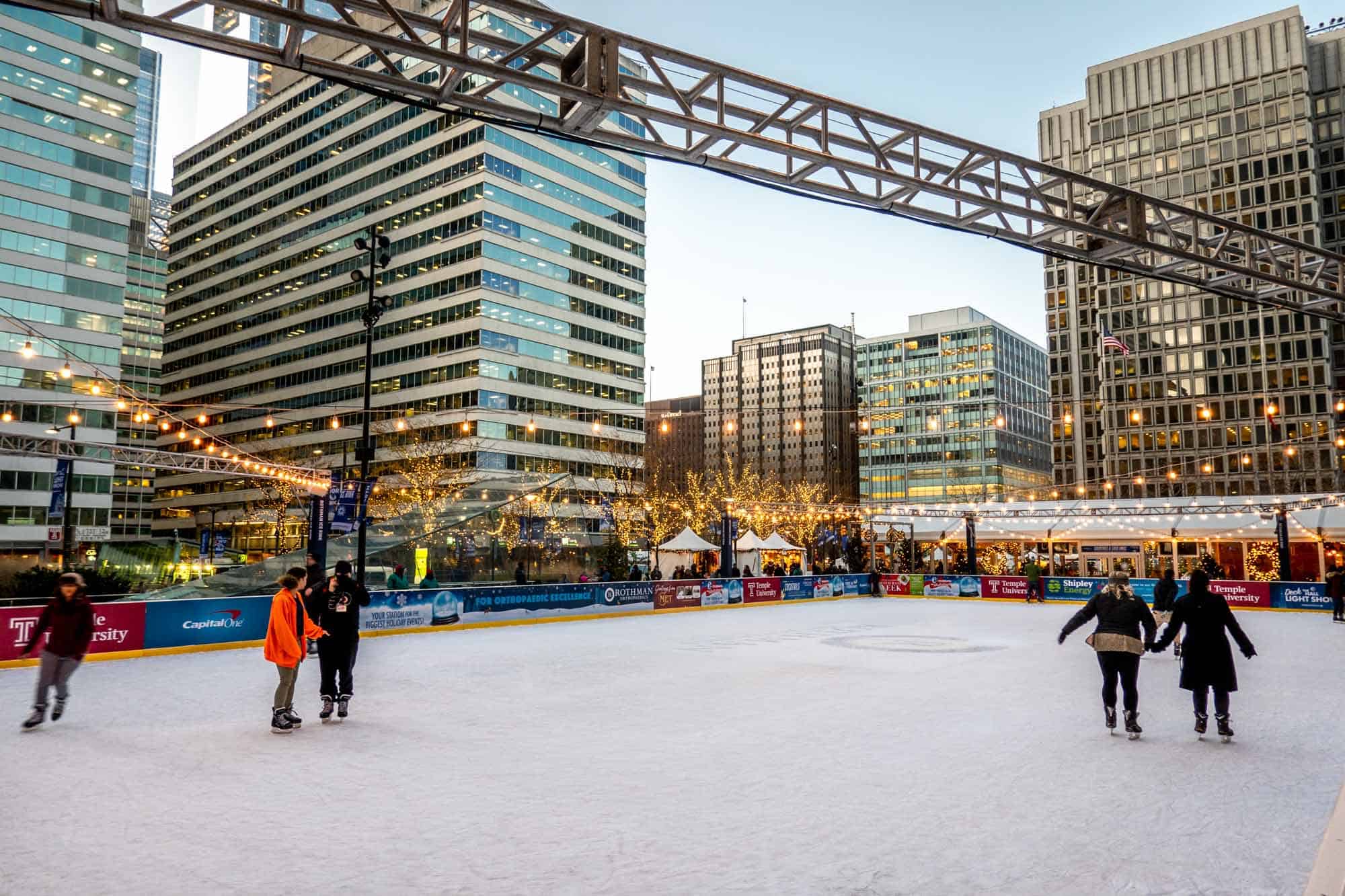 One of the more popular winter destinations, the Dilworth Park ice rink stands out with its surrounding Christmas village and stunning view of City Hall. When not skating, enjoy warm, alcoholic beverages and traipse about the various cabin-style merchant booths. When you're ready to get on the rink, tickets for kids under 10 are $5 and $7 for adults.
SEPTA Pass and SEPTA Key holders, Temple University staff, and Temple University students will receive a $1 discount. Additionally, college students with a valid student ID can pay just $2 for admission on Thursday nights. Located at 1 South 15th Street. More information.
Wissahickon Skating Club
Home to Olympic alumni, host to the US National Figure Skating Championship, and skating club with an outstanding record of excellence, the Wissahickon Skating Club offers public skating as well as skating lessons. If you want to sharpen up your skills or give ice hockey a try, check out the club's website for information on registration. Membership fees can also be found on the website. Located at 550 West Willow Grove Avenue in the Chestnut Hill neighborhood.
Penn Ice Rink
Situated on Penn's campus, this rink offers everything from public skating sessions to adult ice hockey leagues. Public skating sessions are available Monday, Wednesday, Friday, and weekends. While not required, it's best to reserve a skating time in advance on the U. Penn website. Located at 3130 Walnut Street in the University City neighborhood.
In the Suburbs:
Neshaminy Creek
For more seasoned skaters, creek skating is a fun way to connect with nature. When this Bucks County creek freezes solid with ice, small groups can make this Tyler State Park gem their own personal ice skating rink. Enjoy the beauty of one of the best state parks near Philly as you twirl on the ice. If you end up visiting this natural rink, exercise extreme caution and bring safety gear with you. Located at 101 Swamp Road in Newtown. More information.
Philadelphia Skating Club and Humane Society
This Main Line club aims first and foremost to provide a safe and educational place for children to foster a love of ice skating. Beyond skating lessons, the club offers public skating on Sundays and Special Olympics training. Located at 220 Holland Avenue, Ardmore . More information.
Ice Line
Home to West Chester University and the JR Flyers, Ice Line is a hub for ice hockey and figure skating lovers. With a restaurant and full-service pro shop in the facility, visitors can enjoy a full day at this state-of-the-art facility. Public skating is offered most weekends and some weekdays. For more information, check out the Ice Line website. Located at 700 Lawrence Drive in West Chester.
Flight on Ice
Delaware County boasts this impressive outdoor skating rink, complete with a heated tent, food, and beverages. A limited number of season passes are also available for those who frequent the rink. Planning a birthday party or company outing? Contact Flight on Ice for information on hosting private events. Located at 4889 West Chester Pike in Newtown Square. More information.
Premier Orthopaedics IceWorks
IceWorks is a great resource for all things ice skating and ice hockey. All year long, this Aston ice rink hosts competitions, clinics, and even theatre on ice. IceWorks also offers discount public skating passes as well as annual membership packages for frequent flyers. Located at 3100 Dutton Mill Road in Aston. More information.
Tinseltown Spectacular Rudolph's Rink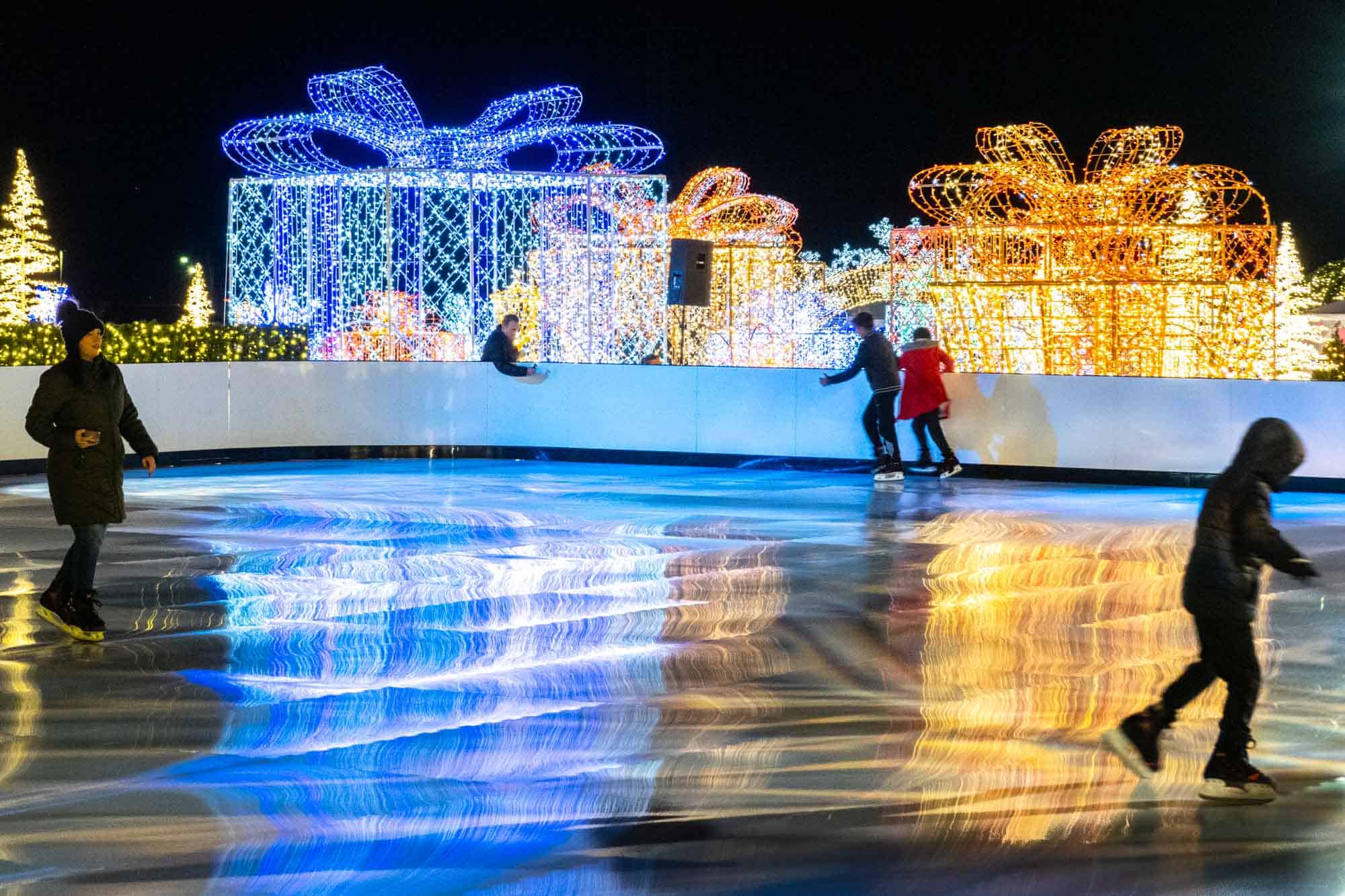 See the lights, sip on festive drinks, even sit on Santa's lap! So much to see at the Tinseltown Spectacular in Oaks. Nab a 30-minute session on Tinseltown's eco-friendly synthetic skating rink. Guests are encouraged to make skate reservations online with walk-up in-person sales based on availability. If you're visiting on a Thursday night, you may even run into Flyers mascot, Gritty! Located at 100 Station Avenue in Phoenixville.
In New Jersey:
Flyers Training Center
Want to skate like the Flyers? How about literally walking (skating) in their footsteps? The Flyers Training Center welcomes the public seven days a week! You can even receive free admission to the rink on Saturday evenings and Sunday afternoons if you are a Voorhees resident. Located at 601 Laurel Oak Road in Voorhees, NJ. More information.
WinterFest Ice Skating at Cooper River
Skate under the lights and embrace the spirit of holiday cheer. Every winter season, the Camden County Board of Commissioners welcomes the community for a tree lighting, carol singing, and ice skating extravaganza. Fees range from $5.50 to $7.50 making this the perfect place for an affordable family night out. Located at Cooper River Park at Cuthbert Boulevard and Park Drive in Cherry Hill, NJ. More information.
Igloo Ice Rink
Igloo Ice Rink is all about fun. We're talking weekend ugly Christmas sweater parties all December. To add to the fun, all skate rentals on Saturday evenings are free of charge. Struggling to find a holiday gift for your loved ones or a spot to host your next special event? Look no further than Igloo for ice skating family packages, freestyle session bundles, and private event planning. Located at 3033 Fostertown Road in Mount Laurel, NJ. More information.