Some posts on this site contain affiliate links, meaning if you book or buy something through one of these links, we may earn a small commission (at no extra cost to you).
The Jersey Shore town of Margate may be the classic beach destination: a great beach in a nice town. And while there is a lot to do in Margate, dining may be at the top of the list. There are the best restaurants in Margate NJ while enjoying your Shore vacation.
If you are down the Shore and enjoying the Margate attractions, fueling up should be a priority. Whether you crave fine dining or quick grub, you can find it here. So grab a hoagie and hit one of the best beaches in the area.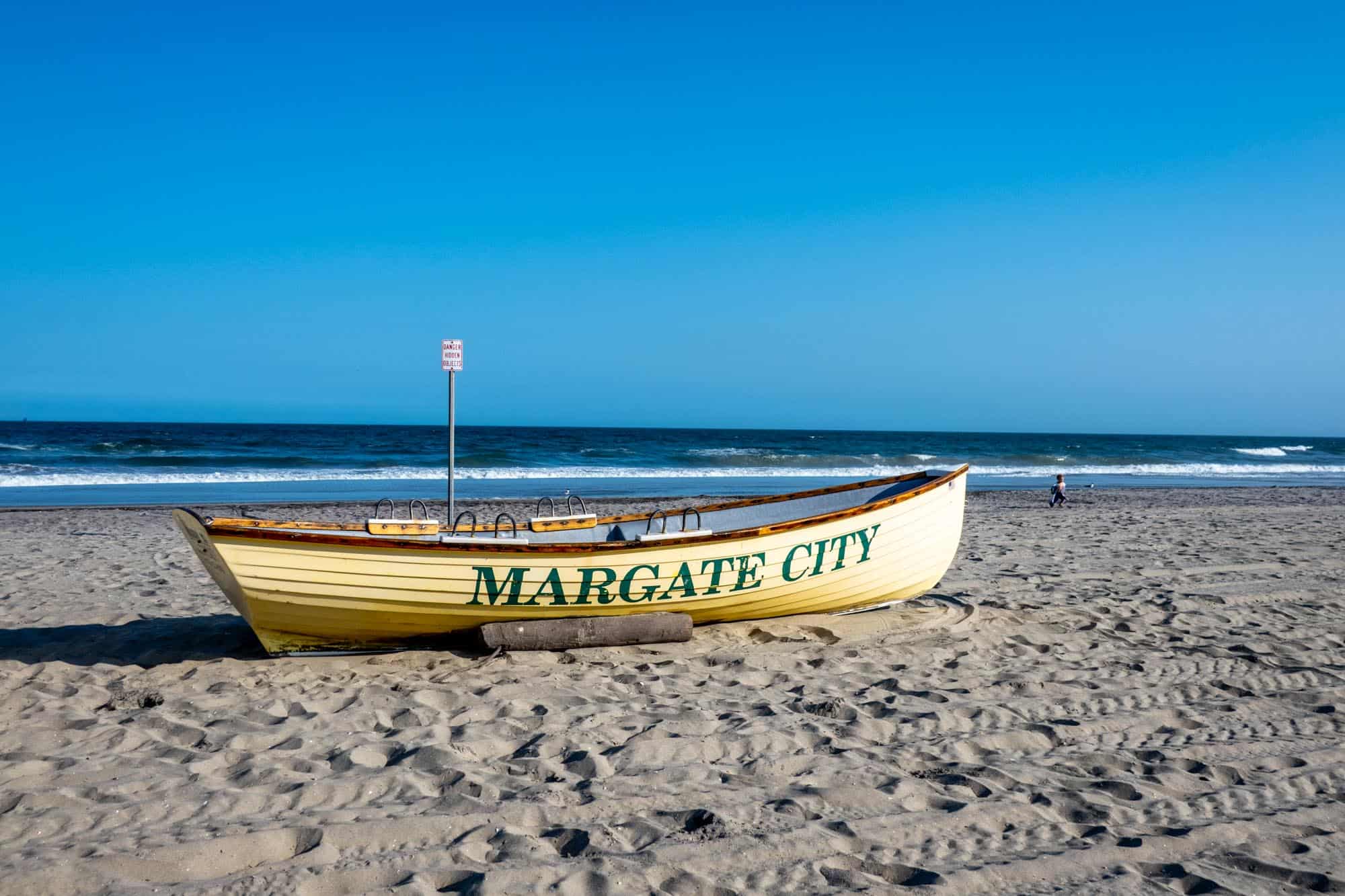 Margate Dairy Bar & Burger
Margate Dairy Bar & Burger is a 50s-inspired space and has been the heart of Margate since 1952. Their old-fashioned hospitality serves delicious ice cream, milk shakes, and water ice. They are also known for their classic diner favorites such as burgers, fries, hot dogs, and pretzels. Their emphasis on keeping it "classic" has provided a sociable and safe gathering space that has led to cherished memories for many generations.
Steve & Cookies By The Bay
Located near the bay, Steve & Cookies is one of the great Margate restaurants offering the best of steaks and fresh seafood. Well trained and welcoming servers offer a menu with locally sourced cuisine, signature cocktails, and an extensive wine list. With a warm and upbeat atmosphere, you will be able to enjoy live Jazz music that is offered nightly. The restaurant is usually packed with regulars, which is why reservations are recommended throughout the summer season and weekends year-round.
Tomatoe's
At times, this corner spot seeming like it is of two personalities, Tomatoe's features a diverse menu of new American classics along with a broad sushi menu, and both culinary visions are excellent. There are two vibes: the restaurant and the action-packed bar scene. They take a fun, lighthearted approach to service and host a variety of special events and theme days throughout the year.
Dino's Subs and Pizza
Dino's Subs and Pizza offers the classic shore sandwich and pizza shop experience. Instead of walking or driving to the shop, Dino's will allow you to order a sandwich right to the beach. Here, they will meet you there with one of the massive subs. Their menu provides pizza with various toppings, cold subs, hot subs and a selection of burgers and sides.
Sofia of Margate
Living up to their motto of 'more than an ordinary Greek restaurant', Sofia features seafood and steaks as well as traditional Greco-Mediterranean cuisine with a contemporary twist. It has a lively atmosphere, cocktail lounge serving the best in craft mixology, and an extensive wine list. In good weather, the patio is one of the spots in town. Tip: The bar bites are in the lounge are equally tasty and a surprisingly great value at the Shore.
Water Dog Smoke House
Launching in the summer of 2017, Water Dog Smoke House has been packed ever since due to the restaurant being a small-batch producer of the finest smoked fish and meats available. They provide a menu of casual breakfast, sandwiches, and barbeque that never disappoints.
Water Dog also offers hand-smoked fish to purchase that only consists of the highest-quality all-natural Atlantic Salmon with no preservatives added. With online orders shipped to New Jersey, Pennsylvania, Delaware, New York, Connecticut, and Ohio, you are able to enjoy their all-natural artisanal fish and meat collection.
Junior's Donuts & Dogs
Family owned and located along the bay with a view that can't be beat, Junior's offers a fun filled menu. Opened for breakfast and lunch, you will be able to treat yourself to one Margate's best freshly made donuts. The menu also compromises of a variety choice such as breakfast sandwiches, hot dogs, chicken tenders, and sides.
Right next to the donut shop is their sister place, SPRINKLZ 2 which offers ice cream by the premium brand, Bassets. They also carry water ice as well as many flavors of soft serve. It's the perfect way to cool down on a warm Shore day.